Abstract
In many animals, males bear bright ornamental color patches that may signal both the direct and indirect benefits that a female might accrue from mating with him. Here we test whether male coloration in the Pipevine Swallowtail butterfly, Battus philenor, predicts two potential direct benefits for females: brief copulation duration and the quantity of materials the male passes to the female during mating. In this species, males have a bright iridescent blue field on the dorsal hindwing surface, while females have little or no dorsal iridescence. Females preferentially mate with males who display a bright and highly chromatic blue field on their dorsal hindwing. In this study, we show that the chroma of the blue field on the male dorsal hindwing and male body size (forewing length) significantly predict the mass of material or spermatophore that a male forms within the female's copulatory sac during mating. We also found that spermatophore mass correlated negatively with copulation duration, but that color variables did not significantly predict this potential direct benefit. These results suggest that females may enhance the material benefits they receive during mating by mating with males based on the coloration of their dorsal hindwing.
Access options
Buy single article
Instant access to the full article PDF.
USD 39.95
Price excludes VAT (USA)
Tax calculation will be finalised during checkout.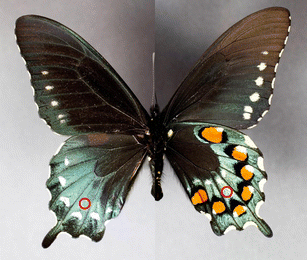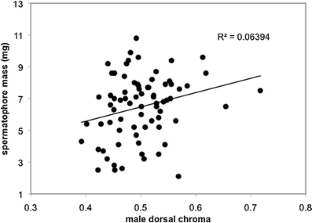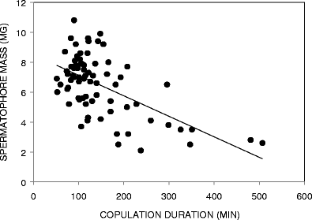 References
Andersson M (1994) Sexual selection. Princeton University Press, Princeton

Bissoondath C, Wiklund C (1996) Effect of mating history and body size on ejaculate size and quality in two polyandrous butterflies, Pieris napi and Pieris rapae (Lepidoptera: Pieridae). Funct Ecol 10:457–464

Boggs CL, Gilbert LE (1979) Male contribution to egg production in butterflies: first evidence for transfer of nutrients at mating. Science 206:83–84

Brower JVZ (1958) Experimental studies of mimicry in some North American butterflies. II. Battus philenor and Papilio troilus, P. polyxenes, and P. glaucus. Evolution 12:123–136

Codella SG Jr, Lederhouse RC (1990) The effect of wing orientation on aposematic signaling in the Pipevine Swallowtail butterfly, Battus philenor. Anim Behav 40:404–406

Cotton S, Fowler K, Pomiankowski A (2004) Do sexual ornaments demonstrate heightened condition-dependent expression as predicted by the handicap hypothesis? Proc R Soc Lond B 271:771–783

Darwin C (1871) The descent of man, and selection in relation to sex. John Murray, London

Doucet SM, Shawkey MD, Hill GE, Montgomerie R (2006) Iridescent plumage in satin bowerbirds: structure, mechanisms, and nanostructural predictors of individual variation in colour. J Exp Biol 209:380–390

Dussourd DE, Harvis CA, Meinwald J, Eisner T (1991) Pheromonal advertisement of a nuptial gift by a male moth (Utetheisa ornatrix). Proc Natl Acad Sci U S A 88:9224–9227

Ferkau C, Fischer K (2006) Costs of reproduction in male Bicyclus anynana and Pieris rapi butterflies: effects of mating history and food limitation. Ethology 112:1117–1127

Hamilton WJ (1965) Sun-oriented display of the Anna's hummingbird. Wilson Bull 77:38–44

Hughes L, Chang BS-W, Wagner D, Pierce NE (2000) Effects of mating history on ejaculate size, fecundity, longevity, and copulation duration in the ant-tended lycaenid butterfly, Jalmenus evagoras. Behav Ecol Sociobiol 47:119–128

Jones KN, Odendaal FJ, Ehrlich PR (1986) Evidence against the spermatophore as paternal investment in checkerspot butterflies (Euphydryas: Nymphalidae). Am Midl Nat 116:1–6

Kemp DJ (2006) Heightened phenotypic variation and age-based fading of ultraviolet butterfly wing coloration. Evol Ecol Res 8:515–527

Kemp DJ (2008) Resource-mediated condition dependence in sexually dichromatic butterfly wing colouration. Evolution 62:2346–2358

Kemp DJ, Macedonia JM (2006) Structural ultraviolet ornamentation in the butterfly Hypolimnas bolina L. (Nymphalidae): visual, morphological, and ecological properties. Aust J Zool 54:235–244

Kemp DJ, Rutowski RL (2007) Condition dependence, quantitative genetics, and the potential signal content of iridescent ultraviolet butterfly coloration. Evolution 61:168–183

Kemp DJ, Rutowski RL (2011) The role of coloration in mate choice and sexual interactions in butterflies. Adv Stud Behav 43:55–92

Kemp DJ, Macedonia JM, Ball TS, Rutowski RL (2008) Potential direct fitness consequences of ornament-based mate choice in a butterfly. Behav Ecol Sociobiol 62:1017–1026

Lamunyon CW, Eisner T (1994) Spermatophore size as determinant of paternity in an arctiid moth (Utetheisa ornatrix). Proc Natl Acad Sci U S A 91:7081–7084

Lewis SM, Cratsley CK (2008) Flash signal evolution, mate choice, and predation in fireflies. Annu Rev Entomol 53:293–321

Lewis Z, Wedell N (2007) Effect of adult feeding on male mating behavior in the butterfly, Bicyclus anynana (Lepidoptera: Nymphalidae). J Insect Behav 20:201–213

Loyau A, Gomez D, Moureau B, Théry M, Hart NS, Jalme MS, Bennett ATD, Sorci G (2007) Iridescent structurally based coloration of eyespots correlates with mating success in the peacock. Behav Ecol 18:1123–1131

Marshall LD (1980) Paternal investment in Colias philodice-eurytheme butterflies (Lepidoptera: Pieridae). MS Thesis, Arizona State University

McGraw KJ, Mackillop EA, Dale J, Hauber ME (2002) Different colors reveal different information: how nutritional stress affects the expression of melanin- and structurally based ornamental plumage. J Exp Biol 205:3747–3755

Oberhauser KS (1988) Male monarch butterfly spermatophore mass and mating strategies. Anim Behav 36:1384–1388

Pegram KV, Lillo MJ, Rutowski RL (2013) Iridescent blue and orange components contribute to the recognition of a multicomponent warning signal. Behaviour 150:321–336

Pegram KV, Nahm AC, Rutowski RL (In press) Warning color changes in response to food deprivation in the Pipevine Swallowtail butterfly (Battus philenor). J Insect Sci

Rutowski RL (1984) Production and use of secretions passed at copulation by males in Pieris protodice (Lepidoptera: Pieridae). Psyche 91:141–152

Rutowski RL, Gilchrist GW (1986) Copulation in Colias eurytheme (Lepidoptera: Pieridae): patterns and frequency. J Zool 209:115–124

Rutowski RL, Gilchrist GW (1987) Courtship, copulation and oviposition in the chalcedon checkerspot, Euphydryas chalcedona (Lepidoptera: Nymphalidae). J Nat Hist 21:1109–1117

Rutowski RL, Rajyaguru P (2013) Male-specific iridescent coloration in the Pipevine Swallowtail (Battus philenor): used in mate choice by females but not sexual discrimination by males. J Insect Behav 26:200–211

Rutowski RL, Gilchrist GW, Terkanian B (1987) Female butterflies mated with recently mated males show reduced reproductive output. Behav Ecol Sociobiol 20:319–322

Rutowski RL, Alcock J, Carey M (1989) Hilltopping in the pipevine swallowtail butterfly (Battus philenor). Ethology 82:244–254

Rutowski RL, Macedonia JM, Merry JW, Morehouse N, Yturralde K, Taylor-Taft L, Gaalema D, Kemp DJ, Papke RS (2007) Iridescent ultraviolet signaling in the Orange Sulphur butterfly (Colias eurytheme): spatial, temporal, and spectral properties. Biol J Linn Soc 90:349–364

Rutowski RL, Nahm AC, Macedonia JM (2010) Iridescent hindwing patches in the Pipevine Swallowtail: differences in dorsal and ventral surfaces relate to signal function and context. Funct Ecol 24:767–775

South A, Lewis SM (2011) The influence of male ejaculate quantity on female fitness: a meta-analysis. Biol Rev 86:299–309

Svard L, Wiklund C (1986) Different ejaculate delivery strategies in first versus subsequent matings in the swallowtail butterfly Papilio machaon L. Behav Ecol Sociobiol 18:325–330

Svärd L, Wiklund C (1991) The effect of ejaculate mass on female reproductive output in the European swallowtail butterfly, Papilio machaon (L.) (Lepidoptera: Papilionidae). J Insect Behav 4:33–41

Watanabe M, Sato K (1993) A spermatophore structured in the bursa copulatrix of the small white Pieris rapae (Lepidoptera, Pieridae) during copulation, and its sugar content. J Res Lepidopterol 32:26–36

Wedell N, Cook PA (1999) Strategic sperm allocation in the small white butterfly Pieris rapae (Lepidoptera: Pieridae). Funct Ecol 13:85–93

Wickman P-O (1985) Male determined mating duration in butterflies? J Lepidopterol Soc 39:341–342
Acknowledgments
We thank Jon Douglas, Melissa Lillo, Joe Nunez, and Auriel-Robert Vilaire for their help with the rearing and field work. Financial support for this study was provided in part by funds from the Undergraduate Science Education Program of the Howard Hughes Medical Institute, the ASU School of Life Sciences Undergraduate Research Program, and the National Science Foundation Grant IOS 1145654 to RLR.
Additional information
Communicated by: Sven Thatje
About this article
Cite this article
Rajyaguru, P.K., Pegram, K.V., Kingston, A.C.N. et al. Male wing color properties predict the size of nuptial gifts given during mating in the Pipevine Swallowtail butterfly (Battus philenor). Naturwissenschaften 100, 507–513 (2013). https://doi.org/10.1007/s00114-013-1046-1
Received:

Revised:

Accepted:

Published:

Issue Date:

DOI: https://doi.org/10.1007/s00114-013-1046-1
Keywords
Iridescence

Spermatophore

Sexual coloration

Swallowtail butterfly

Material benefits