Abstract
Fossil mesostigmatid mites are extremely rare. Inclusions assignable to the tortoise mites (Mesostigmata, Uropodina) are described here for the first time from Eocene (ca. 44–49 Ma) Baltic amber. This is the oldest record of Uropodina and documents the first unequivocal amber examples potentially assignable to the extant genus Uroobovella Berlese, 1903 (Uropodoidea: Urodinychidae). Further mites in the same amber pieces are tentatively assigned to Microgynioidea (Microgyniina) and Ascidae (Gamasina), both potentially representing the oldest records of their respective superfamily and family groups. This new material also preserves behavioural ecology in the form of phoretic deutonymphs attached to their carriers via a characteristic anal pedicel. These deutonymphs in amber are intimately associated with longhorn beetles (Coleoptera: Cerambycidae), probably belonging to the extinct species Nothorhina granulicollis Zang, 1905. Modern uropodines have been recorded phoretic on species belonging to several beetle families, including records of living Uroobovella spp. occurring on longhorn beetles. Through these amber inclusions, a uropodine–cerambycid association can now be dated back to at least the Eocene.
This is a preview of subscription content,
to check access.
Access this article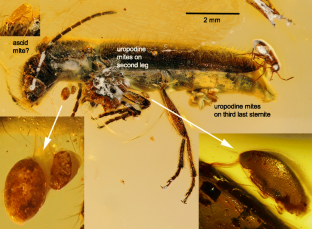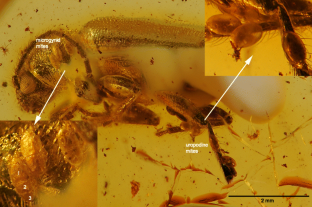 References
Aoki J (1974) On the fossil mites in Mizunami amber from Gifu Prefecture, Central Japan. Bull Mizunami Fossil Mus 1:397–399, in Japanese with English summary

Athias-Binche F, Evans GO (1981) Observations on the genus Protodinychus Evans, 1957 (Acari: Mesostigmata) with descriptions of the male and phoretic deuteronymph. Proc R Irish Acad 81B:25–36

Bajerlein D, Błoszyk J (2004) Phoresy of Uropoda orbicularis (Acari: Mesostigmata) by beetles (Coleoptera) associated with cattle dung in Poland. Eur J Entomol 101:185–188

Bajerlein D, Witaliński W (2012) Anatomy and fine structure of pedicellar glands in phoretic deutonymphs of uropodid mites (Acari: Mesostigmata). Arth Strc Dev 41:245–257

Beaulieu F, Dowling APG, Klompen H, de Moraes GJ, Walter DE (2011) Superorder Parasitiformes Reuter, 1909. In: Zhang Z-Q (ed) Animal biodiversity: an outline of higher-level classification and survey of taxonomic richness. Zootaxa 3148:123–128

Dunlop JA, Wirth S, Penney D, McNeil A, Bradley RS, Withers PJ, Preziosi RF (2012) A minute fossil phoretic mite recovered by phase-contrast X-ray computed tomography. Biol Lett 8:457–460

Dunlop JA, Penney D, Jekel D (2013) A summary list of fossil spiders and their relatives. In Platnick NI (ed) The world spider catalog, version 13.5 American Museum of Natural History. http://research.amnh.org/entomology/spiders/catalog/index.html. doi: 10.5531/db.iz.0001

Eichmann F (2002) Palaosymbiosen im Bernstein. Arbeitskreis Palaont, Hannover 30:1–28

Eidelberg MM (2000) Three new species of carabidophilic mites of the family Antennoseiidae (Parasitiformes, Gamasina). Entomol Rev 80:704–709

Faasch H (1967) Beitrag zur Biologie der einheimischen Uropodiden Uroobovella marginata (C. L. Koch 1839) und Uropoda orbicularis (O. F. Müller 1776) und experimentelle Analyse ihres Phoresieverhaltens. Zool Jb Syst 94:521–608

Faasch H, Schaller F (1966) Das Phoresie-Verhalten der Milben Uroobovella marginata Koch 1839 und Uropoda orbicularis Müller (Acari, Uropodina). Zool Anz 176:176–182

Hunter PE (1970) New Rhinoseius species (Mesostigmata: Ascidae) from Costa Rican hummingbirds. J Georgia Entomol Soc 7:26–35

Hunter PE, Rosario RMT (1988) Associations of Mesostigmata with other arthropods. Ann Rev Entomol 33:393–417

Karg W (1989) Uropodina Kramer, Schildkrötenmilben. Tierwelt Deutschlands 67:202

Khaustov AA, Poinar G Jr (2010) Protoresinacarus brevipedis gen. n., sp. n. from early Cretaceous Burmese amber: the first fossil record of mites of the family Resinacaridae (Acari: Heterostigmata: Pyemotoidea). Hist Biol 23:219–222

Kofler A, Schmölzer K (2000) Zur Kenntnis phoretischer Milben und ihre Tragwirte in Österreich (Acarina: Gamasina, Uropodina). Ber nat-med Verein Innsbruck 87:133–157

Krantz GW, Walter DE (2009) A Manual of Acarology; 3rd edn. Texas Tech University Press, Lubbock, p 807

Lindquist EE, Krantz GW, Walter DE (2009) Order Mesostigmata. In: Krantz GW, Walter DE (eds) A manual of Acarology, 3rd edn. Texas Tech University Press, Lubbock, pp 124–231

Magowski WŁ (1994) Discovery of the first representative of the mite subcohort Heterostigmata (Arachnida: Acari) in the Mesozoic Siberian amber. Acarologia 35:229–241

Mašán P (2001) Mites of the cohort Uropodina (Acarina, Mesostigmata) in Slovakia. Ann Zool Botan 223:1–320

Moser JC, Roton LM (1971) Mites associated with southern pine bark beetles in Allen Parish, Louisiana. Can Entomol 103:1775–1798

Perkovsky EE, Rasnitsyn AP, Vlaskin AP, Taraschuk MV (2007) A comparative analysis of the Baltic and Rovno amber arthropod faunas: representative samples. African Invert 48:229–245

Poinar G Jr (1982) Sealed in amber. Nat Hist 91(6):26–32

Ramsay GW (1960) Sub-fossil mites from the Hutt Valley. Trans R Soc New Zealand 88:575–576

Salmane I, Telnov D (2009) Mesostigmata mites (Acari: Parasitiformes) associated with beetles (Insecta: Coleoptera) in Latvia. Lat Entomol 47:58–70

Vitali F (2006) Taxonomic, biological and evolutionistic notes on the Spondylidinae included in Baltic amber (Coleoptera, Cerambycidae). Entomapeiron (P S) 1(3):29–44

Weitschat W, Wichard W (2010) Baltic amber. In: Penney D (ed) Biodiversity of fossils in amber from the major world deposits. Siri Scientific Press, Manchester, pp 80–115

Wiśniewski J (1982) Für die Fauna Polens neue Uropodina (Acari: Parasitiformes). Teil. II. Fragm Faun 27:143–147

Wiśniewski J, Hirschmann W (1993) Gangsystematik der Parasitiformes Teil 548. Katalog der Ganggattungen, Untergattungen, Gruppen und Arten der Uropodiden der Erde. Acarol Schrift Vergl Milbenk 40:1–220
Acknowledgments
We thank Wolfgang Weitschat (Hamburg) for providing material and Christian Neumann (MfN) for curatorial assistance. Johannes Frisch (MfN) helped identify the beetles, Stefan Wirth (MfN) and George Poinar Jr. (Oregon) provided helpful comments and Andreas Stark (Halle (Saale)) and Linnea Blase (Berlin) assisted with preparing the figures. The reviewers are also thanked for their numerous helpful suggestions. JK's visit to the MfN was funded by the European Union's 'Synthesys' program.
Additional information
Communicated by: Sven Thatje
About this article
Cite this article
Dunlop, J.A., Kontschán, J. & Zwanzig, M. Fossil mesostigmatid mites (Mesostigmata: Gamasina, Microgyniina, Uropodina), associated with longhorn beetles (Coleoptera: Cerambycidae) in Baltic amber. Naturwissenschaften 100, 337–344 (2013). https://doi.org/10.1007/s00114-013-1031-8
Received:

Revised:

Accepted:

Published:

Issue Date:

DOI: https://doi.org/10.1007/s00114-013-1031-8
Keywords