Abstract
The Caribbean is highly vulnerable to coastal hazards. Based on their short recurrence intervals over the intra-American seas, high-category tropical cyclones and their associated effects of elevated storm surge, heavy wave impacts, mudslides and floods represent the most serious threat. Given the abundance of historical accounts and trigger mechanisms (strike-slip motion and oblique collision at the northern and southern Caribbean plate boundaries, submarine and coastal landslides, volcanism), tsunamis must be considered as well. This paper presents interdisciplinary multi-proxy investigations of sediment cores (grain size distribution, carbonate content, loss-on-ignition, magnetic susceptibility, microfauna, macrofauna) from Washington-Slagbaai National Park, NW Bonaire (Leeward Antilles). No historical tsunami is recorded for this island. However, an allochthonous marine layer found in all cores at Boka Bartol reveals several sedimentary criteria typically linked with tsunami deposits. Calibrated 14C data from these cores point to a palaeotsunami with a maximum age of 3,300 years. Alternative explanations for the creation of this layer, such as inland flooding during tropical cyclones, cannot entirely be ruled out, though in recent times even the strongest of these events on Bonaire did not deposit significant amounts of sediment onshore. The setting of Boka Bartol changed from an open mangrove-fringed embayment into a poly- to hyperhaline lagoon due to the establishment or closure of a barrier of coral rubble during or subsequent to the inferred event. The timing of the event is supported by further sedimentary evidence from other lagoonal and alluvial archives on Bonaire.
Access options
Buy single article
Instant access to the full article PDF.
USD 39.95
Price includes VAT (USA)
Tax calculation will be finalised during checkout.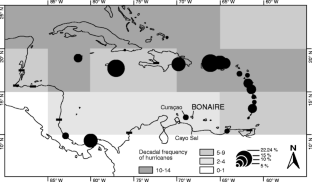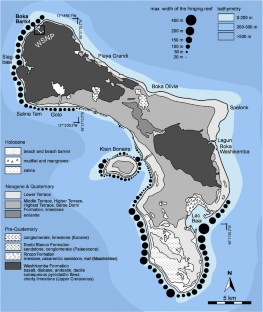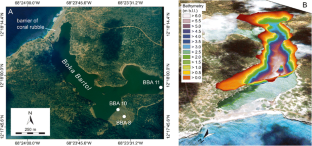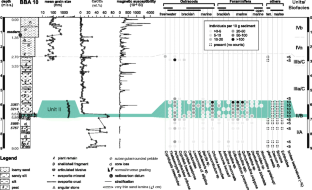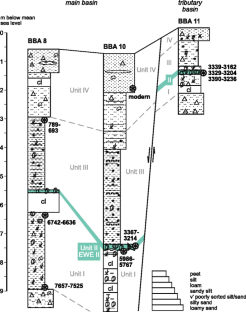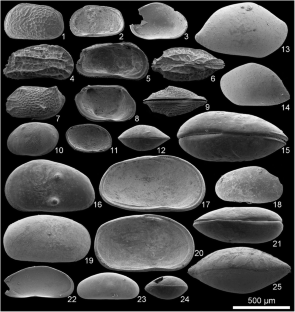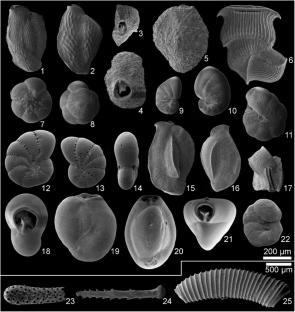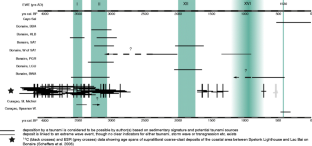 References
Angell CL (1986) The biology and culture of tropical oysters. ICLARM Stud Rev 13

Atwater BF, Musumi-Rokkaku S, Satake K, Tsuji Y, Ueda K, Yamaguchi DK (2005) The Orphan Tsunami of 1700—Japanese clues to a parent earthquake in North America. US Geol Survey Prof Papers 1707

Atwater BF, ten Brink US, Buckley M, Halley RS, Jaffe BE, López-Venegas AM, Reinhardt EG, Tuttle MP, Watt S, Wei Y (2012) Geomorphic and stratigraphic evidence for an unusual tsunami or storm a few centuries ago at Anegada, British Virgin Islands. Nat Hazards 63:51–84

Audemard F, Romero G, Rendon H, Cano V (2005) Quaternary fault kinematics and stress tensors along the southern Caribbean from fault-slip data and focal mechanism solutions. Earth-Sci Rev 69:181–233

Bak RPM (1977) Coral reefs and their zonation in the Netherlands Antilles. In: Frost SH, Weiss MP, Saunders JB (eds) Reefs and related carbonates—ecology and sedimentology. AAPG Stud Geol 4:3–16

Benson RH (1959) Ecology of recent ostracodes of the Todos Santos Bay region, Baja California. Univ Kansas Paleont Contr 23

Blott SJ, Pye K (2001) GRADISTAT: a grain size distribution and statistics package for the analysis of unconsolidated sediments. Earth Surf Proc Land 26:1237–1248

Brill D, Brückner H, Jankaew K, Kelletat D, Scheffers A, Scheffers S (2011) Potential predecessors of the 2004 Indian Ocean Tsunami—sedimentary evidence of extreme wave events at Ban Bang Sak, SW Thailand. Sediment Geol 239:146–161

Brooks WW (1973) Distribution of recent Foraminifera from the Southern Coast of Puerto Rico. Micropaleontology 19:385–416

De Boer BA (1986) Netherlands Antilles. In: Scott DA, Carbonell M (eds) A directory of Neotropical wetlands. IUCN, Cambridge/IWRB, Slimbridge, pp 550–558

De Buisonjé PH (1974): Neogene and Quaternary geology of Aruba, Curaçao and Bonaire (Netherlands Antilles). Dissertation, Rijksuniversiteit Utrecht

Dix GR, Patterson RT, Park LE (1999) Marine saline ponds as sedimentary archives of late Holocene climate and sea-level variation along a carbonate platform margin: Lee Stocking Island, Bahamas. Palaeogeogr Palaeocl 150:223–246

Donato SV, Reinhardt EG, Boyce JI, Rothaus R, Vosmer T (2008) Identifying tsunami deposits using bivalve shell taphonomy. Geology 36:199–202

Donnelly JP, Woodruff JD (2007) Intense hurricane activity over the past 5,000 years controlled by El Niño and the West African monsoon. Nature 447:465–468

Engel M, May SM (2012) Bonaire's boulder fields revisited: evidence for Holocene tsunami impact on the Leeward Antilles. Quat Sci Rev 54:126–141

Engel M, Brückner H, Wennrich V, Scheffers A, Kelletat D, Vött A, Schäbitz F, Daut G, Willershäuser T, May SM (2010) Coastal stratigraphies of eastern Bonaire (Netherlands Antilles): new insights into the palaeo-tsunami history of the southern Caribbean. Sediment Geol 231:14–30

Engel M, Brückner H, Messenzehl K, Frenzel P, May SM, Scheffers A, Scheffers S, Wennrich V, Kelletat D (2012a) Shoreline changes and high-energy wave impacts at the leeward coast of Bonaire (Netherlands Antilles). Earth Planets Space 64:905–921

Engel M, Brückner H, Scheffers AM, May SM, Kelletat DH (2012b) Holocene sea levels of Bonaire (Leeward Antilles) and tectonic implications. Z Geomorph NF. doi:10.1127/0372-8854/2012/S-00111

Etienne S, Buckley M, Paris R, Nandasena AK, Clark K, Strotz L, Chagué-Goff C, Goff J, Richmond B (2011) The use of boulders for characterising past tsunamis: lessons from the 2004 Indian Ocean and 2009 South Pacific tsunamis. Earth-Sci Rev 107:76–90

Frenzel P, Boomer I (2005) The use of ostracods from marginal marine, brackish waters as bioindicators of modern and Quaternary environmental change. Palaeogeogr Palaeocl 225:68–92

Fujiwara O, Masuda, Sakai T, Irizuki T, Fuse K (2000) Tsunami deposits in Holocene bay mud in southern Kanto region, Pacific coast of central Japan. Sediment Geol 135:219–230

García-Cubas A, Reguero M (1995) Moluscos de la laguna Sontecompan, Veracruz, México: sistemática y ecología. Hidrobiológica 5:1–24

Goldenberg SB, Shapiro LJ (1996) Physical mechanisms for the association of El Niño and west African rainfall with Atlantic major hurricane activity. J Climate 9:1169–1187

González C, Urrego LE, Martínez JI, Polanía J, Yokoyama Y (2010) Mangrove dynamics in the southwestern Caribbean since the 'Little Ice Age': a history of human and natural disturbances. Holocene 20:849–861

Hall DB (1999) The geomorphic evolution of slopes and sediment chutes on forereefs. Geomorphology 27:257–278

Harbitz CB, Glimsdal S, Bazin S, Zamora N, Løvholt F, Bungum H, Smebye H, Gauer P, Kjekstad O (2012) Tsunami hazard in the Caribbean: regional exposure derived from credible worst case scenarios. Cont Shelf Res 38:1–23

Hart AM, Kaesler RL (1986) Temporal changes in Holocene lagoonal assemblages of Foraminifera from northeastern Yucatán Peninsula, Mexico. J Foramin Res 16:98–109

Hartog J (1978) A short history of Bonaire. De Wit, Aruba

Havach SM, Collins LS (1997) The distribution of recent benthic Foraminifera across habitats of Bocas del Toro, Caribbean Panama. J Foramin Res 27:232–249

Hawkes AD, Bird M, Cowie S, Grundy-Warr C, Horton BP, Hwai ATS, Law L, Macgregor C, Nott J, Ong JE, Rigg J, Robinson R, Tan-Mullins M, Sa TT, Yasin Z, Aik LW (2007) Sediments deposited by the 2004 Indian Ocean Tsunami along the Malaysia–Thailand Peninsula. Mar Geol 242:169–190

Higuera-Gundy A, Brenner M, Hodell DA, Curtis JH, Leyden BW, Binford MW (1999) A 10,300 14C yr record of climate and vegetation change from Haiti. Quatern Res 52:159–170

Hindson RA, Andrade C (1999) Sedimentation and hydrodynamic processes associated with the tsunami generated by the 1755 Lisbon earthquake. Quat Int 56:27–38

Hippolyte JC, Mann P (2011) Neogene–Quaternary tectonic evolution of the Leeward Antilles islands (Aruba, Bonaire, Curaçao) from fault kinematic analysis. Mar Petrol Geol 28:259–277

Hobgood J (2005) Tropical cyclones. In: Oliver JE (ed) Encyclopedia of world climatology. Springer, Dordrecht, pp 750–755

Hornbach MJ, Mann P, Wolf S, King W, Boon R (2008) Assessing slope stability at Seroe Mansinga and Caracas Bay, Curaçao. Final report for APNA, Willemstad, Curaçao. http://www.apna.an/apna/library/files/VistaRoyal/APNAfinalreport.pdf. Accessed 10 Aug 2012

Keyser D (1977) Brackwasser-Cytheracea aus Süd-Florida (Crust.: Ostracoda: Podocopa). Abh Verh naturwiss Ver Hamburg 30:43–85

Klosowska BB (2003) Late Holocene embayment and salina record of Curaçao (Dutch Antilles): criteria to monitor environmental change and biodiversity. Dissertation, Vrije Universiteit Amsterdam

Kobluk DR, Crawford DR (1990) A modern hypersaline organic mud- and gypsum-dominated basin and associated microbialites. Palaios 5:134–148

Kortekaas S, Dawson AG (2007) Distinguishing tsunami from storm deposits: an example from Martinhal, SW Portugal. Sediment Geol 200:208–221

Malaizé B, Bertran P, Carbonel P, Bonnissent D, Charlier K, Galop D, Imbert D, Serrand N, Stouvenot C, Pujol C (2011) Hurricanes and climate in the Caribbean during the past 3700 years BP. Holocene 21:911–924

Malik JN, Shishikura M, Echigo T, Ikeda Y, Satake K, Kayanne H, Sawai Y, Murty CVR, Dikshit O (2011) Geologic evidence for two pre-2004 earthquakes during recent centuries near Port Blair, South Andaman Island, India. Geology 39:559–562

Mamo B, Strotz L, Dominey-Howes D (2009) Tsunami sediments and their foraminiferal assemblages. Earth-Sci Rev 96:263–278

McCloskey TA, Liu K-B (2012) A sedimentary-based history of hurricane strikes on the southern Caribbean coast of Nicaragua. Quat Res. doi:10.1016/j.yqres.2012.07.003

Meschede M, Frisch W (1998) A plate-tectonic model for the Mesozoic and Early Cenozoic history of the Caribbean plate. Tectonophysics 296:269–291

Milne GA, Long AJ, Bassett SE (2005) Modelling Holocene relative sea-level observations from the Caribbean and South America. Quat Sci Rev 24:1183–1202

Monacci NM, Meier-Grünhagen U, Finney BP, Behling H, Wooller MJ (2009) Mangrove ecosystem changes during the Holocene at Spanish Lookout Cay, Belize. Palaeogeogr Palaeocl 280:37–46

Moore HB, Lopez NN (1969) The ecology of Chione cancellata. B Mar Sci 19:131–148

Moore A, Goff J, McAdoo BG, Fritz HM, Gusman A, Kalligeris N, Kalsum K, Susanto A, Suteja D, Synolakis CE (2011) Sedimentary deposits from the 17 July 2006 Western Java Tsunami, Indonesia: use of grain size analyses to assess tsunami flow depth, speed, and traction carpet characteristics. Pure Appl Geophys 168:1951–1961

Morton RA, Richmond BM, Jaffe BE, Gelfenbaum G (2008) Coarse-clast ridge complexes of the Caribbean: a preliminary basis for distinguishing tsunami and storm-wave origins. J Sediment Res 78:624–637

Moya JC, Mercado A (2006) Geomorphologic and stratigraphic investigations on historic and pre-historic tsunami in northwestern Puerto Rico: implications for long term coastal evolution. In: Mercado-Irizarry A, Liu P (eds) Caribbean tsunami hazard. World Scientific, Singapore, pp 149–177

Murray JW (2006) Ecology and applications of benthic foraminifera. Cambridge University Press, Cambridge

Nagendra R, Kamalak Kannan BV, Sajith C, Sen G, Reddy AN, Srinivasalu S (2005) A record of foraminiferal assemblage in tsunami sediments along Nagapattinam coast. Curr Sci 89:1947–1952

O'Loughlin KF, Lander JF (2003) Caribbean tsunamis—a 500-year history from 1498–1998. Kluwer, Dordrecht

Palmer S, Burn M (2011) A Late-Holocene record of marine washover events from a coastal lagoon in Jamaica, West Indies. XVIII. INQUA Bern 2011, Switzerland, Abstract ID 2098

Parsons T, Geist EL (2009) Tsunami probability in the Caribbean region. Pure Appl Geophys 165:2089–2116

Pascual A, García BM, Lázaro JR, Pujos M (2009) Asociaciones de foraminíferos bentónicos recientes en la plataforma marina de las Guayanas. Geogaceta 46:75–78

Pérez L, Lorenschat J, Bugja R, Brenner M, Scharf B, Schwalb A (2010) Distribution, diversity and ecology of modern freshwater ostracodes (Crustacea), and hydrochemical characteristics of Lago Petén Itzá, Guatemala. J Limnol 69:146–159

Peters SE, Loss DP (2012) Storm and fair-weather wave base: a relevant distinction? Geology 40:511–514

Pijpers PJ (1933) Geology and paleontology of Bonaire (D.W.I.). Geographische en Geologische Mededeelingen, Physiographisch-Geologische Reeks 8

Pilarczyk JE, Reinhardt EG (2012) Testing foraminiferal taphonomy as a tsunami indicator in a shallow arid system lagoon: Sur, Sultanate of Oman. Mar Geol 295–298:128–136

Radtke U, Schellmann G, Scheffers A, Kelletat D, Kromer B, Kasper HU (2003) Electron spin resonance and radiocarbon dating of coral deposited by Holocene tsunami events on Curaçao, Bonaire and Aruba (Netherlands Antilles). Quat Sci Rev 22:1309–1315

Ramírez-Herrera MT, Cundy AB, Kostoglodov V, Ortiz M (2009) Late Holocene tectonic land-level changes and tsunamis at Mitla lagoon, Guerrero, Mexico. Geofís Int 48:195–209

Reading AJ (1990) Caribbean tropical storm activity over the past four centuries. Int J Climatol 10:365–376

Reimer PJ et al (2009) IntCal09 and Marine09 radiocarbon age calibration curves, 0–50,000 years cal BP. Radiocarbon 51:1111–1150

Reinhardt EG, Goodman BN, Boyce JI, Lopez G, van Hengstum P, Rink WJ, Mart Y, Raban A (2006) The tsunami of 13 December A.D. 115 and the destruction of Herod the Great's harbor at Caesarea Maritima, Israel. Geology 34:1061–1064

Reinhardt EG, Pilarczyk JE, Brown A (2012) Probable tsunami origin for a shell and sand sheet from marine ponds on Anegada, British Virgin Islands. Nat Hazards 63:101–117

Richmond BM, Watt S, Buckley M, Jaffe BE, Gelfenbaum G, Morton RA (2011) Recent storm and tsunami coarse-clast deposit characteristics, southeast Hawai'i. Mar Geol 283:79–89

Ruiz F, Abad M, Cáceres LM, Vidal JR, Carretero MI, Pozo M, González-Regalado ML (2010) Ostracods as tsunami tracers in Holocene sequences. Quat Res 73:130–135

Sawai Y, Jankaew K, Martin ME, Prendergast A, Choowong M, Charoentitirat T (2009) Diatom assemblages in tsunami deposits associated with the 2004 Indian Ocean tsunami at Phra Tong Island, Thailand. Mar Micropaleontol 73:70–79

Scheffers A (2005) Coastal response to extreme wave events—hurricanes and tsunami on Bonaire. Essener Geogr Arb 37

Scheffers S, Scheffers A, Radtke U, Kelletat D, Staben K, Bak R (2006) Tsunamis trigger long-lasting phase-shift in a coral reef ecosystem. Z Geomorph NF, Suppl 146:59–79

Scheucher LEA, Piller WE, Vortisch W (2011) Foraminiferal analysis of tsunami deposits: two examples from the northeastern and southwestern coast of the Dominican Republic. In: Bornemann A, Brachert TC, Ehrmann W (eds) SEDIMENT 2011—sediments: archives of the earth system, Leipzig, June 23–26, 2011, Abstracts, pp 86–87

Shanmugan G (2012) Process-sedimentological challenges in distinguishing paleo-tsunami deposits. Nat Hazards 63:5–30

Spiske M, Jaffe BE (2009) Sedimentology and hydrodynamic implications of a coarse-grained hurricane sequence in a carbonate reef setting. Geology 37:839–842

Swain FM, Gilby JM (1967) Recent Ostracoda from Corinto Bay, Western Nicaragua, and their relationship to some other assemblages of the Pacific Coast. J Paleontol 41:306–334

Switzer AD, Jones BG (2008) Large-scale washover sedimentation in a freshwater lagoon from the southeast Australian coast: sea-level change, tsunami or exceptionally large storm? Holocene 18:787–803

Szczuciński W (2012) The post-depositional changes of the onshore 2004 tsunami deposits on the Andaman Sea coast of Thailand. Nat Hazards 60:115–133

Toscano MA, Macintyre IG (2003) Corrected western Atlantic sea-level curve for the last 11,000 years based on calibrated 14C dates from Acropora palmata framework and intertidal mangrove peat. Coral Reefs 22:257–270

Treece GD (1980) Bathymetric records of marine shelled Mollusca from the northeastern shelf and upper slope of Yucatan, Mexico. B Mar Sci 30:552–570

Uchida J-I, Fujiwara O, Hasegawa S, Kamataki T (2010) Sources and depositional processes of tsunami deposits: analysis using foraminiferal tests and hydrodynamic verification. Isl Arc 19:427–442

Watt SG, Jaffe BE, Morton RA, Richmond BM, Gelfenbaum G (2010) Description of extreme-wave deposits on the northern coast of Bonaire, Netherlands Antilles. USGS Open-File Report 2010-1180

Weiss MP (1979) A saline lagoon on Cayo Sal, Western Venezuela. Atoll Res Bull 232:1–33

Weiss R (2008) Sediment grains moved by passing tsunami waves: tsunami deposits in deeper water. Mar Geol 250:251–257

Weiss R, Bourgeois J (2012) Understanding sediments—reducing tsunami risk. Science 336:1117–1118

Westermann JH, Zonneveld JIS (1956) Photo-geological observations and land capability & land use survey of the Island of Bonaire (Netherlands Antilles). Koninklijk Institut voor de Tropen, Amsterdam
Acknowledgments
Funding by the Deutsche Forschungsgemeinschaft (BR 877/26-1) is gratefully acknowledged. We highly appreciate the administrative and logistic support by DROB (Government of the Island Territory Bonaire/Department of Environment and Natural Resources) and STINAPA (Bonaire National Parks Foundation). Furthermore, we acknowledge the assistance in the field by Timo Willershäuser and in the lab by Karoline Messenzehl. Andreas Bolten kindly supported processing of bathymetric data. We thank Dietmar Keyser for supporting the identification of ostracods. Kirstin Jacobson is acknowledged for language editing. We are thankful for the thorough and constructive remarks of the associate editor, Claus-Dieter Hillenbrand, and the four reviewers: Michaela Spiske, David R. Tappin, Eduard G. Reinhardt and Gary M. McMurtry. This is a contribution to IGCP Project 588—Preparing for Coastal Change.
Additional information
Communicated by: Claus-Dieter Hillenbrand
Electronic supplementary material
Below is the link to the electronic supplementary material.
About this article
Cite this article
Engel, M., Brückner, H., Fürstenberg, S. et al. A prehistoric tsunami induced long-lasting ecosystem changes on a semi-arid tropical island—the case of Boka Bartol (Bonaire, Leeward Antilles). Naturwissenschaften 100, 51–67 (2013). https://doi.org/10.1007/s00114-012-0993-2
Received:

Revised:

Accepted:

Published:

Issue Date:
Keywords
Palaeotsunamis

Caribbean Sea

Tsunami vs. storm deposits

Coastal evolution

Hazard assessment

Foraminifera

Ostracoda