Abstract
Sex change, either protogyny (female to male) or protandry (male to female), is well known among fishes, but evidence of bidirectional sex change or reversed sex change in natural populations is still very limited. This is the first report on female removal experiments for polygnous and protogynous fish species to induce reversed sex change in the widowed males in the field. We removed all of the females and juveniles from the territories of dominant males in the cleaner wrasse Labroides dimidiatus (Labridae) and the rusty angelfish Centropyge ferrugata (Pomacanthidae) on the coral reefs of Okinawa. In both species, if new females or juveniles did not immigrate into the territories of the widowed males, some of them emigrated to form male–male pairs. When a male–male pair formed, the smaller, subordinate partner began to perform female sexual behaviours (n = 4 in L. dimidiatus; n = 2 in C. ferrugata) and, finally, released eggs (n = 1, respectively). Thus, the reversed sex change occurred in the widowed males according to the change of their social status. These results suggest that such female removal experiments will contribute to the discovery of reversed sex change in the field also in other polygnous and protogynous species.
Access options
Buy single article
Instant access to the full article PDF.
USD 39.95
Price excludes VAT (USA)
Tax calculation will be finalised during checkout.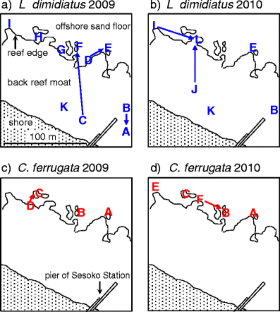 References
Arakaki S, Yamahira AK, Tokeshi M (1999) Sex change and spatial distribution pattern in an intertidal holothurian Polycheira rufescens in the reproductive season. Res Popul Ecol 41:235–242. doi:10.1007/s101440050027

Berglund A (1986) Sex change by a polychaete: effects of social and reproductive costs. Ecology 67:837–845

Charnov EL (1982) The theory of sex allocation. Princeton University Press, Princeton

Colléter M, Brown C (2011) Personality traits predict hierarchy rank in male rainbowfish social groups. Anim Behav 81:1231–1237. doi:10.1016/j.anbehav.2011.03.011

Ghiselin MT (1969) The evolution of hermaphroditism among animals. Q Rev Biol 44:189–208

Hioki S (1999) Characteristics of eggs and larvae of twelve angelfishes belonging to the genus Centropyge (Teleostei, Pomacanthidae) with special reference to their subgeneric relationships. Sci Rep Mus Tokai Univ 1:1–36

Hioki S, Suzuki K, Tanaka Y (1990) Development of eggs and larvae in the angelfish, Centropyge ferrugatus. Jpn J Ichthyol 37:34–38

Kadota T, Osato J, Nagata K, Sakai Y (2011) Reversed sex change in the haremic protogynous hawkfish Cirrhitichthys falco in natural conditions. Ethology (in press)

Kinoshita E (1986) Size–sex relationship and sexual dimorphism in Japanese Arisaema (Araceae). Ecol Res 1:157–171. doi:10.1007/BF02347018

Kubota T, Tomari M (1998) Reproduction in the apodid sea cucumber Polycheira rufescens: semilunar spawning rhythm and sex change. J Mar Biol Assoc UK 78:249–267. doi:10.1017/S0025315400040078

Kuwamura T (1981) Life history and population fluctuation in the labrid fish, Labroides dimidiatus, near the northern limit of its range. Publ Seto Mar Biol Lab 26:95–117

Kuwamura T (1984) Social structure of the protogynous fish Labroides dimidiatus. Publ Seto Mar Biol Lab 29:117–177

Kuwamura T, Nakashima Y (1998) New aspects of sex change among reef fishes: recent studies in Japan. Environ Biol Fish 52:125–135. doi:10.1023/A:1007389519702

Kuwamura T, Nakashima Y, Yogo Y (1994) Sex change in either direction by growth-rate advantage in the monogamous coral goby, Paragobiodon echinocephalus. Behav Ecol 5:434–438. doi:10.1093/beheco/5.4.434

Kuwamura T, Tanaka N, Nakashima Y, Karino K, Sakai Y (2002) Reversed sex-change in the protogynous reef fish Labroides dimidiatus. Ethology 108:443–450. doi:10.1046/j.1439-0310.2002.00791.x

Kuwamura T, Suzuki S, Tanaka N, Ouchi E, Karino K, Nakashima Y (2007) Sex change of primary males in a diandric labrid Halichoeres trimaculatus: coexistence of protandry and protogyny within a species. J Fish Biol 70:1898–1906. doi:10.1111/j.1095-8649.2007.01464.x

Loya Y, Sakai K (2008) Bidirectional sex change in mushroom stony corals. Proc R Soc B 275:2335–2343. doi:10.1098/rspb.2008.0675

Manabe H, Ishimura M, Shinomiya A, Sunobe T (2007) Field evidence for bi-directional sex change in the polygynous gobiid fish Trimma okinawae. J Fish Biol 70:600–609. doi:10.1111/j.1095-8649.2007.01338.x

Moyer JT, Nakazono A (1978) Population structure, reproductive behaviour and protogynous hermaphroditism in the angelfish Centropyge interruptus at Miyake-jima, Japan. Jpn J Ichthyol 21:25–39

Munday PL, Buston PM, Warner RR (2006) Diversity and flexibility of sex-change strategies in animals. Trends Ecol Evol 21:89–95. doi:10.1016/j.tree.2005.10.020

Munday PL, Kuwamura T, Kroon FJ (2010) Bidirectional sex change in marine fishes. In: Cole KS (ed) Reproduction and sexuality in marine fishes: patterns and processes. University of California Press, Berkeley, pp 241–271

Nakashima Y, Kuwamura T, Yogo Y (1995) Why be a both-ways sex changer? Ethology 101:301–307. doi:10.1111/j.1439-0310.1995.tb00367.x

Nakashima Y, Kuwamura T, Yogo Y (1996) Both-ways sex change in monogamous coral gobies, Gobiodon spp. Environ Biol Fish 46:281–288. doi:10.1007/BF00005004

Nakashima Y, Sakai Y, Karino K, Kuwamura T (2000) Female–female spawning and sex change in a haremic coral-reef fish, Labroides dimidiatus. Zool Sci 17:967–970. doi:10.2108/zsj.17.967

Nakazono A, Kuwamura T (eds) (1987) Sex change in fishes. Tokai University Press, Tokyo

Policansky D (1982) Sex change in plants and animals. Ann Rev Ecol Syst 13:471–495

Pratchett MS, Wilson SK, Graham NAJ, Munday PL, Jones GP, Polunin NVC (2009) Coral bleaching and consequences for motile reef organisms: past, present and uncertain future effects. Ecol Stud 205:139–158. doi:10.1007/978-3-540-69775-6_9

Premoli MC, Sella G (1995) Sex economy in benthic polychaetes. Ethol Ecol Evol 7:27–48

Robertson DR (1972) Social control of sex reversal in a coral-reef fish. Science 177:1007–1009. doi:10.1126/science.177.4053.1007

Robertson DR, Hoffman SG (1977) The roles of female mate choice and predation in the mating systems of some tropical labroid fishes. Z Tierpsychol 45:298–320. doi:10.1111/j.1439-0310.1977.tb02123.x

Sadovy de Mitcheson Y, Liu M (2008) Functional hermaphroditism in teleosts. Fish Fish 9:1–43. doi:10.1111/j.1467-2979.2007.00266.x

Sakai Y (1996) Fecundity of female angelfish, Centropyge ferrugatus independent of body size: field collection of spawned eggs. Ichthyol Res 43:186–189. doi:10.1007/BF02348245

Sakai Y (1997) Alternative spawning tactics of female angelfish according to two different contexts of sex change. Behav Ecol 8:372–377. doi:10.1093/beheco/8.4.372

Sakai Y, Kohda M (1995) Anti-egg predator behaviors of the small angelfish Centropyge ferrugatus (Pomacanthidae). Environ Biol Fish 43:401–405. doi:10.1007/BF00001176

Sakai Y, Kohda M (1997) Harem structure of the protogynous angelfish, Centropyge ferrugatus (Pomacanthidae). Environ Biol Fish 49:333–339. doi:10.1023/A:1007313501829

Sakai Y, Karino K, Kuwamura T, Nakashima Y (2003) Sexually dichromatic protogynous angelfish Centropyge ferrugata (Pomacanthidae) males can change back to females. Zool Sci 20:627–633. doi:10.2108/zsj.20.627

Sunobe T, Nakazono A (1993) Sex change in both directions by alteration of social dominance in Trimma okinawae (Pisces: Gobiidae). Ethology 94:339–345. doi:10.1111/j.1439-0310.1993.tb00450.x

Suzuki K, Hioki S, Kobayashi K (1981) Developing eggs and early larvae of the wrasses, Cirrhilabrus temminckii and Labroides dimidiatus, with a note on spawning behaviors. J Fac Mar Sci Technol, Tokai Univ 14:369–377

Warner RR (1975) The adaptive significance of sequential hermaphroditism in animals. Am Nat 109:61–82

Warner RR (1984) Mating behaviour and hermaphroditism in coral reef fishes. Am Sci 72:128–136

Wright WG (1988) Sex change in the mollusca. Trends Ecol Evol 3:137–140. doi:10.1016/0169-5347(88)90177-2
Acknowledgements
The Sesoko Station of the Tropical Biosphere Research Center at the University of the Ryukyus provided the facilities for the fieldwork. We are grateful to Philip Munday, Yoichi Sakai, Tomoki Sunobe and three anonymous reviewers for the helpful comments on the manuscript. The research presented here complies with the current laws of Japan and the guideline of the Japan Ethological Society. This work was supported by a Grant-in-Aid for Scientific Research (no. 21570026) from the Japan Society for the Promotion of Science.
Additional information
Communicated by: Sven Thatje
About this article
Cite this article
Kuwamura, T., Suzuki, S. & Kadota, T. Reversed sex change by widowed males in polygynous and protogynous fishes: female removal experiments in the field. Naturwissenschaften 98, 1041–1048 (2011). https://doi.org/10.1007/s00114-011-0860-6
Received:

Revised:

Accepted:

Published:

Issue Date:

DOI: https://doi.org/10.1007/s00114-011-0860-6
Keywords
Bidirectional sex change

Reversed sex change

Polygyny

Mate removal

Social status

Coral reef fish