Abstract
Orb-web building spiders (Araneae: Araneoidea, Uloboridae) can be considered as territorial central place foragers. In territorial central place foragers, the optimal foraging arena is circular, with the forager sitting in its centre. In orb webs, the spider's orientation (head up or head down) whilst waiting for prey on the hub of its web and the downwards–upwards asymmetry of its running speeds are the probable causes for the observed deviation of the hub from the web's centre. Here, we present an analytical model and a more refined simulation model to analyse the relationships amongst the spider's running speeds, its orientation whilst waiting for prey and the vertical asymmetry of orb webs. The results of our models suggest that (a) waiting for prey head down is generally favourable because it allows the spider to reach the prey in its web on average quicker than spiders waiting head up, (b) the downwards–upwards running speed asymmetry, together with the head-down orientation of most spiders, are likely causes for the observed vertical asymmetry of orb webs, (c) waiting head up can be advantageous for spiders whose downwards–upwards running speed asymmetry is small and who experience high prey tumbling rates and (d) spiders waiting head up should place their hub lower than similar spiders waiting head down.
This is a preview of subscription content, log in to check access.
Access options
Buy single article
Instant access to the full article PDF.
US$ 39.95
Tax calculation will be finalised during checkout.
Subscribe to journal
Immediate online access to all issues from 2019. Subscription will auto renew annually.
US$ 99
Tax calculation will be finalised during checkout.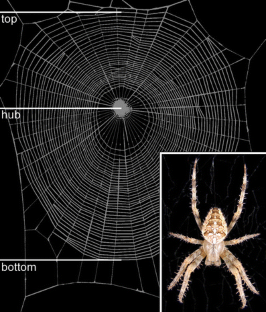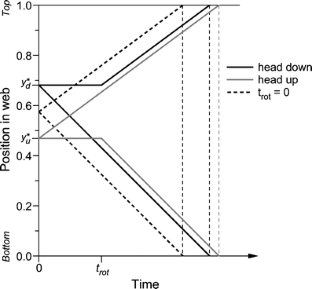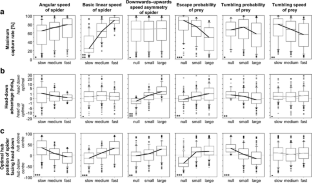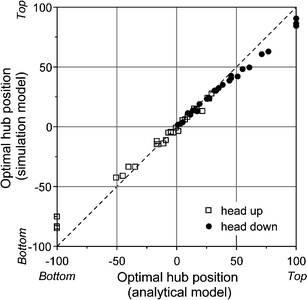 References
ap Rhisiart A, Vollrath F (1994) Design features of the orb web of the spider, Araneus diadematus. Behav Ecol 5:280–287. doi:10.1093/beheco/5.3.280

Blackledge TA, Zevenbergen JM (2006) Mesh width influences prey retention in spider orb webs. Ethology 112:1194–1201. doi:10.1111/j.1439-0310.2006.01277.x

Bleher B (2000) Development of web-building and spinning apparatus in the early ontogeny of Nephila madagascariensis (Vinson, 1863) (Araneae: Tetragnathidae). Bull Br Arachnol Soc 11:275–283

Breed AL, Levine VD, Peakall DB, Witt PN (1964) The fate of the intact orb web of the spider Araneus diadematus Cl. Behaviour 23:43–60. doi:10.1163/156853964X00085

Coslovsky M (2007) Asymmetry in spider webs: an adaptation to prey capture or to web building? Master thesis, University of Basel

Coslovsky M, Zschokke S (2009) Asymmetry in orb-webs: an adaptation to web building costs? J Insect Behav 22:29–38. doi:10.1007/s10905-008-9151-2

Curtis JT, Carrel JE (2000) Defaecation behaviour of Argiope aurantia (Araneae: Araneidae). Bull Br Arachnol Soc 11:339–342

de Crespigny FEC, Herberstein ME, Elgar MA (2001) The effect of predator–prey distance and prey profitability on the attack behaviour of the orb-web spider Argiope keyserlingi (Araneidae). Aust J Zool 49:213–221. doi:10.1071/ZO00074

Denny M (1976) The physical properties of spider's silk and their role in the design of orb-webs. J Exp Biol 65:483–506

Eberhard WG (1975) The 'inverted ladder' orb web of Scoloderus sp. and the intermediate orb of Eustala (?) sp. Araneae: Araneidae. J Nat Hist 9:93–106. doi:10.1080/00222937500770071

Eberhard WG (1989) Effects of orb web orientation and spider size on prey retention. Bull Br Arachnol Soc 8:45–48

Endo T (1988) Patterns of prey utilization in a web of orb-weaving spider Araneus pinguis (Karsch). Res Popul Ecol 30:107–121. doi:10.1007/BF02512606

Heiling AM, Herberstein ME (1998) The web of Nuctenea sclopetaria (Araneae, Araneidae): relationship between body size and web design. J Arachnol 26:91–96

Herberstein ME, Heiling AM (1999) Asymmetry in spider orb webs: a result of physical constraints? Anim Behav 58:1241–1246. doi:10.1006/anbe.1999.1255

Herberstein ME, Gaskett AC, Glencross D, Hart S, Jaensch S, Elgar MA (2000) Does the presence of potential prey affect web design in Argiope keyserlingi (Araneae, Araneidae)? J Arachnol 28:346–350. doi:10.1636/0161-8202(2000)028[0346:DTPOPP]2.0.CO;2

Horn HS (1968) The adaptive significance of colonial nesting in the Brewer's Blackbird (Euphagus cyanocephalus). Ecology 49:682–694. doi:10.2307/1935532

Huffman SW, Brown CW (2005) Multivariate analysis of infrared spectroscopic image data. In: Bhargava R, Levin IW (eds) Spectrochemical analysis using infrared multichannel detectors. Blackwell, Oxford, pp 85–114

Klärner D, Barth FG (1982) Vibratory signals and prey capture in orb-weaving spiders (Zygiella x-notata, Nephila clavipes; Araneidae). J Comp Physiol A 148:445–455. doi:10.1007/BF00619783

Kuntner M, Haddad CR, Aljancic G, Blejec A (2008) Ecology and web allometry of Clitaetra irenae, an arboricolous African orb-weaving spider (Araneae, Araneoidea. Nephilidae). J Arachnol 36:583–594. doi:10.1636/T07-54.1

Le Guelte L (1967) La structure de la toile et les facteurs externes modifiant le comportement de Zygiella-x-notata Cl. (Araignées, Argiopidae). Rev Comport Anim 1:23–70

Levi HW (1976) The orb-weaver genera Verrucosa, Acanthepeira, Wagneriana, Acacesia, Wixia, Scoloderus and Alpaida North of Mexico (Araneae: Araneidae). Bull Mus Comp Zool Harv Univ 147:351–391

Masters WM, Moffat AJM (1983) A functional explanation of top-bottom asymmetry in vertical orbwebs. Anim Behav 31:1043–1046. doi:10.1016/S0003-3472(83)80010-4

Mayer G (1952) Untersuchungen über Herstellung und Struktur des Radnetzes von Aranea diadema und Zilla x-notata mit besonderer Berücksichtigung des Unterschiedes von Jugend- und Altersnetzen. Z Tierpsychol 9:337–362

Miyashita T (1999) Life-history variation in closely related generalist predators living in the same habitat: a case study with three Cyclosa spiders. Funct Ecol 13:307–314. doi:10.1046/j.1365-2435.1999.00318.x

Moya-Laraño J, Halaj J, Wise DH (2002) Climbing to reach females: Romeo should be small. Evolution 56:420–425. doi:10.1111/j.0014-3820.2002.tb01351.x

Moya-Laraño J, Vinkovi D, Allards C, Foellmer M (2007) Gravity still matters. Funct Ecol 21:1178–1181. doi:10.1111/j.1365-2435.2007.01335.x

Nakahira K (1961) Spiders in Kochi Prefecture. Atypus 23/24:27–60 [in Japanese]

Nakata K, Ushimaru A (1999) Feeding experience affects web relocation and investment in web threads in an orb-web spider, Cyclosa argenteoalba. Anim Behav 57:1251–1255. doi:10.1006/anbe.1999.1105

Nakata K, Ushimaru A (2004) Difference in web construction behavior at newly occupied web sites between two Cyclosa species. Ethology 110:397–411. doi:10.1111/j.1439-0310.2004.00983.x

Orians GH, Pearson NE (1979) On the theory of central place foraging. In: Horn DJ, Stairs GR, Mitchell RD (eds) Analysis of ecological systems. Ohio State University Press, Columbus, pp 155–177

Peakall DB, Witt PN (1976) The energy budget of an orb web-building spider. Comp Biochem Physiol 54:187–190. doi:10.1016/S0300-9629(76)80094-1

Risch P (1977) Quantitative analysis of orb web patterns in four species of spiders. Behav Genet 7:199–238. doi:10.1007/BF01066276

Schoener TW (1979) Generality of the size–distance relation in models of optimal feeding. Am Nat 114:902–914. doi:10.1086/283537

Sherman PM (1994) The orb-web: an energetic and behavioural estimator of a spider's dynamic foraging and reproductive strategies. Anim Behav 48:19–34. doi:10.1006/anbe.1994.1208

Stowe MK (1978) Observations of two nocturnal orbweavers that build specialized webs: Scoloderus cordatus and Wixia ectypa (Araneae: Araneidae). J Arachnol 6:141–146

Tanikawa A (1992) A revisional study of the Japanese spiders of the genus Cyclosa Menge (Araneae: Araneidae). Acta arachnol 41:11–85. doi:10.2476/asjaa.41.11

Uetz GW, Johnson AD, Schemske DW (1978) Web placement, web structure, and prey capture in orb-weaving spiders. Bull Br Arachnol Soc 4:141–148

Venner S, Bel-Venner M-C, Pasquet A, Leborgne R (2003) Body-mass-dependent cost of web-building behavior in an orb weaving spider, Zygiella x-notata. Naturwissenschaften 90:269–272. doi:10.1007/s00114-003-0420-9

Vollrath F (1992) Analysis and interpretation of orb spider exploration and web-building behavior. Adv Stud Behav 21:147–199. doi:10.1016/S0065-3454(08)60144-8

Wiehle H (1927) Beiträge zur Kenntnis des Radnetzbaues der Epeiriden, Tetragnathiden und Uloboriden. Z Morphol Ökol Tiere 8:468–537. doi:10.1007/BF00407450

Wiehle H (1928) Beiträge zur Biologie der Araneen, insbesondere zur Kenntnis des Radnetzbaues. Z Morphol Ökol Tiere 11:115–151. doi:10.1007/BF02425772

Witt PN, Reed CF (1965) Spider web-building. Measurement of web geometry identifies components in a complex invertebrate behavior pattern. Science 149:1190–1197. doi:10.1126/science.149.3689.1190

Witt PN, Scarboro MB, Daniels R, Peakall DB, Gause RL (1977) Spider web-building in outer space: evaluation of records from the Skylab spider experiment. J Arachnol 4:115–124

Yoshikura M (1987) The biology of spiders. Japan Scientific Societies, Tokyo [in Japanese]

Zschokke S (1993) The influence of the auxiliary spiral on the capture spiral in Araneus diadematus Clerck (Araneidae). Bull Br Arachnol Soc 9:169–173

Zschokke S (1999) Nomenclature of the orb-web. J Arachnol 27:542–546

Zschokke S (2002) Form and function of the orb-web. In: Toft S, Scharff N (eds) European Arachnology 2000. Aarhus University Press, Aarhus, pp 99–106

Zschokke S, Vollrath F (1995) Web construction patterns in a range of orb-weaving spiders (Araneae). Eur J Entomol 92:523–541

Zschokke S, Hénaut Y, Benjamin SP, García-Ballinas JA (2006) Prey-capture strategies in sympatric web-building spiders. Can J Zool 84:964–973. doi:10.1139/z06-074
Acknowledgements
We thank Michael Coslovsky, Peter Stoll and anonymous reviewers for their helpful comments. This work was supported by the Treubelfonds, Basel to SZ and by the MEXT Grant-in-Aid for Young Scientists (B; 15770017, 2003-2004) to KN.
About this article
Cite this article
Zschokke, S., Nakata, K. Spider orientation and hub position in orb webs. Naturwissenschaften 97, 43 (2010). https://doi.org/10.1007/s00114-009-0609-7
Received:

Revised:

Accepted:

Published:
Keywords
Biomechanics

Central place foraging

Spider web

Gravity

Up-down asymmetry

Web design