Abstract
The Arctic Fox Alopex lagopus semenovi population on Mednyi Island is completely isolated and subsists largely by scavenging on seabird colonies, which have remained abundant and spatio-temporally predictable for many years. We compared population data at the beginning of 1976/1978 and some time after 1994–2005, finding an 85% decline in fox numbers due to disease, to assess the effect of population size on social structure. A total of 81 groups of known size and composition was observed during this 29-year period. Overall, helpers (usually non-lactating yearling females) occurred in 25.7% of groups, and in 32.4% of groups there were two or three lactating females. Female engagement in alloparental behaviour decreased, but not statistically significantly, after the decline in population density. Total food availability was apparently constant throughout the study period, and therefore, the amount available per individual was much higher later in the study. Both communally nursing females and helpers brought food and helped to guard the litter. However, the benefits of communal rearing were unclear. While cubs were left without guards significantly more rarely in the groups with an additional adult, the number of cubs weaned per lactating female was greater in groups with one (3.93 ± 1.60), as opposed to two or three (3.06 ± 0.92), lactating females. Survival of cubs to 1 year of age in the groups with two lactating females and/or with helpers was lower than that in the families with one lactating female without helpers (22.2% vs 32.2%). Fewer second-generation litters were born to foxes produced by composite families than to those produced by pairs. Reproductive adults producing by pairs had, on average, 1.23 (±1.72) second-generation litters. In groups that initially included additional adults, the average number of second-generation litters per reproductive female was 0.21 (±0.49) and 0.46 (±0.81) litters per male. Thus, according to three measures, increased group size had no apparent positive impact on reproductive success. The increased parental investment and enhanced guarding of the cubs in the larger families could be beneficial under conditions of high population density and a saturated biotope to which the island fox population was presumably adapted before the population crash in the late 1970s.
Access options
Buy single article
Instant access to the full article PDF.
USD 39.95
Price includes VAT (USA)
Tax calculation will be finalised during checkout.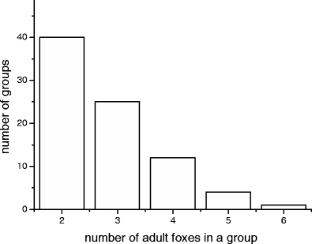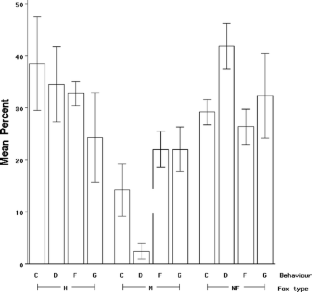 References
Altmann J (1974) Observational study of animal behaviour: sampling methods. Behaviour 49:227–265

Angerbjorn A, Stroeman J, Becker D (1997) Home range pattern in Arctic foxes in Sweden. J Wildl Res 2:9–14

Angerbjorn A, Hersteinsson P, Tannerfeldt M (2004) Consequences of resource predictability in the Arctic fox—two life history strategies. In: Macdonald DW, Sillero-Zubiri C (eds) Biology and conservation of wild canids. Oxford University Press, Oxford, pp 85–106

Anthony RM (1997) Home ranges and movements of Arctic fox (Alopex lagopus) in Western Alaska. Arctic 50:147–157

Artyukhin BJ (1999) The sea bird colonies on Commander Islands. In: Gerasimov Ju N (ed) Biology and conservation of Kamchatka [In Russian]. Moscow State Pages, University of Moscow, Moscow, Russia, pp 25–35

Asa CS, Valdespino C (1998) Canid reproductive biology: an integration of proximate mechanisms and ultimate causes. Am Zool 38:251–259

Baker PJ, Robertson CPJ, Funk SM, Harris S (1998) Potential fitness benefits of group living in the red fox, Vulpes vulpes. Anim Behav 56:1411–1424

Burdin AM, Vertjankin VV, Nikulin VS, Fomin VV (1991) Current state of Commander common seal population. In: Popov LA (ed) Science researching of sea mammals on North Pacific in 1989–1990 [In Russian]. VNIRO Moscow, Russia, pp 82–94

Cherskii AI (1920) Commander Arctic Fox. Materials for study fishing and fur collection on the Far East. 1919. Part 1. [In Russian]. Japan-Russian Club, Tokio, pp 60–107

Chirkova AF (1967) The Arctic Fox, Alopex lagopus (Linnaeus, 1758), Biology [In Russian]. In: Geptner VG, Naumov NP (eds) Mammals of the USSR Vyshaja Shkola, Moscow. 2(1) pp 208–259

Clutton-Brock T (2002) Breeding together: kin selection and mutualism in cooperative vertebrates. Science 296:69–72

Doolan SP, Macdonald DW (1999) Co-operative rearing by slender-tailed meerkats (Suricata suricatta) in the Southern Kalahari. Ethology 105:851–866

Eberhardt LE, Hanson WC, Bengtson JL, Garrott RA, Hanson EE (1982) Arctic fox home range characteristics in an oil-development area. J Wildl Manage 46:183–190

Fox MW (1971) Behaviour of wolves, dogs and related canids. Cape, London, UK

Frafjord K (1991) Adult Arctic Foxes, Alopex lagopus L., in the denning area; numbers and behaviour. Fauna Norv Ser A 12:21–48

Frafjord K, Prestrud P (1992) Home range and movements of Arctic foxes Alopex lagopus in Svalbard. Polar Biol 12:519–526

Geffen E, Gompper ME, Gittleman JL, Luh HK, Macdonald DW, Wayne RK (1996) Size, life-history traits, and social organization in the Canidae: a reevaluation. Am Nat 147:140–160

Geptner VG, Naumov NP (1967) Mammals of the USSR [In Russian] Vyshaja Shkola Part 1 Moscow, pp 1004

Goltsman M, Kruchenkova E, Macdonald DW (1996) The Medni Arctic Foxes: treating a population imperiled by disease. Oryx 30:251–258

Goltsman M, Kruchenkova EP, Sergeev S, Johnson PJ, Macdonald DW (2005a) Effects of food availability on dispersal and cub sex ratios in the Mednyi arctic foxes, Alopex lagopus semenovi. Behav Ecol Sociobiol 59:198–206

Goltsman M, Kruchenkova EP, Sergeev S, Volodin IA, Macdonald DW (2005b) 'Island syndrome' in a population of Arctic foxes (Alopex lagopus) from Mednyi Island. J Zool 267:405–418

Hamilton WD (1964) The genetical evolution of social behaviour, I. J Theor Biol 7:1–16

Hersteinsson P, Macdonald DW (1982) Some comparisons between Red and Arctic foxes, Vulpes vulpes and Alopex lagopus, as revealed by radio-tracking. Symposium of the Zoological Society, London 49:259–289

Ilyina ED (1950). Island fur-farming. [In Russian] Mesdunarodnaja kniga, Moscow pp 301

Jennions MD, Macdonald DW (1994) Cooperative breeding in mammals. Trends Ecol Evol 9:89–93

Jochle W (1997) Prolactin in canine and feline reproduction [review]. Reprod Domest Anim 32:183–193

Kartashev NN (1961) The birds on Commander Islands and rational management. Zoologicheskii Zhurnal 10:1395–1409, (In Russian)

Koenig WD, Dickinson JL (eds) (2004) Ecology and Evolution of Cooperative Breeding in Birds. Cambridge University Press, Cambridge

Koenig WD, Pitelka FA (1981) Ecological factors and kin selection in the evolution of cooperative breeding in birds. In: Alexander RD, Tinkle DW (eds) Natural selection and social behavior: recent research and new theory. Chiron, New York, pp 261–280

Kruchenkova EP (1991) Ontogeny of social behaviour and parent-offspring relations in the Arctic fox [In Russian] PhD Dissertation, Moscow State University, Moscow, p214

Ligon JD, Stacey PB (1991) The origin and maintenance of helping behavior in birds. Am Nat 138:254–258

Macdonald DW (1978) The Sociable Fox. Wildlife: the International Wildlife Magazine, 272–277

Macdonald DW (1979) "Helpers" in fox society. Nature 282:69–71

Macdonald DW (1983) The ecology of carnivore social behaviour. Nature 301:379–384

Macdonald DW (1996) Social behaviour of captive bush dogs (Speothos venaticus). J Zool 239:525–543

Macdonald DW, Carr GM (1989) Food security and the rewards of tolerance. Spec Publ Br Ecol Soc 8:75–99

Macdonald DW, Courtenay O (1996) Enduring social relationships in a population of crab-eating zorros, Cerdocyon thous, in Amazonian Brazil (Carnivora, Canidae). J Zool 239:329–355

Macdonald DW, Creel S, Mills GL (2004) Canid society. In: Macdonald DW, Sillero-Zubiri C (eds) Biology and conservation of Wild Canids. Oxford University Press, Oxford, pp 85–106

Marakov CV (1964) Mammals and birds of the Commander Islands. [In Russian] Ph.D. Dissertation, Kirov, Moscow.

Messier F, Barrette C (1982) The social system of the coyote (Canis latrans) in a forested habitat. Can J Zool 60:1743–1753

Moehlman PD (1979) Jackal helpers and pup survival. Nature 277:382–383

Naumov NP, Goltsman ME, Kruchenkova EP, Ovsijnikov NG, Smirin VM (1981) Social behaviour of Arctic fox on the Mednyi Island [In Russian]. In: Naumov NP (ed) Population organization and communicative processes in the mammals. Nauka, Russia, pp 31–75

Ognev SI (1931) Mammals of the Eastern Europe and Northern Asia. M.L., Glavnauka, vol. 2, p 776

Ovsyanikov N (1985) Behaviour and social organization of the Arctic fox. [In Russian] Ph.D. dissertation, Institute of Animal Evolution, Morphology, and Ecology, Academy of Science, Moscow

Ovsyanikov NG (1993) Behaviour and social organisation of the arctic fox. Isdo-vo TSNIL Glavochoti RF, Moscow, USSR [In Russian]

Rijzanov DA (2002) Arctic fox (Alopex lagopus) in Commander Islands [In Russian]. Zoologichesky Zhurnal 81:878–887

Russell AF, Young AJ, Spong G, Jordan NR, Clutton-Brock TH (2007) Helpers increase the reproductive potential of offspring in cooperative meerkats. Proc R Soc B 274:513–520

Sargeant AB, Allen SH, Johnson DH (1981) Determination of age and whelping dates of live red fox pups. J Wildl Manage 45:760–765

SAS Institute Inc (1997) SAS/STAT Software: Changes and Enhancements through Release 6.12. SAS Institute Inc, Cary, NC, 1167 pp

Sillero-Zubiri C, Marino J, Gottelli D, Macdonald DW (2004) Afroalpine ecology, solitary foraging and intense sociality amongst Ethiopian wolves. In: Macdonald DW, Sillero-Zubiri C (eds) Biology and Conservation of Wild Canids. Oxford University Press, Oxford, pp 211–323

Solomon NG, French JA (eds) (1997) Cooperative breeding in Mammals. Cambridge University Press, Cambridge

Strand O, Landa A, Linnell JDC, Zimmermann B, Skogland T (2000) Social organization and parental behavior in the Arctic fox. J Mammal 81:223–233

Tannerfeldt M, Angerbjörn A (1998) Resource fluctuations and the evolution of litter size in the Arctic fox. Oikos 83:545–555

Velloso AL, Wasser SK, Monfort SL, Dietz JM (1998) Longitudinal fecal steroid excretion in maned wolves (Chrysocyon brachyurus). Gen Comp Endocrinol 1:96–107

Vertjankin VV, Nikulin VS, Fomin VV (1991) State of Commander sea otter population in 1990 [In Russian]. In: Popov LA (ed) Science researching of sea mammals on North Pacific in 1989–1990. VNORO, Moscow, pp 216–222

Vladimirov VA (1991) Basic biostatistic parameters of fur seal populations in USSR in 1958–1990. In: Popov LA (ed) Science researching of sea mammals on North Pacific in 1989–1990. VNORO, Moscow, pp 165–179

White PA (1990) Arctic fox research on St. Paul Island, Alaska: Results from the 1990 Field Season. (Unpublished report)

Wolff JO (1993) What is the role of adults in mammalian juvenile dispersal? Oikos 68:173–176

Woodroffe RB, Macdonald DW (2000) Helpers provide no detectable benefits in the European badger (Meles meles). J Zool 250:113–119

Zar JH (1999) Biostatistical Analysis, 4th edn. Upper Saddle River. Prentice Hall, NJ
Acknowledgements
The surveys in different years were financed by the Moscow State University, the Actual Biology Foundation (Russia), Russian Foundation of Basic Sciences, International Science Foundation, INTAS, MacArthur Foundation, Fauna and Flora Preservation Society (UK), the Peoples' Trust for Endangered Species and Tusk Force (UK). Since 1994, this project has been under the auspices of the IUCN/SSC Canid Specialist Group. We wish to thank Drs Vladimir Smirin, Nikita Ovsjanikov and students, who contributed to the demographic records through our joint investigations in 1976 and 1978. The study would not have been possible without the long-term logistical support and organizational help of the Commander Island Nature Reserve, Drs A. Burdin and Dr.V.Burkanov. For their invaluable support in the field, we would like to thank Dr. Yu. Artukhin, Dr. A. Boltnev, Dr. K.-H. Frommolt, Dr.O. Filatova, D. Glasov, Dr. E. Mamaev, Dr.E. Neprinzeva, E. Jikia, Dr.S. Popov, A. Stegaro, V.Vertjankin, Dr.I.Volodin, E.Vorobjeva, H.Watzke, Dr. S.Zagrebelnyi and A.Zimenko. Drs S.E. Baker, P.J. Johnson, F. Tattersall and R.E Feber made valuable contributions to this manuscript. The manuscript also benefited from comments by Professor Nick Davies and five anonymous referees. P.J. Johnson carried out the SAS analysis.
About this article
Cite this article
Kruchenkova, E.P., Goltsman, M., Sergeev, S. et al. Is alloparenting helpful for Mednyi Island arctic foxes, Alopex lagopus semenovi?. Naturwissenschaften 96, 457 (2009). https://doi.org/10.1007/s00114-008-0494-5
Received:

Revised:

Accepted:

Published:
Keywords
Arctic foxes

Cooperation

Alloparenting