Abstract
In the last few years, the microbial colonisation of mural paintings in ancient monuments has been attracting the attention of microbiologists and conservators. The genus Rubrobacter is commonly found in biodeteriorated monuments, where it has been reported to cause rosy discolouration. However, to date, only three species of this genus have been isolated, all from thermophilic environments. In this paper, we studied three monuments: the Servilia and Postumio tombs in the Roman Necropolis of Carmona (Spain), and Vilar de Frades church (Portugal), in search of Rubrobacter strains. In all cases, biodeterioration and the formation of efflorescences were observed, and five Rubrobacter strains were isolated. These isolates showed different physiology and migration in denaturing gradient gel electrophoresis, suggesting they might represent new species within this genus. The isolates reproduced some biodeterioration processes in the laboratory and revealed their biomediation in crystal formation.
Access options
Buy single article
Instant access to the full article PDF.
USD 39.95
Price excludes VAT (USA)
Tax calculation will be finalised during checkout.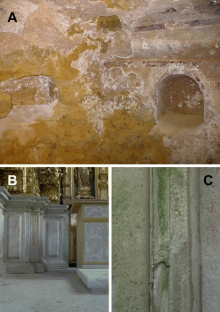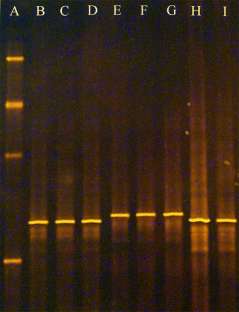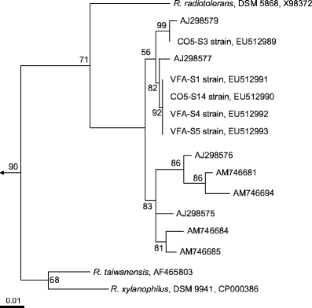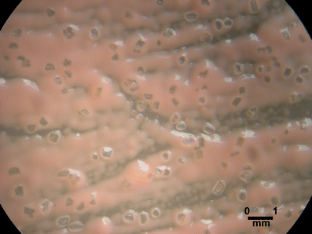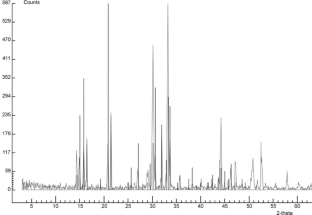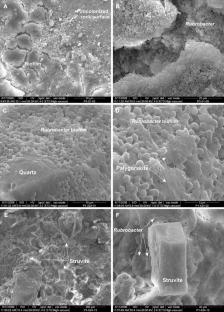 References
Altschul SF, Gish W, Miller W, Myers EW, Lipman DJ (1990) Basic local alignment search tool. J Mol Biol 215:403–410

Akatova EA, Gonzalez JM, Saiz-Jimenez C (2007) Analysis of the microbial communities from a restored tomb in the Necropolis of Carmona (Sevilla, Spain). Coalition 14:2–5

Ariño X, Saiz-Jimenez C (1997) Deterioration of the Elephant tomb (Necropolis of Carmona, Seville, Spain). Int Biodeter Biodegr 40:233–239

Ariño X, Hernandez-Marine M, Saiz-Jimenez C (1997) Colonization of Roman tombs by calcifying cyanobacteria. Phycologia 36:366–373

Ben Omar N, Entrena M, Gonzalez-Muñoz MT, Arias JM, Huertas F, Rodríguez-Gallego M (1996) Morphological diversity of struvite crystals produced by Myxococcus coralloides and Myxococcus xanthus. Toxicol Environ Chem 53:209–217

Carreto L, Moore E, Nobre MF, Wait R, Riley PW, Sharp RJ, Da Costa MS (1996) Rubrobacter xylanophilus sp. nov., a new thermophilic species isolated from a thermally polluted effluent. Int J Syst Bacteriol 46:460–465

Chen MY, Wu SH, Lin GH, Lu CP, Lin YT, Chang WC, Tsay SS (2004) Rubrobacter taiwanensis sp. nov., a novel thermophilic, radiation-resistant species isolated from hot springs. Int J Syst Evol Microbiol 54:1849–1855

Ciferri O (1999) Microbial degradation of paintings. Appl Environ Microbiol 65:879–885

Echigo A, Hino M, Fukushima T, Mizuki T, Kameruka M, Usami R (2005) Endospores of halophilic bacteria of the family Bacillaceae isolated from non-saline Japanese soil may be transported by Kosa event (Asian dust storm). Saline Syst 1:8–20

Gonzalez JM, Saiz-Jimenez C (2004) Microbial activity in biodeteriorated monuments as studied by denaturing gradient gel electrophoresis. J Separat Sci 27:174–180

Gonzalez JM, Saiz-Jimenez C (2005) Application of molecular nucleic acid-based techniques for the study of microbial communities in monuments and artworks. Int Microbiol 8:189–194

Gonzalez J, Zimmermann J, Saiz-Jimenez C (2005) Evaluating putative chimeric sequences from PCR amplified products and other cross-over events. Bioinformatics 21:333–337

Gonzalez JM, Portillo MC, Saiz-Jimenez C (2006) Metabolically active Crenarchaeota in Altamira Cave. Naturwissenschaften 93:42–45

Groth I, Schumann P, Laiz L, Sanchez-Moral S, Cañaveras JC, Saiz-Jimenez C (2001) Geomicrobiological study of the Grotta dei Cervi, Porto Badisco, Italy. Geomicrobiol J 18:241–258

Gundlapally SR, Garcia-Pichel F (2006) The community and phylogenetic diversity of biological soil crusts in the Colorado Plateau studied by molecular fingerprinting and intensive cultivation. Microb Ecol 52:345–357

Gurtner C, Heyrman J, Piñar G, Lubitz W, Swings J, Rölleke S (2000) Comparative analyses of the bacterial diversity on two different biodeteriorated wall paintings by DGGE and 16S rDNA sequence analysis. Int Biodeter Biodegr 46:229–239

Heyrman J, Balcaen A, Rodriguez-Diaz M, Logan NA, Swings J, De Vos P (2003a) Bacillus decolorationis sp. nov., isolated from biodeteriorated parts of the mural paintings at the Servilia tomb (Roman necropolis of Carmona, Spain) and the Saint-Catherine chapel (Castle Herberstein, Austria). Int J Syst Evol Microbiol 53:459–463

Heyrman J, Logan NA, Busse HJ, Balcaen A, Lebbe L, Rodriguez-Diaz M, Swings J, De Vos P (2003b) Virgibacillus carmonensis sp. nov., Virgibacillus necropolis sp. nov. and Virgibacillus picturae sp. nov., three novel species isolated from deteriorated mural paintings, transfer of the species of the genus Salibacillus to Virgibacillus, as Virgibacillus marismortui comb. nov. and Virgibacillus salexigens comb. nov., and emended description of the genus Virgibacillus. Int J Syst Evol Microbiol 53:501–511

Heyrman J, Logan NA, Rodriguez-Diaz M, Scheldeman P, Lebbe L, Swings J, Heyndrickx M, De Vos P (2005a) Study of mural painting isolates, leading to the transfer of 'Bacillus maroccanus' and 'Bacillus carotarum' to Bacillus simplex, emended description of Bacillus simplex, re-examination of the strains previously attributed to 'Bacillus macroides' and description of Bacillus muralis sp. nov. Int J Syst Evol Microbiol 55:119–131

Heyrman J, Verbeeren J, Schumann P, Swings J, De Vos P (2005b) Six novel Arthrobacter species isolated from deteriorated mural paintings. Int J Syst Evol Microbiol 55:1457–1464

Holmes AJ, Bowyer J, Holley MP, O'Donoghue M, Montgomery M, Gillings MR (2000) Diverse, yet-to-be-cultured members of the Rubrobacter subdivision of the Actinobacteria are widespread in Australian arid soils. FEMS Microbiol Ecol 33:111–120

Imperi F, Caneva G, Cancellieri L, Ricci MA, Sodo A, Visca P (2007) The bacterial aetiology of rosy discoloration of ancient wall paintings. Environ Microbiol 9:2894–2902

Jurado V, Groth I, Gonzalez JM, Laiz L, Saiz-Jimenez C (2005a) Agromyces salentinus sp. nov. and Agromyces neolithicus sp. nov., two novel species of the genus Agromyces. Int J Syst Evol Microbiol 55:153–157

Jurado V, Laiz L, Gonzalez JM, Hernández-Marine M, Valens M, Saiz-Jimenez C (2005b) Phyllobacterium catacumbae sp. nov., a member of the order Rhizobiales isolates from Roman catacombs. Int J Syst Evol Microbiol 55:1487–1490

Kuhlman KR, Fusco WG, La Duc MT, Allenbach LB, Ball CL, Kuhlman GM, Anderson RC, Erickson IK, Stuecker T, Bernardini J, Strap JL, Crawford RL (2006) Diversity of microorganisms within rock varnish in the Whipple Mountains, California. Appl Environ Microbiol 72:1708–1715

Laiz L, Gonzalez JM, Saiz-Jimenez C (2003) Microbial communities in caves: ecology, physiology, and effects on paleolithic paintings. In: Koestler RJ, Koestler VR, Charola AE, Nieto-Fernandez FE (eds) Art, biology, and conservation: biodeterioration of works of art. The Metropolitan Museum of Art, New York, pp 210–225

Lee J-S, Lim J-M, Lee KC, Lee J-C, Park Y-H, Kim C-J (2006) Virgibacillus koreensis sp. nov., a novel bacterium from salt field, and transfer of Virgibacillus picturae to the genus Oceanobacillus as Oceanobacillus picturae comb. nov. with emended descriptions. Int J Syst Evol Microbiol 56:251–257

Miller A, Macedo MF (2006) Mapping and characterization of a green biofilm inside of Vilar de Frades Church (Portugal). In: Fort R, Alvarez de Buergo M, Gomez-Heras M, Vazquez-Calvo C (eds) Heritage, weathering and conservation. Taylor and Francis, London, pp 329–335

Ortega-Morales OB, Narváez-Zapata JA, Schmalenberger A, Sosa-López A, Tebbe CC (2004) Biofilms fouling ancient limestone Mayan monuments in Uxmal, Mexico: a cultivation-independent analysis. Biofilms 1:79–90

Piñar G, Saiz-Jimenez C, Schabereiter-Gurtner C, Blanco-Varela MT, Lubitz W, Rölleke S (2001) Archaeal communities in two disparate deteriorated ancient wall paintings: detection, identification and temporal monitoring by DGGE. FEMS Microbiol Ecol 37:45–54

Rainey FA, Ray KE, Ward-Rainey N (1999) The camels of the prokaryotic world. In: Bell CR, Brylinsky M, Johnson-Green P (eds) Microbial Biosystems: new frontiers. Proceedings of the 8th International Symposium on Microbial Ecology, Atlantic Canada Society for Microbial Ecology, Halifax, Canada, Accessed online at http://quest.nasa.gov/projects/spacewardbound/docs/rainey.pdf

Realini M, Colombo C, Sansonetti A, Rampazzi L, Colombini MP, Bonaduce I, Zanardini E, Abbruscato P (2005) Oxalate films and red stains on Carrara marble. Ann Chim 95:217–226

Rivadeneyra MA, Ramos-Cormenzana A, García-Cervigon A (1983) Bacterial formation of struvite. Geomicrobiol J 3:151–163

Rivadeneyra MA, Perez-Garcia I, Ramos-Cormenzana A (1992) Struvite precipitation by soil and fresh water bacteria. Curr Microbiol 24:343–347

Rivadeneyra MA, Martin-Algarra A, Sánchez-Navas A, Martin-Ramos D (2006) Carbonate and phosphate precipitation by Chromohalobacter marismortui. Geomicrobiol J 23:89–101

Rölleke S, Witte A, Wanner G, Lubitz W (1998) Medieval wall paintings: a habitat for archaea—identification of archaea by denaturing gradient gel electrophoresis (DGGE) of PCR-amplified gene fragments coding for 16S rRNA in a medieval wall painting. Int Biodeter Biodegr 41:85–92

Sanchez-Roman M, Rivadeneyra MA, Vasconcelos C, McKenzie JA (2007) Biomineralization of carbonate and phosphate by moderately halophilic bacteria. FEMS Microbiol Ecol 61:273–284

Schabereiter-Gurtner C, Piñar G, Vybiral D, Lubitz W, Rölleke S (2001) Rubrobacter-related bacteria associated with rosy discolouration of masonry and lime wall paintings. Arch Microbiol 176:347–354

Smerda J, Sedlácek I, Pácová Z, Krejcí E, Havel L (2006) Paenibacillus sepulcri sp. nov., isolated from biodeteriorated mural paintings in the Servilia tomb. Int J Syst Evol Microbiol 56:2341–2344

Suzuki K, Collins MD, Lijima E, Komagata K (1988) Chemotaxonomic characterization of a radiotolerant bacterium, Arthrobacter radiotolerans: description of Rubrobacter radiotolerans gen. nov., comb. nov. FEMS Microb Lett 52:33–40

Tiano P, Tomaselli L (2004) Red staining and heterotrophic bacteria. Coalition 8:2–4

Warscheid T, Petersen K, Krumbein WE (1990) A rapid method to demonstrate and evaluate microbial activity on decaying sandstone. Stud Conserv 35:137–147
Acknowledgements
EA, VJ and LL acknowledge financial support from a Marie Curie Action MEST-CT2004-513915, an I3P (CSIC-ESF) postdoctoral contract, and project 200740/011, respectively. This research was funded by the Consejería de Innovación, Ciencia y Empresa, Junta de Andalucía, project P06-RNM-02318 and by CSIC-FCT, project 2007PT0041.
About this article
Cite this article
Laiz, L., Miller, A.Z., Jurado, V. et al. Isolation of five Rubrobacter strains from biodeteriorated monuments. Naturwissenschaften 96, 71–79 (2009). https://doi.org/10.1007/s00114-008-0452-2
Received:

Revised:

Accepted:

Published:

Issue Date:

DOI: https://doi.org/10.1007/s00114-008-0452-2
Keywords