Abstract
Hummingbirds (Trochilidae) today have an exclusively New World distribution, but their pre-Pleistocene fossil record comes from Europe only. In this study, we describe an exceptionally preserved fossil hummingbird from the early Oligocene of southeastern France. The specimen is articulated, with a completely preserved beak and feathering. Osteological characters allow to identify it as Eurotrochilus sp. This genus is a stem group representative of Trochilidae and was recently described from the early Oligocene of southern Germany. The new fossil reveals that these European Trochilidae were remarkably modern in size, skeletal proportions and the shape of the wing, tail and beak and hyoid bones. These features confirm the early acquisition of the abilities of hovering and nectarivory in hummingbirds, probably before the Oligocene. In several morphological characteristics, they resemble members of the 'true hummingbirds' (subfamily Trochilinae) and differ from hermits (Phaethornithinae). These features, which include a short and square tail and a moderately long, almost straight beak, appear to be primitive within the family Trochilidae.
This is a preview of subscription content, log in to check access.
Access options
Buy single article
Instant access to the full article PDF.
US$ 39.95
Price includes VAT for USA
Subscribe to journal
Immediate online access to all issues from 2019. Subscription will auto renew annually.
US$ 99
This is the net price. Taxes to be calculated in checkout.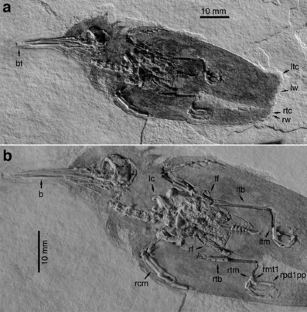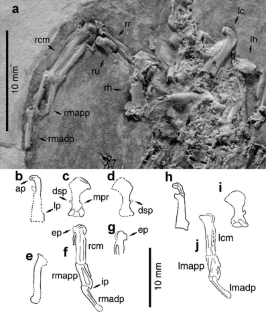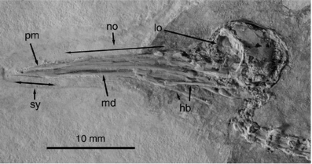 References
Altshuler DN, Bündgen R, Calder WA, Chai P, Fjeldså J, Heindl M, Heynen I, Hinkelmann C, Peterson AT, Powers DR, Rappole JH, Roy MS, Sánchez Osés C, Schuchmann KL, Scott PE, Stiles FG, Weller AA, Züchner T (1999) Species accounts of Trochilidae. In: Del Hoyo J, Elliott A, Sargatal J (eds) Handbook of the birds of the world, 5: barn-owls to hummingbirds. Lynx Edicions, Barcelona, pp 536–680

Baumel JJ, Witmer LM (1993) Osteologia. In: Baumel JJ, King AS, Breazile JE, Evans HE, Vanden Berge JC (eds) Handbook of avian anatomy: nomina anatomica avium. Publ Nuttall Ornithol Club 23:45–132

Cavelier C (1984) Paléogène. In: Debrand-Passard S (ed) Synthèse Géologique du Sud-Est de la France. Mémoires BRGM France 125:389–468

Châteauneuf JJ, Nury D (1995) La flore de l'Oligocène de Provence méridionale: implications stratigraphiques, environnementales et climatiques. Géol Fr 2:43–55

Mayr G (2004) Old World fossil record of modern-type hummingbirds. Science 304:861–864

Mayr G (2005a) Fossil hummingbirds in the Old World. Biologist 52:12–16

Mayr G (2005b) A chicken-sized crane precursor from the early Oligocene of France. Naturwissenschaften 92:389–393

Mayr G (2005c) The Paleogene fossil record of birds in Europe. Biol Rev 80:515–542

Mayr G (2006) A specimen of Eocuculus Chandler, 1999 (Aves, ?Cuculidae) from the early Oligocene of France. Geobios 39:865–872

Mayr G (2007) New specimens of the early Oligocene Old World hummingbird Eurotrochilus inexpectatus. J Ornithol 148:105–111

Mourer-Chauviré C (2006) The avifauna of the Eocene and Oligocene Phosphorites du Quercy (France): an updated list. Strata Ser 1 13:135–149

Mourer-Chauviré C, Sigé B (2006) Une nouvelle espèce de Jungornis (Aves, Apodiformes) et de nouvelles formes de Coraciiformes s.s. dans l'Eocène supérieur du Quercy. Strata Ser 1 13:151–159

Roux T (2002) Deux fossiles d'oiseaux de l'Oligocène inférieur du Luberon. Courr Sci Parc Nat Rég Luberon 6:38–57

Schuchmann KL (1999) Trochilidae. In: Del Hoyo J, Elliott A, Sargatal J (eds) Handbook of the birds of the world, 5: barn-owls to hummingbirds. Lynx Edicions, Barcelona, pp 468–535

Stemvers van Bemmel J (1984) Een Oligocene fauna in het Bekken van Apt-Manosque-Forcalquier: Zuidfranse vogels en vissen begraven in kalkslib. Gea 17:134–138
Acknowledgements
We are most grateful to S. Mailliot for taking the photographs and A. Prieur for making the cast. We also thank, for comments, which improved the manuscript, U. Göhlich and two anonymous reviewers and G. Mayr who also helped us with the interpretation of the hyoid bones. This article is the contribution UMR5125-07.46.
About this article
Cite this article
Louchart, A., Tourment, N., Carrier, J. et al. Hummingbird with modern feathering: an exceptionally well-preserved Oligocene fossil from southern France. Naturwissenschaften 95, 171–175 (2008). https://doi.org/10.1007/s00114-007-0309-0
Received:

Revised:

Accepted:

Published:

Issue Date:
Keywords
Eurotrochilus

Evolution

Oligocene

Plumage

Trochilidae