Abstract
Here we use sexual selection theory to develop a logistically simple, yet effective, method for the manipulation of female reproductive behavior for conservation goals. Mate choice leading to nonrandom mating patterns can exacerbate the loss of genetic diversity in small populations. On theoretical grounds, females should choose high-quality mates. A prediction stemming from chemical communication theory is that competitive males will be better able to saturate an area with scent marks. If this is true, females should mate preferentially with males whose odors they encounter most frequently. We tested this hypothesis with the pygmy loris, Nycticebus pygmaeus, a threatened and poorly studied nocturnal prosimian. For several weeks females were exposed repeatedly to the urine from a particular male, and were then allowed to choose between a male whose odors were familiar and one whose odors were novel. Females showed an unusually strong preference for the familiar-odor male, as indicated by several behavioral measures of mate preference. Conservation managers can use this method as a tool to obtain reproductive pairings that will maximize genetic compatibility and diversity. For example, unsuccessful males may be given the opportunity to reproduce. In captive populations, studbook managers often select pairs in order to optimize outbreeding, but these selected pairings may not coincide with the preferences of the individual animals involved. Although several authors have made theoretical arguments for manipulating mate choice for conservation, this is a novel test of a proximate mechanism that can be manipulated, cultivating applications rather than mere implications.
Access options
Buy single article
Instant access to the full article PDF.
USD 39.95
Price excludes VAT (USA)
Tax calculation will be finalised during checkout.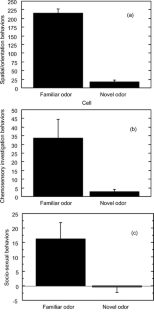 References
Alterman L (1995) Creatures of the dark: the nocturnal prosimians. Plenum, New York

Andersson M (1994) Sexual selection. Princeton University Press, Princeton, N.J.

Anthony LL, Blumstein DT (2000) Integrating behaviour into wildlife conservation: the multiple ways that behaviour can reduce N e. Biol Conserv 95:303–315

Blaustein AR (1981) Sexual selection and mammalian olfaction. Am Nat 117:1006–1010

Caro T (1998) Behavioral ecology and conservation biology. Oxford University Press, Oxford, UK

Clemmons R, Buchholtz JR (1996) Behavioral approaches to conservation in the wild. Cambridge University Press, Cambridge, UK

Fisher HS (2001) The role of chemical communication in female mate choice in the pygmy loris, Nycticebus pygmaeus. MSc thesis, University of California, San Diego, Calif.

Fisher HS, Swaisgood RR, Fitch-Snyder H (2003) Countermarking by male pygmy lorises (Nycticebus pygmaeus): do females use odor cues to select mates with high competitive ability? Behav Ecol Sociobiol 53:123–130

Fitch-Snyder H (1998) Asian prosimian North America regional studbook. Zoological Society of San Diego, San Diego, Calif.

Gosling LM (1982) A reassessment of the function of scent marking in territories. Z Tierpsychol 60:89–118

Gosling LM, Sutherland WJ (2000) Behaviour and conservation. Cambridge University Press, Cambridge, UK

Grahn M, Langefors A, Schantz T von (1998) The importance of mate choice in improving viability in captive populations. In: Caro T (ed) Behavioral ecology and conservation biology. Oxford University Press, Oxford, UK, pp 341–363

Gubernick DJ, Addington RL (1994) The stability of female social and mating preferences in the monogamous California mouse, Peromyscus californicus. Anim Behav 47:559–567

Hurst JL, Rich TJ (1999) Scent marks as competitive signals of mate quality. In: Johnston RE, Müller-Schwarze D, Sorensen P (eds) Advances in chemical communication in vertebrates. Kluwer Academic, New York, pp 209–223

Johnston RE, Sorokin ES, Ferkin MH (1997) Female voles discriminate males' over-marks and prefer to-scent males. Anim Behav 54:679–690

Johnston RE, Müller-Schwarze D, Sorensen P (eds) (1999) Advances in chemical communication in vertebrates. Kluwer Academic, New York

Jurke MH, Czekala NM, Fitch-Snyder H (1997) Non-invasive detection and monitoring of estrus, pregnancy and the postpartum period in pygmy loris (Nycticebus pygmaeus) using fecal estrogen metabolites. Am J Primatol 41:103–115

Møller AP (2000) Sexual selection and conservation. In: Gosling LM, Sutherland WJ (eds) Behaviour and conservation. Cambridge University Press, Cambridge, UK

Ralls K, Ballou J (1986) Captive breeding programs for populations with a small number of founders. Trends Ecol Evol 1:19–22

Rich TJ, Hurst JL (1998) Scent marks as reliable signals of the competitive ability of mates. Anim Behav 56:727–735

Ryan KK, Altmann J (2001) Selection for mate choice based primarily on mate compatibility in the oldfield mouse, Peromyscus polionotus rhoadsi. Behav Ecol Sociobiol 50:436–440

Swaisgood RR, Lindburg DG, Zhou X, Owen MA (2000) The effects of sex, reproductive condition and context on discrimination of conspecific odours by giant pandas. Anim Behav 60:227–237

Swaisgood RR, Lindburg DG, White AM, Zhou X, Zhang H (2003) Chemical communication in giant pandas: experimentation and application. In: Lindburg DG, Baragona K (eds) Pandas: biology and conservation. University of California Press, Berkeley, Calif.

Tang-Martinez Z, Mueller LL, Taylor GT (1993) Individual odours and mating success in the golden hamster Mesocricetus auratus. Anim Behav 45:1141–1151

Wedekind C (2002) Sexual selection and life-history decisions: implications for supportive breeding and the management of captive populations. Conserv Biol 16:1204–1211

Wielebnowski N (1998) Contributions of behavioral studies to captive management and breeding of rare and endangered mammals. In: Caro T (ed) Behavioral ecology and conservation biology. Oxford University Press, Oxford, UK, pp 130–162
About this article
Cite this article
Fisher, H.S., Swaisgood, R.R. & Fitch-Snyder, H. Odor familiarity and female preferences for males in a threatened primate, the pygmy loris Nycticebus pygmaeus: applications for genetic management of small populations. Naturwissenschaften 90, 509–512 (2003). https://doi.org/10.1007/s00114-003-0465-9
Received:

Accepted:

Published:

Issue Date:

DOI: https://doi.org/10.1007/s00114-003-0465-9
Keywords