Abstract
Neotropical monkeys of the genus Cebus anoint themselves by rubbing arthropods and plants against their pelage. A recent study has shown that free-ranging wedge-capped capuchin monkeys (C. olivaceus) in Venezuela self-anoint with a benzoquinone-secreting millipede, an activity by which they are hypothesized to appropriate chemical deterrents of mosquitoes. To evaluate the plausibility of this hypothesis, female yellow fever mosquitoes (Aedes aegypti) were presented with two millipede secretory compounds, 2-methyl-1,4-benzoquinone and 2-methoxy-3-methyl-1,4-benzoquinone, on nylon-reinforced silicone membranes placed over wells filled with human blood, a highly preferred food. Mosquitoes exhibited fewer landings, fed less frequently, and flew more frequently (a possible indication of repellency) in the presence of membranes treated with benzoquinones than with controls. These compounds also elicit self-anointing in captive male and female tufted (C. apella) and white-faced (C. capucinus) capuchin monkeys.
Access options
Buy single article
Instant access to the full article PDF.
USD 39.95
Price excludes VAT (USA)
Tax calculation will be finalised during checkout.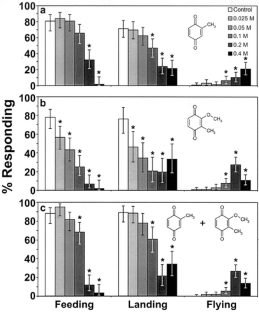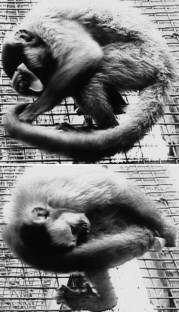 References
Baker M (1996) Fur rubbing: use of medicinal plants by capuchin monkeys (Cebus capucinus). Am J Primatol 38:263–270

Birkinshaw CR (1999) Use of millipedes by black lemurs to anoint their bodies. Folia Primatol 70:170–171

Butler JF, Hess WR, Endris RG, Holscher KH (1984) In vitro feeding of Ornithodoros ticks for rearing and assessment of disease transmission. In: Griffiths DA, Bowman CE (eds) Acarology VI, vol 2. Ellis Horwood, West Sussex, pp 1075–1081

Christophers SR (1960) Aedes aegypti (L.), the yellow fever mosquito: its life history, bionomics and structure. Cambridge University Press, Cambridge

Clayton DH, Vernon JG (1993) Common grackle anting with lime fruit and its effect on ectoparasites. Auk 110:951–952

Clayton DH, Wolfe ND (1993) The adaptive significance of self-medication. Trends Ecol Evol 8:60–63

Daykin PN, Kellogg FE, Wright, RH (1965) Host-finding and repulsion of Aedes aegypti. Can Entomol 97:239–263

Dethier VG, Browne LB, Smith CN (1960) The designation of chemicals in terms of the responses they elicit from insects. J Econ Entomol 53:134–136

Eisner T, Alsop D, Hicks K, Meinwald J (1978) Defensive secretions of millipeds. In: Bertini S (ed) Handbook of experimental pharmacology, vol. 48. Springer, Berlin Heidelberg New York, pp 41–72

Fairhurst CP (1993) Poisonous exudates of millipedes. Anal Proc 30:429–430.

Harrington LC, Edman JD, Scott TW (2001) Why do female Aedes aegypti (Diptera: Culicidae) feed preferentially and frequently on human blood? J Med Entomol 38:4114–22

Kanehisa K (1969) Quinone secretion by rust-red flour beetles, Tribolium castaneum Herbst (Coleoptera: Tenebrionidae), and their toxicity to other insects (in Japanese). Nogaku Kenkyu 53:5–14

Knölker H-J, Fröhner W (1997) Transition metal complexes in organic synthesis. Part 38. First total synthesis of carbazomycin G and H. Tetrahedron Lett 38:4051–4054

Loconti JD, Roth LM (1953) Composition of the odorous secretion of Tribolium castaneum. Ann Entomol Soc Am 46:281–289

Luly JR, Rapoport H (1981) Amine addition to unsymmetrical benzoquinones. J Org Chem 46:2745–2752

Mondal KAMSH, Port GR (1984) Repellent effect of synthetic methylquinone on larvae of Tribolium castaneum Herbst. Int Pest Control 26:68–71

Nolte A (1958) Beobachtungen über das Instinktverhalten von Kapuzineraffen (Cebus apella L.) in der Gefangenschaft. Behaviour 13:189–207

Ogden JC (1969) Effect of components of conditioned medium on behavior in Tribolium confusum. Physiol Zool 42:266–274

Overdorff DJ (1993) Similarities, differences, and seasonal patterns in the diets of Eulemur fulvus rufus and Eulemur rubiventer in the Ranomafana National Park, Madagascar. Int J Primatol 14:721–753

Parkes KC, Weldon PJ, Hoffman RL (2003) Polydesmidan millipede used in self-anointing by a strong-billed woodcreeper (Xiphocolaptes promeropirhyncus) from Belize. Ornitol Neotrop 14:285–286

Peschke K, Eisner T (1987) Defensive secretion of the tenebrionid beetle, Blaps mucronata: physical and chemical determinants of effectiveness. J Comp Physiol A 161:377–388

Raphael RA, Ravenscroft P (1998) Synthesis of indolin-2-one (oxindoles) related to mitomycin A. J Chem Soc Perkin Trans 1:1823–1828

Simmons KEL (1966) Anting and the problem of self-stimulation. J Zool Lond 149:145–162

Valderrama X, Robinson JG, Attygale AB, Eisner T (2000) Seasonal anointment with millipedes in a wild primate: a chemical defense against insects? J Chem Ecol 26:2781–2790

Zito M, Evans S, Weldon PJ (2003) Owl monkeys (Aotus spp.) self-anoint with plants and millipedes. Folia Primatol 74:158–160
Acknowledgements
C. Krater assisted in designing the mosquito test module, and P. Balsley constructed it. J. Butler provided advice on the silicone membrane feeding system. K. Bagnall (Jungle Friends Primate Sanctuary, Gainesville, Fla.) and S. Evans (DuMond Conservancy, Miami, Fla.) permitted access to test or photograph monkeys. J. Forguson and J. Rockwell assisted in tests of mosquitoes. A. Weatherwax performed the chemical syntheses. C. Greff, J. Greff (Tonal Vision LLC, Baltimore, Md.), and M. Webb prepared figures. K. Nakanishi translated some papers.
About this article
Cite this article
Weldon, P.J., Aldrich, J.R., Klun, J.A. et al. Benzoquinones from millipedes deter mosquitoes and elicit self-anointing in capuchin monkeys (Cebus spp.). Naturwissenschaften 90, 301–304 (2003). https://doi.org/10.1007/s00114-003-0427-2
Received:

Accepted:

Published:

Issue Date:

DOI: https://doi.org/10.1007/s00114-003-0427-2
Keywords
Capuchin Monkey

Yellow Fever Mosquito

Tufted Capuchin

Walter Reed Army Medical

Chemical Deterrent