Abstract
The size and coloration of some body characters seem to influence mate choice in many species. Most animal colours are either structural or based on melanin or carotenoid pigments. It has recently been suggested that carotenoid-based or structural coloration may be a condition-dependent trait, whereas melanin-based coloration is not; a difference that may be highly relevant when studying the evolution of multiple mating preferences. We tested this hypothesis in the great tit (Parus major). The size of the melanin breast band was not correlated to nutritional condition as estimated by the rate of tail growth (ptilochronology), controlling for locality, age, sex, year and season effects. However, the correlation was significant for the hue of yellow breast (carotenoid-based coloration), and the slopes of the regressions of the two pigments to growth bars differed significantly. These results suggest that the expression of the two traits may be regulated by different mechanisms.
Access options
Buy single article
Instant access to the full article PDF.
USD 39.95
Price includes VAT (USA)
Tax calculation will be finalised during checkout.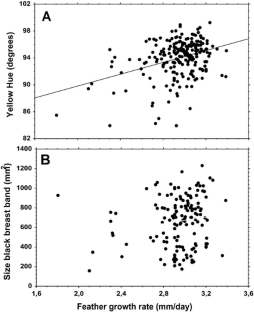 References
Badyaev AV, Hill GE (2000) Evolution of sexual dichromatism: contribution of carotenoid- versus melanin-based coloration. Biol J Linn Soc 69:153–172

Brush AH (1978) Avian pigmentation. In: Brush AH (ed) Chemical zoology, vol. X: Aves. Academic Press, New York, pp 141–161

Carrascal LM, Senar JC, Mozetich I, Uribe F, Domènech J (1998) Interactions among environmental stress, body condition, nutritional status, and dominance in great tits. Auk 115:727–738

Eeva T, Lehikoinen E, Rönkä M (1998) Air pollution fades the plumage of the great tit. Funct Ecol 12:607–612

Figuerola J, Senar JC (2000) Measurement of plumage badges: an evaluation of methods used in the great tit Parus major. Ibis 142:482–484

Figuerola J, Muñoz E, Gutiérrez R, Ferrer D (1999a) Blood parasites, leucocytes and plumage brightness in the cirl bunting Emberiza cirlus. Funct Ecol 13:594–601

Figuerola J, Pascual J, Senar JC (1999b) The use of a colorimeter in field studies of blue tit Parus caeruleus coloration. Ardea 87:269–275

Fiske PS, Richner H (2002) Differential effects of a parasite on ornamental structures based on melanins and carotenoids. Behav Ecol 13:401–407

Fox DL (1976) Animal biochromes and structural colours. University of California Press, Berkeley, Calif.

González G, Sorci G, Lope F (1999) Seasonal variation in the relationship between cellular immune response and badge size in male house sparrows (Passer domesticus). Behav Ecol Sociobiol 46:117–122

Gosler AG (1993) The great tit. Hamlyn, London

Gray DA (1996) Carotenoids and sexual dichromatism in North American passerine birds. Am Nat 148:453–480

Grubb TC (1989) Ptilochronology: feather growth bars as indicators of nutritional status. Auk 106:314–320

Grubb TC (1995) Ptilochronology: a review and prospectus. Curr Ornithol 12:89–114

Gustafsson L, Qvarnström A, Sheldon BC (1995) Trade-offs between life-history traits and a secondary sexual character in male collared flycatchers. Nature 375:311–313

Hill GE (1999) Mate choice, male quality, and carotenoid-based plumage coloration. In: Adams N, Slotow R (eds) Proceedings of the 22nd international ornithological congress, Durban. BirdLife South Africa, Johannesburg, pp 1654–1668

Hill GE (2000) Energetic constraints on expression of carotenoid-based plumage coloration. J Avian Biol 31:559–566

Hill GE, Brawner WR (1998) Melanin-based plumage coloration in the house finch is unaffected by coccidial infection. Proc R Soc Lond B 265:1105–1109

Hill GE, Montgomerie R (1994) Plumage colour signals nutritional condition in the house finch. Proc R Soc Lond B 258:47–52

Hillgarth N, Wingfield JC (1997) Parasite-mediated sexual selection: endocrine aspects. In: Clayton DH, Moore J (eds) Host–parasite evolution: general principles and avian models. Oxford University Press, Oxford, pp 78–103

Jenni L, Winkler R (1994) Moult and ageing of European passerines. Academic Press, London

Keyser AJ, Hill GE (1999) Condition-dependent variation in the blue–ultraviolet coloration of a structurally based plumage ornament. Proc R Soc Lond B 266:771–777

Keyser AJ, Hill GE (2000) Structurally based plumage coloration is an honest signal of quality in male blue grosbeaks. Behav Ecol 10:202–209

McGraw KJ, Hill GE (2000) Differential effects of endoparasitism on the expression of carotenoid- and melanin-based ornamental coloration. Proc R Soc Lond B 267:1525–1531

Minolta Corporation (1994) Precise color communication: color control from feeling to instrumentation. Minolta Corporation, Osaka, Japan

Møller AP, Kimball RT, Erritzoe J (1996) Sexual ornamentation, condition, and immune defence in the house sparrow Passer domesticus. Behav Ecol Sociobiol 39:317–322

Møller AP, Biard C, Blount JD, Houston DC, Ninni P, Saino N, Surai PF (2000) Carotenoid-dependent signals: indicators of foraging efficiency, immunocompetence or detoxification ability? Avian Poult Biol Rev 11:137–159

Norris KJ (1990a) Female choice and the evolution of the conspicuous plumage coloration of monogamous male great tits. Behav Ecol Sociobiol 26:129–138

Norris KJ (1990b) Female choice and the quality of parental care in the great tit Parus major. Behav Ecol Sociobiol 27:275–281

Norris KJ (1993) Heritable variation in a plumage indicator of viability in male great tits Parus major. Nature 362:537–539

Olson VA, Owens IPF (1998) Costly sexual signals: are carotenoids rare, risky or required? Trends Ecol Evol 13:510–514

Partali V, Liaaen-Jensen S, Slagsvold T, Lifjeld JT (1987) Carotenoids in food chain studies. II. The food chain of Parus spp. monitored by carotenoid analysis. Comp Biochem Physiol 87B:885–888

Poiani A, Goldsmith AR, Evans MR (2000) Ectoparasites of house sparrows (Passer domesticus): an experimental test of the immunocompetence handicap hypothesis and a new model. Behav Ecol Sociobiol 47:230–242

Pomiankowski A (1987) Sexual selection: the handicap principle does work – sometimes. Proc R Soc Lond B 231:123–145

Potti J, Merino S (1996) Decreased levels of blood trypanosome infection correlate with female expression of a male secondary sexual trait: implications for sexual selection. Proc R Soc Lond B 263:1199–1204

Qvarnström A (1998) Sexual selection in the collared flycatcher (Ficedula albicollis): a life-history perspective. PhD thesis, Uppsala University, Sweden

Senar JC, Escobar D (2002) Carotenoid-derived plumage coloration in the siskin Carduelis spinus is related to foraging ability. Avian Sci 2:19–24

Senar JC, Figuerola J, Pascual J (2002) Brighter yellow blue tits make better parents. Proc R Soc Lond B 269:257–261

Slagsvold T, Lifjeld JT (1985) Variation in plumage colour of the great tit Parus major in relation to habitat, season and food. J Zool 206:321–328

Veiga JP, Puerta M (1996) Nutritional constraints determine the expression of a sexual trait in the house sparrow, Passer domesticus. Proc R Soc Lond B 263:229–234

Von Schantz T, Bensch S, Grahn M, Hasselquist D, Wittzell H (1999) Good genes, oxidative stress and condition-dependent sexual signals. Proc R Soc Lond B 266:1–12
Acknowledgements
We are very grateful to Lluisa Arroyo, David Boné and Iker Ruiz for field assistance, and to Miguel Tejedo for laboratory facilities. This work was funded by Ministerio de Ciéncia y Tecnología (BOS 2000-0141).
About this article
Cite this article
Senar, J.C., Figuerola, J. & Domènech, J. Plumage coloration and nutritional condition in the great tit Parus major: the roles of carotenoids and melanins differ. Naturwissenschaften 90, 234–237 (2003). https://doi.org/10.1007/s00114-003-0414-7
Received:

Accepted:

Published:

Issue Date:
Keywords
Carotenoid

Plumage Coloration

Yellow Breast

Breast Stripe

Melanin Coloration