Zusammenfassung
Radiokarpale Luxationen und Luxationsfrakturen sind seltene, aber stets schwere, komplexe Verletzungen, die häufig als Resultat eines Hochenergietraumas bei jungen, aktiven Patienten auftreten. Eine eingehende klinische und bildgebende Untersuchung führt über eine differenzierte Klassifikation zu einer geeigneten, meist operativen, Therapiestrategie. Diese berücksichtigt die wesentlichen Komponenten der Verletzung, die knöcherne, die ligamentäre und die intrakarpale Läsion. Spätfolgen, bleibende Beschwerden und funktionelle Einbußen sind nach diesen schweren Verletzungen häufig, aber mit einer adäquaten, differenzierten Behandlung sind gute, auch langfristige, funktionelle Resultate möglich.
Abstract
Radiocarpal dislocations and fracture dislocations are rare but always severe and complex injuries. They occur frequently in young and active patients as a result of high energy accidents. A detailed clinical and imaging examination and an accurate classification leads to a suitable and mostly surgical treatment strategy. The strategy should consider the most important components of the injury, the bony, the ligamentous and the intracarpal lesions. Delayed sequelae, residual pain and functional impairment are frequent after these severe injuries, but with adequate treatment, good, even long-term functional results are possible.
Access options
Buy single article
Instant access to the full article PDF.
USD 39.95
Price excludes VAT (USA)
Tax calculation will be finalised during checkout.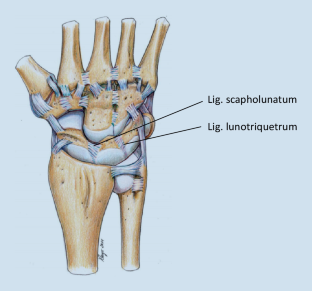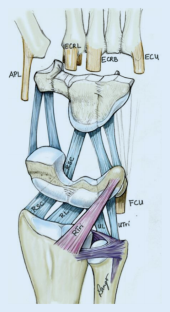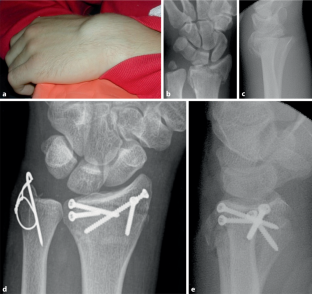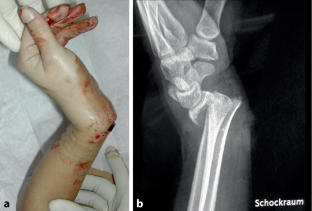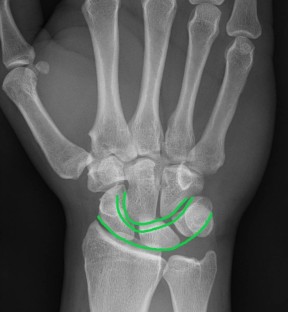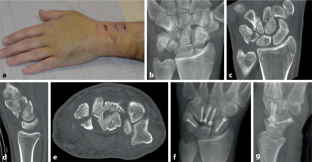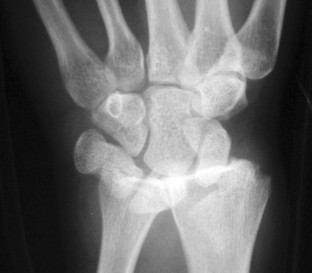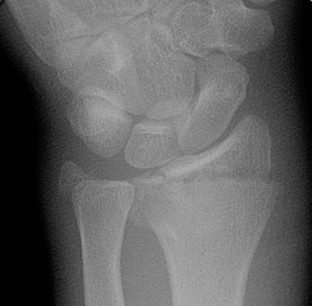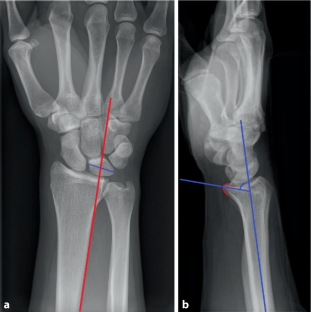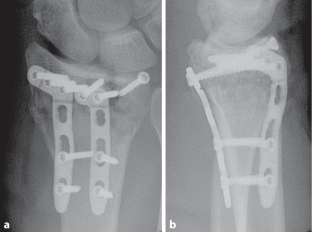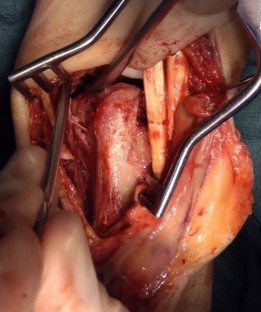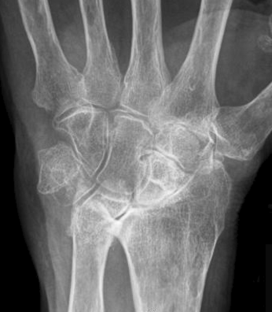 Literatur
Colles A (1814) On the fracture of the carpal extremity of the radius. Edin Med I 10:182

Voillemier (1839) Arch gen de medicine IV, 401, zitiert bei Malgaigne 1855, 652

Lenoir (1839) Arch gen de medicine IV, 402, zitiert bei Malgaigne 1855, 652

Dunn AW (1972) Fractures and dislocations of the carpus. Surg Clin North Am 52:1513–1538

Ilyas AM, Mudgal CS (2008) Radiocarpal fracture-dislocations. J Am Acad Orthop Surg 16:647–655

Ilyas AM, Williamson C, Mudgal CS (2011) Radiocarpal dislocation: is it a rare injury? J Hand Surg Eur Vol 36:164–165

Allieu Y, Garcia-Elias M (2000) Dynamic radial translation instability of the carpus. J Hand Surg Br 25:33–37

Arslan H, Tokmak M (2002) Isolated ulnar radiocarpal dislocation. Arch Orthop Trauma Surg 122:179–181

Singisetti K, Konstantinos M, Middleton A (2011) Volar radiocarpal dislocation: case report and review of literature. Hand Surg 16:173–175

Hagen K, Reese M (2000) Die radiokarpale Luxationsfraktur. Handchir Mikrochir Plast Chir 32:339–342

Mudgal CS, Psenica J, Jupiter JB (1999) Radiocarpal fracture-dislocation. J Hand Surg Br 24:92–98

Nyquist SR, Stern PJ (1984) Open radiocarpal fracture-dislocations. J Hand Surg Am 9:707–710

De Villeneuve Bargemon JB, Soudé G, Levadoux M et al (2023) Radiocarpal fracture-dislocation: review of the literature, new classification and decision algorithm. Orthop Traumatol Surg Res 109:103547–103547

Biondi M, Lauri G (2020) Dorsal fracture-dislocation of the radiocarpal joint: a new classification and implications in surgical treatment. J Hand Surg Am 45:700–708

Rundgren J, Bojan A, Mellstrand Navarro C et al (2020) Epidemiology, classification, treatment and mortality of distal radius fractures in adults: an observational study of 23,394 fractures from the national Swedish fracture register. BMC Musculoskelet Disord 21:88

Ayache A, Schmitt R, Unglaub F et al (2021) Frakturen der Handwurzel ohne Os scaphoideum. Unfallchirurg 124:59–73

Riexinger C, Laier P (2018) Perilunäre Verletzungen. Unfallchirurg 121:358–364

Mayfield JK, Johnson RP, Kilcoyne RK (1980) Carpal dislocations: pathomechanics and progressive perilunar instability. J Hand Surg Am 5:226–241

Schmitt R, Lanz U (2015) Bildgebende Diagnostik der Hand. Thieme, Stuttgart

Medoff RJ (2005) Essential radiographic evaluation for distal radius fractures. Hand Clin 21:279–288

Ross M, Di Mascio L, Peters S et al (2014) Defining residual radial translation of distal radius fractures: a potential cause of distal radioulnar joint instability. J Wrist Surg 3:22–29

Trehan SK, Orbay JL, Wolfe SW (2015) Coronal shift of distal radius fractures: influence of the distal interosseous membrane on distal radioulnar joint instability. J Hand Surg Am 40:159–162

Grunz JP, Gietzen CH, Schmitt R et al (2018) Distale Radiusfrakturen : Update zur Bildgebung. Radiologe 58:159–174

Dumontier C, Meyer Zu Reckendorf G, Sautet A et al (2001) Radiocarpal dislocations: classification and proposal for treatment. A review of twenty-seven cases. J Bone Joint Surg Am 83:212–218

Del Pinal F (2019) Distal radius fractures and carpal instabilities: FESSH IFSSH 2019 instructional book. Thieme, New York

Green DP, Hotchkiss RN, Pederson WC et al (Hrsg) (2022) Green's operative hand surgery. Elsevier, Churchill Livingstone, Philadelphia

Prommersberger KJ (2014) Ununterbrochen im Fokus: die distale Radiusfraktur. Handchir Mikrochir Plast Chir 46:1–1

Rikli DA, Regazzoni P (1996) Fractures of the distal end of the radius treated by internal fixation and early function. A preliminary report of 20 cases. J Bone Joint Surg Br 78:588–592

Howard RF, Slawski DP, Gilula LA (1997) Isolated palmar radiocarpal dislocation and ulnar translocation: a case report and review of the literature. J Hand Surg 22:78–82

Brown D, Mulligan MT, Uhl RL (2013) Volar ligament repair for radiocarpal fracture-dislocation. Orthopedics 36:463–468

Moneim MS, Bolger JT, Omer GE (1985) Radiocarpal dislocation—classification and rationale for management. Clin Orthop Relat Res 192:199–209

Weber O, Müller M, Fischer P et al (2011) Diagnostik und Therapie von radiokarpalen Luxationsfrakturen. Unfallchirurg 114:565–574

Yuan BJ, Dennison DG, Elhassan BT et al (2015) Outcomes after radiocarpal dislocation: a retrospective review. Hand 10:367–373

Spiry C, Bacle G, Marteau E et al (2018) Radiocarpal dislocations and fracture-dislocations: Injury types and long-term outcomes. Orthop Traumatol Surg Res 104:261–266

Da Fonseca K, Großterlinden L, Rueger JM (2012) Diagnostik und Therapie von perilunären Luxationen und Luxationsfrakturen. Unfallchirurg 115:576–581

Andersson JK, Åhlén M, Andernord D (2018) Open versus arthroscopic repair of the triangular fibrocartilage complex: a systematic review. J Exp Ortop 5:6

Oberladstätter J, Arora R, Dallapozza C et al (2007) Sagittaler Bewegungsumfang nach dorsalen radiokarpalen Luxationsfrakturen. Handchir Mikrochir Plast Chir 39:49–53
Ethics declarations
Interessenkonflikt
Gemäß den Richtlinien des Springer Medizin Verlags werden Autoren und Wissenschaftliche Leitung im Rahmen der Manuskripterstellung und Manuskriptfreigabe aufgefordert, eine vollständige Erklärung zu ihren finanziellen und nichtfinanziellen Interessen abzugeben.
Autoren
A. Ayache: A. Finanzielle Interessen: Referententätigkeit für die Medartis AG. – B. Nichtfinanzielle Interessen: Oberarzt Handchirurgie Vulpius Klinik GmbH | Mitgliedschaften: Deutsche Gesellschaft für Orthopädie und Unfallchirurgie e. V., Deutsche Gesellschaft für Handchirurgie e. V. F. Unglaub: A. Finanzielle Interessen: Forschungsförderung zur persönlichen Verfügung: Richard und Annemarie Wolf-Stiftung, Knittlingen. – Vortragshonorare oder Kostenerstattung als passiv Teilnehmende: IBRA, Basel, Kongress DGH 2016–2018, IBRA Kurs Frankfurt 2018–2022, Juzo, Kurs Dresden, Narbenbehandlung 2022. – Medartis Entwicklung Osteosynthese-Set Hand 2.0, Basel, Schweiz. – B. Nichtfinanzielle Interessen: Chefarzt Handchirurgie, Vulpius Klinik GmbH, Bad Rappenau; Editor in Chief Archives of Orthopaedic and Trauma Surgery. C.K. Spies: A. Finanzielle Interessen: C. Spies gibt an, dass kein finanzieller Interessenkonflikt besteht. – B. Nichtfinanzielle Interessen: Leiter Sektion Handchirurgie, SRO Spital Langenthal, Schweiz | Mitgliedschaften: DGH, DAH, IBRA, AGA, FMH, außerordentliches Mitglied SGH. M.F. Langer: A. Finanzielle Interessen: AO-Foundation, Hand Expert-Group, Reisekosten, Hotel. – B. Nichtfinanzielle Interessen: Oberarzt angestellt, Chirurg an Universitätsklinik Münster | Mitgliedschaft: Deutsche Gesellschaft für Handchirurgie (DGH); Präsident DGH ab 10/2023 bis 10/2024.
Wissenschaftliche Leitung
Die vollständige Erklärung zum Interessenkonflikt der Wissenschaftlichen Leitung finden Sie am Kurs der zertifizierten Fortbildung auf www.springermedizin.de/cme.
Der Verlag
erklärt, dass für die Publikation dieser CME-Fortbildung keine Sponsorengelder an den Verlag fließen.
Für diesen Beitrag wurden von den Autor/-innen keine Studien an Menschen oder Tieren durchgeführt. Für die aufgeführten Studien gelten die jeweils dort angegebenen ethischen Richtlinien.
Additional information
Wissenschaftliche Leitung
Volker Alt, Regensburg
Peter Biberthaler, München
Thomas Gösling, Braunschweig
Thomas Mittlmeier, Rostock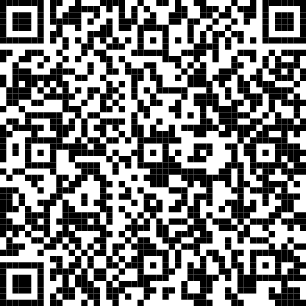 QR-Code scannen & Beitrag online lesen
CME-Fragebogen
CME-Fragebogen
Wie ist die unverletzte distale Gelenkfläche des Radius durchschnittlich relativ zur Radiuslängsachse ausgerichtet?
Circa 5° dorsale Inklination, ca. 10° radiale Inklination
Circa 20° ulnare Translation, ca. 5° palmare Verkippung
Circa 15° palmare Rotation, ca. 10° radiale Reklination
Circa 10° palmare Inklination, ca. 22° ulnare Inklination
Circa 25° radiale Torsion, ca. 10° dorsale Inklination
Aus welchen Bändern setzt sich das dorsale V‑Band zusammen?
Lig. scapholunatum und Lig. lunotriquetrum
Lig. radiocarpale dorsale und Lig. intercarpale dorsale
Lig. radioscaphocapitatum und Lig. ulnolunatum
Radiales Seitenband und Lig. arcuatum
Membrana interossea und Lig. subcruentum
Was ist der primäre Stabilisator des distalen Radioulnargelenks?
Der trianguläre fibrokartilaginäre Komplex (TFCC)
Das distale palmare V‑Band
Der M. pronator quadratus
Die Membrana interossea
Das dorsale V‑Band
Was ist die häufigste Luxationsrichtung des Radiokarpalgelenks?
Nach palmar
Nach ulnar
Nach dorsal
Nach radial
Die perilunäre Luxation
Welche anatomische Struktur entspricht der "Teardrop"-Formation im seitlichen Röntgenbild des Handgelenks?
Die dorsalen Anteile der Fovea scaphoidea
Die dorsalen Anteile der Fovea lunata
Die palmaren Anteile der Fovea lunata
Der Ulnakopf
Das Processus styloideus radii
Welche posttraumatische Fehlstellung kann die "Ross"-Hilfslinie im d.-p.-Röntgenbild des Handgelenks aufdecken?
Eine "Dorsal-intercalated-segment-instability"(DISI)-Fehlstellung
Eine "Palmar-intercalated-segment-instability"(PISI)-Fehlstellung
Eine Instabilität des distalen Radioulnargelenks (DRUG)
Eine ulnare Translation des Carpus
Eine dorsale Luxation des Carpus
Eine 22-jährige Patientin ist beim Bouldern aus 2 m Höhe auf das extendierte Handgelenk gestürzt. In der Röntgendiagnostik zeigen sich eine Avulsionsverletzung der palmaren Radiusgelenkfläche und eine Kahnbeinfraktur. Welche weitere Diagnostik leiten Sie ein?
Eine Röntgenlastaufnahme des Handgelenks zum sicheren Ausschluss einer intrakarpalen ligamentären Instabilität.
Eine weitere Diagnostik ist nicht notwendig. Die Therapie ist konservativ
Eine CT-Untersuchung zur genauen Klassifikation der Radius- und Handwurzelfraktur
Eine Szintigraphie zum Ausschluss eines M. Preiser
Eine Positronen-Emissionen-Tomografie kann gleichzeitig und zuverlässig intrakarpale Frakturen, ligamentäre Verletzungen und TFCC Läsionen darstellen.
Bei der operativen Versorgung einer Luxationsfraktur des Handgelenks sind eine dorsale Plattenosteosynthese am distalen Radius und eine knöcherne Refixation der palmaren radiokarpalen Bänder notwendig geworden. Welche weitere Maßnahme ist zur Stabilisierung des Radiokarpalgelenks möglich?
Die offene Refixation des Lig. subcruentum
Die Anlage einer "spanning plate"
Eine temporäre radiolunäre Kirschner-Draht-Transfixation
Die Rekonstruktion der Membrana interossea mithilfe eines Sehnentransplantats
Die Rekonstruktion des skapholunären (SL)-Bands mithilfe der M.-flexor-carpi-radialis(FCR)-Sehne
Was ist der Goldstandard zur Diagnostik einer intrakarpalen ligamentären Verletzung?
Die MRT Untersuchung
Die Arthroskopie
Intraoperative Stressaufnahmen
Präoperative Funktionsaufnahmen
Die offene Exploration
Ein 37-jähriger Bauarbeiter hat bei einem Sturz von einem Baugerüst auf das rechte Handgelenk eine Fraktur des Processus styloideus radii mit dorsaler Subluxation des Karpus erlitten. Sie haben die Radiusfraktur mithilfe einer Schraubenosteosynthese stabil versorgt. Welche Maßnahme sollte sich intraoperativ nun anschließen?
Die radiokarpale Transfixation
Die Anlage eines Fixateur externe
Stressaufnahmen des Handgelenks
Keine. Die Fraktur ist ja stabil versorgt
Eine offene Exploration des skapholunären (SL)-Bands
About this article
Cite this article
Ayache, A., Unglaub, F., Spies, C.K. et al. Radiokarpale Luxationen und Luxationsfrakturen. Unfallchirurgie 126, 643–656 (2023). https://doi.org/10.1007/s00113-023-01349-2
Accepted:

Published:

Issue Date:

DOI: https://doi.org/10.1007/s00113-023-01349-2
Schlüsselwörter
Keywords