Zusammenfassung
Hintergrund
Die Suche von vermissten Personen ist regelhaft mit hohem personellem Aufwand verbunden. Bei Verdacht auf Ertrinken müssen ggf. große Wasserflächen systematisch abgesucht werden. Ab Tiefen von 3 bis 5 m geht dies derzeit nur unter hohem personellem Aufwand mit Einsatztauchern. Deren Einsatzzeit ist durch die Aufsättigung von Blut und Geweben mit Stickstoff aufgrund des erhöhten Umgebungsdruckes zeitlich begrenzt und birgt zudem erhöhte Gefahren für die Einsatzkräfte.
Fragestellung
Entwicklungen hinsichtlich Miniaturisierung von Sensorik, Performance eingebetteter Prozessortechnik und Akkutechnologien erlauben heute den Einsatz von Flug- und Unterwasserdrohnen bei mäßiger finanzieller Investition und ermöglichen ihren querschnittlichen Einsatz im Rettungsdienst.
Material und Methoden
Im Rahmen einer Förderung des Bundesverbandes der Deutschen Lebens-Rettungs-Gesellschaft (DLRG) hat der Landesverband Bayern der DLRG 3 unterschiedliche Unterwasserdrohnen ("remotely operated underwater vehicles", ROUV) in verschiedenen Preissegmenten sowie 2 unterschiedliche Systeme zur Unterwasserpositionsbestimmung beschafft. Nach Erstellung eines Einsatzkonzeptes zur Sicherstellung der Vergleichbarkeit der Ergebnisse werden die Einheiten Ortsverbänden der DLRG in Bayern zur Erprobung in ihren Gewässern zur Verfügung gestellt.
Ergebnisse
Erste Erprobungen wurden im Vorfeld zur Planung des Pilotprojektes durchgeführt. Dabei hat sich gezeigt, dass eine gewisse Mindestleistung der Antriebe erforderlich ist, um sowohl die zusätzliche Positionierungseinheit tragen zu können als auch im Gewässer gut steuerbar zu sein. Kleinstdrohnen im unteren "Consumer"-Segment fallen daher für die Verwendung aus. Im Gegenzug dazu sind zu große Einheiten schwer zu handhaben und bedürfen einer längeren Einsatzvorbereitungszeit. Drohnen im mittleren Segment mit stromlinienförmigem Aufbau haben sich bisher als optimal erwiesen. Der Einsatz ohne Möglichkeit der Positionsbestimmung ist nicht zielführend.
Schlussfolgerung
Zusammen mit der Möglichkeit der genauen Positionsbestimmung stellt die Unterwasserdrohne eine sinnvolle Ergänzung der Tauchtrupps in der Wasserrettung und im Katastrophenschutz dar. Die schnelle Einsatzbereitschaft ermöglicht ein Abklären des Einsatzgebietes vor dem Beginn des Taucheinsatzes und kann diesen sinnvoll unterstützen.
Abstract
Background
The search for and rescue of missing persons is always coupled with a high demand on human resources. In cases of suspected drowning it is often necessary to search huge expanses of water. For depths of more than 3–5 m the search and rescue procedure needs to be performed by specialist rescue divers. Due to saturation with nitrogen caused by the higher ambient pressure during the dive, the operating time for each rescue diver is limited. In addition, each dive is linked with an increased risk.
Objective
Miniaturization of sensors, higher performance of embedded systems and high energy density of modern accumulators offer the chance to operate with unmanned flying and diving vehicles for search and rescue even with moderate financial investment.
Material and methods
Based on funding by the Federation of the German Live Saving Association (DLRG) the DLRG national association of Bavaria procured three different models of remotely operated underwater vehicles (ROUV) and two different systems for underwater positioning. These systems will be offered to local associations of the DLRG in Bavaria for intense testing in their waters based on a common implementation strategy to ensure comparability and reproducibility.
Results
Initial tests with different types of ROUV and underwater positioning have been performed in preparation of the survey. As a result, mini-ROUVs found in the lower consumer segment have been identified as insufficient as they are not able to carry the additional payload of the underwater positioning systems whilst maintaining controllability. In contrast, more complex drones are difficult to handle and require longer preparation times before they are ready for use. The ROUVs in the median range, preferably with a streamlined structure, have so far been found to be optimal; however, operating the vehicle without a positioning system is not recommended.
Conclusion
In combination with an underwater positioning system, remotely operated underwater vehicles are identified as a reasonable supplement for rescue divers. Fast time to operation enables a preview of the operating area before starting the rescue operation and can therefore support the rescue diver team.
Access options
Buy single article
Instant access to the full article PDF.
USD 39.95
Price includes VAT (USA)
Tax calculation will be finalised during checkout.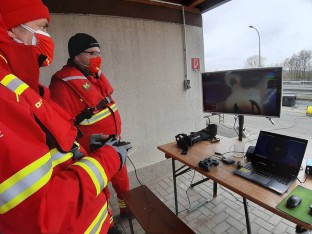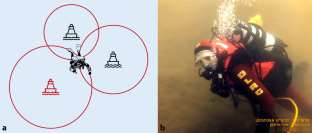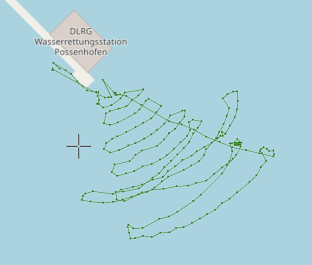 Literatur
1.

DLRG (01.06.2021) https://dlrg.de/statistik-ertrinken. Zugegriffen: 01.06.2021

2.

Künneth T, Vorderauer A, Fischer PA (2019) Taschenbuch für Wasserretter. Deutsche Lebens-Rettungs-Gesellschaft e. V., Bad Nenndorf

3.

Deutsche Gesetzliche Unfallversicherung (2017) DGUV Regel 105-002 – Tauchen mit Leichttauchgeräten in Hilfeleistungsunternehmen

4.

Water Linked AS (01.06.2021) WaterLinked Underwater GPS. https://waterlinked.com/underwater-gps/. Zugegriffen: 01.06.2021

5.

UWIS Oy (01.06.2021) Underwater information systems. https://uwis.fi/en. Zugegriffen: 01.06.2021

6.

Deutsche Gesetzliche Unfallversicherung (2012) Vorschrift 40 – Taucherarbeiten

7.

AV 401 (2019) Ausbildungsvorschrift AV 401 – Basisausbildung Einsatzdienste. Deutsche Lebens-Rettungs-Gesellschaft e. V. – Präsidium, Bad Nenndorf

8.

Sanftl F, Sundermann M (2021) Ermittlung des Einsatzpotentials sowie Erstellung eines Anschaffungs- und Finanzierungsplans für den Einsatz von Unterwasserdrohnen für die Wasserrettung der DLRG. Technische Hochschule Rosenheim, Rosenheim
Ethics declarations
Interessenkonflikt
T. Lück, V. Kvasnicka und A. Lück geben an, dass kein Interessenkonflikt besteht.
Für diesen Beitrag wurden von den Autoren keine Studien an Menschen oder Tieren durchgeführt. Für die aufgeführten Studien gelten die jeweils dort angegebenen ethischen Richtlinien.
Additional information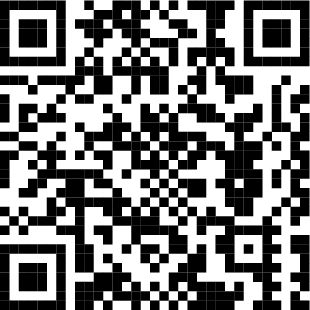 QR-Code scannen & Beitrag online lesen
Redaktion
Peter Biberthaler, München
About this article
Cite this article
Lück, T., Kvasnicka, V. & Lück, A. Unterwasserdrohnen in der Wasserrettung. Unfallchirurg (2021). https://doi.org/10.1007/s00113-021-01097-1
Schlüsselwörter
Ertrinken

Tauchen

Seitensichtsonar

Unterwassernavigation

Technologische Innovation
Keywords
Drowning

Diving

Underwater navigation

Side-scan sonar

Technological innovation