Zusammenfassung
Hintergrund
Traumatische Nervenverletzungen gehen mit einer hohen Morbidität und langen Rehabilitationszeiten einher. Das Ausmaß der Nervenschädigung mit dem damit verbundenen Regenerationspotenzial kann oft erst im Verlauf eingeschätzt werden, wobei das Zeitfenster für erfolgreiche chirurgische Interventionen begrenzt ist.
Ziel der Arbeit
Inzidenz und Verteilung traumatischer Nervenläsionen, Darstellung von Algorithmen zur Therapieentscheidung.
Material und Methoden
Auswertung von Statistiken aus dem TraumaRegister DGU® sowie internationalen Registern. Diskussion von Grundlagenarbeiten und Expertenempfehlungen zu Diagnostik und Therapie.
Ergebnisse und Schlussfolgerung
Ein strategisches Vorgehen bei der konservativen und operativen Behandlung von Nervenläsionen in Abhängigkeit vom Ausmaß der Schädigung und dem resultierenden Regenerationspotenzial ist empfohlen. In Zusammenschau mit dem klinischen Verlauf können elektrophysiologische und bildgebende Diagnostik wie die Nervensonographie helfen, zwischen Neurapraxie, Axonotmesis und Neurotmesis zu unterscheiden.
Abstract
Background
Traumatic nerve injuries are associated with a high morbidity and long rehabilitation times. The extent of a nerve lesion and the related regeneration potential can often only be estimated during the course, whereby the time window for successful surgical interventions is limited.
Objective
The incidence and distribution of traumatic nerve lesions are reported. Algorithms for treatment decisions are presented.
Material and methods
Statistics from the German TraumaRegister DGU® as well as international registers were evaluated. The results of basic research and expert recommendations for diagnostics and treatment are discussed.
Results and conclusion
A strategic approach to conservative and surgical treatment of traumatic nerve injuries depending on the extent of injury and resulting regeneration potential is recommended. In conjunction with the clinical course, electrophysiology and imaging diagnostics, e.g. nerve sonography, can help to differentiate between neurapraxia, axonotmesis and neurotmesis.
Access options
Buy single article
Instant access to the full article PDF.
US$ 39.95
Tax calculation will be finalised during checkout.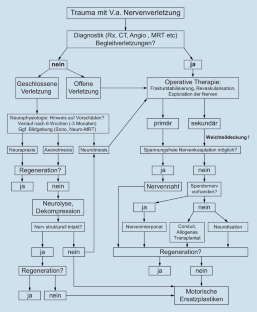 Literatur
1.

AWMF. 005/010 – S3-Leitlinie Versorgung peripherer Nervenverletzungen. 2013

2.

Macke C, Winkelmann M, Mommsen P, Probst C, Zelle B, Krettek C et al (2017) Injuries to the upper extremities in polytrauma: limited effect on outcome more than ten years after injury—a cohort study in 629 patients. Bone Joint J 99-B(2):255–260

3.

Huckhagel T, Nüchtern J, Regelsberger J, Lefering R, TraumaRegister DGU (2018) Nerve injury in severe trauma with upper extremity involvement: evaluation of 49,382 patients from the TraumaRegister DGU® between 2002 and 2015. Scand J Trauma Resusc Emerg Med 26(1):76

4.

Harhaus L, Hirche C, Giunta RE, Aszmann O, Siemers F, Kneser U et al (2017) Versorgungsstrategie von Nervenverletzungen bei schwerem Weichteilschaden: Konsensus-Statement der Deutschsprachigen Arbeitsgemeinschaft für Mikrochirurgie der peripheren Nerven und Gefäße. Handchir Mikrochir Plast Chir 49(04):257–266

5.

Taylor CA, Braza D, Rice JB, Dillingham T (2008) The incidence of peripheral nerve injury in extremity trauma. Am J Phys Med Rehabil 87(5):381–385

6.

Robinson LR (2004) Chapter 19 Traumatic injury to peripheral nerves. In: Supplements to Clinical Neurophysiology. Elsevier, S. 173–86. https://linkinghub.elsevier.com/retrieve/pii/S1567424X09703551. Zugegriffen: 30. Apr. 2021

7.

Huckhagel T, Nüchtern J, Regelsberger J, Gelderblom M, Lefering R, TraumaRegister DGU (2018) Nerve trauma of the lower extremity: evaluation of 60,422 leg injured patients from the TraumaRegister DGU® between 2002 and 2015. Scand J Trauma Resusc Emerg Med 26(1):40

8.

Eser F, Aktekin LA, Bodur H, Atan C (2009) Etiological factors of traumatic peripheral nerve injuries. Neurol India 57(4):434–437

9.

Wee AS, Truitt NR, Smith LD (2006) Type and frequency of peripheral nerve injuries encountered in a clinical neurophysiology laboratory. J Miss State Med Assoc 47(3):67–71

10.

Kaufman Y, Cole P, Hollier L (2009) Peripheral nerve injuries of the pediatric hand: issues in diagnosis and management. J Craniofac Surg 20(4):1011–1015

11.

Kaiser R, Waldauf P, Ullas G, Krajcová A (2020) Epidemiology, etiology, and types of severe adult brachial plexus injuries requiring surgical repair: systematic review and meta-analysis. Neurosurg Rev 43(2):443–452

12.

Bergmeister KD, Schwarz D, Kneser U, Harhaus L (2020) Nervenläsionen bei orthopädischen und unfallchirurgischen Eingriffen. Orthop Unfallchir Up2date 15(01):87–103

13.

Krauss EM, Shankar V, Patterson JMM, Mackinnon SE (2021) Medical malpractice in nerve injury of the upper extremity. Hand 16(4): 425–431

14.

Schwab TR, Stillhard PF, Schibli S, Furrer M, Sommer C (2018) Radial nerve palsy in humeral shaft fractures with internal fixation: analysis of management and outcome. Eur J Trauma Emerg Surg 44(2):235–243

15.

Sharp E, Roberts M, Żurada-Zielińska A, Zurada A, Gielecki J, Tubbs RS et al (2021) The most commonly injured nerves at surgery: a comprehensive review. Clin Anat 34(2):244–262

16.

Seddon HJ (1943) Peripheral Nerve Injuries. Glasg Med J 139(3):61–75

17.

Assmus H, Antoniadis G (Hrsg) (2015) Nervenkompressionssyndrome. Springer, Berlin, Heidelberg https://doi.org/10.1007/978-3-642-55212-0

18.

Kretschmer T (Hrsg) (2014) Nervenchirurgie: Trauma, Tumor, Kompression. Springer, Berlin, S 407

19.

Sunderland S (1951) A classification of peripheral nerve injuries producing loss of function. Brain 74(4):491–516

20.

Mackinnon, Dellon (eds) (1988) Surgery of the peripheral nerve. Thieme-Stratton Corp, New York. ISBN: 978-0865772830

21.

Vogt PM, Altintas MA (2011) Praxis der plastischen Chirurgie: plastisch-rekonstruktive Operationen, plastisch-ästhetische Operationen, Handchirurgie, Verbrennungschirurgie, 1. Aufl. Springer, Berlin Heidelberg (mit 208 Tabellen)

22.

Mackinnon SE, Yee A (2015) Nerve Surgery. Thieme, New York, chapter 1, p 7 (MediaCenter.thieme.com includes videos online)

23.

Bolívar S, Navarro X, Udina E (2020) Schwann cell role in selectivity of nerve regeneration. Cells 9(9):2131

24.

Robinson LR (2015) How electrodiagnosis predicts clinical outcome of focal peripheral nerve lesions. Muscle Nerve 52(3):321–333

25.

Pöschl P, Schulte-Mattler W (2012) Neurophysiologische Diagnostik bei traumatischen Nervenläsionen. Klin Neurophysiol 43(01):1–9

26.

Pöschl P (2020) Sonografie in der Diagnostik traumatischer Nervenläsionen. Klin Neurophysiol 51(02):82–88

27.

Chang G, Ilyas AM (2018) Radial nerve palsy after humeral shaft fractures: the case for early exploration and a new classification to guide treatment and prognosis. Hand Clin 34(1):105–112

28.

Bäumer P, Pham M, Bendszus M (2014) MR-Neurographie – bildgebende Diagnostik im peripheren Nervensystem. Aktuelle Neurol 41(08):461–468

29.

Kornfeld T, Borger A, Radtke C (2021) Reconstruction of critical nerve defects using allogenic nerve tissue: a review of current approaches. Int J Mol Sci 22(7):3515

30.

Zelada D, Bermedo-García F, Collao N, Henríquez JP (2021) Motor function recovery: deciphering a regenerative niche at the neuromuscular synapse. Biol Rev Camb Philos Soc 96(2):752–766

31.

Domeshek LF, Novak CB, Patterson JMM, Hasak JM, Yee A, Kahn LC et al (2019) Nerve transfers—A paradigm shift in the reconstructive ladder. Plast Reconstr Surg Glob Open 7(6):e2290

32.

Lee SK, Wolfe SW (2012) Nerve transfers for the upper extremity: new horizons in nerve reconstruction. J Am Acad Orthop Surg 20(8):506–517

33.

Noland SS, Bishop AT, Spinner RJ, Shin AY (2019) Adult traumatic brachial plexus injuries. J Am Acad Orthop Surg 27(19):705–716

34.

Gordon T, English AW (2016) Strategies to promote peripheral nerve regeneration: electrical stimulation and/or exercise. Eur J Neurosci 43(3):336–350
Ethics declarations
Interessenkonflikt
B. Weyand und M. Spies geben an, dass kein Interessenskonflikt besteht.
Für diesen Beitrag wurden von den Autoren keine Studien an Menschen oder Tieren durchgeführt. Für die aufgeführten Studien gelten die jeweils dort angegebenen ethischen Richtlinien.
Additional information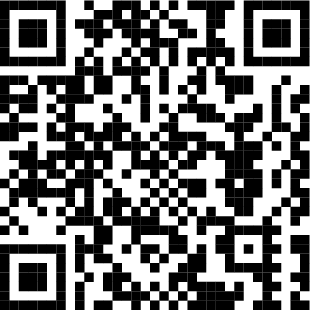 QR-Code scannen & Beitrag online lesen
Redaktion
P. Vogt Hannover
About this article
Cite this article
Weyand, B., Spies, M. Funktionelle Rekonstruktionen bei traumatischen Lähmungen. Unfallchirurg 124, 823–831 (2021). https://doi.org/10.1007/s00113-021-01078-4
Accepted:

Published:

Issue Date:
Schlüsselwörter
Nerventransfer

Nervenregeneration

Neurochirurgische Verfahren

Trauma des Nervensystems

Rekonstruktive chirurgische Verfahren
Keywords
Nerve transfer

Nerve regeneration

Neurosurgical procedures

Trauma, nervous system

Reconstructive surgical procedures