Zusammenfassung
Aus rekonstruktiver Sicht stellen Handverletzungen besondere Herausforderungen dar, da sie oft mit freiliegenden Sehnen, Knochen und Leitungsstrukturen einhergehen und da an der Hand nur wenige Haut-Weichteil-Reserven zur Deckung vorhanden sind. Funktionelle und ästhetische Gesichtspunkte verlangen, je nach Lokalisation und Defektausmaß, ein differenziertes Vorgehen. Der vorliegende Beitrag gibt einen Überblick über Rekonstruktionstechniken und Lappenplastiken an der Hand für verschiedene Defektgrößen und Defektlokalisationen.
Abstract
From a reconstructive viewpoint, injuries of the hand are particularly challenging. They are often associated with exposed tendons, bones, nerves and vessels, whereas little skin and soft tissue reserves are available for coverage. Functional and esthetic requirements necessitate a differentiated approach, depending on the location and extent of the defect. This article gives an overview of reconstruction techniques and flap surgery on the hand for various defect sizes and locations.
Access options
Buy single article
Instant access to the full article PDF.
US$ 39.95
Tax calculation will be finalised during checkout.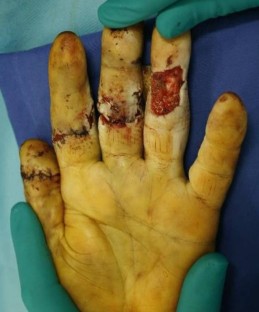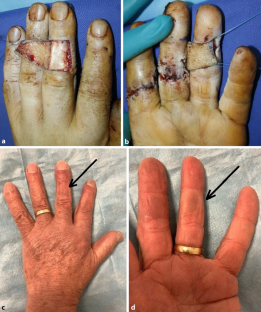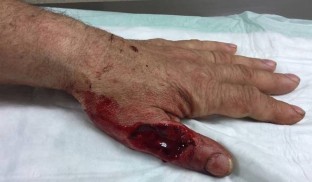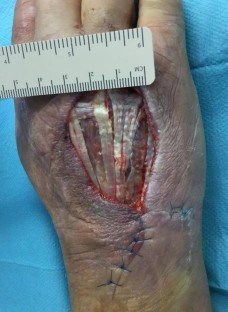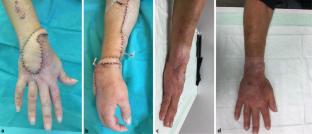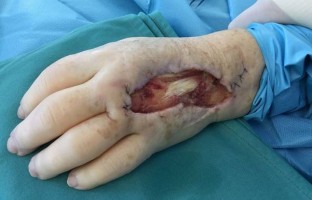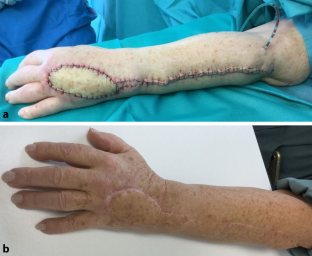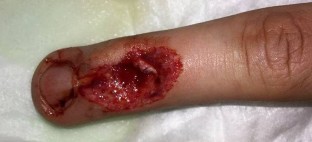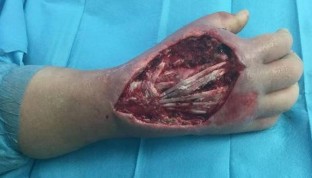 Literatur
Verwendete Literatur
1.

Mathes SJ, Nahai F (1982) Clinical applications for muscle and musculocutaneous flaps. C. V. Mosby, St. Louis

2.

Gottlieb LJ, Krieger LM (1994) From the reconstructive ladder to the reconstructive elevator. Plast Reconstr Surg 93(7):1503–1504

3.

Eo S, Doh G, Lim S, Hong KY (2018) Analysis of the risk factors that determine composite graft survival for fingertip amputation. J Hand Surg 43(10):1030–1035

4.

Tranquilli-Leali LE (1935) Ricostruzione dell' apice delle falangi ungueali mediante autoplastica volare peduncolata per scorrimento. Infort Traum Lavoro 1:186–193

5.

Atasoy E, Ioakimidis E, Kasdan M L, Kutz J E, Kleinert H E (1970) Reconstruction of the amputated finger tip with a triangular volar flap. A new surgical procedure. J Bone Joint Surg Am 52(5):921–926

6.

Geissendörfer H (1943) Beitrag zur Fingerkuppenplastik. Zbl Chir 70:1107–1108

7.

Kutler W (1947) A new method for finger tip amputation. J Am Med Assoc 133(1):29. https://doi.org/10.1001/jama.1947.62880010007007

8.

Mennen U, Wiese A (1993) Fingertip injuries management with semi-occlusive dressing. J Hand Surg Br 18(4):416–422

9.

Cronin TD (1951) The cross finger flap: a new method of repair. Am Surg 17(5):419–425

10.

Pakiam AI (1978) The reversed dermis flap. Br J Plast Surg 31(2):131–135

11.

Hueston J (1966) Local flap repair of fingertip injuries. Plast Reconstr Surg 37(4):349–350

12.

Gatewood J (1926) A plastic repair of finger defects without hospitalization. J Am Med Assoc 87(18):1479

13.

Vilain R (1952) Technique élémentaire de réparation des pertes de substance cutanée des doigts. Sem Hop Paris 28(29):1223–1229

14.

Moberg E (1964) Aspects of sensation in reconstructive surgery of the upper extremity. J Bone Joint Surg Am 46:817–825. https://doi.org/10.2106/00004623-196446040-00011

15.

Venkataswami R, Subramanian N (1980) Oblique triangular flap: a new method of repair for oblique amputations of the fingertip and thumb. Plast Reconstr Surg 66(2):296–300

16.

Joshi BB (1972) Dorsolateral flap from same finger to relieve flexion contracture. Plast Reconstr Surg 49(2):186–189

17.

Rose EH (1983) Local arterialized island flap coverage of difficult hand defects preserving donor digit sensibility. Plast Reconstr Surg 72(6):848–858

18.

Oberlin C, Sarcy JJ, Alnot JY (1988) Apport artériel cutané de la main. Application à la réalisation des lambeaux en îlot. Ann Chir Main 7(2):122–125

19.

Littler JW (1953) The neurovascular pedicle method of digital transposition for reconstruction of the thumb. Plast Reconstr Surg 12(5):303–319

20.

Hilgenfeldt O (1950) Operativer Daumenersatz und Beseitigung von Greifstörungen bei Fingerverlusten, Enke, Stuttgart

21.

Holevich J (1963) A new method of restoring sensibility to the thumb. J Bone Joint Surg Br 45:496–502

22.

Foucher G, Braun JB (1979) A new island flap transfer from the dorsum of the index to the thumb. Plast Reconstr Surg 63(3):344–349

23.

Earley MJ, Milner RH (1987) Dorsal metacarpal flaps. Br J Plast Surg 40(4):333–341

24.

Quaba AA, Davison PM (1990) The distally-based dorsal hand flap. Br J Plast Surg 43(1):28–39

25.

Brunelli F (1993) Le lambeau dorso-cubital du pouce. Ann Chir Main Memb Super 12(2):105–114

26.

Moschella F, Cordova A (2006) Reverse homodigital dorsal radial flap of the thumb. Plast Reconstr Surg 117(3):920–926

27.

Yang G, Chen B, Gao Y (1981) The forearm free skin flap transplantation. Natl Med J China 61:139

28.

Becker C, Gilbert A (1988) La lambeau cubital. Ann Chir Main 7:136–142

29.

Penteado CV, Masquelet AC, Chevrel JP (1986) The anatomic basis of the fascio-cutaneous flap of the posterior interosseous artery. Surg Radiol Anat 8(4):209–215

30.

Zancolli EA, Angrigiani C (1986) Colgajo dorsal de antebrazo (en isla con pedianco de vasos interoseos postemomes. Rev Asoc Argent Orthop Traumatos 51, 161–168

31.

Zoltán J (1984) Hautersatzverfahren. Karger, Basel, München, Paris

32.

McGregor IA (1972) Fundamental Techniques of Plastic Surgery and their Surgical Applications. 5. Aufl., Churchill Livingstone, Edinburgh

33.

McCash CR (1956) Cross-arm bridge flaps in the repair of flexion contractures of the fingers. Br J Plast Surg 9(1):25–33

34.

Marino H (1945) Tratamiento quirurgico de la radidermitis. Diaméd 17:50

35.

Song YG, Chen GZ, Song YL (1984) The free thigh flap: a new free flap concept based on the septocutaneous artery. Br J Plast Surg 37(2):149–159

36.

Song R, Song Y, Yu Y, Song Y (1982) The upper arm free flap. Clin Plast Surg 9(1):27–35

37.

Saijo M (1978) The vascular territories of the dorsal trunk: a reappraisal for potential flap donor sites. Br J Plast Surg 31(3):200–204

38.

Nassif TM, Vidal L, Bovet JL, Baudet J (1982) The parascapular flap: a new cutaneous microsurgical free flap. Plast Reconstr Surg 69(4):591–600

39.

Narushima M, Iida T, Kaji N, Yamamoto T, Yoshimatsu H, Hara H, Kikuchi K, Araki J, Yamashita S, Koshima I (2016) Superficial circumflex iliac artery pure skin perforator-based superthin flap for hand and finger reconstruction. J Plast Reconstr Aesthet Surg 69(6):827–834

40.

Koshima I, Nanba Y, Tsutsui T, Takahashi Y, Urushibara K, Inagawa K, Hamasaki T, Moriguchi T (2004) Superficial circumflex iliac artery perforator flap for reconstruction of limb defects. Plast Reconstr Surg113(1):233–240

41.

Wink JD, Gandhi RA, Ashley B, Levin LS (2020) Flap Reconstruction of the Hand. Plast Reconstr Surg 145(1):172e–183e

42.

Higgins JP, Bürger HK (2020) Medial femoral trochlea osteochondral flap: applications for scaphoid and lunate reconstruction. Clin Plast Surg 47(4):491–499

43.

Hsu CC, Tseng J, Lin YT (2018) Chimeric Medial Femoral Condyle Osteocutaneous Flap for Reconstruction of Multiple Metacarpal Defects. J Hand Surg Am 43(8):781.e1–781.e9
Weiterführende Literatur
44.

Strauch B, Vasconez LO, Hall-Findlay EJ, Lee BT (2015) Grabb's Encyclopedia of Flaps, Bd. 2, Upper Extremities, Torso, Pelvis, and Lower Extremities, 4. Aufl., Wolters Kluwer, Philadelphia

45.

Wilhelm K, Putz R, Hierner R, Giunta RE (1997) Lappenplastiken in der Handchirurgie, Angewandte Anatomie, Operationstechniken, Differentialtherapie, Urban & Schwarzenberg, München, Wien, Baltimore
Ethics declarations
Interessenkonflikt
M. Witt und M.A. Altintas geben an, dass kein Interessenkonflikt besteht.
Für diesen Beitrag wurden von den Autoren keine Studien an Menschen oder Tieren durchgeführt. Für die aufgeführten Studien gelten die jeweils dort angegebenen ethischen Richtlinien.
Additional information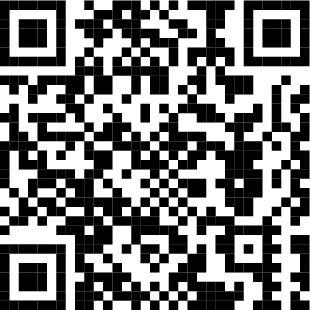 QR-Code scannen & Beitrag online lesen
Redaktion
P. Vogt, Hannover
About this article
Cite this article
Witt, M., Altintas, M.A. Defektrekonstruktionen an der Hand. Unfallchirurg 124, 789–796 (2021). https://doi.org/10.1007/s00113-021-01077-5
Accepted:

Published:

Issue Date:
Schlüsselwörter
Handchirurgie

Rekonstruktive Chirurgie

Weichteildefekte

Chirurgische Lappenplastiken

Wiederherstellung der Funktion
Keywords
Hand surgery

Reconstructive surgery

Soft tissue defects

Surgical flaps

Recovery of function