Zusammenfassung
Die posttraumatische Rekonstruktion des Hirn- und Gesichtsschädels stellt neben der onkologischen Chirurgie, der Chirurgie kraniofazialer Fehlbildungen und der zahnärztlichen Chirurgie einen wesentlichen Bestandteil der modernen Mund‑, Kiefer- und Gesichtschirurgie dar. Aufgrund der komplexen Anatomie des Gesichtsschädels sowie der maßgeblichen ästhetischen und funktionellen Ansprüche an seine Rekonstruktion stellt die rekonstruktive Traumachirurgie in diesem Bereich höchste Anforderungen an den Behandler. Dies ist umso mehr der Fall, wenn die definitive mund-, kiefer- und gesichtschirurgische Versorgung zugunsten anderer lebensbedrohlicher Verletzungen teils erst mit deutlichen Verzögerungen erfolgen kann. Um diesen Voraussetzungen Rechnung zu tragen, kamen in der Mund‑, Kiefer- und Gesichtschirurgie bereits früh Errungenschaften der modernen Biomedizintechnik wie die intraoperative Echtzeitnavigation, die computerassistierte Planung und die computerassistierte Herstellung (CAD/CAM) von patientenspezifischen Biomodellen und Implantaten zum Einsatz. In Kombination mit der intraoperativen 3D-Bildgebung ergibt sich aus diesen Methoden ein auf den individuellen Patienten ausgelegter Behandlungspfad, der in jedem Schritt direkt auf seine Qualität geprüft wird und so das bestmögliche Ergebnis für den Patienten sicherstellt. Die Nutzung dieser Technologien reicht so heute weit über die ursprünglichen Indikationen im Bereich der Orbitarekonstruktion und der Wiederherstellung knöcherner Defekte mit einfacher Geometrie – Kalottendefekte – hinaus. So können heute auch komplexeste panfaziale Frakturen ästhetisch und funktionell, z. B. mithilfe digitalisierter Vorplanung und individualisierter Schädeldach‑, Orbita- und Jochbeinimplantate sowie totaler Kiefergelenkendoprothesen, rekonstruiert werden.
Abstract
Posttraumatic reconstruction of the neurocranium and viscerocranium is an essential part of modern oral and maxillofacial surgery, in addition to oncological surgery, surgery of congenital craniofacial deformities and dental surgery. Due to the complex anatomy of the facial skull and significant esthetic and functional demands on its reconstruction, reconstructive trauma surgery in this area places the highest demands on the surgeon. This is all the more true if definitive craniomaxillofacial surgical treatment can sometimes only be performed with considerable delays for the benefit of other life-threatening injuries. In order to take these prerequisites into account, achievements of modern biomedical technology, such as intraoperative real-time navigation, computer-assisted planning and computer-assisted manufacturing (CAD/CAM) of patient-specific biomodels and implants, came up early for use in oral and maxillofacial surgery. In combination with intraoperative three-dimensional imaging, these methods result in a treatment pathway tailored to the individual patient, which is directly checked for quality at every step and thus ensures the best possible result for the patient. The use of these technologies extends far beyond the original indications in the area of orbital reconstruction and restoration of bony defects with simple geometry, such as skull defects. Nowadays, even the most complex pan-facial fractures can be restored esthetically and functionally by means of digitalized preliminary planning and individualized skull, orbital and zygomatic implants as well as total temporomandibular joint prostheses.
Access options
Buy single article
Instant access to the full article PDF.
US$ 39.95
Tax calculation will be finalised during checkout.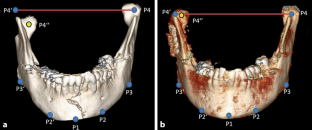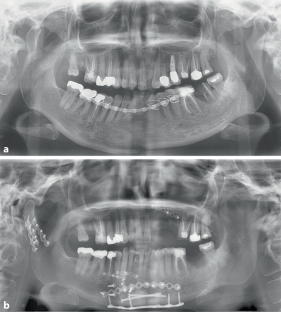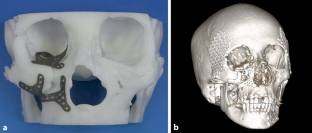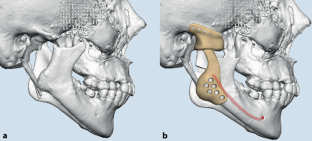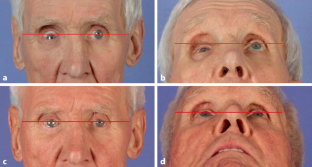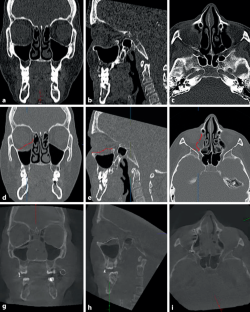 Literatur
1.

Eckstein FM, Zeller AN, Korn P et al (2021) Patientenspezifische Implantate in der Mund‑, Kiefer- und Gesichtschirurgie. OP J 37:67–75

2.

Dreizin D, Nam AJ, Hirsch J, Bernstein MP (2018) New and emerging patient-centered CT imaging and image-guided treatment paradigms for maxillofacial trauma. Emerg Radiol 25(5):533–545

3.

Rana M, Chui CH, Wagner M et al (2015) Increasing the accuracy of orbital reconstruction with selective laser-melted patient-specific implants with intraoperative navigation. J Oral Maxillofac Surg 73:1113–1138

4.

Assouline SL, Meyer C, Weber E et al (2021) How useful is intraoperative cone beam computed tomography in maxillofacial surgery? An overview of the current literature. Int J Oral Maxillofac Surg 50(2):198–204

5.

Gellrich NC, Rahlf B, Zimmerer R et al (2017) A new concept for implant-borne dental rehabilitation; how to overcome the biological weak-spot of conventional dental implants? Head Face Med 13:17

6.

Tuckett JW, Lynham A, Lee GA et al (2014) Maxillofacial trauma in the emergency department: a review. Surgeon 12(2):106–114

7.

Hokema F, Donaubauer B, Busch T et al (2007) Schockraummanagement nach dem ATLS-Algorithmus [Initial management of polytraumatized patients in the emergency department. Anasthesiol Intensivmed Notfallmed Schmerzther 42(10):716–723

8.

Zimmerer R, Schattmann K, Essig H et al (2014) Efficacy of transcutaneous transseptal orbital decompression in treating acute retrobulbar hemorrhage and a literature review. Craniomaxillofac Trauma Reconstr 7(1):17–26

9.

Dufresne CR, Manson PN, Iliff NT (1988) Early and late complications of orbital fractures. Clin Plast Surg 15(2):239–253

10.

García-Guerrero I, Ramírez JM, Gómez de Diego R et al (2018) Complications in the treatment of mandibular condylar fractures: surgical versus conservative treatment. Ann Anat 216:60–68

11.

Gellrich NC, Spalthoff S, Zimmerer R et al (2020) Sekundäre Orbitarekonstruktion. MKG Chir 13:165–175

12.

Reddy L, Lee D, Vincent A et al (2019) Secondary management of mandible fractures. Facial Plast Surg 35(6):627–632

13.

Han PS, Kim Y, Herford AS, Inman JC (2019) Complications and treatment of delayed or inadequately treated nasoorbitoethmoid fractures. Semin Plast Surg 33(2):138–142

14.

Jang SB, Choi SY, Kwon TG, Kim JW (2020) Concomitant injuries and complications according to categories of pan-facial fracture: a retrospective study. J Craniomaxillofac Surg 48(4):427–434

15.

Zeller AN, Neuhaus MT, Gessler N et al (2020) Self-centering second-generation patient-specific functionalized implants for deep orbital reconstruction. J Stomatol Oral Maxillofac Surg. https://doi.org/10.1016/j.jormas.2020.12.007

16.

Santiago GF, Terner J, Wolff A et al (2018) Post-neurosurgical temporal deformities: various techniques for correction and associated complications. J Craniofac Surg 29(7):1723–1729

17.

Spalthoff S, Dittmann J, Zimmerer R et al (2020) Intraorbital volume augmentation with patient-specific titanium spacers. J Stomatol Oral Maxillofac Surg 121(2):133–139

18.

Avashia YJ, Sastry A, Fan KL et al (2012) Materials used for reconstruction after orbital floor fracture. J Craniofac Surg 23(7 Suppl 1):1991–1997

19.

Zimmerer RM, Gellrich NC, von Bülow S et al (2018) Is there more to the clinical outcome in posttraumatic reconstruction of the inferior and medial orbital walls than accuracy of implant placement and implant surface contouring? A prospective multicenter study to identify predictors of clinical outcome. J Craniomaxillofac Surg 46(4):578–587

20.

Zimmerer RM, Ellis E 3rd, Aniceto GS et al (2016) A prospective multicenter study to compare the precision of posttraumatic internal orbital reconstruction with standard preformed and individualized orbital implants. J Craniomaxillofac Surg 44(9):1485–1497
Ethics declarations
Interessenkonflikt
N.-C. Gellrich, F.M. Eckstein, F. Lentge, A.-N. Zeller und P. Korn geben an, dass kein Interessenkonflikt besteht.
Für diesen Beitrag wurden von den Autoren keine Studien an Menschen oder Tieren durchgeführt. Für die aufgeführten Studien gelten die jeweils dort angegebenen ethischen Richtlinien.
Additional information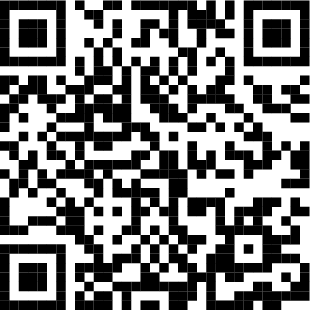 QR-Code scannen & Beitrag online lesen
Redaktion
P. Vogt, Hannover
About this article
Cite this article
Gellrich, NC., Eckstein, F.M., Lentge, F. et al. Komplexe Rekonstruktionen im Gesichts- und im Schädelbereich. Unfallchirurg 124, 807–816 (2021). https://doi.org/10.1007/s00113-021-01076-6
Accepted:

Published:

Issue Date:
Schlüsselwörter
Polytrauma

Mund- Kiefer- und Gesichtschirurgie

Patientenspezifische Implantate

Digitale Operationsplanung

Computerassistierte Chirurgie
Keywords
Polytrauma

Oral and maxillofacial surgery

Patient-specific implants

Computer-aided design

Computer-assisted surgery