Zusammenfassung
Hintergrund
Weichteilverletzungen am Fuß nach Traumata sind sehr häufig und bedingen eine individuelle Rekonstruktion.
Ziel der Arbeit
Es werden Empfehlungen zur Therapie von Weichteilverletzungen des Fußes formuliert.
Material und Methoden
Zunächst werden die Kriterien, postoperative Nachbehandlung und Komplikationen der Hautweichteilrekonstruktion des Fußes erörtert, bevor die therapeutische Strategie entsprechend der Lokalisation erläutert und mit exemplarischen Beispielen aus dem eigenen Patientengut verdeutlicht wird.
Ergebnisse
Entsprechend der Lokalisation, der dreidimensionalen Ausdehnung des Defekts, dem Anforderungsprofil des Patienten und den vorhandenen Begleiterkrankungen wird das Vorgehen anhand standardisierter rekonstruktiver Prinzipien geplant und den individuellen Patientenfaktoren angepasst. Lokale und gestielte Lappenplastiken können am Fuß eingesetzt werden, haben aber eine vergleichsweise erhöhte Komplikationsrate, sodass nach entsprechender präoperativer Abklärung der Gefäßsituation am Fuß häufig freie Lappenplastiken angewandt werden, die aufgrund ihrer Versatilität sehr individuell an die lokalen Anforderungen und die Patientenbedürfnisse adaptierfähig sind. Freie Lappenplastiken erfordern postoperativ ein Lappentraining.
Schlussfolgerung
Eine präzise präoperative Planung der Rekonstruktion und Abklärung der Vaskularisation bilden die Grundlagen für eine erfolgreiche Weichteilrekonstruktion des Fußes, deren Ziele das Erreichen von stabilen Hautweichteilen, einer belastbaren Fußsohle ohne Scherkraftwirkung, das Ermöglichen der Schuhversorgung und der Erhalt der Sensibilität sind.
Abstract
Background
Soft tissue defects of the foot are very common sequelae after trauma and require an individual reconstructive approach.
Objective
Recommendations for the treatment of soft tissue injuries to the foot are given.
Material and methods
The criteria of soft tissue reconstruction, postoperative follow-up and complications are first discussed before the therapeutic approach is explained depending on the reconstruction site. Case examples are given for illustration.
Results
Decision making for soft tissue reconstruction of the foot is based on the location, the 3‑dimensional extent of the defect, the patient requirements and concomitant diseases. Standardized treatment algorithms are usually applied that need to be adapted according to individual patient factors. Randomized and local pedicled flaps can be applied for foot reconstruction; however, these options involve a significant risk of complications. Consequently, free flaps are frequently indicated after appropriate preoperative diagnostics of the perfusion of the foot. Due to the vast variety of donor sites, free flaps allow an individualized reconstruction, which is adapted to local and patient requirements.
Conclusion
Precise preoperative reconstructive planning and analysis of the vascularization form the foundation for a successful soft tissue reconstruction of the foot. The aims of the individualized approach to soft tissue reconstruction of the foot are stable soft tissue coverage, resistance to weight bearing of the sole of the foot, the ability to wear normal shoes and maintenance of sensibility.
Access options
Buy single article
Instant access to the full article PDF.
USD 39.95
Price includes VAT (USA)
Tax calculation will be finalised during checkout.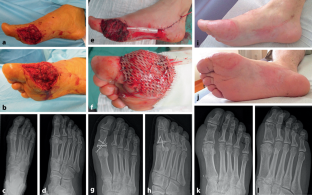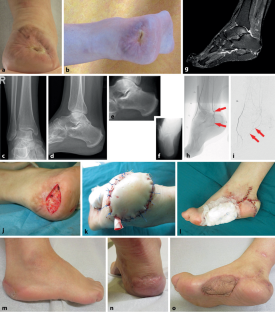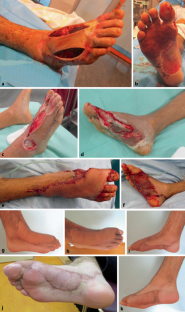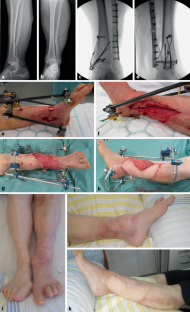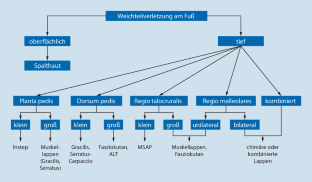 Literatur
1.

Attinger C, Cooper P (2001) Soft tissue reconstruction for calcaneal fractures or osteomyelitis. Orthop Clin North Am 32:135–170. https://doi.org/10.1016/S0030-5898(05)70199-1

2.

Baumeister SP, Spierer R, Erdmann D et al (2003) A realistic complication analysis of 70 sural artery flaps in a multimorbid patient group. Plast Reconstr Surg 112:129–140. https://doi.org/10.1097/01.PRS.0000066167.68966.66

3.

Bertelli JA, Duarte HE (1997) The plantar marginal septum cutaneous island flap: a new flap in forefoot reconstruction. Plast Reconstr Surg 99:1390–1395. https://doi.org/10.1097/00006534-199704001-00029

4.

Blechschmidt E (1934) Die Architektur des Fersenpolsters. Morphol Jahrb 9:20–68

5.

Deutsche Gesellschaft für Unfallchirurgie e. V. (DGU): Akute und chronische exogene Osteomyelitis langer Röhrenknochen des Erwachsenen. Awmf-Leitlinie Nr. 012-033

6.

Donas KP, Schwindt A, Schönefeld T et al (2009) Below-knee bare nitinol stent placement in high-risk patients with critical limb ischaemia and unlimited supragenicular inflow as treatment of choice. Eur J Vasc Endovasc Surg 37:688–693. https://doi.org/10.1016/j.ejvs.2009.01.023

7.

Ensat F, Hladik M, Larcher L et al (2014) The distally based peroneus brevis muscle flap-clinical series and review of the literature. Microsurgery 34:203–208. https://doi.org/10.1002/micr

8.

Fortington LV, Geertzen JHB, Van Netten JJ et al (2013) Short and long term mortality rates after a lower limb amputation. Eur J Vasc Endovasc Surg 46:124–131. https://doi.org/10.1016/j.ejvs.2013.03.024

9.

Fox CM, Beem HM, Wiper J et al (2015) Muscle versus fasciocutaneous free flaps in heel reconstruction: systematic review and meta-analysis discussion. J Reconstr Microsurg 31:59–66. https://doi.org/10.1055/s-0034-1395941

10.

Franco MJ, Surgery R, Euclid S et al (2017) Lower extremity reconstruction with free gracilis flaps. J Reconstr Microsurg 33:218–224. https://doi.org/10.1055/s-0036-1597568.Lower

11.

Gopal S, Majumder S, Batchelor AGB et al (2000) Fix and flap: the radical orthopaedic and plastic treatment of severe open fractures of the tibia. J Bone Joint Surg Br 82:959–966. https://doi.org/10.1302/0301-620X.82B7.10482

12.

Guillier D, Cherubino M, Oranges CM et al (2020) Systematic reappraisal of the reverse-flow medial plantar flap: from vascular anatomical concepts to surgical applications. J Plast Reconstr Aesthet Surg 73:421–433. https://doi.org/10.1016/j.bjps.2019.10.019

13.

Habazettl H, Stahn A, Nitsche A et al (2016) Microvascular responses to (hyper-)gravitational stress by short-arm human centrifuge: arteriolar vasoconstriction and venous pooling. Eur J Appl Physiol 116:57–65. https://doi.org/10.1007/s00421-015-3241-6

14.

Heidekrueger PI, Ehrl D, Prantl L et al (2019) Microsurgical reconstruction of the plantar foot: long-term functional outcomes and quality of life. J Reconstr Microsurg 35:379–388. https://doi.org/10.1055/s-0038-1677038

15.

Heijenbrok-Kal MH, Kock MCJM, Hunink MGM (2007) Lower extremity arterial disease: multidetector CT angiography—meta-analysis. Radiology 245:433–439. https://doi.org/10.1148/radiol.2451061280

16.

Hidalgo DA, Shaw WW (1986) Reconstruction of foot injuries. Clin Plast Surg 13:663–680

17.

Hodges GJ, Johnson JM (2009) Adrenergic control of the human cutaneous circulation. Appl Physiol Nutr Metab 34:829–839. https://doi.org/10.1139/H09-076

18.

Huang CC, Chang CH, Hsu H et al (2014) Endovascular revascularization and free tissue transfer for lower limb salvage. J Plast Reconstr Aesthet Surg 67:1407–1414. https://doi.org/10.1016/j.bjps.2014.05.026

19.

Jones S, Patel MR, Dai D et al (2013) High mortality risks after major lower extremity amputation in medicare patients with peripheral artery disease. Am Heart J 165:809–815. https://doi.org/10.1016/j.ahj.2012.12.002

20.

Karir A, Stein MJ, Shiga S, Zhang J (2020) Reconstruction of lower extremity defects using the serratus anterior free flap: a systematic review and retrospective case series. J Reconstr Microsurg 36:116–126. https://doi.org/10.1055/s-0039-1697920

21.

Kolbenschlag J, Bredenbroeker P, Daigeler A et al (2014) Changes of oxygenation and hemoglobin-concentration in lower extremity free flaps during dangling. J Reconstr Microsurg 30:319–328. https://doi.org/10.1055/s-0033-1363773

22.

Kolbenschlag J, Bredenbroeker P, Lehnhardt M et al (2015) Advanced microcirculatory parameters of lower extremity free flaps during dangling and their influencing factors. J Reconstr Microsurg 31:500–507. https://doi.org/10.1055/s-0035-1554940

23.

Kolbenschlag J, Ruikis A, Faulhaber L et al (2019) Elastic wrapping of lower extremity free flaps during dangling improves microcirculation and reduces pain as well as edema. J Reconstr Microsurg 35:522–528. https://doi.org/10.1055/s-0039-1688451

24.

Kremer T, Bauer M, Zahn P et al (2016) Perioperatives management in der Mikrochirurgie – Konsensus-statement der Deutschsprachigen Arbeitsgemeinscha. Handchir Mikrochir Plast Chir 48:205–211. https://doi.org/10.1055/s-0042-108806

25.

Lenz Y, Gross R, Penna V et al (2018) Evaluation of the Implantable doppler probe for free flap monitoring in lower limb reconstruction. J Reconstr Microsurg 34:218–226. https://doi.org/10.1055/s-0037-1608628

26.

Levin S, Nunley JA (1993) The management of soft-tissue problems associated with calcaneal fractures. Clin Orthop Relat Res 290:151–156

27.

Lorenzo AR, Lin CH, Lin CH et al (2011) Selection of the recipient vein in microvascular flap reconstruction of the lower extremity: analysis of 362 free-tissue transfers. J Plast Reconstr Aesthet Surg 64:649–655. https://doi.org/10.1016/j.bjps.2010.07.028

28.

Manchot C (1889) Die Hautarterien des menschlichen Körpers. Vogel, Leipzig

29.

Menke H, Baumeister S, Erdmann D et al (2000) Therapeutische Optionen zur Behandlung von Fersendefekten Vorstellung eines Algorithmus zur Therapiestrategie. Chirurg 71:311–318

30.

Meyer-Marcotty MV, Sutmoeller K, Kopp J, Vogt PM (2012) Postoperative insole-paedobarographic gait analysis for patients with flap coverages of weight-bearing and non-weight-bearing areas of the foot. J Plast Reconstr Aesthet Surg 65:482–488. https://doi.org/10.1016/j.bjps.2011.11.025

31.

Meyer E, Raupach R, Lell M et al (2012) Frequency split metal artifact reduction (FSMAR) in computed tomography. Med Phys 39:1904–1916. https://doi.org/10.1118/1.3691902

32.

Mir Y, Mir L (1954) Functional graft of the heel. Plast Reconstr Surg 14:444–450. https://doi.org/10.1097/00006534-195412000-00007

33.

Morrison WA, Crabb DMK, O'Brien BMC, Jenkins A (1983) The instep of the foot as a fasciocutaneous island and as a free flap for heel defects. Plast Reconstr Surg 72:56–65. https://doi.org/10.1097/00006534-198307000-00013

34.

Myerson MS, McGarvey WC, Henderson MR, Hakim J (1994) Morbidity after crush injuries to the foot. J Orthop Trauma 8:343–349. https://doi.org/10.1097/00005131-199408000-00012

35.

Nohira K, Shintomi Y, Sugihara T, Ohura T (1989) Replacing losses in kind: Improved sensation following heel reconstruction using the free instep flap. J Reconstr Microsurg 5:1–6. https://doi.org/10.1055/s-2007-1006845

36.

Rab M, Grill CJ, Dobrovits A, Koller R (2008) Lokale Lappenplastiken zur Defektdeckung am Fuß und Sprunggelenk. Fuss Sprunggelenk 6:78–85. https://doi.org/10.1016/j.fuspru.2008.03.008

37.

Rein S, Gazyakan E, Kneser U, Kremer T (2021) Die freie Serratus Carpaccio Lappenplastik: Indikation und Technik. Handchir Mikrochir Plast Chir. https://doi.org/10.1055/a-1439-9873

38.

Reuben CM, Bastidas N, Sharma S (2010) Power-assisted suction lipectomy of fasciocutaneous flaps in the extremities. Ann Plast Surg 65:60–65. https://doi.org/10.1097/SAP.0b013e3181c8f4f3

39.

Rozen WM, Chubb D, Whitakter IS, Acosta R (2010) The efficacy of postoperative monitoring: a single surgeon comparison of clinical monitoring and the implantable doppler probe in 547 consecutive free flaps. Microsurgery 30:105–110. https://doi.org/10.1002/micr

40.

Santanelli Di Pompeo F, Pugliese P, Sorotos M et al (2015) Microvascular reconstruction of complex foot defects, a new anatomo-functional classification. Injury 46:1656–1663. https://doi.org/10.1016/j.injury.2015.05.002

41.

Scaglioni MF, Rittirsch D, Giovanoli P (2018) Reconstruction of the heel, middle foot sole, and plantar forefoot with the medial plantar artery perforator flap: clinical experience with 28 cases. Plast Reconstr Surg 141:200–208. https://doi.org/10.1097/PRS.0000000000003975

42.

Scheufler O, Kalbermatten D, Pierer G (2007) Instep free flap for plantar soft tissue reconstructions: indications and options. Microsurgery 27:174–180. https://doi.org/10.1002/micr

43.

Schirmer S, Ritter RG, Fansa H (2013) Vascular surgery, microsurgery and supramicrosurgery for treatment of chronic diabetic foot ulcers to prevent amputations. Plos One 8:1–14. https://doi.org/10.1371/journal.pone.0074704

44.

Schoenle P, Gazyakan E, Kremer T et al (2018) The chimeric versatility of the subscapular system revisited: backup options, coverage for bone transplants and vascularized lymph nodes. Plast Reconstr Surg Glob Open 6:1–4. https://doi.org/10.1097/GOX.0000000000001765

45.

Schwabegger AH, Hussl H, Rainer C et al (1998) Clinical experience and indications of the free serratus fascia flap: a report of 21 cases. Plast Reconstr Surg 102:1939–1946

46.

Serafin D (1996) Atlas of microsurgical composite tissue transplantation. W.B. Saunders,

47.

Song D, Yang X, Wu Z et al (2016) Anatomic basis and clinical application of the distally based medialis pedis flaps. Surg Radiol Anat 38:213–221. https://doi.org/10.1007/s00276-015-1532-6

48.

Struckmann V, Hirche C, Struckmann F et al (2014) Free and pedicled flaps for reconstruction of the weightbearing sole of the foot: a comparative analysis of functional results. J Foot Ankle Surg 53:727–734. https://doi.org/10.1053/j.jfas.2014.06.009

49.

Tan O, Yuce I, Kantarc M, Algan S (2011) Evaluation of lower-limb arteries with multidetector computed tomography angiography prior to free flap surgery: a radioanatomic study. J Reconstr Microsurg 27:199–206. https://doi.org/10.1055/s-0030-1270538

50.

Taylor GI, Palmer JH (1987) The vascular territories (angiosomes) of the body: experimental study and clinical applications. Br J Plast Surg 40:113–141. https://doi.org/10.1016/0007-1226(87)90185-8

51.

Tscherne H, Oestern HJ (1982) Die Klassifizierung des Weichteilschadens bei offenen und geschlossenen Frakturen. Unfallheilkunde 85:111–115

52.

Tuncer S, Sezgin B, Sencan A, Sari A (2020) Free serratus fascia flap for reconstruction of soft tissue defects involving the distal upper and lower extremity. Ann Plast Surg 84:672–678. https://doi.org/10.1097/sap.0000000000002084

53.

Xiong L, Gazyakan E, Kremer T et al (2016) Free flaps for reconstruction of soft tissue defects in lower extremity: a meta-analysis on microsurgical outcome and safety. Microsurgery 36:511–524. https://doi.org/10.1002/micr

54.

Yoshimatsu H, Yamamoto T, Hayashi N et al (2017) Reconstruction of the ankle complex wound with a fabricated superficial circumflex iliac artery chimeric flap including the sartorius muscle: a case report. Microsurgery 37:421–425. https://doi.org/10.1002/micr

55.

Zwipp H (1994) Chirurgie des Fußes. Springer, Wien

56.

Zwipp H, Rammelt S (2014) Tscherne Unfallchirurgie: Fuß https://doi.org/10.1007/978-3-540-68883-9
Danksagung
Die Autoren danken Christian Retschke (Leipzig) für die Unterstützung beim Erstellen der Abbildungen.
Ethics declarations
Interessenkonflikt
S. Rein und T. Kremer geben an, dass kein Interessenkonflikt besteht.
Für diesen Beitrag wurden von den Autoren keine Studien an Menschen oder Tieren durchgeführt. Für die aufgeführten Studien gelten die jeweils dort angegebenen ethischen Richtlinien.
Additional information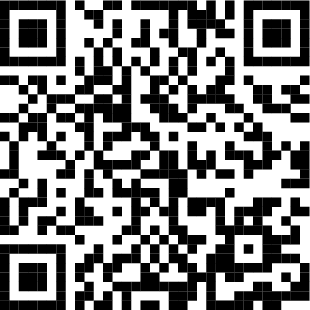 QR-Code scannen & Beitrag online lesen
Redaktion
Peter M. Vogt, Hannover
About this article
Cite this article
Rein, S., Kremer, T. Systematik der plastischen Defektrekonstruktion am Fuß. Unfallchirurg 124, 797–806 (2021). https://doi.org/10.1007/s00113-021-01075-7
Accepted:

Published:

Issue Date:
Schlüsselwörter
Freie Lappenplastik

Komplikationen

Sensbilität

Vaskularisation

Weichteilverletzung
Keywords
Complications

Free flap

Sensibility

Soft tissue injury

Vascular supply