Zusammenfassung
Die pathologische tumorassoziierte Fraktur ist insgesamt selten. Sie kann in jedem Alter und Knochen auftreten. Obwohl tumorbedingte Frakturen nur einen geringen Anteil der Knochenfrakturen ausmachen, sind das rechtzeitige Erkennen der Frakturursache und die onkologisch leitliniengerechte Behandlung für den betroffenen Patienten von enormer Bedeutung. Fehlbehandlungen sind häufig mit weitreichenden negativen Konsequenzen hinsichtlich des Erkrankungsverlaufs assoziiert. Die große Herausforderung ist nicht die zügige operative Versorgung, sondern vielmehr die adäquate Diagnostik und das Einbinden der lokalen Frakturversorgung in ein interdisziplinäres onkologisches Gesamtkonzept.
Abstract
Pathological tumor-associated fractures are overall rare. They can occur in every age group and every bone. Although tumor-related fractures only form a small proportion of bone fractures, the early recognition of the cause of the fracture and treatment according to oncological guidelines are of enormous importance for affected patients. False treatment is frequently associated with far-reaching negative consequences with respect to the course of the disease. The great challenge is not the expeditious surgical treatment but much more the adequate diagnostics and the incorporation of local fracture treatment into an interdisciplinary overall oncological concept.
Access options
Buy single article
Instant access to the full article PDF.
USD 39.95
Price includes VAT (USA)
Tax calculation will be finalised during checkout.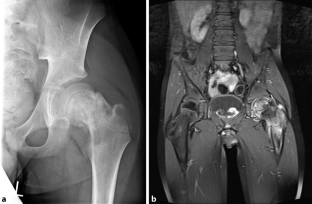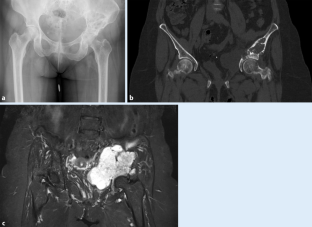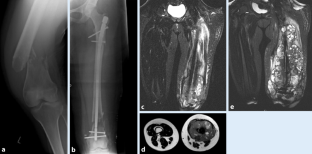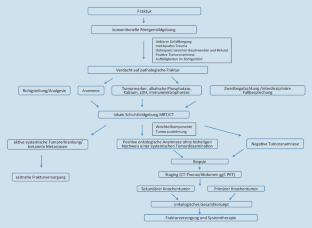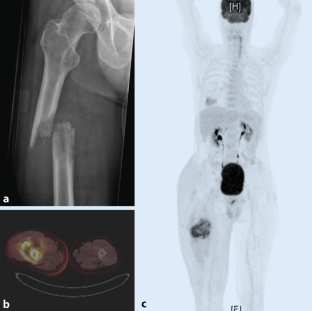 Literatur
1.

GKV Spitzenverband (2012) Ganz normal für die gesetzlichen Kassen: 663.114-mal hat die GKV im Jahr 2010 die Krankenhausbehandlung von Knochenbrüchen finanziert

2.

Coleman RE (2006) Clinical features of metastatic bone disease and risk of skeletal morbidity. Clin Cancer Res 12(20 Pt 2):6243s–6249s

3.

Macedo F et al (2017) Bone metastases: an overview. Oncol Rev 11(1):321

4.

Bryson DJ, Wicks L, Ashford RU (2015) The investigation and management of suspected malignant pathological fractures: a review for the general orthopaedic surgeon. Injury 46(10):1891–1899

5.

Kendal JK et al (2018) A scoping review on the surgical management of metastatic bone disease of the extremities. BMC Musculoskelet Disord 19(1):279

6.

Kelley LM et al (2020) Pathological fracture and prognosis of high-grade osteosarcoma of the extremities: an analysis of 2,847 consecutive cooperative Osteosarcoma Study Group (COSS) patients. J Clin Oncol 38(8):823–833

7.

Jackson WF et al (2007) Early management of pathological fractures in children. Injury 38(2):194–200

8.

Anract P, Biau D, Boudou-Rouquette P (2017) Metastatic fractures of long limb bones. Orthop Traumatol Surg Res 103(1S):S41–S51

9.

Hoeller U et al (2021) Late sequelae of radiotherapy - the effect of technical and conceptual innovations in radiation oncology. Dtsch Arztebl Int. https://doi.org/10.3238/arztebl.m2021.0024

10.

Thierfelder KM et al (2020) Bone tumors and metastases: tips for initial diagnosis and follow-up: update 2019. Radiologe 60(2):169–178

11.

Soldatos T et al (2013) Imaging differentiation of pathologic fractures caused by primary and secondary bone tumors. Eur J Radiol 82(1):e36–e42

12.

Roodman GD (2004) Mechanisms of bone metastasis. N Engl J Med 350(16):1655–1664

13.

Glassou EN et al (2019) Delay in surgery, risk of hospital-treated infections and the prognostic impact of comorbidity in hip fracture patients. A Danish nationwide cohort study, 2005–2016. Clin Epidemiol 11:383–395

14.

Klestil T et al (2018) Impact of timing of surgery in elderly hip fracture patients: a systematic review and meta-analysis. Sci Rep 8(1):13933

15.

Ma J, Tullius T, Van Ha TG (2019) Update on preoperative embolization of bone metastases. Semin Intervent Radiol 36(3):241–248

16.

Luksanapruksa P et al (2018) Systematic review and meta-analysis of effectiveness of preoperative embolization in surgery for metastatic spine disease. J Neurointerv Surg 10(6):596–601

17.

Joo MW et al (2018) Post-radiation sarcoma: a study by the Eastern Asian Musculoskeletal Oncology Group. PLoS ONE 13(10):e204927

18.

Le AN et al (2020) Frequency of radiation-induced malignancies post-adjuvant radiotherapy for breast cancer in patients with Li-Fraumeni syndrome. Breast Cancer Res Treat 181(1):181–188

19.

Clezardin P et al (2021) Bone metastasis: mechanisms, therapies and biomarkers. Physiol Rev 101(3):797–855

20.

Grimer RJ (2006) Size matters for sarcomas! Ann R Coll Surg Engl 88(6):519–524

21.

El-Galaly TC, Gormsen LC, Hutchings M (2018) PET/CT for staging; past, present, and future. Semin Nucl Med 48(1):4–16

22.

Paydary K et al (2019) The evolving role of FDG-PET/CT in the diagnosis, staging, and treatment of breast cancer. Mol Imaging Biol 21(1):1–10
Ethics declarations
Interessenkonflikt
A. Streitbürger, M. Nottrott, W. Guder, L. Podleska, M. Dudda und J. Hardes geben an, dass kein Interessenkonflikt besteht.
Für diesen Beitrag wurden von den Autoren keine Studien an Menschen oder Tieren durchgeführt. Für die aufgeführten Studien gelten die jeweils dort angegebenen ethischen Richtlinien.
Additional information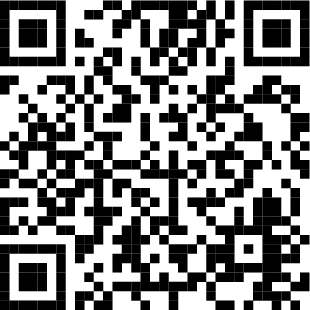 QR-Code scannen & Beitrag online lesen
Redaktion
M. Omar, Hannover
About this article
Cite this article
Streitbürger, A., Nottrott, M., Guder, W. et al. Strategisches Vorgehen bei pathologischen Frakturen. Unfallchirurg 124, 687–694 (2021). https://doi.org/10.1007/s00113-021-01068-6
Accepted:

Published:

Issue Date:
Schlüsselwörter
Knochentumoren

Metastasen

Diagnostische Bildgebung

Algorithmus

Interdisziplinäres Gesundheitsteam
Keywords
Bone tumors

Metastases

Diagnostic imaging

Algorithm

Interdisciplinary health team