Zusammenfassung
Die radiologische Diagnostik spielt eine zentrale Rolle in der Erkennung und Beurteilung pathologischer Frakturen. Basis der bildgebenden Untersuchung ist weiterhin die Projektionsradiographie. Unter Kenntnis der Anamnese können die Form und Lokalisation der Fraktur sowie mögliche Begleitveränderungen wie Periostreaktionen oder Osteolysen bereits wertvolle Hinweise auf die Genese eine Fraktur liefern. Die MRT-Bildgebung ist das Verfahren der Wahl zur weiteren Abklärung des Lokalbefunds, insbesondere aufgrund der Beurteilbarkeit des Knochenmarkraums sowie etwaiger extraossärer Raumforderungen in der Frakturzone. Die CT-Diagnostik bietet wertvolle Informationen über die morphologischen Merkmale der Fraktur und die zu wählende Versorgungsstrategie und ist die Methode der Wahl zur Ausbreitungsdiagnostik. Falls keine Tumorerkrankung vorbekannt ist, wird in den meisten Fällen eine histologische Sicherung des Befunds vorgenommen werden müssen.
Abstract
Radiological diagnostics play a key role in the identification and assessment of pathological fractures. Conventional projection radiography is still the mainstay of imaging investigations. With knowledge of the patient history, the morphology and location of a fracture as well as concomitant findings, such as osteolysis or periosteal reactions can add valuable information on the origin of the fracture. Magnetic resonance imaging (MRI) is the imaging modality of choice for the local diagnostic work-up as it provides insights into the medullary cavity and visualizes potential extraosseous tumor tissue in the fracture zone. Computed tomography (CT) imaging provides valuable information on the morphological features of fractures and is useful for the planning of the surgical approach. Furthermore, it is the modality of choice for whole-body staging. In most cases of pathological fractures without a history of malignancy, a biopsy and histological work-up is recommended.
Access options
Buy single article
Instant access to the full article PDF.
US$ 39.95
Tax calculation will be finalised during checkout.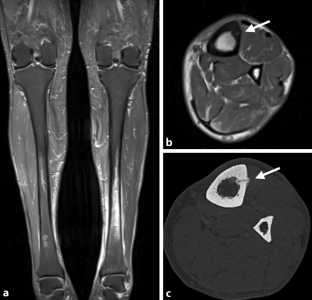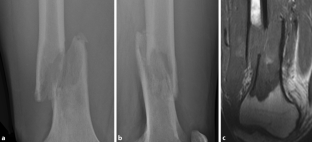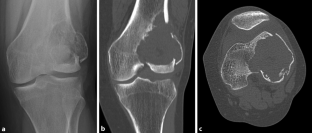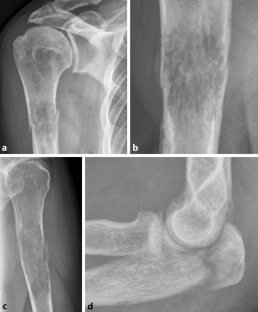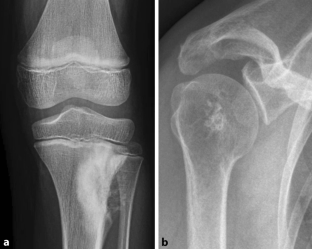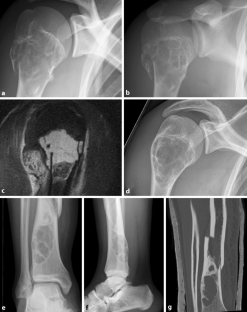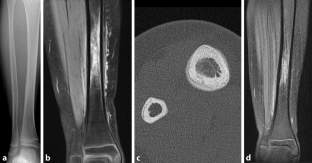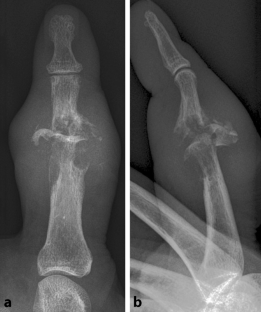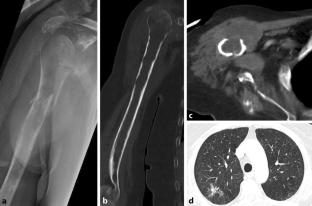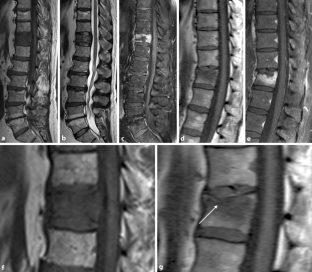 Literatur
1.

Freyschmidt J (2008) Die pathologische Fraktur aus Sicht des Radiologen. Trauma Berufskrankh 10:165–166

2.

Pentecost RL, Murray RA, Brindley HH (1964) Fatigue, insufficiency, and pathologic fractures. JAMA 187:1001–1004. https://doi.org/10.1001/jama.1964.03060260029006

3.

Wuennemann F, Kintzelé L, Weber MA, Kauczor HU, Rehnitz C (2020) Radiologische Diagnostik pathologischer Frakturen. Radiologe 60(6):498–505. https://doi.org/10.1007/s00117-020-00693-3

4.

Marshall RA, Mandell JC, Weaver MJ, Ferrone M, Sodickson A, Khurana B (2018) Imaging features and management of stress, atypical, and pathologic fractures. Radiographics 38(7):2173–2192. https://doi.org/10.1148/rg.2018180073

5.

Seeman E, Delmas PD (2006) Bone quality—the material and structural basis of bone strength and fragility. N Engl J Med 354(21):2250–2261. https://doi.org/10.1056/NEJMra053077

6.

Fayad LM, Kawamoto S, Kamel IR, Bluemke DA, Eng J, Frassica FJ, Fishman EK (2005) Distinction of long bone stress fractures from pathologic fractures on cross-sectional imaging: How successful are we? AJR Am J Roentgenol 185(4):915–924. https://doi.org/10.2214/AJR.04.0950

7.

Daffner RH, Pavlov H (1992) Stress fractures: current concepts. AJR Am J Roentgenol 159(2):245–252

8.

Bennell KL, Brukner PD (1997) Epidemiology and site specificity of stress fractures. Clin Sports Med 16(2):179–196. https://doi.org/10.1016/s0278-5919(05)70016-8

9.

Fottner A, Baur-Melnyk A, Birkenmaier C, Jansson V, Dürr HR (2009) Stress fractures presenting as tumours: a retrospective analysis of 22 cases. Int Orthop 33(2):489–492. https://doi.org/10.1007/s00264-007-0488-5

10.

Fidler M (1981) Incidence of fracture through metastases in long bones. Acta Orthop Scand 52(6):623–627. https://doi.org/10.3109/17453678108992157

11.

Fayad LM, Kamel IR, Kawamoto S, Bluemke DA, Frassica FJ, Fishman EK (2005) Distinguishing stress fractures from pathologic fractures: a multimodality approach. Skelet Radiol 34(5):245–259. https://doi.org/10.1007/s00256-004-0872-9

12.

Caracciolo JT, Temple HT, Letson GD, Kransdorf MJ (2016) A modified Lodwick-Madewell grading system for the evaluation of lytic bone lesions. AJR Am J Roentgenol 207(1):150–156. https://doi.org/10.2214/AJR.15.14368

13.

Cuénod CA, Laredo JD, Chevret S, Hamze B, Naouri JF, Chapaux X, Bondeville JM, Tubiana JM (1996) Acute vertebral collapse due to osteoporosis or malignancy: appearance on unenhanced and gadolinium-enhanced MR images. Radiology 199(2):541–549. https://doi.org/10.1148/radiology.199.2.8668809

14.

Mauch JT, Carr CM, Cloft H, Diehn FE (2018) Review of the imaging features of benign osteoporotic and malignant vertebral compression fractures. AJNR Am J Neuroradiol 39(9):1584–1592. https://doi.org/10.3174/ajnr.A5528

15.

Jung HS, Jee WH, McCauley TR, Ha KY, Choi KH (2003) Discrimination of metastatic from acute osteoporotic compression spinal fractures with MR imaging. Radiographics 23(1):179–187. https://doi.org/10.1148/rg.231025043

16.

Thawait SK, Marcus MA, Morrison WB, Klufas RA, Eng J, Carrino JA (2012) Research synthesis: What is the diagnostic performance of magnetic resonance imaging to discriminate benign from malignant vertebral compression fractures? Systematic review and meta-analysis. Spine 37(12):E736–E744. https://doi.org/10.1097/BRS.0b013e3182458cac

17.

Burglin SA, Hess S, Høilund-Carlsen PF, Gerke O (2017) 18F-FDG PET/CT for detection of the primary tumor in adults with extracervical metastases from cancer of unknown primary: a systematic review and meta-analysis. Medicine (Baltimore) 96(16):e6713. https://doi.org/10.1097/MD.0000000000006713
Ethics declarations
Interessenkonflikt
C. von Falck und M. Omar geben an, dass kein Interessenkonflikt besteht.
Für diesen Beitrag wurden von den Autoren keine Studien an Menschen oder Tieren durchgeführt. Für die aufgeführten Studien gelten die jeweils dort angegebenen ethischen Richtlinien.
Additional information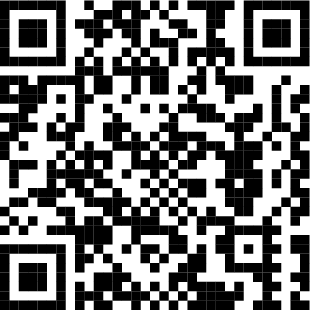 QR-Code scannen & Beitrag online lesen
Redaktion
M. Omar, Hannover
About this article
Cite this article
von Falck, C., Omar, M. Radiologische Aspekte in der Diagnostik von pathologischen Frakturen. Unfallchirurg 124, 695–703 (2021). https://doi.org/10.1007/s00113-021-01067-7
Accepted:

Published:

Issue Date:
Schlüsselwörter
Malignom

Osteolyse

Projektionsradiographie

Magnetresonanztomographie

Computertomographie
Keywords
Malignancy

Osteolysis

Radiography

Magnetic resonance imaging

Tomography, X‑ray computed