Zusammenfassung
Pathologische Frakturen der Extremitäten sorgen häufig für Verunsicherung hinsichtlich der Versorgungsstrategie und des Versorgungszeitpunktes. Überwiegend werden sie durch Metastasen von Brust‑, Lungen‑, Nieren- und Prostatakarzinomen sowie Myelomen verursacht. Primäre Knochentumoren spielen eine untergeordnete Rolle. Der überwiegende Teil betrifft das Femur und den Humerus sowie in seltenen Fällen die Tibia. Die operative Therapie besitzt einen großen Stellenwert, da eine Ausheilung unter konservativen Maßnahmen unwahrscheinlich ist. Vorrangige Ziele stellen die Schmerzreduktion und der Erhalt bzw. die Wiederherstellung der Funktion dar. Für die korrekte Indikationsstellung sind neben der Frakturanalyse onkologische Aspekte wie z. B. Dignität, Entität, Prognose, Verteilung und der Allgemeinzustand des Patienten zu beantworten. In der Synopse aller Faktoren kann die entsprechende Versorgungsform gewählt werden. Diese reicht von der osteosynthetischen Stabilisierung über die Verbundosteosynthese bis hin zum endoprothetischen Ersatz. Die Therapie erfolgt interdisziplinär, da neben der chirurgischen Versorgung auch ergänzende Maßnahmen in die Wege geleitet werden müssen.
Abstract
Pathological fractures of the extremities frequently lead to uncertainty with respect to the treatment strategy and timing. The origin of metastases is typically breast, bronchial, renal and prostate cancer and myelomas. Primary bone tumors play a subordinate role. The majority affect the femur, humerus and occasionally the tibia. Surgery is typically the first line treatment as healing under conservative treatment is unlikely. The most important goal is to relieve pain and the preservation or restoration of function. For correct assessment of indications, analysis of the fracture pattern and oncological aspects including dignity, entity, prognosis, metastatic status and the general condition of the patient need to be taken into consideration. Based on all these aspects the surgical approach can be chosen. Treatment options range from osteosynthetic stabilization and augmentation osteosynthesis up to endoprosthesis replacement. The treatment is carried out in an interdisciplinary procedure as additional measures need to be addressed in addition to the surgical treatment.
Access options
Buy single article
Instant access to the full article PDF.
USD 39.95
Price includes VAT (USA)
Tax calculation will be finalised during checkout.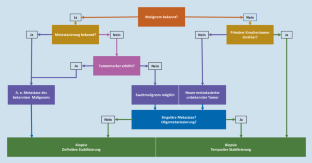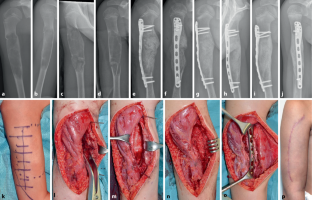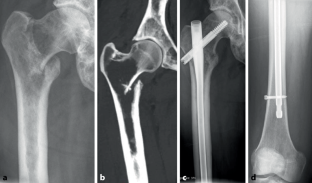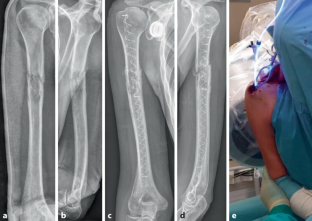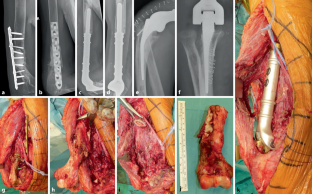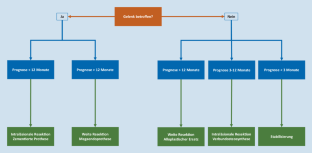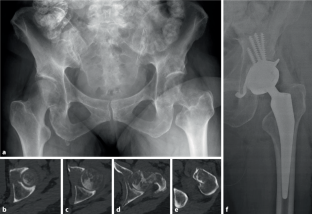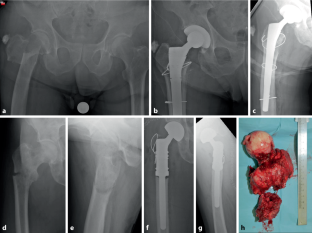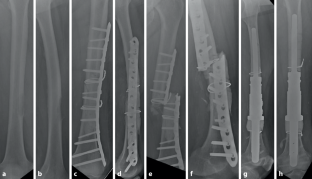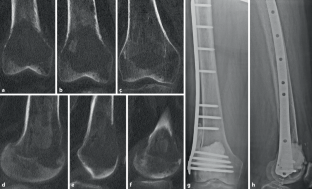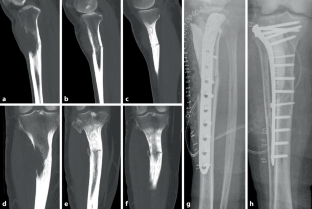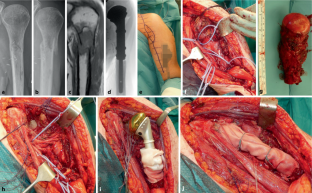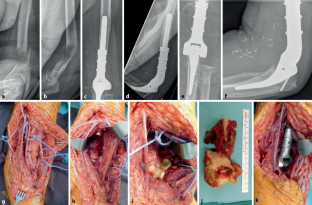 Literatur
1.

Adams SC et al (2009) Consequences and prevention of inadvertent internal fixation of primary osseous sarcomas. Clin Orthop Relat Res 467(2):519–525

2.

Angelini A et al (2018) Treatment of pathologic fractures of the proximal femur. Injury 49:S77–83. https://doi.org/10.1016/j.injury.2018.09.044

3.

Arvinius C et al (2014) Benefits of early intramedullary nailing in femoral metastases. International Orthopaedics (SICOT) 38(1):129–132

4.

Barnett JR et al (2020) The sensitivity, specificity, and diagnostic accuracy of whole-bone MRI for identifying skip metastases in appendicular osteosarcoma and Ewing sarcoma. Skelet Radiol 49(6):913–919

5.

Bryson DJ, Wicks L, Ashford RU (2015) The investigation and management of suspected malignant pathological fractures: a review for the general orthopaedic surgeon. Injury 46(10):1891–1899. https://doi.org/10.1016/j.injury.2015.07.028

6.

Capanna R et al (2014) Management of long bone metastases: recommendations from the Italian orthopaedic society bone metastasis study group. Expert Rev Anticancer Ther 14(10):1127–1134

7.

Falk DP, Scully R, Moss D, Shaffer M (2017) Pathologic tuft fracture in a thumb: a rare presentation of metastatic endometrioid ovarian carcinoma: a case report and review of the literature. JBJS Case Connect 7(3):e50. https://doi.org/10.2106/JBJS.CC.16.00261

8.

Felden A et al (2015) A cemented acetabular component with a reinforcement cross provides excellent medium-term fixation in total hip arthroplasty after pelvic irradiation. Bone Joint J 97(2):177–184

9.

Forsberg JA et al (2011) Estimating survival in patients with operable skeletal metastases: an application of a Bayesian belief network. Plos One 6(5):1–7

10.

Groot OQ et al (2018) High risk of venous thromboembolism after surgery for long bone metastases: a retrospective study of 682 patients. Clin Orthop Relat Res 476(10):2052–2061

11.

Gutowski CJ et al (2019) Should the use of biologic agents in patients with renal and lung cancer affect our surgical management of femoral metastases? Clin Orthop Relat Res 477(4):707–714

12.

Harrington KD (1981) The management of acetabular insufficiency secondary to metastatic malignant disease. J Bone Joint Surg Am 63(4):653–664

13.

Harvey MJ, Rosenthal HG (2021) Reconstruction with total scapular reverse total shoulder endoprosthesis after radical tumor excision. Case Rep Oncol Med 2021:1–7

14.

Hu YC, Lun DX, Wang H (2012) Clinical features of neoplastic pathological fracture in long bones. Chin Med J (Engl) 125(17):3127–3132

15.

Huang Z et al (2019) Clear cell renal cell carcinoma bone metastasis: what should be considered in prognostic evaluation. Eur J Surg Oncol 45(7):1246–1252. https://doi.org/10.1016/j.ejso.2019.01.221

16.

Kassab M et al (2005) Les reconstructions après résection tumorale de l'extrémité supérieure de l'humérus. Rev Chir Orthop Reparatrice Appar Mot 91(1):15–23

17.

Kendal JK et al (2018) A scoping review on the surgical management of metastatic bone disease of the extremities. BMC Musculoskelet Disord 19(1):1–10

18.

Laitinen M, Nieminen J, Pakarinen TK (2011) Treatment of pathological humerus shaft fractures with intramedullary nails with or without cement fixation. Arch Orthop Trauma Surg 131(4):503–508

19.

Lin PP et al (2007) Patient survival after surgery for osseous metastases from renal cell carcinoma. J Bone Joint Surg Am 89(8):1794–1801

20.

Ma J, Tullius T, Van Ha TG (2019) Update on preoperative embolization of bone metastases. Semin intervent Radiol 36(3):241–248

21.

O'Flaherty MT, Thompson NW, Ellis PK, Barr RJ (2008) Full-length radiographs of the femur in patients with a femoral neck fracture and co-existent malignancy—are they of benefit? Ulster Med J 77(3):181–184

22.

Park DH et al (2007) The use of massive endoprostheses for the treatment of bone metastases. Sarcoma 2007:62151. https://doi.org/10.1155/2007/62151

23.

Philippeau JM et al (2010) Intérêt d'une cupule double mobilité dans la pathologie tumorale primitive et secondaire de la Hanche. À propos d'une série de 71 cas. Rev Chir Orthop Reparatrice Appar Mot 96(1):2–9

24.

Piccioli A et al (2014) Intramedullary nailing for treatment of pathologic femoral fractures due to metastases. Injury 45(2):412–417. https://doi.org/10.1016/j.injury.2013.09.025

25.

Ratasvuori M et al (2013) Insight opinion to surgically treated metastatic bone disease: Scandinavian sarcoma group skeletal metastasis registry report of 1195 operated skeletal metastasis. Surg Oncol 22(2):132–138. https://doi.org/10.1016/j.suronc.2013.02.008

26.

Satcher RL et al (2012) Surgical management of appendicular skeletal metastases in thyroid carcinoma. Int J Surg Oncol 2012:417086

27.

Schwabe P, Ruppert M, Tsitsilonis S, Melcher I, Schaser KD, Märdian S (2014) Surgical management and outcome of skeletal metastatic disease of the humerus. Acta Chir Orthop Traumatol Cech 81(6):365–370

28.

Scolaro JA, Lackman RD (2014) Surgical management of metastatic long bone fractures: principles and techniques. J Am Acad Orthop Surg 22(2):90–100

29.

Siegel RL, Miller KD, Jemal A (2020) Cancer statistics, 2020. CA A Cancer J Clin 70(1):7–30

30.

Soldatos T et al (2013) Imaging differentiation of pathologic fractures caused by primary and secondary bone tumors. Eur J Radiol 82(1):e36–42. https://doi.org/10.1016/j.ejrad.2012.08.016

31.

Streitbürger A, Nottrott M, Guder W et al (2021) Strategisches Vorgehen bei pathologischen Frakturen. Unfallchirurg. https://doi.org/10.1007/s00113-021-01068-6

32.

Wood TJ et al (2014) Surgical management of bone metastases: quality of evidence and systematic review. Ann Surg Oncol 21(13):4081–4089

33.

Xie L, Tang XD, Yang RL, Guo W (2014) Interscapulothoracic resection of tumours of shoulder with a note on reconstruction. Bone Joint J 96(5):684–690
Ethics declarations
Interessenkonflikt
M. Omar, T. Graulich, C. von Falck, N. Bruns, C. Krettek und M. Ettinger geben an, dass kein Interessenkonflikt besteht.
Für diesen Beitrag wurden von den Autoren keine Studien an Menschen oder Tieren durchgeführt. Für die aufgeführten Studien gelten die jeweils dort angegebenen ethischen Richtlinien.
Additional information
QR-Code scannen & Beitrag online lesen
Redaktion
M. Omar, Hannover
About this article
Cite this article
Omar, M., Graulich, T., von Falck, C. et al. Versorgungsstrategien bei tumorbedingten pathologischen Frakturen der Extremitäten. Unfallchirurg 124, 704–719 (2021). https://doi.org/10.1007/s00113-021-01056-w
Accepted:

Published:

Issue Date:
Schlüsselwörter
Femur

Humerus

Tibia

Metastasen

Operative chirurgische Eingriffe
Keywords
Femur

Humerus

Tibia

Metastases

Operative surgical procedures