Zusammenfassung
Hintergrund
Pathologische Frakturen sind nicht nur ein einschneidendes Ereignis für den Tumorpatienten mit oft chirurgischem Versorgungsbedarf, sondern stellen häufig eine relevante Herausforderung im Gesamtkontext der onkologischen Versorgung dar.
Ziel der Arbeit
Ziel der Arbeit ist es, die Notwendigkeit einer präinterventionellen interdisziplinären Abwägung von krankheits- und patientenspezifischen Charakteristika darzustellen.
Material und Methoden
Eine Literaturrecherche und Evaluation bestehender Leitlinien unter Einschluss der Stichwörter "Knochenmetastasen" und "pathologische Frakturen" wurden im Hinblick auf die onkologische und strahlentherapeutische Versorgung durchgeführt.
Ergebnisse
Eine wesentliche Einordnung des chirurgischen und anderweitigen Therapiebedarfs erfolgt durch die Identifikation von zugrunde liegender Erkrankung und Ausbreitungssituation. Bei tumorbedingt pathologischen Frakturen liegt meist eine palliative Therapiesituation vor. Nichtsdestotrotz müssen auch eine mögliche Oligometastasierung und eine steigende Zahl an effektiven Systemtherapien bei der Planung der operativen Versorgung berücksichtigt werden. Neben therapeutischen Notfallindikationen bei spinaler Kompression bzw. Hyperkalzämie sollten sowohl die additive Strahlentherapie als auch die ergänzende medikamentöse Osteoprotektion beachtet werden. Insbesondere die Strahlentherapie muss als effektives alternatives Mittel zur Symptom- und zur Tumorkontrolle berücksichtigt werden.
Schlussfolgerung
Die Aufarbeitung des facettenreichen onkologischen Therapiekontextes stellt eine interdisziplinäre Herausforderung dar, die idealerweise im Rahmen einer interdisziplinären Tumorkonferenz das weitere therapeutische Prozedere, einschließlich Frakturversorgung, innerhalb eines onkologischen Gesamtkonzepts klärt.
Abstract
Background
Pathological fractures are not only incisive events for tumor patients often with the need of surgical treatment but also often represent a relevant challenge in the overall concept of oncological treatment.
Objective
The aim of this article is to illustrate the necessity of a pre-interventional interdisciplinary consideration of disease-specific and patient-specific characteristics.
Material and methods
A literature search and evaluation of existing guidelines were carried out including the keywords "bone metastases" and "pathological fractures" with respect to the oncological and radiotherapeutic treatment.
Results
An essential classification of the surgical and other needs for treatment is carried out by the identification of the underlying disease and dissemination situation. For tumor-related pathological fractures a palliative treatment situation is present in most cases. Nevertheless, a possible oligometastasis and an increasing number of effective systemic treatment methods must be taken into consideration when planning the surgical treatment. In addition to the therapeutic emergency indications in spinal compression or symptomatic hypercalcemia, both additive radiotherapy and supplementary pharmaceutical osteoprotection have to be addressed in this context. Radiotherapy in particular represents an effective alternative option for symptom and tumor control.
Conclusion
The work-up of the multifaceted oncological treatment concept represents an interdisciplinary challenge, which ideally defines the further treatment procedure, including fracture treatment, in an interdisciplinary tumor board within an overall oncological concept.
Access options
Buy single article
Instant access to the full article PDF.
US$ 39.95
Tax calculation will be finalised during checkout.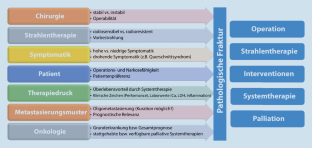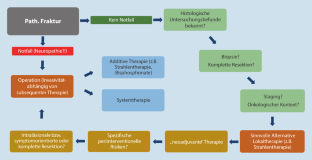 Literatur
1.

Leitlinienprogramm Onkologie (2020) Leitlinie Supportive Therapie. https://www.leitlinienprogramm-onkologie.de/leitlinien/supportive-therapie/. Zugegriffen: 23. März 2021

2.

Coleman RE, Rubens RD (1987) The clinical course of bone metastases from breast cancer. Br J Cancer 55(1):61–66

3.

Fan K, Peng CF (1983) Predicting the probability of bone metastasis through histological grading of prostate carcinoma: a retrospective correlative analysis of 81 autopsy cases with antemortem transurethral resection specimen. J Urol 130(4):708–711

4.

Kim LD, Bueno FT, Yonamine ES, Prospero JD, Pozzan G (2018) Bone metastasis as the first symptom of tumors: role of an immunohistochemistry study in establishing primary tumor. Rev Bras Ortop 53(4):467–471

5.

Svensson E, Christiansen CF, Ulrichsen SP, Rorth MR, Sorensen HT (2017) Survival after bone metastasis by primary cancer type: a Danish population-based cohort study. BMJ Open 7(9):e16022

6.

Hellman S, Weichselbaum RR (1995) Oligometastases. J Clin Oncol 13(1):8–10

7.

Plunkett TA, Smith P, Rubens RD (2000) Risk of complications from bone metastases in breast cancer. implications for management. Eur J Cancer 36(4):476–482

8.

Grilley-Olson JE, Webber NP, Demos DS, Christensen JD, Kirsch DG (2018) Multidisciplinary management of oligometastatic soft tissue sarcoma. Am Soc Clin Oncol Educ Book 38:939–948

9.

Mandair GS, Oest ME, Mann KA, Morris MD, Damron TA, Kohn DH (2020) Radiation-induced changes to bone composition extend beyond periosteal bone. Bone Rep 12:100262

10.

Sadeghi M, Keshavarz-Fathi M, Baracos V, Arends J, Mahmoudi M, Rezaei N (2018) Cancer cachexia: diagnosis, assessment, and treatment. Crit Rev Oncol Hematol 127:91–104

11.

Barzilai O, Laufer I, Yamada Y, Higginson DS, Schmitt AM, Lis E, Bilsky MH (2017) Integrating evidence-based medicine for treatment of spinal metastases into a decision framework: neurologic, oncologic, mechanicals stability, and systemic disease. J Clin Oncol 35(21):2419–2427

12.

Dimopoulos MA, Moreau P, Terpos E, Mateos MV, Zweegman S, Cook G, Delfoge M, Hajek R, Schjesvold F, Cavo M, Goldschmidt H, Facon T, Einsele H, Boccadoro M, San-Migeual J, Sonneveld P, Mey U (2021) Multiple myeloma: EHA-ESMO clinical practice guidelines for diagnosis, treatment and follow-up. Ann Oncol 32(3):309–322

13.

Coleman R, Body JJ, Aapro M, Hadji P, Herrstedt J (2014) Bone health in cancer patients: ESMO clinical practice guidelines. Ann Oncol 25(3):iii124–137

14.

O'Carrigan B, Wong MH, Willson ML (2017) Bisphosphonates and other bone agents for breast cancer. Cochrane Database Syst Rev 10:CD3474

15.

Mirels H (1989) Metastatic disease in long bones. A proposed scoring system for diagnosing impending pathologic fractures. Clin Orthop Relat Res 249:256–264

16.

Blank AT, Lerman DM, Patel NM, Rapp TB (2016) Is prophylactic intervention more cost-effective than the treatment of pathologic fractures in metastatic bone disease? Clin Orthop Relat Res 474(7):1563–1570

17.

Wu Y, Hanna EL, Holmes RE, Lin Z, Chiaramonti A, Reeves RA, McDonald DG, Vanek KN, Barfield WR, Yao H, Pellegrini VD (2018) External beam irradiation preferentially inhibits the endochondral pathway of fracture healing: a rat model. Clin Orthop Relat Res 476(10):2076–2090

18.

Choi D, Crockard A, Bunger C, Hrams J, Kawahara N, Mazel C, Melcher R, Tomita K (2010) Review of metastatic spine tumour classification and indications for surgery: the consensus statement of the global spine tumour study group. Eur Spine J 19(2):215–222

19.

Rich SE, Chow R, Raman S, Liang Zeng K, Lutz S, Lam H, Silva MF, Chow E (2018) Update of the systematic review of palliative radiation therapy fractionation for bone metastases. Radiother Oncol 126(3):547–557

20.

Zeng KL, Tseng C‑L, Soliman H, Weiss Y, Sahgal A, Myrehaug S (2019) Stereotactic body radiotherapy (SBRT) for oligometastatic spine metastases: an overview. Front Oncol 9:337
Ethics declarations
Interessenkonflikt
H. Eggers, J. Wichmann, M. Omar, F. Länger und P. Ivanyi geben an, dass kein Interessenkonflikt besteht.
Für diesen Beitrag wurden von den Autoren keine Studien an Menschen oder Tieren durchgeführt. Für die aufgeführten Studien gelten die jeweils dort angegebenen ethischen Richtlinien.
Additional information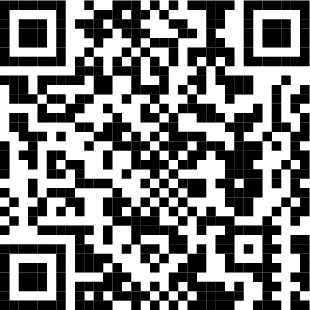 QR-Code scannen & Beitrag online lesen
Redaktion
M. Omar, Hannover
About this article
Cite this article
Eggers, H., Wichmann, J., Omar, M. et al. Onkologische Aspekte der Behandlung pathologischer Frakturen. Unfallchirurg 124, 731–737 (2021). https://doi.org/10.1007/s00113-021-01051-1
Accepted:

Published:

Issue Date:
Schlüsselwörter
Knochenmetastasen

Hyperkalzämie

Strahlentherapie

Multimodale Therapie

Palliativversorgung
Keywords
Bone neoplasms

Hypercalcemia

Radiotherapy

Combined modality treatment

Palliative care