Zusammenfassung
Klinisches Problem
Arterielle pelvine Blutungen stellen eine potenziell lebensbedrohliche Situation dar, die insbesondere im Fall ligamentärer Zerreißungen mit Erhöhung des Beckenvolumens mithilfe chirurgischer Verfahren allein nur schwierig zu kontrollieren sein können.
Radiologische Standardverfahren
Durch die Angiographie und Embolisation (AE) mithilfe resorbierbarer gelatinehaltiger Partikel oder permanenten Coils, Plugs, Flüssigembolisaten oder durch ein Gefäß-Stenting können traumatische arterielle Beckenblutungen in den meisten Fällen gestoppt sowie Pseudoaneurysmata, arteriovenöse Fistelungen oder Dissektionen ausgeschalten werden.
Methodische Innovation und Bewertung
Die AE hat sich als schnelles und effektives minimal-invasives Vorgehen bei der Behandlung traumatischer pelviner Gefäßverletzungen mit vorteilhaftem Nutzen-Risiko-Verhältnis in der Therapie etabliert.
Empfehlung für die Praxis
Die Indikation zur AE sollte interdisziplinär gestellt werden; diese kann sowohl als definitive Therapie als auch in Kombination mit chirurgischen Verfahren zum Einsatz kommen. Um das Outcome zu verbessern, sollten jegliche Verzögerungen zwischen Indikationsstellung und Start des Eingriffs verhindert werden.
Abstract
Clinical issue
Pelvic arterial bleeding constitutes a potentially life-threatening event, which can be difficult to control with surgical procedures alone, especially in the case of ligamentous ruptures and a subsequently increased pelvic volume.
Standard radiological procedures
Using angiography and embolization (AE) with resorbable gelatine-based particles or permanent coils, plugs, liquid embolic systems or by vascular stenting, in most cases traumatic pelvic arterial bleeding can be stopped and can also be used to close pseudoaneurysms, arteriovenous fistulas or dissections.
Methodological innovation and evaluation
The AE has become established as a fast and effective minimally invasive procedure in the treatment of traumatic pelvic vascular injuries with an advantageous risk-benefit ratio.
Practical recommendations
An interdisciplinary approach should be used in the indications for AE; which can be used as definitive treatment as well as in combination with surgical procedures. To improve the clinical outcome any delay between establishing the indications and the start of the intervention must be avoided.
Access options
Buy single article
Instant access to the full article PDF.
US$ 39.95
Tax calculation will be finalised during checkout.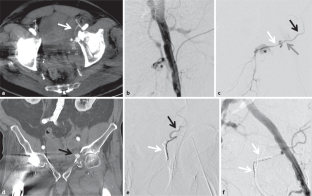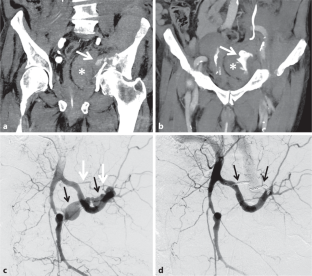 Literatur
1.

Demetriades D, Karaiskakis M, Toutouzas K, Alo K, Velmahos G, Chan L (2002) Pelvic fractures: epidemiology and predictors of associated abdominal injuries and outcomes. J Am Coll Surg 195(1):1–10

2.

Giannoudis PV, Grotz MR, Tzioupis C et al (2007) Prevalence of pelvic fractures, associated injuries, and mortality: the United Kingdom perspective. J Trauma 63(4):875–883

3.

Franco DF, Zangan SM (2020) Interventional radiology in pelvic trauma. Semin intervent Radiol 37(1):44–54

4.

Deaths HM (2019) Leading causes for 2017. Natl Vital Stat Rep 68(6):1–77

5.

Holstein JH, Culemann U, Pohlemann T, Working Group Mortality in Pelvic Fracture P (2012) What are predictors of mortality in patients with pelvic fractures? Clin Orthop Relat Res 470(8):2090–2097

6.

Wijffels DJ, Verbeek DO, Ponsen KJ, Goslings CJ, van Delden OM (2019) Imaging and endovascular treatment of bleeding pelvic fractures: review article. Cardiovasc Intervent Radiol 42(1):10–18

7.

Hundersmarck D, Hietbrink F, Leenen LPH, Heng M (2021) Pelvic packing and angio-embolization after blunt pelvic trauma: a retrospective 18-year analysis. Injury 52(4):946–955

8.

Lustenberger T, Stormann P, Eichler K, Nau C, Janko M, Marzi I (2020) Secondary angio-embolization after emergent pelvic stabilization and pelvic packing is a safe option for patients with persistent hemorrhage from unstable pelvic ring injuries. Front Surg 7:601140

9.

Powerski M, Meyer-Wilmes P, Omari J et al (2018) Transcatheter arterial embolization of acute bleeding as 24/7 service: predictors of outcome and mortality. Br J Radiol 91(1092):20180516

10.

Slater SJ, Barron DA (2010) Pelvic fractures—A guide to classification and management. Eur J Radiol 74(1):16–23

11.

Sheridan MK, Blackmore CC, Linnau KF, Hoffer EK, Lomoschitz F, Jurkovich GJ (2002) Can CT predict the source of arterial hemorrhage in patients with pelvic fractures? Emerg Radiol 9(4):188–194

12.

Cook RE, Keating JF, Gillespie I (2002) The role of angiography in the management of haemorrhage from major fractures of the pelvis. J Bone Joint Surg Br 84(2):178–182

13.

Verbeek DO, Zijlstra IA, van der Leij C, Ponsen KJ, van Delden OM, Goslings JC (2014) The utility of FAST for initial abdominal screening of major pelvic fracture patients. World J Surg 38(7):1719–1725

14.

Juern JS, Milia D, Codner P et al (2017) Clinical significance of computed tomography contrast extravasation in blunt trauma patients with a pelvic fracture. J Trauma Acute Care Surg 82(1):138–140

15.

Shanmuganathan K, Mirvis SE, Sover ER (1993) Value of contrast-enhanced CT in detecting active hemorrhage in patients with blunt abdominal or pelvic trauma. AJR Am J Roentgenol 161(1):65–69

16.

Do AS, Childs BR, Gael S, Vallier HA (2018) Contrast blush on CT is a poor predictor of active bleeding on pelvic angiography. OTA Int 1(3):e9

17.

Verbeek DO, Zijlstra IA, van der Leij C, Ponsen KJ, van Delden OM, Goslings JC (2014) Predicting the need for abdominal hemorrhage control in major pelvic fracture patients: the importance of quantifying the amount of free fluid. J Trauma Acute Care Surg 76(5):1259–1263

18.

Hak DJ (2004) The role of pelvic angiography in evaluation and management of pelvic trauma. Orthop Clin North Am 35(4):439–443

19.

Hauschild O, Aghayev E, von Heyden J et al (2012) Angioembolization for pelvic hemorrhage control: results from the German pelvic injury register. J Trauma Acute Care Surg 73(3):679–684

20.

Lustenberger T, Wutzler S, Stormann P, Laurer H, Marzi I (2015) The role of angio-embolization in the acute treatment concept of severe pelvic ring injuries. Injury 46(Suppl 4):S33–S38

21.

Adnan SM, Romagnoli AN, Madurska MJ, Dubose JJ, Scalea TM, Morrison JJ (2020) Safety and efficacy of radial access in trauma in 65 trauma endovascular cases. J Vasc Surg 71(5):1564–1571

22.

Bernat I, Abdelaal E, Plourde G et al (2013) Early and late outcomes after primary percutaneous coronary intervention by radial or femoral approach in patients presenting in acute ST-elevation myocardial infarction and cardiogenic shock. Am Heart J 165(3):338–343

23.

Seto AH, Roberts JS, Abu-Fadel MS et al (2015) Real-time ultrasound guidance facilitates transradial access: RAUST (Radial Artery access with Ultrasound Trial). JACC Cardiovasc Interv 8(2):283–291

24.

Schrumpf JD, Sommer G, Jacobs RP (1978) Bleeding simulated by the distal internal pudendal artery stain. AJR Am J Roentgenol 131(4):657–659

25.

Fang JF, Shih LY, Wong YC, Lin BC, Hsu YP (2009) Repeat transcatheter arterial embolization for the management of pelvic arterial hemorrhage. J Trauma 66(2):429–435

26.

Velmahos GC, Chahwan S, Hanks SE et al (2000) Angiographic embolization of bilateral internal iliac arteries to control life-threatening hemorrhage after blunt trauma to the pelvis. Am Surg 66(9):858–862

27.

Armbruster M, Wirth S, Seidensticker M (2020) Interventional radiology as emergency therapy. Radiologe 60(3):258–268

28.

Papakostidis C, Kanakaris N, Dimitriou R, Giannoudis PV (2012) The role of arterial embolization in controlling pelvic fracture haemorrhage: a systematic review of the literature. Eur J Radiol 81(5):897–904

29.

Ierardi AM, Piacentino F, Fontana F et al (2015) The role of endovascular treatment of pelvic fracture bleeding in emergency settings. Eur Radiol 25(7):1854–1864

30.

Agolini SF, Shah K, Jaffe J, Newcomb J, Rhodes M, Reed JF 3rd (1997) Arterial embolization is a rapid and effective technique for controlling pelvic fracture hemorrhage. J Trauma 43(3):395–399

31.

Tanizaki S, Maeda S, Matano H, Sera M, Nagai H, Ishida H (2014) Time to pelvic embolization for hemodynamically unstable pelvic fractures may affect the survival for delays up to 60 min. Injury 45(4):738–741

32.

Auerbach AD, Rehman S, Kleiner MT (2012) Selective transcatheter arterial embolization of the internal iliac artery does not cause gluteal necrosis in pelvic trauma patients. J Orthop Trauma 26(5):290–295

33.

Lazarev A, Golokhvast K, Borozda I (2019) Review of the problems of diagnosis of endopelvic haemorrhage, its intensity, volume, and duration, and treatment methods of circulatory injuries and surgical Hemostasis after pelvic fractures. Emerg Med Int. https://doi.org/10.1155/2019/2514146

34.

Lindvall E, Davis J, Martirosian A, Garcia G, Husak L (2018) Bilateral internal Iliac artery embolization results in an unacceptably high rate of complications in patients requiring pelvic/acetabular surgery. J Orthop Trauma 32(9):445–451

35.

Matityahu A, Marmor M, Elson JK et al (2013) Acute complications of patients with pelvic fractures after pelvic angiographic embolization. Clin Orthop Relat Res 471(9):2906–2911

36.

Takahira N, Shindo M, Tanaka K, Nishimaki H, Ohwada T, Itoman M (2001) Gluteal muscle necrosis following transcatheter angiographic embolisation for retroperitoneal haemorrhage associated with pelvic fracture. Injury 32(1):27–32

37.

Travis T, Monsky WL, London J et al (2008) Evaluation of short-term and long-term complications after emergent internal iliac artery embolization in patients with pelvic trauma. J Vasc Interv Radiol 19(6):840–847

38.

Ramirez JI, Velmahos GC, Best CR, Chan LS, Demetriades D (2004) Male sexual function after bilateral internal iliac artery embolization for pelvic fracture. J Trauma 56(4):734–739 (discussion 9–41)
Ethics declarations
Interessenkonflikt
M. Armbruster gibt an, dass kein Interessenkonflikt besteht. M. Seidensticker: "lecture fees" (Fa. Cook Medical, Fa. Boston Scientific).
Für diesen Beitrag wurden von den Autoren keine Studien an Menschen oder Tieren durchgeführt. Für die aufgeführten Studien gelten die jeweils dort angegebenen ethischen Richtlinien.
Additional information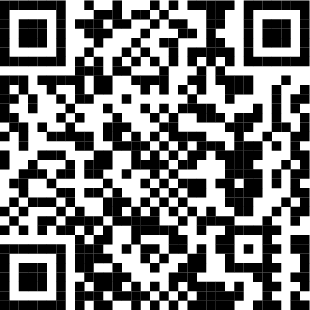 QR-Code scannen & Beitrag online lesen
Redaktion
J. Lotz, Göttingen
M.-A. Weber, Rostock
About this article
Cite this article
Armbruster, M., Seidensticker, M. Interventionelle Radiologie als Notfalltherapie bei Beckenverletzungen. Unfallchirurg 124, 627–634 (2021). https://doi.org/10.1007/s00113-021-01045-z
Accepted:

Published:

Issue Date:
Schlüsselwörter
Trauma

Blutung

Diagnostische Bildgebung

Therapeutische Embolisation

Angiographie
Keywords
Trauma

Bleeding

Diagnostic imaging

Therapeutic embolization

Angiography