Zusammenfassung
Einleitung
Konventionelle Chondrosarkome treten als zweithäufigster, primär maligner Knochentumor vornehmlich im höheren Erwachsenenalter auf. Im Kindes- und Jugendalter sind sie eine Rarität.
Kasuistik
In diesem Fallbericht wird der Diagnose- und Behandlungsverlauf eines 13-jährigen Jungen mit symptomatischem, chondrogenem Tumor des rechten distalen Femurs vorgestellt, der histopathologisch einem epiphysären, mittelgradig differenzierten Chondrosarkom (G2) zugeordnet werden konnte.
Diskussion
Mögliche radiologische und histopathologische Differenzialdiagnosen, wie das Chondroblastom oder das chondroblastische Osteosarkom, werden erörtert und die diagnostischen Behandlungsschritte sowie die Therapie des konventionellen Chondrosarkoms vor dem Hintergrund tumororthopädisch etablierter Behandlungsstandards diskutiert.
Abstract
Introduction
Conventional chondrosarcoma is the second most common primary malignant bone tumor and usually occurs at older adult ages. It is rare in childhood and adolescence.
Case history
This case report presents the treatment course of a 13-year-old boy with a symptomatic chondrogenic tumor of the right distal femur. Histopathologically, an epiphyseal intermediate-grade chondrosarcoma (G2) was diagnosed.
Discussion
Based on the following case, potential radiological and histopathological differential diagnoses, such as chondroblastoma or chondroblastic osteosarcoma, are discussed against the background of current standards in orthopedic oncology.
Access options
Buy single article
Instant access to the full article PDF.
USD 39.95
Price includes VAT (USA)
Tax calculation will be finalised during checkout.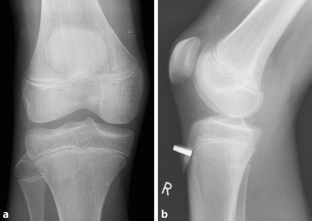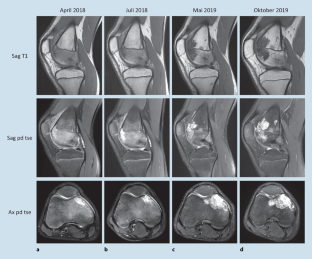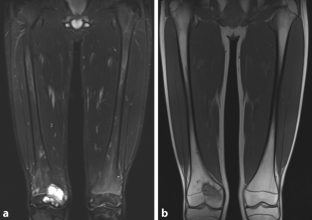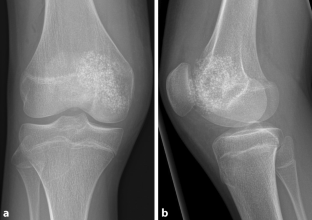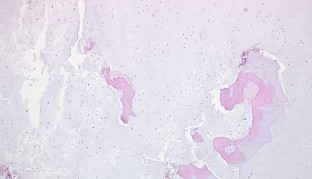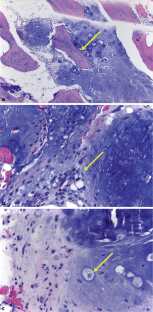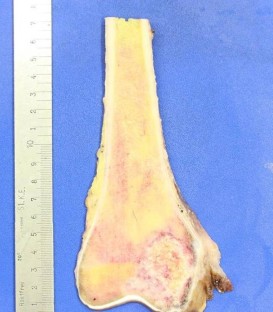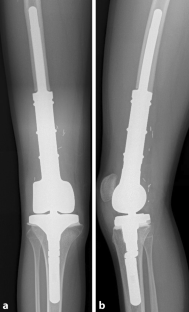 Literatur
1.

Aprin H, Riseborough EJ, Hall JE (1982) Chondrosarcoma in children and adolescents. Clin Orthop Relat Res 166:226–232

2.

Ardakani A, Gikas P, Khoo M, O'Donnell P, Tirabosco R, Saifuddin A (2020) MRI-histopathological correlation in paediatric conventional central chondrosarcoma: a report of 17 cases. Skelet Radiol. https://doi.org/10.1007/s00256-020-03614-6

3.

Boehme KA, Schleicher SB, Traub F, Rolauffs B (2018) Chondrosarcoma: a rare misfortune in aging human cartilage? The role of stem and progenitor cells in proliferation, malignant degeneration and therapeutic resistance. Int J Mol Sci 19(1):311. https://doi.org/10.3390/ijms19010311

4.

El-Ali AM, Coblentz A, Degnan AJ (2020) Solitary long-bone epiphyseal lesions in children: radiologic-pathological correlation and epidemiology. Pediatr Radiol 50:1724–1734

5.

Fiorenza F, Abudu A, Grimer RJ, Carter SR, Tillman RM, Ayoub K, Mangham DC, Davies AM (2002) Risk factors for survival and local control in chondrosarcoma of bone. J Bone Joint Surg Br 84:93–99

6.

Fletcher C, Bridge J, Hogendoorn PCW, Mertens F (2013) WHO classification of tumours of soft tissue and bone. IARC Press, Lyon

7.

Gambarotti M, Righi A, Picci P, Bertoni F, Manfrini M, Donati DM, Dei Tos AP, Vanel D (2016) Paediatric chondrosarcomas: a retrospective review of 17 cases. Histopathology 68:1073–1078

8.

Gao S, Zhou R, Xu Q, Chen H (2019) Edema surrounding benign tumors and tumor-like lesions. Biomed Res Int. https://doi.org/10.1155/2019/8206913

9.

Gelderblom H, Hogendoorn PC, Dijkstra SD, van Rijswijk CS, Krol AD, Taminiau AH, Bovee JV (2008) The clinical approach towards chondrosarcoma. Oncologist 13:320–329

10.

Kaneuchi Y, Fujiwara T, Tsuda Y, Yoshida S, Stevenson JD, Abudu A (2020) Chondrosarcoma of bone in children and adolescents. J Child Orthop 14:330–334

11.

Kaste SC (2011) Imaging pediatric bone sarcomas. Radiol Clin North Am 49:749–765 (vi–vii)

12.

Khoo MM, Saifuddin A (2013) The role of MRI in image-guided needle biopsy of focal bone and soft tissue neoplasms. Skelet Radiol 42:905–915

13.

Kroon HM, Bloem JL, Holscher HC, van der Woude HJ, Reijnierse M, Taminiau AH (1994) MR imaging of edema accompanying benign and malignant bone tumors. Skelet Radiol 23:261–269

14.

Lodwick GS, Wilson AJ, Farrell C, Virtama P, Dittrich F (1980) Determining growth rates of focal lesions of bone from radiographs. Radiology 134:577–583

15.

Lugowska I, Teterycz P, Mikula M, Kulecka M, Kluska A, Balabas A, Piatkowska M, Wagrodzki M, Pienkowski A, Rutkowski P, Ostrowski J (2018) IDH1/2 mutations predict shorter survival in chondrosarcoma. J Cancer 9:998–1005

16.

Mosier SM, Patel T, Strenge K, Mosier AD (2012) Chondrosarcoma in childhood: the radiologic and clinical conundrum. J Radiol Case Rep 6:32–42

17.

Nottrott M, Hardes J, Gosheger G, Andreou D, Henrichs M, Streitbuerger A (2014) Benign cartilage tumors. What should I do with incidental findings? Unfallchirurg 117:905–914

18.

Nystrom LM, DeYoung BR, Morcuende JA (2013) Secondary chondrosarcoma of the pelvis arising from a solitary exostosis in an 11-year-old patient: a case report with 5‑year follow-up. Iowa Orthop J 33:213–216

19.

Polychronidou G, Karavasilis V, Pollack SM, Huang PH, Lee A, Jones RL (2017) Novel therapeutic approaches in chondrosarcoma. Future Oncol 13:637–648

20.

Shah JN, Cohen HL, Choudhri AF, Gupta S, Miller SF (2017) Pediatric benign bone tumors: What does the radiologist need to know? Pediatric imaging. Radiographics 37:1001–1002

21.

Shemesh SS, Acevedo-Nieves JD, Pretell-Mazzini J (2018) Treatment strategies for central low-grade chondrosarcoma of long bones: a systematic review of the literature and meta-analysis. Musculoskelet Surg 102:95–109

22.

Soldatos T, McCarthy EF, Attar S, Carrino JA, Fayad LM (2011) Imaging features of chondrosarcoma. J Comput Assist Tomogr 35:504–511

23.

Stevenson JD, Laitinen MK, Parry MC, Sumathi V, Grimer RJ, Jeys LM (2018) The role of surgical margins in chondrosarcoma. Eur J Surg Oncol 44:1412–1418

24.

Streitburger A, Ahrens H, Balke M, Buerger H, Winkelmann W, Gosheger G, Hardes J (2009) Grade I chondrosarcoma of bone: the Munster experience. J Cancer Res Clin Oncol 135:543–550

25.

van Praag VM, Rueten-Budde AJ, Ho V, Dijkstra PDS, Fiocco M, van de Sande MAJ (2018) Incidence, outcomes and prognostic factors during 25 years of treatment of chondrosarcomas. Surg Oncol 27:402–408

26.

Vieth V (2019) The importance of radiology in bone sarcoma diagnostics: initial and advanced diagnostics. Orthopade 48:727–734

27.

Weinberg J, Miller TT, Handelsman JE, Kahn LB, Godfried DH, Kenan S (2005) Periosteal chondrosarcoma in a 9-year-old girl with osteochondromatosis. Skelet Radiol 34:539–542

28.

Wootton-Gorges SL (2009) MR imaging of primary bone tumors and tumor-like conditions in children. Magn Reson Imaging Clin N Am 17:469–487 (vi)

29.

Wu AM, Li G, Zheng JW, Chen CH, Chen D, Qiao ZG, Zhao JG, Wang B, Fu WL, Sheng SR, Wu YS, Tian NF, Lin ZK, Xu H (2019) Chondrosarcoma in a paediatric population: a study of 247 cases. J Child Orthop 13:89–99
Danksagung
Der Fall und Behandlungsverlauf des hier geschilderten Patienten mit epiphysärem, mittelgradig differenzierten Chondrosarkom des distalen rechten Femurs wurde auf der 95. Tagung der Arbeitsgemeinschaft Knochentumoren (www.agkt.org) von den Autoren vorgestellt und diskutiert.
Ethics declarations
Interessenkonflikt
R. M. Mueller, M. Dudda, V. Vieth, J. Roeder, S. Bertram, H.U. Schildhaus, W. Hartmann und W.K. Guder geben an, dass kein Interessenkonflikt besteht. J. Hardes und A. Streitbürger geben an, Forschungsgelder und finanzielle Unterstützung zur Teilnahme an tumororthopädischen Kongressen von der Fa. implantcast erhalten zu haben.
Für diesen Beitrag wurden von den Autoren keine Studien an Menschen oder Tieren durchgeführt. Für die aufgeführten Studien gelten die jeweils dort angegebenen ethischen Richtlinien. Für Bildmaterial oder anderweitige Angaben innerhalb des Manuskripts, über die Patienten zu identifizieren sind, liegt von ihnen und/oder ihren gesetzlichen Vertretern eine schriftliche Einwilligung vor.
Additional information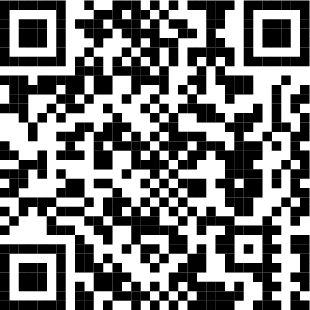 QR-Code scannen & Beitrag online lesen
Redaktion
W. Mutschler, München
About this article
Cite this article
Mueller, R.M., Hardes, J., Streitbürger, A. et al. Konventionelles epiphysäres Chondrosarkom des Kindes- und Jugendalters: ein Fallbericht. Unfallchirurg 124, 738–746 (2021). https://doi.org/10.1007/s00113-021-01040-4
Accepted:

Published:

Issue Date:
Schlüsselwörter
Knochentumor

Epiphyse

Kindes- und Jugendalter

Tumorresektion

Tumorendoprothese
Keywords
Bone cancer

Epiphysis

Children and adolescents

Tumor resection

Megaendoprosthesis