Zusammenfassung
Hintergrund
Ausrissverletzungen der ischiokruralen Muskulatur stellen seltene, aber sehr schwere Verletzungen der rückseitigen Oberschenkelmuskulatur dar.
Fragestellung
Aufgrund der verbesserten Diagnostik und besserer Erfahrung in der Therapie fällt die Entscheidung zur operativen Therapie immer häufiger. Darstellung von Operationsmethode, Nachbehandlung und Outcome.
Material und Methode
Erläuterung von Anatomie, Genese, Diagnostik und Therapie der Ausrissverletzungen der ischiokruralen Muskulatur.
Ergebnisse
Durch Verbesserung von Kenntnis und Diagnostik werden Ausrissverletzungen der ischiokruralen Muskulatur immer häufiger identifiziert. Entscheidend ist nach wie vor die schnelle Ausweitung der Diagnostik, einschließlich des MRT, um Ausmaß und Schwere der Verletzung zu identifizieren. Auch wenn die Unterschiede der Langzeitergebnisse zwischen operativer und konservativer Therapie in der Literatur nicht signifikant sind, zeigt sich eine deutliche Verbesserung der Funktion und Belastbarkeit nach einer operativen Therapie von Ausrissverletzungen der ischiokruralen Muskulatur.
Schlussfolgerung
Angesichts der schlechten Resultate bei einer nichtoperativen Behandlung und der eindeutig positiven Berichte der Operationserfolge ist die offene Refixation bei frischen proximalen Hamstring-Rupturen zu empfehlen.
Abstract
Background
Avulsion injuries of the proximal hamstring muscles are rare but very severe injuries to the dorsal thigh musculature.
Objective
Due to improved diagnostics and experience in treatment, the decision for surgical treatment is becoming more and more frequent. Presentation of the surgical method, follow-up treatment and outcome.
Material and methods
Description of the anatomy, origin, diagnostics and treatment of avulsions of the hamstring musculature.
Results
Due to improvement of knowledge and diagnostics, avulsion injuries of the hamstring muscles are identified more frequently. The rapid expansion of the diagnostics, including magnetic resonance imaging (MRI) is decisive for a better identification of the extent and severity of the injury. Even if the differences in long-term results between surgical and conservative treatment are not significant in the literature, there is a clear improvement in function and resilience after surgical treatment of avulsion injuries of the hamstring muscles.
Conclusion
In view of the poor results of nonsurgical treatment and the clearly positive reports of surgical success, open refixation is recommended for recent proximal hamstring ruptures.
Access options
Buy single article
Instant access to the full article PDF.
US$ 39.95
Tax calculation will be finalised during checkout.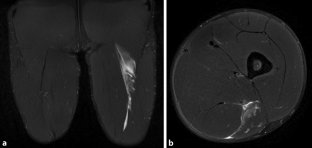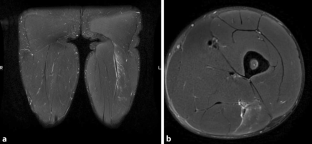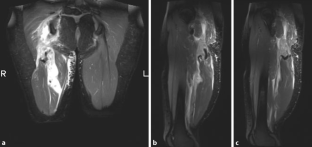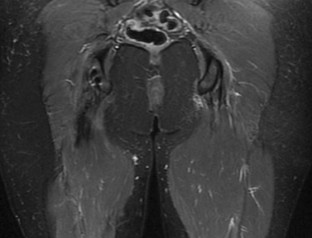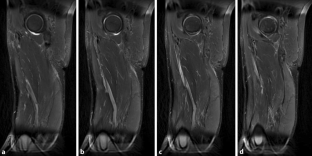 Literatur
Verwendete Literatur
1.

Ahmad CS, Redler LH, Ciccotti MG, Maffulli N, Longo UG, Bradley J (2013) Evaluation and management of hamstring injuries. Am J Sports Med 41:2933–2947

2.

Beltran L, Ghazikhanian V, Padron M, Beltran J (2012) The proximal hamstring muscle-tendon-bone unit: a review of the normal anatomy, biomechanics, and pathophysiology. Eur J Radiol 81:3772–3779

3.

Bencardino JT, Mellado JM (2005) Hamstring injuries of the hip. Magn Reson Imaging Clin N Am 13:677–690

4.

Chahal J, Bush-Joseph CA, Chow A et al (2012) Clinical and magnetic resonance imaging outcomes after surgical repair of complete proximal hamstring ruptures: Does the tendon heal? Am J Sports Med 40:2325–2330

5.

Chakravarthy J, Ramisetty N, Pimpalnerkar A, Mohtadi N (2005) Surgical repair of complete proximal hamstring tendon ruptures in water skiers and bull riders: a report of four cases and review of the literature. Br J Sports Med 39:569–572

6.

Clanton TO, Coupe KJ (1998) Hamstring strains in athletes: diagnosis and treatment. J Am Acad Orthop Surg 6:237–248

7.

Cohen S, Bradley J (2007) Acute proximal hamstring rupture. J Am Acad Orthop Surg 15:350–355

8.

Cohen S, Rangavajjula A, Vyas D, Bradley JP (2012) Functional results and outcomes after repair of proximal hamstring avulsions. Am J Sports Med 40:2092–2098

9.

Cross MJ, Vandersluis R, Wood D, Banff M (1998) Surgical repair of chronic complete hamstring tendon rupture in the adult patient. Am J Sports Med 26:785–788

10.

De Paulis F, Cacchio A, Michelini O, Damiani A, Saggini R (1998) Sports injuries in the pelvis and hip: diagnostic imaging. Eur J Radiol 27(suppl 1):S49–S59

11.

Guanche CA (2015) Hamstring injuries. J Hip Preserv Surg 2:116–122

12.

Hamming MG, Philippon MJ, Rasmussen MT et al (2015) Structural properties of the intact proximal hamstring origin and evaluation of varying avulsion repair techniques: an in vitro biomechanical analysis. Am J Sports Med 43:721–728

13.

Harris JD, Griesser MJ, Best TM, Ellis TJ (2011) Treatment of proximal hamstring ruptures. A systematic review. Int J Sports Med 32:490–495

14.

Koulouris G, Connell D (2003) Evaluation of the hamstring muscle complex following acute injury. Skelet Radiol 32:582–589

15.

Harvey MA, Singh H, Obopilwe E, Charette R, Miller S (2015) Proximal hamstring repair strength: a biomechanical analysis at 3 hip flexion angles. Orthop J Sports Med 3:2325967115576910

16.

Partenheimer A, Imrecke J, Lill H (2020) Open repair of proximal hamstring tears. Oper Orthop Traumatol 32(5):433–439

17.

Sandmann GH, Hahn D, Amereller M et al (2016) Mid-term functional outcome and return to sports after proximal hamstring tendon repair. Int J Sports Med 37:570–576

18.

van der Made AD, Reurink G, Gouttebarge V, Tol JL, Kerkhoffs GM (2015) Outcome after surgical repair of proximal hamstring avulsions: a systematic review. Am J Sports Med 43:2841–2851

19.

Ueblacker P, Haensel L, Mueller-Wohlfahrt HW (2016) Treatment of muscle injuries in football. J Sports Sci 34(24):2329–2337

20.

Wood DG, Packham I, Trikha SP, Linklater J (2008) Avulsion of the proximal hamstring origin. J Bone Joint Surg Am 90:2365–2374
Weiterführende Literatur
21.

Lempainen L, Banke IJ, Johansson K et al (2015) Clinical principles in the management of hamstring injuries. Knee Surg Sports Traumatol Arthrosc 23:2449–2456
Ethics declarations
Interessenkonflikt
A. Partenheimer und H. Lill geben an, dass kein Interessenkonflikt besteht.
Für diesen Beitrag wurden von den Autoren keine Studien an Menschen oder Tieren durchgeführt. Für die aufgeführten Studien gelten die jeweils dort angegebenen ethischen Richtlinien.
Additional information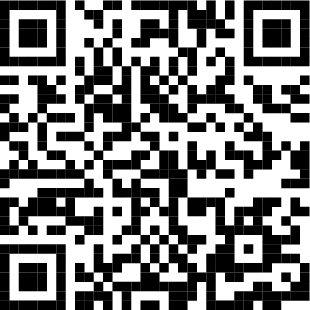 QR-Code scannen & Beitrag online lesen
Redaktion
T. Mittlmeier, Rostock
About this article
Cite this article
Partenheimer, A., Lill, H. Ausrisse der ischiokruralen Muskulatur. Unfallchirurg 124, 536–541 (2021). https://doi.org/10.1007/s00113-021-01026-2
Accepted:

Published:

Issue Date:
Schlüsselwörter
Hamstring-Muskeln

Hamstring-Sehnen

Sehnenverletzungen

M. semitendinosus

M. biceps femoris
Keywords
Hamstring muscles

Hamstring tendons

Tendon injuries

Semitendinosus muscle

Biceps femoris muscle