Zusammenfassung
Hintergrund
Apophysen sind im Wachstum in ihrer Bedeutung oft unterschätzte Strukturen; sie fungieren als Muskelansatz und wirken durch die beanspruchungsabhängige Ausformung auf die Gelenkmechanik ein.
Pathomechanismen
Zum Schutz vor Überlastung kommt es zu anatomisch-funktionellen Adaptationen. Bei schnellkräftigen sportlichen Aktivitäten mit Richtungswechseln und ex-/konzentrischer Muskelaktivität kann die einwirkende Belastung die Festigkeit der Apophysenfuge übersteigen. Es resultieren in der Adoleszenz teilweise oder komplette Ausrisse der Apophysen im Sinne einer Avulsionsverletzung. Im Beckenbereich betreffen diese am häufigsten das Tuber ischiadicum sowie die Spinae iliacae anterior superior und inferior.
Diagnostik
Die wegweisende anamnestisch-klinische Diagnostik wird durch eine konventionell-radiologische Bildgebung ergänzt. Eine Schnittbilddiagnostik ist in aller Regel entbehrlich.
Therapie
Therapeutisch steht eine konservative Behandlung mithilfe von physikalischer Therapie und Teilentlastung im Vordergrund. Im Fall einer Fragmentdislokation >1,5–2 cm sowie bei im Leistungssport aktiven Patienten ist eine operative Behandlung zu erwägen.
Abstract
Background
The importance of the apophyseal plates during growth is often underestimated. They act as a muscular insertion and influence the joint mechanics by the load-dependent change in shape.
Pathomechanisms
An anatomically functional adaptation occurs as protection from overloading. In special kinds of sports with highly dynamic movements, sudden changes of direction and eccentric/concentric muscle activities the resulting stress may exceed the strength of the apophyseal plate. In adolescence this results in a total or partial tearing of the apophysis in the sense of an avulsion injury. In the pelvic region the ischial tuberosity, the anterior superior and inferior iliac spine are mainly affected.
Diagnostics
The medical history and clinical diagnostics are supplemented by conventional radiographic imaging. Sectional imaging diagnostics are usually unnecessary.
Treatment
Conservative management by reduced (partial) weight bearing and physiotherapy represents the gold standard in treatment. In cases with a fragment displacement >1.5–2.0 cm and in competitive athletes an open reduction should be considered.
Access options
Buy single article
Instant access to the full article PDF.
US$ 39.95
Tax calculation will be finalised during checkout.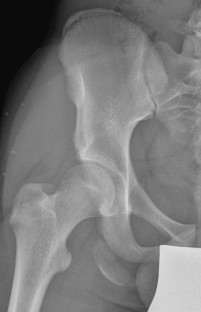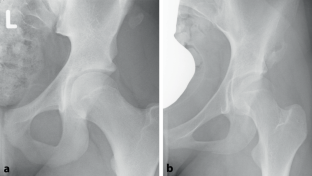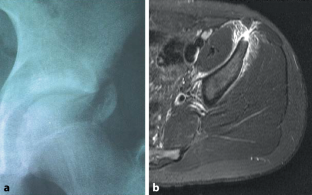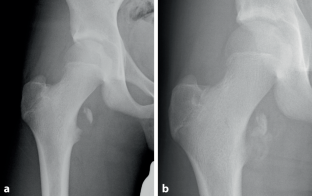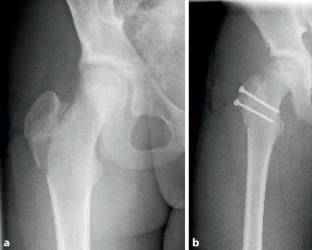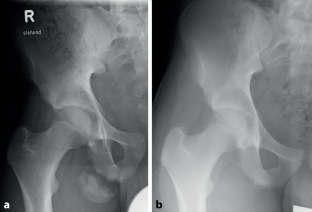 Literatur
1.

Albtoush O, Bani-Issa J, Zitzelsberger T, Springer F (2020) Avulsion injuries of the pelvis and hip. Fortschr Röntgenstr 192:431–440

2.

Barnes ST, Hinds RB (1972) Pseudotumor of the ischium. A late manifestation of avulsion of the ischial epiphysis. J Bone Joint Surg Am 54(3):645–647

3.

Calderazzi F, Nosenzo A, Galavotti C, Menozzi M, Pogliacomi F, Ceccarelli F (2018) Apophyseal avulsion fractures of the pelvis. A review. Acta Biomed 89:470–476

4.

Carneiro J (1996) Knochenentwicklung in Histologie, 4. Aufl. Springer, , S 207

5.

Ducloyer P, Filipe G (1988) Apophyseal avulsion of the pelvis in children. Chir Pediatr 29:91–92

6.

Eberbach H, Hohloch L, Feucht MJ, Konstantinidis L, Südkamp NP, Zwingmann J (2017) Operative versus conservative treatment of apophyseal fractures of the pelvis in the adolescents: a systematical review with meta-analysis of clinical outcome and return to sports. BMC Musculoskelet Disord 18:162

7.

Exner GU (2003) Normalwerte in Wachstum und Entwicklung, 2. Aufl. Thieme, , S 49

8.

Heimkes B (2016) Die Apophyse – in Theorie und Praxis unterschätzt. Orthopade 45:197–198

9.

Heinegard D, Oldberg O (1993) Glycosylated matrix proteins. In: Royce PM, Steinmann B (Hrsg) Connective tissue and its heritable disorders. Wiley, New York, S 271–291

10.

Hellmich HJ, Krieg AH (2019) Epiphyseolysis capitis femoris – Ätiologie und Pathogenese. Orthopade 48:644–650

11.

Hempfling H, Wich M (2017) Apophysenschäden – funktionelle Anatomie und deren Bedeutung für die Begutachtung. Trauma Berufskrankh 19:47–53

12.

Incedayi M, Ozyurek S, Aribal S, Keklikci K, Sonmez G (2014) Avulsion fracture of the anterior inferior iliac spine mimicking a bone tumor: a case report. Oman Med J 29:220–222

13.

Jordan S, McCoy RN (2020) Avulsion fractures. https://www.statpearls.com/ArticleLibrary/viewarticle/18053. Zugegriffen: 10. Dez. 2020

14.

McKinney BI, Nelson C, Carrion W (2009) Apophyseal avulsion fractures of the hip and pelvis. Orthopedics 32:42

15.

Metzmaker JN, Pappas AM (1985) Avulsion fractures of the pelvis. Am J Sports Med 13:349–358

16.

Orava S, Ala-Ketola L (1977) Avulsion fractures in athletes. Br J Sports Med 11:65–71

17.

Otto A, Banke IJ, Mehl J, Beitzel K, Imhoff AB, Scheiderer B (2019) Retrograde fixation of the lesser trochanter in the adolescent: a new surgical technique and clinical results in two cases. Arch Orthop Trauma Surg 139:537–545

18.

Porr J, Lucaciu C, Birkett S (2011) Avulsion fractures of the pelvis—a qualitative systematic review of the literature. J Can Chiropr Assoc 55:247–256

19.

Putz R, Milz S (2016) Makroskopische und funktionelle Anatomie der Apophysenfugen. Orthopade 45:199–205

20.

Rossi F, Dragoni S (2001) Acute avulsion fracture of the pelvis in adolescent competitive athletes: prevalence, location and sports distribution of 203 cases collected. Skelet Radiol 30:127–131

21.

Sanders TG, Zlatkin MB (2008) Avulsion injuries of the pelvis. Semin Musculoskelet Radiol 12:42–53

22.

Schoensee SK, Nilsson KJ (2014) A novel approach to treatment for chronic avulsion fracture of the ischial tuberosity in three adolescent athletes: a case series. Int J Sports Phys Ther 9:974–990

23.

Schröter F (2016) Gutachtliche Aspekte von Apophysenschäden. Orthopade 45:242–248

24.

Schuett DJ, Bomar JD, Pennock AT (2015) Pelvic apophyseal avulsion fractures: a retrospective review of 228 cases. J Pediatr Orthop 35:617–623

25.

Singer G, Eberl R, Wegmann H, Marterer R, Kraus T, Sorantin E (2014) Diagnosis and treatment of apophyseal injuries of the pelvis in adolescents. Semin Musculoskelet Radiol 18:498–504

26.

Sinikumpu JJ, Hetsroni I, Schilders E, Lempainen L, Serlo W, Orava S (2018) Operative treatment of pelvic apophyseal avulsions in adolescent and young adult athletes: a follow-up study. Eur J Orthop Surg Traumatol 28:423–429

27.

Steerman JG, Reeder MT, Udermann BE, Pettitt RW, Murry SR (2014) Avulsionsfracture of the iliac crest apophysis in allegiate wrestler. Clin J Sport Med 18:102–103

28.

Sundar M, Carty H (1994) Avulsion fractures of the pelvis in children: a report of 32 fractures and their outcome. Skelet Radiol 23:85–90

29.

Tahir T, Manzoor QW, Gul IA, Bhat SA, Kangoo KA (2019) Isolated avulsion fractures of lesser troachnter in adolescents—a case series and brief literature review. J Orthop Case Reports 9:11–14

30.

Vandervliet EJ, Vanhoenacker FM, Snoeckx A, Giele JL, Van Dyck P, Parizel P (2007) Sports-related acute and chronic avulsion injuries in children and adolescence with special emphasis on tennis. Br J Sports Med 41:827–831

31.

Weiner D (1996) Pathogenesis of slipped capital femoral epiphysis: current concepts. J Pediatr Orthop B 5:67–73

32.

Wirth T (2016) Avulsionsverletzungen der Hüftregion des Jugendlichen. Orthopade 45:213–218

33.

Wolf R (2000) Apophysenausrisse. Dtsch Z Sportmed 51(9):305–306
Ethics declarations
Interessenkonflikt
A. Schulze und P.P. Schmittenbecher geben an, dass kein Interessenkonflikt besteht.
Für diesen Beitrag wurden von den Autoren keine Studien an Menschen oder Tieren durchgeführt. Für die aufgeführten Studien gelten die jeweils dort angegebenen ethischen Richtlinien.
Additional information
Redaktion
T. Mittlmeier, Rostock
About this article
Cite this article
Schulze, A., Schmittenbecher, P.P. Apophysenausrisse in der Beckenregion im Kindes- und Adoleszentenalter. Unfallchirurg (2021). https://doi.org/10.1007/s00113-021-01001-x
Schlüsselwörter
Apophysenverletzung

Apophysenfuge

Wachstum

Sport

Fragmentdislokation
Keywords
Apophyseal avulsion

Apophyseal plate

Growth

Sports

Fragment displacement