Zusammenfassung
Einleitung
Die endoprothetische Versorgung pertrochantärer Femurfrakturen (PF) ist aufgrund der Komplexität anspruchsvoll. Eingehende klinische Analysen stehen hierzu aus, weshalb diese monozentrische Studie initiiert wurde. Die Nullhypothese lautet, dass es hinsichtlich Revision und Letalität keine Unterschiede im Vergleich zur Osteosynthese gibt.
Material und Methodik
Basierend auf einer elektronischen Datenbank wurden alle Patienten eingeschlossen, welche zwischen 2007 und 2016 aufgrund einer PF primär eine endoprothetische Versorgung erhielten. Die Indikation hierfür war eine konkomitierende Koxarthrose. Mit Ausnahme der Koxarthrose bildeten 1000 konsekutive Osteosynthesen bei gleichen Ein- und Ausschlusskriterien die Vergleichsgruppe. Primäre Zielkriterien waren jegliche operative Revision sowie die Letalität mit Endpunkt 2 Jahre postoperativ. Zusätzlich erfolgte mindestens 2 Jahre postoperativ ein telefonisches Follow-up für Patienten mit Endoprothesen.
Ergebnisse
Erfasst wurden 90 konsekutive Endoprothesen mit 15 Variablen (u. a. Alter, Geschlecht, Seite, Body-Mass-Index, präoperative Blutwerte, ASA-Klassifikation, demenzielle Erkrankung, Frakturklassifikation). Perioperativ waren Endoprothesen im Vergleich zur Osteosynthese signifikant gekennzeichnet von einer späteren Operationszuführung (p < 0,001), längeren Operationszeit (p < 0,001), höherem Blutverlust (p < 0,001), vermehrtem Transfusionsbedarf (p < 0,001) sowie einem längeren stationären Aufenthalt (p = 0,026). Bei den Zielkriterien war die Letalitätsrate signifikant erhöht (p = 0,002), ebenso in einer Subgruppenanalyse die Infektionsrate (p = 0,031). In der Cox-Regression waren Patienten mit Endoprothese assoziiert mit einer signifikant höheren Wahrscheinlichkeit für eine kürzere Überlebenszeit ("odds ratio" (OR) 1,438; Konfidenzintervall (CI) unterer Wert 1,054, oberer Wert 1,962). Somit wurde die Nullhypothese abgelehnt. Zum Zeitpunkt der Nachuntersuchung, 6,1 Jahre postoperativ (3,2–8,6), waren lediglich noch 17 Patienten mit Endoprothese (20 %) lebend. Die Mobilität nach Parker betrug im Mittel 5,0 Punkte (3–9).
Schlussfolgerung
Die endoprothetische Versorgung von PF bei konkomitierender Koxarthrose zeigt in dieser Studie signifikant höhere Infektions- und Letalitätsraten im Vergleich zur Osteosynthese bei PF ohne Koxarthrose. Weitere Studien sind notwendig, um Patienten mit diesen Frakturen der angemessenen Versorgung zuzuführen.
Abstract
Introduction
Hip replacement for pertrochanteric femoral fractures (PF) is challenging due to its complexity. Studies regarding this procedures are limited, therefore this monocentric study was conducted. The null hypothesis was no effect between replacement and internal fixation according to revision and mortality.
Material and methods
Using an electronic database, patients who had received a hip replacement between 2007 and 2016 for a PF with a concomitant coxarthrosis were included in the study. The comparison group consisted of 1000 osteosyntheses for the treatment of PF. With the exception of coxarthrosis, the same inclusion and exclusion criteria were defined. Surgical revision and mortality with endpoint 2 years after the operation were the primary outcomes. At least 2 years postoperatively, a telephone follow-up was done with living patients who underwent replacement.
Results
Records of 90 hip replacements and 15 baseline characteristics were reviewed (e.g., age, sex, body mass index, preoperative blood values, ASA classification, dementia, fracture classification). Replacement was significantly associated with a delay to operation (p < 0.001), a longer duration of operation (p < 0.001), an increased blood loss (p < 0.001), more blood transfusions (p < 0.001), and a longer inpatient stay (p = 0.026). According to the primary outcome, the mortality rate (p = 0.002) and the rate of infection in a subgroup analysis (p = 0.031) were also significantly increased. Using Cox regression, replacement was associated with a significantly higher probability of a shorter survival rate (odds ratio: 1.438, confidence interval: 1.054–1.962). Therefore, the null hypothesis was rejected. At the follow-up 6.1 years postoperatively (3.2–8.6 years), only 17 patients with replacement (20%) were still alive. The mean Parker mobility score was 5.0 points (range 3–9 points).
Conclusion
In this study, a significantly higher rate of infection and mortality was observed in patients with hip replacement for a PF and with a concomitant coxarthrosis; compared to osteosynthesis of PF without coxarthrosis. Further studies are mandatory to provide the appropriate treatment for patients with this fracture pattern.
Access options
Buy single article
Instant access to the full article PDF.
US$ 39.95
Tax calculation will be finalised during checkout.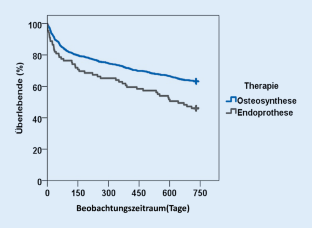 Literatur
1.

American Society of Anesthesiology (1963) New classification of physical status. Anesthesiology 24:111–114

2.

Andress HJ, Forkel H, Grubwinkler M, Landes J, Piltz S, Hertlein H, Lob G (2000) Treatment of per- and subtrochanteric femoral fractures by gamma nails and modular hip prosthesis. Differential indications and results. Unfallchirurg 103:444–451

3.

Baumgaertner MR, Curtin SL, Lindskog DM, Keggi JM (1995) The value of the tip-apex distance in predicting failure of fixation of peritrochanteric fractures of the hip. J Bone Joint Surg Am 77:1058–1064

4.

Bhandari M, Schemitsch E, Jönsson A, Zlowodzki M, Haidukewych GJ (2009) Gamma nails revisited: gamma nails versus compression hip screws in the management of intertrochanteric fractures of the hip: a meta-analysis. J Orthop Trauma 23:460–464

5.

Bojan AJ, Beimel C, Taglang G, Collin D, Ekholm C, Jönsson A (2013) Critical factors in cut-out complications after gamma nail treatment of proximal femoral fractures. BMC Musculoskelet Disord 14:1

6.

Fichman SG, Mäkinen TJ, Safir O, Vincent A, Lozano B, Kashigar A, Kuzyk PR (2016) Arthroplasty for unstable pertrochanteric hip fractures may offer a lower re-operation rate as compared to cephaomedullary nailing. Int Orthop 40:15–20

7.

Galler M, Zellner M, Roll C, Bäuml C, Füchtmeier C, Müller F (2018) A prospective study with ten years follow-up of two-hundred patients with proximal femoral fracture. Injury 49:841–845

8.

Geiger F, Zimmermann-Stenzel M, Heisel C, Lehner B, Daecke W (2007) Trochanteric fractures in the elderly: the influence of primary hip arthroplasty on 1‑year mortality. Arch Orthop Trauma Surg 127:959–966

9.

Grote S, Stegmeyer F, Bogner V, Biberthaler P, Mutschler W (2012) Treatment results after cemented hemiprosthesis for care of unstable pertrochanteric femoral fractures in elderly. Unfallchirurg 115:234–242

10.

Kaplan EL, Meier P (1958) Nonparametric estimation from incomplete observations. J Am Stat Assoc 53:457–481

11.

Kayali C, Agus H, Ozluk S, Sanli C (2006) Treatment for unstable intertrochanteric fractures in elderly patients: internal fixation versus cone hemiarthroplasty. J Orthop Surg (Hong Kong) 14:240–244

12.

Kellgren JH, Lawrence JS (1957) Radiological assessment of osteoarthritis. Ann Rheum Dis 16:494–501

13.

Kesmezacar H, Ogut T, Bilgili MG, Gokay S, Tenekecioglu Y (2005) Treatment of intertrochanteric femur fractures in elderly patients: internal fixation or hemiarthroplasty. Acta Orthop Traumatol Turc 39:287–294

14.

Kim SY, Kim YG, Hwang JK (2005) Cementless calcar-replacement hemiarthroplasty compared with intramedullary fixation of unstable intertrochanteric fractures. A prospective, randomized study. J Bone Joint Surg Am 87:2186–2192

15.

Marsh JL, Slongo TF, Agel J, Broderick JS, Creevey W, DeCoster TA, Prokuski L, Sirkin MS, Ziran B, Henley B, Audige L (2007) Fracture and dislocation classification compendium – 2007: orthopaedic trauma association classification, database and outcomes committee. J Orthop Trauma 21(10):S1–133

16.

Parker MJ, Handoll HH (2002) Gamma and other cephalocondylic intramedullary nails verus extramedullary implants for extracapsular hip fractures. Cochrane Database Syst Rev 4:CD93. https://doi.org/10.1002/14651858.CD000093

17.

Parker MJ, Palmer CR (1993) A new mobility score for predicting mortality after hip fracture. J Bone Joint Surg Br 75:797–798

18.

Parvizi J, Zmistowski B, Berbari EF, Bauer TW, Springer BD, Della Valle CJ, Garvin KL, Mont MA, Wongworawat MD, Zalavras CG (2011) New definition for periprosthetic joint infection: from the workgroup of the musculoskeletal infection society. Clin Orthop Relat Res 469:2992–2994

19.

Queally JM, Harris E, Handoll HH, Parker MJ (2014) Intramedullary nails for extracapsular hip fractures in adults. Cochrane Database Syst Rev 12:9

20.

Rodop O, Kiral A, Kaplan H, Akmaz I (2002) Primary bipolar hemiprosthesis for unstable intertrochanteric fractures. Int Orthop 26:233–237

21.

Rosenfeld RT, Schwartz DR, Alter AH (1973) Prosthetic replacement for trochanteric fractures of the femur. J Bone Joint Surg Am 55:420

22.

Saudan M, Lübbeke A, Sadowski C, Riand N, Stern R, Hoffmeyer P (2002) Pertrochanteric fractures: is there an advantage to an intramedullary nail? A randomized, prospective study of 206 patients comparing the dynamic hip screw and proximal femoral nail. J Orthop Trauma 16:386–393

23.

Shen L, Zhang Y, Shen Y, Cui Z (2013) Antirotation proximal femoral nail versus dynamic hip screw for intertrochanteric fractures: a meta-analysis of randomized controlled studies. Orthop Traumatol Surg Res 99:377–383

24.

Stappaerts KH, Deldycke J, Broos PL, Staes FF, Rommens PM, Claes P (1995) Treatment of unstable peritrochenteric fractures in elderly patients with a compression hip screw or with the Vandeputte (VDP) endoprothesis: a prospective randomized study. J Orthop Trauma 9:292–297

25.

Stern MB, Angerman A (1987) Comminuted intertrochanteric fractures treated with a Leinbach prosthesis. Clin Orthop Relat Res 218:75–80

26.

Tang P, Hu F, Shen J, Zhang L, Zhang L (2012) Proximal femoral nail antirotation versus hemiarthroplasty: a study for the treatment of intertrochanteric fractures. Injury 43:876–881

27.

Tucker A, Donnelly KJ, Rowan C, McDonald S, Foster AP (2018) Is the best plate a nail? A review of 3230 unstable intertrochanteric fractures of the proximal femur. J Orthop Trauma 32:53–60

28.

Ukaj S, Gjyshinca B, Podvorica V, Ukaj F, Molliqaj G, Boshnjaku A, Gamulin A (2017) Primary hemiarthroplasty for treatment of unstable pertochanteric femoral fractures (AO/OTA type 31 A2.3) in elderly osteoporotic patients. SICOT J 3:31

29.

Yu W, Zhang X, Zhu X, Yu Z, Xu Y, Zha G, Hu J, Yi J, Liu Y (2016) Proximal femoral nails anti-rotation versus dynamic hip screws for treatment of stable intertrochanteric femur fractures: an outcome analyses with a minimum 4 years of follow-up. Biomed Chromatogr 17:222
Ethics declarations
Interessenkonflikt
S. Grune, B. Füchtmeier und F. Müller geben an, dass kein Interessenkonflikt besteht.
Für diesen Beitrag wurden von den Autoren keine Studien an Menschen oder Tieren durchgeführt. Für die aufgeführten Studien gelten die jeweils dort angegebenen ethischen Richtlinien. Diese retrospektive Studie erfolgte nach Konsultation der zuständigen Ethikkommission und im Einklang mit nationalem Recht.
Additional information
Redaktion
W. Mutschler, München
H. Polzer, München
B. Ockert, München
About this article
Cite this article
Grune, S., Füchtmeier, B. & Müller, F. Endoprothetische Versorgung pertrochantärer Femurfrakturen bei konkomitierender Koxarthrose. Unfallchirurg (2021). https://doi.org/10.1007/s00113-020-00949-6
Schlüsselwörter
Proximale Femurfraktur

Endoprothese

Osteosynthese

Revisionsrate

Letalität
Keywords
Proximal femoral fracture

Hip replacement

Osteosynthesis

Revision rate

Mortality