Access options
Buy single article
Instant access to the full article PDF.
US$ 39.95
Tax calculation will be finalised during checkout.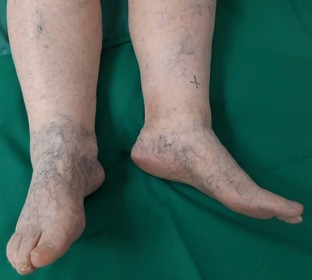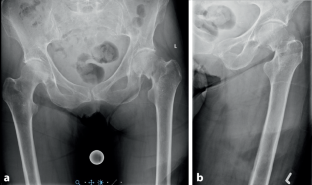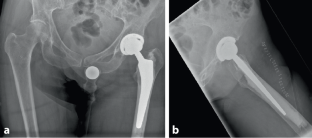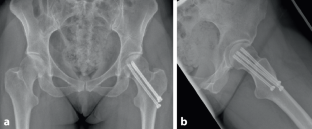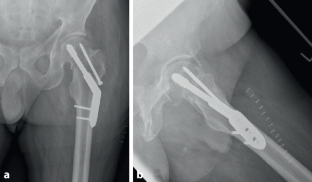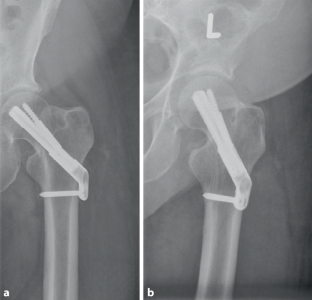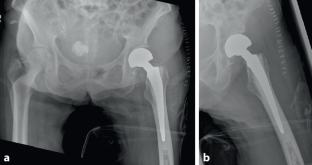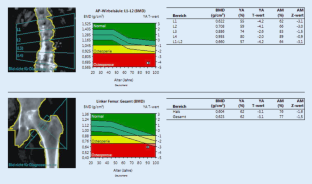 Literatur
1.

RoMed Klinikum Rosenheim, Klinik für Unfallchirurgie und Orthopädie

2.

Gierer P, Milllmeier T (2015) Schenkelhalsfraktur. Unfallchirurg 118:259–270

3.

Bonnaire F, Bula P (2017) Hüftgelenknahe Frakturen/Luxationen. Orthop Unfallchir Up2date 12(3):247–269

4.

Papakostidis C, Panagiotopoulos A, Piccioli A, Giannoudis P (2015) Timing of internal fixation of femoral neck fractures. A systematic review and meta-analysis of the final outcome. Injury 46(3):459–466. https://doi.org/10.1016/j.injury.2014.12.025

5.

https://www.g-ba.de/downloads/39-261-4069/2019-11-22_2020-03-27_2020-04-16_2020-11-20_QSFFx-RL_Erstfassung_konsolidiert.pdf

6.

Smektala R, Hahn S, Schräder P (2010) Mediale Schenkelhalsfraktur: Einfluss des Versorgungszeitpunkts auf die Ergebnisqualität. Unfallchirurg 113:287–292

7.

Braun KF, Hanschen M, Biberthaler P (2016) Frakturendoprothetik der medialen Schenkelhalsfraktur. Unfallchirurg 119:331–345

8.

Deutsche Gesellschaft für Unfallchirurgie (2015) AWMF-S2-Leitlinie 012/001: Schenkelhalsfraktur des Erwachsenen

9.

Chammout GK, Mukka SS, Carlsson T et al (2012) Total hip replacement versus open reduction and internal fixation of displaced femoral neck fractures: a randomized long-term follow-up study. J Bone Joint Surg Am 94(21):1921–1928. https://doi.org/10.2106/JBJS.K.01615

10.

Schleicher I, Kordelle J, Jürgensen I (2003) Die Schenkelhalsfraktur beim alten Menschen-Bipolare Hemiendoprothese vs. Totalendoprothese. Unfallchirurg 106:467–471

11.

Tol MCJM, van den Bekerom MPJ, Sierevelt IN et al (2017) Hemiarthroplasty or total hip arthroplasty for the treatment of a displaced intracapsular fracture in active elderly patients 12-year-follow-up of randomised trial. Bone Joint J 99-B:250–254

12.

Burgers PT, Van Geene AR, Van den Bekerom MP et al (2012) Total hip arthroplasty versus hemiarthroplasty for displaced femoral neck fractures in the healthy elderly: a meta-analysis and systemic review of randomized trials. International Orthopaedics (SICOT) 36(8):1549–1560

13.

Blomfeldt R, Törnkvist H, Eriksson K et al (2007) A randomised controlled trial comparing bipolar hemiarthroplasty with total hio replacement for displaced intracapsular fractures of the femoral neck in elderly patients. J Bone Joint Surg Br 89(2):160–165

14.

Guyen O (2019) Hemiarthroplasty or total hip arthroplasty in recent femoral neck fractures? Orthop Traumatol Surg Res 105(1S):S95–S101

15.

Chammout G, Kelly-Pettersson P, Hedbeck CJ, Stark A, Mukka S, Sköldenberg O (2019) HOPE-trial: hemiarthroplasty compared with total hip arthroplasty for displaced femoral neck fractures in octogenarians: a randomized controlled trial. JB JS Open Access 4(2):e59. https://doi.org/10.2106/JBJS.OA.18.00059

16.

Peng W, Bi N, Zheng J, Xi N (2020) Does total hip arthroplasty provide better outcomes than hemiarthroplasty for the femoral neck fracture? A systemic review and meta-analysis. Chin J Traumatol 23(6):356–362

17.

Cha YH, Yoo JI, Kim JT et al (2020) Dual mobility total hip arthroplasty in the treatment of femoral neck fractures. Bone Joint J 102-B(11):1457–1466. https://doi.org/10.1302/0301-620X.102B11.BJJ-2020-0610.R2

18.

Nakayma A, Major G, Holliday E et al (2016) Evidence of effectiveness of a fracture liaison service to reduce the re-fracture rate. Osteoporos Int 27:873–879
Ethics declarations
Interessenkonflikt
K. Bschorer und C. Zeckey geben an, dass kein Interessenkonflikt besteht.
Für diesen Beitrag wurden von den Autoren keine Studien an Menschen oder Tieren durchgeführt. Für die aufgeführten Studien gelten die jeweils dort angegebenen ethischen Richtlinien. Für Bildmaterial oder anderweitige Angaben innerhalb des Manuskripts, über die Patienten zu identifizieren sind, liegt von ihnen und/oder ihren gesetzlichen Vertretern eine schriftliche Einwilligung vor.
The supplement containing this article is not sponsored by industry.
Additional information
Redaktion
T. Helfen, München
W. Mutschler, München
About this article
Cite this article
Bschorer, K., Zeckey, C. 72/w – Schmerzen in Hüfte und Leiste nach Sturz. Unfallchirurg (2021). https://doi.org/10.1007/s00113-020-00945-w
Schlüsselwörter
Schenkelhalsfraktur

Endoprothese

"Dual-mobility"-System

Duokopfprothese

Osteoporose