Zusammenfassung
Geschildert wird das chirurgische Vorgehen bei vital bedrohlichem Verlauf einer nekrotisierenden Weichgewebeinfektion des linken Beins nach Bagatelltrauma. Durch die erforderliche konsequente Resektion ausgedehnter Faszien- und Muskelnekrosen war die Deckung von Weichteildefekten an Knie und OSG (Oberes Sprunggelenk) sowie langstreckig freiliegenden Peronäalsehnen erforderlich. Dargestellt wird zudem das funktionelle Outcome ein Jahr nach Verwendung von MatriDerm® und Spalthaut zur Defektdeckung.
Abstract
The surgical procedure for the life-threatening course of a necrotizing soft tissue infection of the leg after minor trauma is described. The necessary consistent resection of extensive fascial and muscular necroses required the reconstruction of soft tissue defects of the knee, the ankle joint and peroneal tendons exposed over a long distance. The functional outcome is presented 1 year after use of MatriDerm® and a split-thickness skin graft for defect coverage.
This is a preview of subscription content, log in to check access.
Access options
Buy single article
Instant access to the full article PDF.
US$ 39.95
Price includes VAT for USA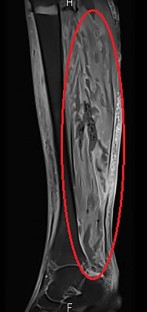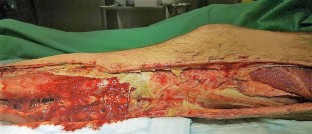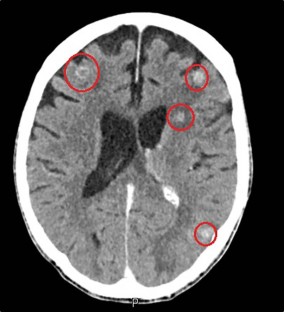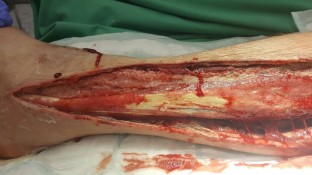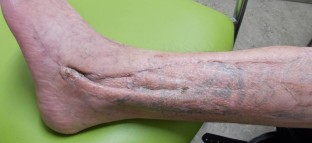 Literatur
1.

Bilton BD, Zibari GB, McMillan RW, Aultman DF, Dunn G, McDonald JC (1998) Aggressive surgical management of necrotizing fasciitis serves to decrease mortality: a retrospective study. Am Surg 64(5):397–400 (discussion 400–1)

2.

Endorf FW, Supple KG, Gamelli RL (2005) The evolving characteristics and care of necrotizing soft-tissue infections. Burns 31(3):269–273. https://doi.org/10.1016/j.burns.2004.11.008

3.

Herr M (2011) Nekrotisierende Fasziitis. Update 2011. Unfallchirurg 114(3):197–216

4.

Hietbrink F, Bode LG, Riddez L, Leenen LPH, van Dijk MR (2016) Triple diagnostics for early detection of ambivalent necrotizing fasciitis. World J Emerg Surg 11:51. https://doi.org/10.1186/s13017-016-0108-z

5.

Kobayashi L, Konstantinidis A, Shackelford S, Chan LS, Talving P, Inaba K, Demetriades D (2011) Necrotizing soft tissue infections: delayed surgical treatment is associated with increased number of surgical debridements and morbidity. J Trauma 71(5):1400–1405. https://doi.org/10.1097/TA.0b013e31820db8

6.

Kujath P (1998) Die nekrotisierende Fasziitis und schwere Weichteilinfektion durch Gruppe-A-Streptokokken. Dtsch Arztebl 95(8):408–413

7.

Niedermueller B, Singer G, Pickl P, Jesacher M (2018) Nekrotisierende Fasziitis an Hand und Unterarm: Chirurgische Akutversorgung und Defektrekonstruktion mit Spalthaut und MatriDerm®. Unfallchirurg 121(3):256–260. https://doi.org/10.1007/s00113-017-0451-x

8.

Ryssel H, Germann G, Czermak C, Kloeters O, Gazyakan E, Riedel K (2010) Matriderm® in depth-adjusted reconstruction of necrotising fasciitis defects. Burns 36(7):1107–1111. https://doi.org/10.1016/j.burns.2009.12.002

9.

Singer M, Deutschman CS, Seymour CW, Shankar-Hari M, Annane D, Bauer M, Bellomo R, Bernard GR, Chiche J‑D, Coopersmith CM, Hotchkiss RS, Levy MM, Marshall JC, Martin GS, Opal SM, Rubenfeld GD, van der Poll T, Vincent J‑L, Angus DC (2016) The third international consensus definitions for sepsis and septic shock (sepsis-3). JAMA 315(8):801–810. https://doi.org/10.1001/jama.2016.0287

10.

Tso DK, Singh AK (2018) Necrotizing fasciitis of the lower extremity: imaging pearls and pitfalls. Br J Radiol 91(1088):20180093. https://doi.org/10.1259/bjr.20180093
Ethics declarations
Interessenkonflikt
M. Riehle und R. Schmidt geben an, dass kein Interessenkonflikt besteht.
Für diesen Beitrag wurden von den Autoren keine Studien an Menschen oder Tieren durchgeführt. Für die aufgeführten Studien gelten die jeweils dort angegebenen ethischen Richtlinien. Für Bildmaterial oder anderweitige Angaben innerhalb des Manuskripts, über die Patienten zu identifizieren sind, liegt von ihnen und/oder ihren gesetzlichen Vertretern eine schriftliche Einwilligung vor.
Additional information
Redaktion
W. Mutschler, München
H. Polzer, München
B. Ockert, München
About this article
Cite this article
Riehle, M., Schmidt, R. Therapie einer nekrotisierenden Weichgewebeinfektion. Unfallchirurg (2020). https://doi.org/10.1007/s00113-020-00784-9
Schlüsselwörter
Weichteildefekt

Muskelnekrosen

Collagen

Elastin

Sehnen
Keywords
Soft tissue defect

Muscular necroses

Collagen

Elastin

Tendons