Zusammenfassung
Die 3D-Bildverstärker(BV)-adjustierte perkutane trianguläre Stabilisierung der geriatrischen Beckenringfraktur vermeidet implantatassoziierte perioperative Komplikationen. Dislozierte Frakturen des hinteren Beckenrings erfordern eine stabile Osteosynthese, um eine Konsolidierung in adäquater Stellung zu ermöglichen (im besten Fall knöchern) sowie das Risiko für neurologische und vaskuläre Schäden zu kontrollieren. Dies trifft für die High-energy-Verletzungen des jungen und in besonderem Maß für die Low-energy-Verletzungen des geriatrischen Patienten zu. Es sind diverse Versorgungskonzepte etabliert. Die trianguläre Stabilisierung nimmt biomechanisch eine herausragende Stellung ein. Die perkutane Instrumentierung senkt die zugangsbedingte Morbidität und bietet alle Vorteile der minimalinvasiven Chirurgie. Um implantassoziierte Komplikationen wie Gefäß- und Nervenverletzungen zu vermeiden, ist das Einhalten anatomischer und radiologischer Prinzipien unumgänglich. Die Verwendung eines 3D-BV gewährleistet die sichere Instrumentierung. Dennoch sind Fallstricke zu berücksichtigen. Im vorliegenden Beitrag wird die Technik der triangulären Abstützung unter Verwendung des 3D-Scans vorgestellt. Nach perkutanem Einbringen der Führungsdrähte in den LWK 4, das Os Ilium und transiliosakral unter radiologischer BV-Kontrolle, wird die korrekte Drahtlage im 3D-Scan verifiziert. Erst dann erfolgen in bekannter Technik die Schraubenplatzierung und die Komplettierung der Instrumentierung. Mithilfe dieser Technik können implantassoziierte perioperative Komplikationen wie Nerven- und Gefäßverletzungen durch Schraubenfehllagen reduziert werden.
Abstract
The 3D image enhancer-adjusted percutaneous triangular stabilization of geriatric pelvic ring fractures avoids implant-associated perioperative complications. Displaced fractures of the posterior pelvic ring require stable instrumentation to enable solid bony fusion in a balanced alignment and to control the risk of neurological and vascular damage. This is mandatory in high-energy injuries in young patients and especially in low-energy injuries of geriatric patients. Various surgical techniques have been established. The triangular stabilization technique shows the best biomechanical results. The percutaneous instrumentation reduces access-related morbidity and provides all the benefits of minimally invasive surgery. In order to avoid implant-associated complications, such as vascular and nerve injuries, anatomical and radiological principles are indispensable. The use of 3D image enhancement ensures a safe instrumentation. Nevertheless, pitfalls have to be considered. This article presents the technique of percutaneous triangular stabilization using the 3D scan. After percutaneous insertion of the guide wires into the L4 vertebral body, the iliac bone and transiliosacrally under 2D X‑ray control, the correct wire position is verified by the 3D scan. Then, screws are inserted and the instrumentation is completed in a standard fashion. Using this technique implant-associated perioperative complications, such as nerve and vascular damage due to screw misplacement can be reduced.
This is a preview of subscription content, log in to check access.
Access options
Buy single article
Instant access to the full article PDF.
US$ 39.95
Price includes VAT for USA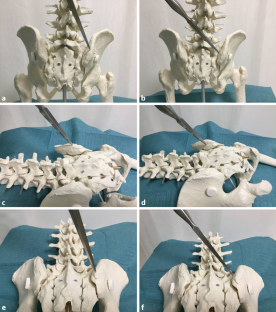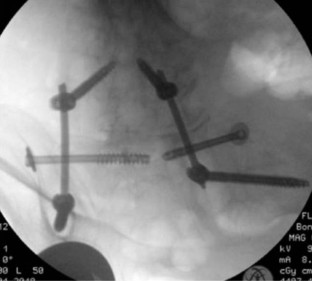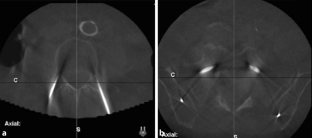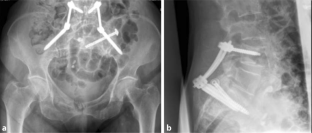 Literatur
1.

Altman DT, Jones CB, Routt ML (1999) Superior gluteal artery injury during iliosacral screw placement. J Orthop Trauma 13:220–227

2.

Andrich S, Haastert B, Neuhaus E et al (2017) Excess mortality after pelvic fractures among older people. J Bone Miner Res 32:1789–1801

3.

Emami A, Deviren V, Berven S et al (2002) Outcome and complications of long fusions to the sacrum in adult spinal deformity: luque-galveston, combined iliac and sacral screws, and sacral fixation. Spine 27:776–786

4.

Fuchs T, Rottbeck U, Hofbauer V et al (2011) Pelvic ring fractures in the elderly. Underestimated osteoporotic fracture. Unfallchirurg 114:663–670

5.

Gribnau AJG, v Hensbroek PB, Haverlag R et al (2009) U‑shaped sacral fractures: surgical treatment and quality of life. Injury 40(10):1040–1048

6.

Hak DJ, Baran S, Stahel P (2009) Sacral fractures: current strategies in diagnosis and management. Orthopedics 32(10):752–757

7.

Hopf JC, Krieglstein CF, Müller LP et al (2015) Percutaneous iliosacral screw fixation after osteoporotic posterior ring fractures of the pelvis reduces pain significantly in elderly patients. Injury 46:1631–1636

8.

Koshimune K, Ito Y, Sugimoto Y et al (2016) Minimally invasive spino-pelvic fixation for unstable bilateral sacral fractures. Clin Spine Surg 29:124–127

9.

Krappinger D, Kammerlander C, Hak DJ et al (2010) Low-energy osteoporotic pelvic fractures. Arch Orthop Trauma Surg 130:1167–1175

10.

Mears SC, Berry DJ (2011) Outcomes of displaced and nondisplaced pelvic and sacral fractures in elderly adults. J Am Geriatr Soc 59:1309–1312

11.

Moed BR, Fissel BA, Jasey G (2007) Percutaneous transiliac pelvic fracture fixation: cadaver feasibility study and preliminary clinical results. J Trauma 62:357–364

12.

Mouhsine E, Wettstein M, Schizas C et al (2006) Modified triangular posterior osteosynthesis of unstable sacrum fracture. Eur Spine J 15:857–863

13.

Nork SE, Jones CB, Harding SP et al (2001) Percutaneous stabilization of U‑shaped sacral fractures using iliosacral screws: technique and early results. J Orthop Trauma 15(4):238–246

14.

Osterhoff G, Ossendorf C, Wanner GA et al (2011) Percutaneous iliosacral screw fixation in S1 and S2 for posterior pelvic ring injuries: technique and perioperative complications. Arch Orthop Trauma Surg 131:809–813

15.

Rommens PM, Hofmann A (2013) Comprehensive classification of fragility fractures of the pelvic ring: recommendations for surgical treatment. Injury 44:1733–1744

16.

Rommens PM, Wagner D, Hofmann A (2017) Fragility fractures of the pelvis. J Bone Joint Surg Rev 5:1–13

17.

Sagi HC, Militano U, Caron T et al (2009) A comprehensive analysis with minimum 1‑year follow-up of vertically unstable transforaminal sacral fractures treated with triangular osteosynthesis. J Orthop Trauma 23(5):313–321

18.

Schildhauer TA, Josten C, Muhr G (2001) Triangular osteosynthesis for unstable sacral fractures. Oper Orthop Traumatol 13(1):27–42

19.

Schildhauer TA, McCulloch P, Chapman JR et al (2002) Anatomic and radiographic considerations for placement of transiliac screws in lumbopelvic fixations. J Spinal Disord Tech 15:199–205

20.

Sciulli RL, Daffner RH, Altman DT et al (2007) CTguided iliosacral screw placement: technique and clinical experience. AJR Am J Roentgenol 188:181–192

21.

Smith HE, Yuan PS, Sasso R et al (2006) An evaluation of image-guided technologies in the placement of percutaneous iliosacral screws. Spine 31:234–238

22.

Wähnert D, Raschke MJ, Fuchs T (2013) Cement augmentation of the navigated iliosacral screw in the treatment of insufficiency fractures of the sacrum. A new method using modified implants. Int Orthop 37:1147–1150

23.

Wang MY, Ludwig SC, Anderson DG et al (2008) Percutaneous iliac screw placement: description of a new minimally invasive technique. Neurosurg Focus 25:E17
Ethics declarations
Interessenkonflikt
M. Spalteholz und J. Gulow geben an, dass kein Interessenkonflikt besteht.
Dieser Beitrag beinhaltet keine von den Autoren durchgeführten Studien an Menschen oder Tieren.
Additional information
Redaktion
W. Mutschler, München
H. Polzer, München
B. Ockert, München
About this article
Cite this article
Spalteholz, M., Gulow, J. 3D-BV-adjustierte perkutane trianguläre Stabilisierung der geriatrischen Beckenringfraktur. Unfallchirurg 122, 880–884 (2019). https://doi.org/10.1007/s00113-019-0606-z
Schlüsselwörter
Sakruminsuffizienzfraktur

Frakturabstützung, innere

CT-Scan

Gelenkinstabilität

Minimalinvasive Chirurgie
Keywords
Fragility fracture of the sacrum

Fracture fixation, internal

CT Scan

Joint instability

Minimally invasive surgery