Zusammenfassung
Skaphoidfrakturen sind häufig, werden in 20–40 % der Fälle aber übersehen. Bei sog. okkulten Skaphoidfrakturen – klinische Skaphoidfrakturen mit negativer Röntgendiagnostik – wird traditionell und empirisch die Hand des Patienten in einem Gips ruhiggestellt und die Röntgendiagnostik nach 10 Tagen wiederholt. Anhand der aktuellen Literatur wird in diesem Artikel ein Diagnostikalgorithmus vorgestellt, welcher verschiedene Patientenkonstellationen und auch sozioökonomische Aspekte miteinbezieht und eine mögliche Nachbehandlung vorschlägt.
Bei arbeitstätigen Patienten kann eine frühzeitige weiterführende Diagnostik medizinisch und sozioökonomisch sinnvoll sein, wobei bei Rentnern und Patienten mit geringem manuellen Anspruch der traditionelle Algorithmus gerechtfertigt ist. Ob eine Computertomographie(CT)‑ oder Magnetresonanztomographie(MRT)-Diagnostik mit oder ohne intraartikuläres Kontrastmittel gewählt wird, sollte u. a. von einer klinisch vermuteten, zusätzlichen Weichteilverletzung abhängig gemacht werden.
Abstract
Scaphoid fractures are frequent but are overlooked in 20–40% of cases on initial radiographs. In so-called occult scaphoid fractures, i.e. clinical scaphoid fractures with negative X‑ray diagnostics, the hand of the patient is often empirically immobilized with a cast and the X‑ray diagnostics repeated 10 days later. Based on the current literature the authors propose a diagnostic algorithm that incorporates various patient characteristics and socioeconomic aspects and suggests a possible follow-up treatment. For high-demand and manually working patients, timely advanced diagnostic imaging may be medically and socioeconomically meaningful. Pensioners and patients with low manual demands, however, can be treated according to the traditional algorithm. Additional use of computed tomography (CT) or magnetic resonance imaging (MRI) diagnostics with or without intra-articular contrast agent might be helpful if concomitant soft tissue injuries are suspected.
Access options
Buy single article
Instant access to the full article PDF.
USD 39.95
Price excludes VAT (USA)
Tax calculation will be finalised during checkout.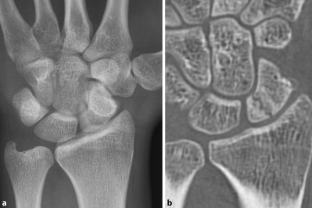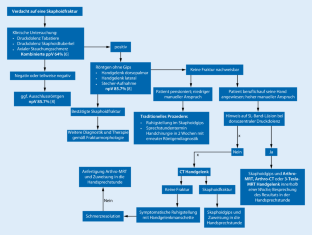 Literatur
Tiel van Buul MM, Roolker W et al (1997) The diagnostic management of suspected scaphoid fracture. Injury 28(1):1–8

Mallee WH, Wang J et al (2015) Computed tomography versus magnetic resonance imaging versus bone scintigraphy for clinically suspected scaphoid fractures in patients with negative plain radiographs. Cochrane Database Syst Rev 6:CD10023

Mack GR et al (1984) The natural history of scaphoid non-union. J Bone Joint Surg Am 66(4):504–509

AWMF (2015) Deutsche S3-Leitlinie Skaphoidfraktur Version 28. http://www.awmf.org/leitlinien/detail/ll/012-016.html. Zugegriffen: 17.11.2017

Ko J, Pet M, Khouri J (2017) Management of scaphoid fractures. Plast Reconstr Surg 140:333e–346e

Parvizi J, Wayman J et al (1998) Combining the clinical signs improves diagnosis of scaphoid fractures. A prospective study with follow-up. J Hand Surg Br 23(3):324–327

Mallee WH, Henny E, van Dijk N et al (2014) Clinical diagnostic evaluation of scaphoid fractures: a systematic review and meta-analysis. J Hand Surg Am 39(9):1683–1691

Basha MAA, Ismail AAA et al (2017) Does radiography still have a significant diagnostic role in evaluation of acute traumatic wrist injuries? A prospective comparative study. Emerg Radiol. https://doi.org/10.1007/s10140-017-1559-6

Toth F (2007) Positioning of the wrist for scaphoid radiography. Eur J Radiol 64:126–132

Stecher WR (1937) Roentonography of the carpal navicular bone. Am J Roentgenol 37:704–705

Haisman JM, Rohde RS et al (2006) Acute fractures of the scaphoid. J Bone Joint Surg Am 88:2750–2758

Yin ZG, Zhang JB et al (2012) Diagnostic accuracy of imaging modalities for suspected scaphoid fractures. Meta-analysis combined with latent class analysis. J Bone Joint Surg Br 94-B:1077–1085

Pillai A, Jain M (2005) Management of clinical fractures of the scaphoid: results of an audit and literature review. Eur J Emerg Med 12:47–51

Brooks S, Cicuttini FM et al (2005) Cost effectiveness of adding magnetic resonance imaging to the usual management of suspected scaphoid fractures. Br J Sports Med 39:75–79

Dorsay TA, Major NM et al (2001) Cost-effectiveness of immediate MR imaging versus traditional follow-up for revealing radiographically occult scaphoid fractures. AJR Am J Roentgenol 177:1257–1263

Gooding A, Coates M et al (2004) Cost analysis of traditional follow-up protocol versus MRI for radiographically occult scaphoid fractures: a plot study for the Accident Compensation Corporation. N Z Med J 117(1201):U1049

Karl JW, Swart E et al (2015) Diagnosis of occult scaphoid fractures. A cost-effectiveness analysis. J Bone Joint Surg Am 97:1860–1868

Brydie A, Raby N (2003) Early MRI in the management of clinical scaphoid fractures. Br J Radiol 76:286–300

De Zwart AD, Beeres FJ, Rhemrev SJ, Bartlema K, Schipper IB (2016) Comparison of MRI, CT and bone scintigraphy for suspected scaphoid fractures. Eur J Trauma Emerg Surg 42(6):725–731

Breederveld RS, Tuinebreijer WE (2004) Investigation of computed tomographic scan concurrent criterion validity in doubtful scaphoid fracture of the wrist. J Trauma 57(4):851–854

Yin ZG, Zhang JB, Kan SL, Wang XG (2010) Diagnosing suspected scaphoid fractures: a systematic review and meta-analysis. Clin Orthop Relat Res 468(3):723–734

Edlund R, Skorpil M, Lapidus G, Bäcklund J (2016) Cone-beam CT in diagnosis of scaphoid fractures. Skeletal Radiol 45(2):197–204

Honigmann P, Frueh FS (2018) Letter about a published paper. J Hand Surg Eur Vol 43(4):451

Lepistö J, Mattila K, Nieminen S, Sattler B, Kormano M (1995) Low field MRI and scaphoid fracture. J Hand Surg 20B(4):539–542

Klempka A, Wagner M et al (2016) Injuries of the scapholunate and lunotriquetral ligaments as well as the TFCC in intra-articular distal radius fractures. Prevalence assessed with MDCT arthrography. Eur Radiol 26:722–732

Chim H, Moran SL (2013) Wrist essentials: the diagnosis and management of scapholunate ligament injuries. Plast Reconstr Surg. https://doi.org/10.1097/PRS.0000000000000423

Schmitt R, Christopoulos G, Meier R et al (2003) Direct MR arthrography of the wrist in comparison with arthroscopy: a prospective study on 125 patients. Rofo 175:911–919

Hafezi-Nejad N, Carrino JA et al (2016) Scapholunate interosseus ligament tears: diagnostic performance of 1.5T, 3T MRI and MR arthrography—a systematic review and meta-analysis. Acad Radiol 23:1091–1103

Tibrewal S, Jayakumar P et al (2012) Role of MRI in the diagnosis and management of patients with clinical scaphoid fracture. Int Orthop 36(1):107–110
Ethics declarations
Interessenkonflikt
A. Flury und S. Günkel geben an, dass kein Interessenkonflikt besteht.
Für diesen Beitrag wurden von den Autoren keine Studien an Menschen oder Tieren durchgeführt. Für die aufgeführten Studien gelten die jeweils dort angegebenen ethischen Richtlinien. Für Bildmaterial oder anderweitige Angaben innerhalb des Manuskripts, über die Patienten zu identifizieren sind, liegt von ihnen und/oder ihren gesetzlichen Vertretern eine schriftliche Einwilligung vor.
About this article
Cite this article
Flury, A., Günkel, S. Die okkulte Skaphoidfraktur: aktuelle Evidenz und diagnostischer Algorithmus. Unfallchirurg 123, 238–243 (2020). https://doi.org/10.1007/s00113-019-00722-4
Published:

Issue Date:

DOI: https://doi.org/10.1007/s00113-019-00722-4
Schlüsselwörter
Skaphoidfrakturen

Diagnostik

Immobilisation

Röntgen

Computertomographie (CT)

Magnetresonanztomographie (MRT)

Sozioökonomisch
Keywords
Scaphoid fractures

Diagnostics

Immobilization

X‑ray

Computed Tomography (CT)

Magnetic Resonance Imaging (MRI)

Socio-economical