Zusammenfassung
Hintergrund
Skaphoidfrakturen sind häufig, können in der nativen Projektionsradiographie leicht übersehen werden und führen, falls nicht oder nur unzureichend diagnostiziert und daher unsachgemäß behandelt, oft zu problematischen Heilverläufen mit Pseudarthrosenbildung und schmerzhafter Handgelenkarthrose.
Fragestellung
In dieser Übersichtsarbeit sollen praktische Handlungsempfehlungen zu Diagnostik und Behandlung von Skaphoidfrakturen ausgesprochen werden.
Material und Methode
Es fanden eine Analyse und Übersicht ausgewählter Literatur unter Einbeziehung der aktuellen S3-Leitlinie statt.
Ergebnisse
Hauptaussagen sind, dass bei klinischem Verdacht auf eine Skaphoidfraktur eine Stufendiagnostik mit Röntgen, Computertomographie (CT) und, falls nötig, Magnetresonanztomographie (MRT) bis zum sicheren Nachweis oder Ausschluss einer Verletzung durchgeführt werden sollte. Die Therapieplanung bei nachgewiesener Fraktur erfolgt anhand einer CT-basierten Klassifikation. Es gibt Frakturtypen, die dem Behandler die Wahl zwischen einer operativen und einer konservativen Therapie lassen, und Frakturtypen, die immer operiert werden sollten. Die Operationstechnik wird ebenfalls vom genauen morphologischen Frakturbefund vorgegeben. Zur Osteosynthese werden meist kopflose Doppelgewindeschrauben mit Kompressionseffekt benutzt.
Abstract
Background
Fractures of the scaphoid bone are common but can easily be overlooked in standard X‑rays. Inadequate diagnostics and therefore inappropriate treatment of scaphoid fractures often leads to problems in healing with formation of non-union and painful osteoarthritis of the wrist.
Objective
This review summarizes the current practical recommendations in the diagnostics and treatment of acute scaphoid fractures.
Methods
An analysis and review of selected literature including the current S3 guidelines were performed.
Results
The main statements are that in cases of a clinically suspected scaphoid fracture, staged diagnostics including radiographs, computed tomography (CT) and when necessary magnetic resonance imaging (MRI) should be applied to confirm or exclude a fracture. Further treatment in the case of a fracture is planned according to a CT-based classification. There are fracture types that can be treated either conservatively or operatively and there are other fracture types that always require operative fixation. The operative technique depends on the exact fracture geometry. For osteosynthesis, cannulated headless compression screws are mostly used.
Access options
Buy single article
Instant access to the full article PDF.
USD 39.95
Price excludes VAT (USA)
Tax calculation will be finalised during checkout.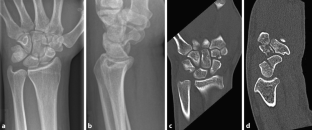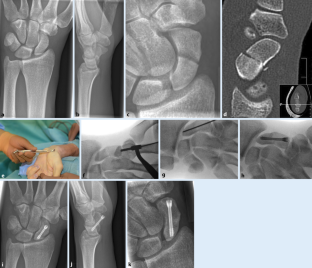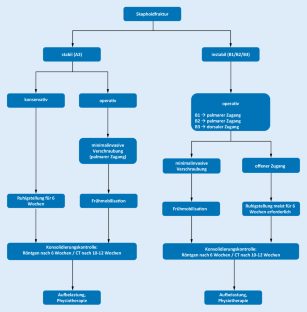 Literatur
Adolfsson L, Lindau T, Arner M (2001) Acutrak screw fixation versus cast immobilisation for undisplaced scaphoid waist fractures. J Hand Surg Br 26:192–195

Arsalan-Werner A, Sauerbier M, Mehling IM (2016) Current concepts for the treatment of acute scaphoid fractures. Eur J Trauma Emerg Surg 42:3–10

Berger RA (2001) The anatomy of the scaphoid. Hand Clin 17:525–532

Berger RA, Bishop AT (1997) A fiber-splitting capsulotomy technique for dorsal exposure of the wrist. Tech Hand Up Extrem Surg 1:2–10

Bond CD, Shin AY, Mcbride MT et al (2001) Percutaneous screw fixation or cast immobilization for nondisplaced scaphoid fractures. J Bone Joint Surg Am 83:483–488

Brauer RB, Dierking M, Werber KD (1997) Use of the Herbert screw with the freehand method for osteosynthesis of acute scaphoid fracture. Unfallchirurg 100:776–781

Buijze GA, Goslings JC, Rhemrev SJ et al (2014) Cast immobilization with and without immobilization of the thumb for nondisplaced and minimally displaced scaphoid waist fractures: a multicenter, randomized, controlled trial. J Hand Surg Am 39:621–627

Coblenz G, Christopoulos G, Frohner S et al (2006) Scaphoid fracture and nonunion: current status of radiological diagnostics. Radiologe 46:664–676

Dacho A, Grundel J, Holle G et al (2006) Long-term results of midcarpal arthrodesis in the treatment of scaphoid nonunion advanced collapse (SNAC-Wrist) and scapholunate advanced collapse (SLAC-Wrist). Ann Plast Surg 56:139–144

Doornberg JN, Buijze GA, Ham SJ et al (2011) Nonoperative treatment for acute scaphoid fractures: a systematic review and meta-analysis of randomized controlled trials. J Trauma 71:1073–1081

Filan SL, Herbert TJ (1996) Herbert screw fixation of scaphoid fractures. J Bone Joint Surg Br 78:519–529

Fowler JR, Ilyas AM (2010) Headless compression screw fixation of scaphoid fractures. Hand Clin 26:351–361

Geoghegan JM, Woodruff MJ, Bhatia R et al (2009) Undisplaced scaphoid waist fractures: is 4 weeks' immobilisation in a below-elbow cast sufficient if a week 4 CT scan suggests fracture union? J Hand Surg Eur Vol 34:631–637

Krimmer H, Schmitt R, Herbert T (2000) Scaphoid fractures—diagnosis, classification and therapy. Unfallchirurg 103:812–819

AWMF (2015) Leitlinie "Skaphoidfraktur", AWMF-Registernummer 012 – 016. http://www.awmf.org/leitlinien/detail/ll/012-016.html (Erstellt: 1. Okt. 2015). Zugegriffen: 1. Jul. 2018

Lichtman DM, Schneider JR, Swafford AR et al (1981) Ulnar midcarpal instability-clinical and laboratory analysis. J Hand Surg Am 6:515–523

Megerle K, Keutgen X, Muller M et al (2008) Treatment of scaphoid non-unions of the proximal third with conventional bone grafting and mini-Herbert screws: an analysis of clinical and radiological results. J Hand Surg Eur Vol 33:179–185

Mehling IM, Sauerbier M (2013) Scaphoid fractures and pseudarthrosis of the scaphoid. Z Orthop Unfall 151:639–660

Muller M, Chen ZB, Al Morshidy A et al (2006) Postoperative CT-controlled results of renewed osteosynthesis using screw fixation for acute scaphoid fractures. Unfallchirurg 109:185–192

Muller M, Germann G, Sauerbier M (2008) Minimal invasive screw fixation and early mobilization of acute scaphoid fractures in the middle third: operative technique and early functional outcome. Tech Hand Up Extrem Surg 12:107–113

Parvizi J, Wayman J, Kelly P et al (1998) Combining the clinical signs improves diagnosis of scaphoid fractures. A prospective study with follow-up. J Hand Surg Br 23:324–327

Rettig AC, Kollias SC (1996) Internal fixation of acute stable scaphoid fractures in the athlete. Am J Sports Med 24:182–186

Saeden B, Tornkvist H, Ponzer S et al (2001) Fracture of the carpal scaphoid. A prospective, randomised 12-year follow-up comparing operative and conservative treatment. J Bone Joint Surg Br 83:230–234

Sauerbier M, Muller M (2007) Scaphoid fractures: diagnosis, surgical approach, and complications. Zentralbl Chir 132:42–53

Sauerbier M, Trankle M, Linsner G et al (2000) Midcarpal arthrodesis with complete scaphoid excision and interposition bone graft in the treatment of advanced carpal collapse (SNAC/SLAC wrist): operative technique and outcome assessment. J Hand Surg Br 25:341–345

Schädel-Höpfner M, Bickert B, Dumont C et al (2016) Acute scaphoid fractures. Management under consideration of the new S3-level guideline. Orthopade 45:945–950

Schädel-Höpfner M, Marent-Huber M, Sauerbier M et al (2010) Operative versus conservative treatment of non-displaced fractures of the scaphoid bone. Results of a controlled multicenter cohort study. Unfallchirurg 113:804–813

Schmitt R, Rosenthal H, Deutsche Gesellschaft für Unfallchirurgie (2016) Imaging of scaphoid fractures according to the new S3 guidelines. Rofo 188:459–469

Slade JF, Lozano-Calderon S, Merrell G et al (2008) Arthroscopic-assisted percutaneous reduction and screw fixation of displaced scaphoid fractures. J Hand Surg Eur Vol 33:350–354

Taleisnik J (1988) Current concepts review. Carpal instability. J Bone Joint Surg Am 70:1262–1268

Welling RD, Jacobson JA, Jamadar DA et al (2008) MDCT and radiography of wrist fractures: radiographic sensitivity and fracture patterns. AJR Am J Roentgenol 190:10–16
Ethics declarations
Interessenkonflikt
F. Neubrech, A. Terzis und J. Seegmüller geben an, dass kein Interessenkonflikt besteht. M. Sauerbier verfügt über einen Berater- und Entwicklungsvertrag mit der Fa. Medartis AG, Basel, Schweiz.
Dieser Beitrag beinhaltet keine von den Autoren durchgeführten Studien an Menschen oder Tieren.
Additional information
Redaktion
M. Schädel-Höpfner, Neuss
About this article
Cite this article
Neubrech, F., Terzis, A., Seegmüller, J. et al. Diagnostik und Therapie frischer Skaphoidfrakturen. Unfallchirurg 122, 182–190 (2019). https://doi.org/10.1007/s00113-018-0588-2
Published:

Issue Date:

DOI: https://doi.org/10.1007/s00113-018-0588-2
Schlüsselwörter
Diagnostische Bildgebung

Knochenschrauben

Frakturfixation

Konservative Behandlung

Frakturheilung
Keywords
Diagnostic imaging

Bone screws

Fracture fixation

Conservative treatment

Fracture healing