Zusammenfassung
Spezielle und spezialisierte Instrumente helfen, die Reposition effektiver und gewebeschonender durchzuführen. In Ergänzung zu anderen Beiträgen werden Anwendung und Vorteile folgender Instrumente dargestellt: kollineare Repositionszange, Cerclage, "wire passer", distale Radiusrepositionszange, modularer Fixateur externe, Extensionstisch, Distraktionsrahmen, Joystick, Manipulatoren, Distraktor und die Repositionsassistenz mit "elastic nails".
Abstract
Special and specialized instruments help perform reduction more effectively and in a tissue-preserving manner. In addition to other articles, the application and advantages of the following instruments are presented: colinear reduction forceps, cerclage, cerclage passer, distal radius reduction clamp, modular external fixator, extension table, distraction frame, joystick, manipulators, distractor and assistance of reduction with elastic nails
This is a preview of subscription content, log in to check access.
Access options
Buy single article
Instant access to the full article PDF.
US$ 39.95
Price includes VAT for USA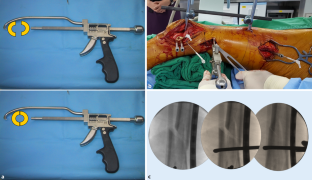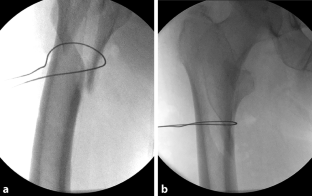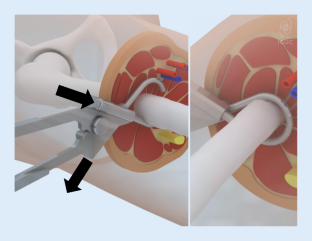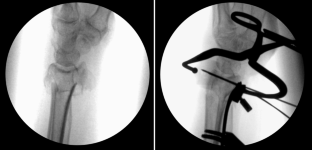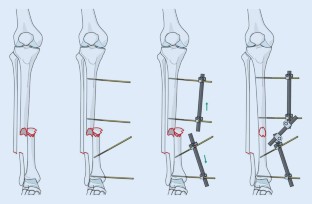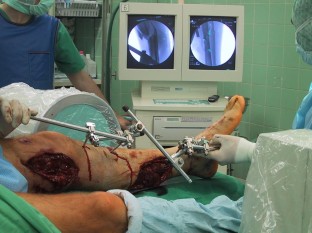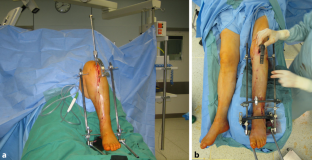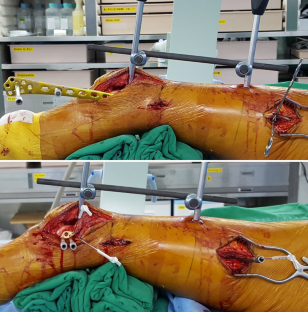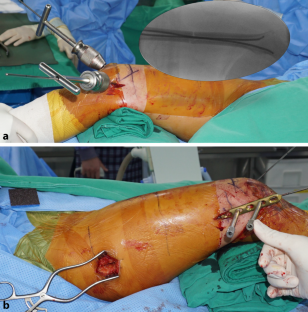 Literatur
1.

Apivatthakakul T, Phornphutkul C (2012) Percutaneous cerclage wiring for reduction of periprosthetic and difficult femoral fractures. A techical note. Injury 43:966–971

2.

Apivatthakakul T, Siripipattanamongkol P, Oh CW, Sananpanich K, Phornphutkul C (2018) Safe zones and a technical guide for cerclage wiring of the femur:a computed topographic angiogram (CTA) study. Arch Orthop Trauma Surg 138:43–50

3.

Babst R, Khong KS (2007) Minimally invasive surgery. In: AO principles of fracture management. Thieme, Stuttgart, S 199–212

4.

Fernandez A (1989) Modular external fixation in emergency with the AO tubular system Intergraf montevideo

5.

Hoffmann R (1938) Rotules a os pour la reduction dirigee. Helv Med Acta 5:844–851

6.

Hoffmann R (1959) Osteotaxis, percutane Knochenfixierung. Ferdinand Enke Verlag, Stuttgart

7.

Höntzsch D (2017) External Fixation. In: Buckley RE, Moran CG, Rüedi T (Hrsg) AO Principles of Fracture Management. Thieme, Stuttgart, S 253–268

8.

Perren S, Fernandez A, Regazzoni P (2015) Fracture fixation using cerclage, research applied to surgery. Acta Chir Orthop Traumatol Cech 82:389–397

9.

Jupiter J (2017) Bone reduction forceps in distal radius fractures. https://www.youtube.com. Zugegriffen: 20. März 2017

10.

Oh CW (2007) Nail-assisted percutaneous plating of pediatric femoral fractures. Clin Orthop Relat Res 456:176–181

11.

Faure C, Merloz P (1987) Querschnitte des Unterschenkels. In: Zugänge für die Fixateur-externe-Osteosynthese. Springer, Berlin, Heidelberg
Ethics declarations
Interessenkonflikt
D. Höntzsch gibt folgende potenzielle Interessenkonflikte an: Mitarbeit und Beratung bei: AO, AOTK System, DePuy Synthes, Ceramtec, Paracam, Rimasys, Vision Medical. C.W. Oh, A. Fernandez und P. Regazzoni geben an, dass kein Interessenkonflikt besteht.
Dieser Beitrag beinhaltet keine von den Autoren durchgeführten Studien an Menschen oder Tieren.
Additional information
Anmerkung
Die Bildanzahl im Beitrag ist limitiert. Weitere erklärende Bilder können beim Autor (D.H.) angefordert werden.
Redaktion
D. Höntzsch, Tübingen
C. Sommer, Chur
Caption Electronic Supplementary Material
Video 1: Handhabung des Wire passer. (Animation von A. Fernandez; mit freundlicher Genehmigung, © A. Fernandez. Alle Rechte vorbehalten)
Video 2: Modulare Reposition und Fixation an der Tibia. (Mit freundlicher Genehmigung, © D. Höntzsch. Alle Rechte vorbehalten)
Video 3: Modulare Reposition und Fixation am Femur. (Mit freundlicher Genehmigung, © D. Höntzsch. Alle Rechte vorbehalten)
Video 4: Modulare Reposition und Fixation kniegelenküberbrückend, hier bei einer distalen Femurfraktur. (Mit freundlicher Genehmigung, © D. Höntzsch. Alle Rechte vorbehalten)
Video 5: Reposition und Fixation einer Tibiaschaftfraktur mit offener Kniegelenkverletzung bei einem 16-jährigen jungen Mann mit Mehrfachverletzung. Die einzelnen Schritte sind im Text, in den Abb. 5 sowie in den Legenden der Videos 2–4 beschrieben. (Mit freundlicher Genehmigung, © D. Höntzsch. Alle Rechte vorbehalten)
Video 6: Modulare Reposition und Fixation an einer kniegelenküberbrückende EX-FIX-Montage. Es wird die korrekte Methode mit 2 Rohr-zu-Rohr-Backen gezeigt. Im Gegensatz wird die Methode gezeigt, dies mit nur einer Rohr-zu-Rohr-Backe zu erreichen. Der Autor beobachtet diesen Fehler hierzulande und international. (Mit freundlicher Genehmigung, © D. Höntzsch. Alle Rechte vorbehalten)
Video 7: Gebrauch des Distraktionsrahmens. (Mit freundlicher Genehmigung, © D. Höntzsch. Alle Rechte vorbehalten. Quelle der Abbildungen im Video, 0:17 und 0:19: [11])
About this article
Cite this article
Höntzsch, D., Oh, C.W., Fernandez, A. et al. Spezielle Repositionsinstrumente. Unfallchirurg 122, 120–126 (2019). https://doi.org/10.1007/s00113-018-0562-z
Schlüsselwörter
Chirurgische Instrumente

Zangen

Cerclage

Distraktion

Fixateur externe
Keywords
Surgical instruments

Forceps

Cerclage

Distraction

Fixateur externe