Zusammenfassung
Thorakolumbale Frakturen des alten Menschen sind regelmäßig mit einer Osteoporose assoziiert. Diese kann Ursache der Fraktur oder wichtige Komorbidität bei einem Trauma sein. Die OF-Klassifikation erlaubt eine einfache und für die Therapie relevante Einteilung der Frakturen und basiert auf Röntgenaufnahmen, Computer- (CT) und Magnetresonanztomographie (MRT). Die Therapie richtet sich nach dem klinischen und dem radiologischen Erscheinungsbild und kann mithilfe des OF-Scores bestimmt werden. Dieser berücksichtigt die aktuelle klinische Situation, aber auch Komorbiditäten des Patienten. Die Therapieempfehlungen basieren auf einem Expertenkonsens und beinhalten konservative und operative Optionen. Sofern eine chirurgische Therapie indiziert ist, kommen Wirbelkörperaugmentationen, perkutane Stabilisationen, aber auch offene Verfahren zur Anwendung.
Abstract
Thoracolumbar fractures in the elderly are frequently associated with osteoporosis. Osteoporosis can cause fractures or be a significant comorbidity in traumatic fractures. The OF classification is based on conventional X‑ray, computed tomography (CT) scan and magnetic resonance imaging (MRI). It is easy to use and provides a clinically relevant classification of the fractures. Therapeutic decisions are made based on the clinical and radiological situation by using the OF score. The score takes the current clinical situation including patient-specific comorbidities into consideration. The treatment recommendations are based on an expert consensus opinion and include conservative and operative options. If surgery is indicated, vertebral body augmentation, percutaneous stabilization and even open surgery can be used.
Access options
Buy single article
Instant access to the full article PDF.
US$ 39.95
Tax calculation will be finalised during checkout.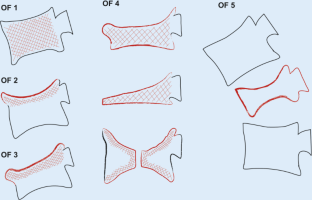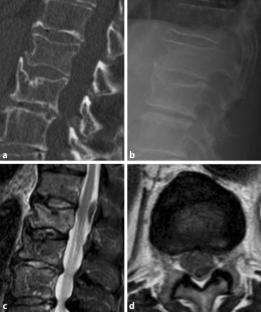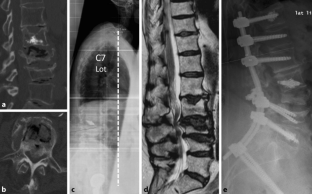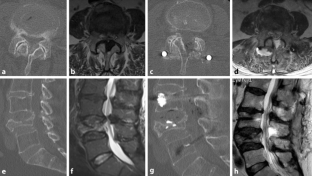 Notes
1.

AO Arbeitsgemeinschaft für Osteosynthesefragen

2.

OF Osteoporotische Frakturen
Literatur
1.

Hadji P, Klein S, Gothe H et al (2013) Epidemiologie der Osteoporose – Bone Evaluation Study (BEST): Eine Analyse von Krankenkassen-Routinedaten. Dtsch Arztebl Int 110:52–57

2.

Gehlbach SH, Bigelow C, Heimisdottir M et al (2000) Recognition of vertebral fracture in a clinical setting. Osteoporos Int 11:577–582

3.

Kanis JA, Borgström F, Compston J et al (2013) SCOPE: a scorecard for osteoporosis in Europe. Arch Osteoporos 8:144

4.

Kanis JA, Odén A, McCloskey EV et al (2012) A systematic review of hip fracture incidence and probability of fracture worldwide. Osteoporos Int 23:2239–2256

5.

Wick M, Petraschka C, Kronawitter P et al (2010) Osteoporotische Wirbelfrakturen beim alten Menschen: Wert der konventionellen Röntgendiagnostik – klinische und radiologische Ergebnisse nach Kyphoplastie. Z Orthop Unfall 148:641–645

6.

Chin DK, Park JY, Yoon YS et al (2007) Prevalence of osteoporosis in patients requiring spine surgery: incidence and significance of osteoporosis in spine disease. Osteoporos Int 18:1219–1224

7.

Genant HK, Wu CY, van Kuijk C, Nevitt MC (1993) Vertebral fracture assessment using a semiquantitative technique. J Bone Miner Res 8:1137–1148

8.

Vaccaro AR, Oner C, Kepler CK et al (2013) AOSpine thoracolumbar spine injury classification system: fracture description, neurological status and key modifiers. Spine (Phila Pa 1986) 38:2028–2037

9.

Schnake KJ, Hahn P, Franck A et al (2013) Development of a classification system (OF-classification) and of a score for therapeutic decision making (OF-score) for osteoporotic thoracolumbar fractures. Eur Spine J 22:S2590

10.

Schnake K, Bouzakri N, Blattert T et al (2014) Validation of a classification system for osteoporotic thoracolumbar fractures (OF-classification). Eur Spine J 23:S2511

11.

Blattert TR, Schnake KJ, Gonschorek O et al (2015) Guidelines for non-surgical and surgical management of osteoporotic vertebral body fractures. Eur Spine J 24:S703

12.

WHO (1996) Cancer pain relief: with a guide to opioid availability. World Health Organization, Geneva

13.

Wehling M (2016) How to use the FORTA ("Fit fOR The Aged") list to improve pharmacotherapy in the elderly. Drug Res 66:57–62

14.

NV-K (2015) Nationale Versorgungsleitlinie-Kreuzschmerz. http://www.awmf.org/uploads/tx_szleitlinien/nvl-007l_S3_Kreuzschmerz_2017-03pdf. Zugegriffen: 13.11.2017

15.

Giangregorio LM, Macintyre NJ, Thabane L et al (2013) Exercise for improving outcomes after osteoporotic vertebral fracture. Cochrane Database Syst Rev 1:CD8618

16.

Pfeifer M, Kohlwey L, Begerow B et al (2011) Effects of two newly developed spinal orthoses on trunk muscle strength, posture, and quality-of-life in women with postmenopausal osteoporosis: a randomized trial. Am J Phys Med Rehabil 90:805–815

17.

Valentin GH, Pedersen LN, Maribo T (2014) Wearing an active spinal orthosis improves back extensor strength in women with osteoporotic vertebral fractures. Prosthet Orthot Int 38:232–238

18.

DVO (2014) Leitlinie Osteoporose 2014. http://www.dv-osteologie.org/uploads/Leitlinie%202014/DVOLeitlinie%20Osteoporose%202014%20Kurzfassung%20und%20Langfassung%20Version%201a%2012%2001%202016.pdf. Zugegriffen: 13.11.2017

19.

Ruiz Santiago F, Santiago Chinchilla A, Guzmán Álvarez L et al (2014) Comparative review of vertebroplasty and kyphoplasty. World J Radiol 6:329–343

20.

Kallmes DF, Comstock BA, Heagerty PJ et al (2009) A randomized trial of vertebroplasty for osteoporotic spinal fractures. N Engl J Med 361:569–579

21.

Buchbinder R, Osborne RH, Ebeling PR et al (2009) A randomized trial of vertebroplasty for painful osteoporotic vertebral fractures. N Engl J Med 361:557–568

22.

Wardlaw D, Cummings SR, Van Meirhaeghe J et al (2009) Efficacy and safety of balloon kyphoplasty compared with non-surgical care for vertebral compression fracture (FREE): a randomised controlled trial. Lancet 373:1016–1024

23.

Edidin AA, Ong KL, Lau E, Kurtz SM (2015) Morbidity and mortality after vertebral fractures: comparison of vertebral augmentation and nonoperative management in the medicare population. Spine 40:1228–1241

24.

Wang H, Sribastav SS, Ye F et al (2015) Comparison of percutaneous vertebroplasty and balloon kyphoplasty for the treatment of single level vertebral compression fractures: a meta-analysis of the literature. Pain Physician 18:209–222

25.

Hulme PA, Krebs J, Ferguson SJ, Berlemann U (2006) Vertebroplasty and kyphoplasty: a systematic review of 69 clinical studies. Spine 31:1983–2001

26.

Martinčič D, Brojan M, Kosel F et al (2015) Minimum cement volume for vertebroplasty. Int Orthop 39:727–733

27.

Kolb JP, Weiser L, Kueny RA et al (2015) Zementaugmentation der Wirbelsäule. Orthopäde 44:672–680

28.

Eichler MC, Spross C, Ewers A et al (2016) Prophylactic adjacent-segment vertebroplasty following kyphoplastie for a single osteoporotic vertebral fracture and the risk of adjacent fractures: a retrospective study and clinical experience. J Neurosurg Spine 25:528–534

29.

Blattert TR, Katscher S, Josten C (2011) Perkutane Techniken an der Brust- und Lendenwirbelsäule. Unfallchirurg 114:17–25

30.

Prokop A, Lohlein F, Chmielnicki M, Volbracht J (2009) Minimal-invasive perkutane Instrumentation bei Wirbelsäulenfrakturen. Unfallchirurg 112:621–628

31.

Weiß T, Hauck S, Bühren V, Gonschorek O (2014) Repositionsmöglichkeiten mittels dorsaler, perkutaner Instrumentierung. Unfallchirurg 117:428–436

32.

Schnake KJ, Blattert TR, Liljenqvist U (2016) Zementaugmentation von Pedikelschrauben: Vorteile-und Nachteile. Orthopäde 45:755–759

33.

Josten C, Schmidt C, Spiegl U (2012) Osteoporotische Wirbelkörperfrakturen der thorakolumbalen Wirbelsäule. Diagnostik und Behandlungsstrategien. Chirurg 83:866–874

34.

Lendemans S, Hussmann B, Wegner A et al (2011) Multisegmentale und minimal-invasive dorsale Stabilisierung der Brust- und Lendenwirbelsäule. Operative Technik. Unfallchirurg 114:161–166

35.

Knop C (2017) Verletzungen: Prinzipien der Behandlung. In: Börm W, Meyer F, Bullmann V, Knop C (Hrsg) Wirbelsäule interdisziplinär. Schattauer, Stuttgart, S 170–172

36.

Wiltse LL, Bateman JG, Hutchinson RH, Nelson WE (1968) The paraspinal sacrospinalis-splitting approach to the lumbar spine. J Bone Joint Surg Am 50:919–926

37.

Bridwell KH (2006) Decision making regarding Smith-Petersen vs. pedicle subtraction osteotomy vs. vertebral column resection for spinal deformity. Spine 31:S171–178

38.

Schnake KJ, Stavridis S, Kandziora F (2014) 5‑year clinical and radiological results of anteroposteriorly stabilized thoracolumbar fractures. J Neurosurg Spine 20:497–504

39.

Mack MJ, Regan JJ, McAfee PC et al (1995) Video-assisted thoracic surgery for the anterior approach to the thoracic spine. Ann Thorac Surg 59:1100–1106

40.

Mehren C, Mayer HM, Siepe C et al (2010) Der minimalinvasive anterolaterale Zugang zu L2–5. Oper Orthop Traumatol 22:221–228
Ethics declarations
Interessenkonflikt
K. J. Schnake, P. Bula, U. J. Spiegl, M. Müller, F. Hartmann, B. W. Ullrich und T. R. Blattert geben an, dass kein Interessenkonflikt besteht.
Dieser Beitrag beinhaltet keine von den Autoren durchgeführten Studien an Menschen oder Tieren.
Additional information
Redaktion
P. Biberthaler, München
T. Gösling, Braunschweig
T. Mittlmeier, Rostock
CME-Fragebogen
CME-Fragebogen
Wirbelbrüche bei Osteoporose …
betreffen überwiegend Männer.
sind aufgrund der guten medizinischen Versorgung in Deutschland heutzutage selten geworden.
gehen in der Regel mit einer Bandscheibenverletzung einher.
sind eine wesentliche Ursache von Gebrechlichkeit und erhöhter Sterblichkeit beim alten Menschen.
sind nach den Radiusfrakturen und den hüftnahen Frakturen die dritthäufigsten Brüche im Erwachsenenalter.
Bei der bildgebenden Diagnostik einer osteoporotischen Wirbelfraktur …
sind Nativröntgenaufnahmen des betroffenen Wirbelsäulenabschnitts in aller Regel ausreichend für die Planung der Therapie.
ist die CT der MRT überlegen, da mit einer CT jeder Wirbelbruch ausreichend diagnostiziert werden kann.
werden Knochenmarködeme bei okkulten Frakturen mittels MRT nachgewiesen.
sollte aufgrund der eingeschränkten Aussagekraft heute auf Nativröntgenaufnahmen verzichtet werden.
spielt die MRT zur Beurteilung der knöchernen Pedikeldimensionsn für die Schraubeninstrumentation eine wichtige Rolle.
Welche Aussage zur OF-Klassifikation trifft zu?
Sie beinhaltet Therapieempfehlungen.
Sie besteht aus 3 Untergruppen.
Sie ist bezüglich der Reliabilität nicht überprüfbar.
Sie basiert auf konventionellem Röntgen, CT und MRT.
Sie bezieht sich ausschließlich auf Sinterungsfrakturen.
Eine alleinige Augmentation des Wirbelkörpers empfiehlt sich bei …
Deformation mit ausgeprägter Hinterwandbeteiligung (OF-Typ 3).
Deformation ohne oder mit geringer Hinterwandbeteiligung (OF-Typ 2).
Wirbelkörperkollaps (OF-Typ 4).
Distraktions- und Rotationsverletzungen (OF-Typ 5).
Kneifzangenfraktur (OF-Typ 4).
Welche Aussage ist falsch? Wichtig für die Therapieentscheidung bei osteoporotischen Frakturen ist/sind …
die Morphologie der Fraktur (OF-Typ-Klassifikation).
der Mobilisationsgrad des Patienten.
Komorbiditäten (z. B. ASA-Klassifikation) des Patienten.
frakturbedingte neurologische Defizite.
eine bereits eingeleitete Therapie der Osteoporose.
Welche der folgenden Maßnahmen ist Bestandteil der konservativen Therapie von osteoporotischen Wirbelkörperfrakturen?
Wöchentliche radiologische Kontrollen im Liegen
Vitamin-D-Substitution und Einleiten der Knochendichtemessung
Verordnung eines Gipsmieders über einen Zeitraum von 3 bis 6 Monaten
Bettruhe und Immobilisation für 2 Wochen
Sofortige Analgesie mittels Morphinen
Wann ist eine perkutane Kyphoplastie kontraindiziert?
Bei schmerzhaften Wirbelkörpermetastasen
Bei Schmerzen aufgrund symptomatischer Wirbelkörperhämangiome
Bei asymptomatischen osteoporotischen Wirbelkörpern als Prophylaxe
Bei schmerzhaften osteoporotischen Wirbelkörperfrakturen
Bei Mehretagenfrakturen mit zunehmendem Rundrücken auf dem Boden einer Osteoporose
Was ist die häufigste Komplikation bei Durchführung einer perkutanen Vertebroplastie?
Lungenembolie
Anschlussfrakturen
Neurologische Komplikationen durch fehlerhafte Punktion
Wundheilungsstörung
Asymptomatischer Zementaustritt
Bei der perkutanen "Hybridstabilisierung" osteoporotischer Wirbelkörperfrakturen …
wird zusätzlich zur dorsalen Instrumentierung ein ventraler Wirbelkörperersatz durchgeführt.
werden nicht nur der frakturierte Wirbelkörper, sondern auch beide angrenzenden Wirbelkörper "protektiv" kyphoplastiert.
erfolgt die Instrumentierung offen und mittels Navigation.
wird zusätzlich zur dorsalen Instrumentierung eine Augmentation des frakturierten Wirbels durchgeführt.
ist der Blutverlust höher als bei offenen Verfahren.
Indikationen für offene Operationsverfahren bei osteoporotischen Frakturen sind …
Verletzungen mit leichter Hinterkantenbeteiligung.
Erkrankungen, die eine Dekompression des Spinalkanals erfordern.
Lokalisationen an der unteren Lendenwirbelsäule.
subkutane Hämatome mit Muskelverletzungen.
multimorbide Patienten mit reduziertem Allgemeinzustand.
About this article
Cite this article
Schnake, K.J., Bula, P., Spiegl, U.J. et al. Thorakolumbale Wirbelsäulenfrakturen beim alten Menschen. Unfallchirurg 120, 1071–1085 (2017). https://doi.org/10.1007/s00113-017-0435-x
Schlüsselwörter
Klassifikation

Diagnostische bildgebende Verfahren

Frakturfixation

Thorakolumbale Wirbelsäule

Osteoporose
Keywords
Classification

Diagnostic imaging

Fracture fixation

Thoracolumbar spine

Osteoporosis