Zusammenfassung
Metallische Implantate zur Osteosynthese sind heute aus der Orthopädie und Unfallchirurgie nicht mehr wegzudenken. Stahlimplantate, insbesondere Cerclagen, und Zuggurtungen können wegen Friktionen Korrosionsphänomene zeigen und können mit und ohne Lockerungen eine bindegewebige Kapsel mit Flüssigkeitssaum erzeugen. Korrosion und Flüssigkeitssaum können potenziell eher zu Unverträglichkeit und Infektionen führen. Titanimplantate haben den Vorteil der allergologisch besseren Verträglichkeit. Problematisch sind die Materialentfernungen insbesondere von Titanimplantaten, da hier häufiger Materialbrüche auftreten und insbesondere bei winkelstabilen Montagen Blockaden der Verbindung Titan/Titan und/oder der Schrauben durch An-/Einwachsen im Knochen auftreten. Bis auf Einzelfallbeschreibungen gibt es allerdings keinen Hinweis, dass die derzeitigen Edelstahlimplantate häufiger allergische Reaktionen auslösen. Bei einer osteosynthetischen Versorgung sollten immer Stabilität, Lockerungsgefahr, manifeste Allergien und die Möglichkeit der Entfernung berücksichtigt werden.
Abstract
Metal implants for osteosynthesis are nowadays standard in orthopedic and trauma surgery. Steel implants, especially cerclages, bands and wires, can show more corrosion due to friction and lead to encapsulation in connective tissue with fluid borders even without loosening. Corrosion and fluid borders are potentially more susceptible to incompatibility and infections. Titanium implants have the advantage of better allergic compatibility. Problems may occur in material removal, especially with titanium implants because material fractures occur more frequently. Particularly with fixed angle constructions, the blocking of titanium-titanium bonding and/or screws in bone can occur by adhesion and ingrowth. Apart from single case reports there is no evidence that modern steel implants cause more allergic reactions than titanium; therefore, in the treatment by osteosynthesis the stability, risk of loosening, manifestation of allergies and the possibility of material removal must always be considered.
Access options
Buy single article
Instant access to the full article PDF.
US$ 39.95
Tax calculation will be finalised during checkout.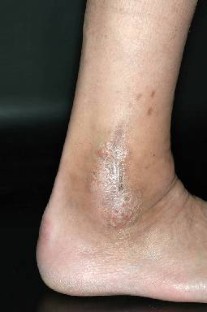 Literatur
1.

Arens S, Schlegel U, Printzen G, Ziegler WJ, Perren SM, Hansis M (1996) Influence of materials for fixation implants on local infection. An experimental study of steel versus titanium DCP in rabbits. J Bone Joint Surg Br 78(4):647–651

2.

Basko-Plluska J, Thyssen JP, Schalock PC (2011) Cutaneous and systemic hypersensitivity reactions to metallic implants. Dermatitis 22:65–79

3.

Bravo D, Wagner ER, Larson DR, Davis MP, Pagnano MW, Sierra RJ (2016) No increased risk of knee arthroplasty failure in patients with positive skin patch testing for metal hypersensitivity: a matched cohort study. J Arthroplasty 31(8):1717–1721

4.

Brehler R, Grabbe J, Eichelberg D (1990) Nickelallergie nach Plattenosteosynthese. Aktuelle Dermatol 16:202–203

5.

Cadosch, Chan E, Gautschi OP, Filgueira L (2009) Metal is not inert: role of metal ions released by biocorrosion in aseptic loosening-current concepts. J Biomed Mater Res A 91(4):1252–1262

6.

Cadosch D, Al-Mushaiqri MS, Gautschi OP, Meagher J, Simmen HP, Filgueira L (2010) Biocorrosion and uptake of titanium by human osteoclasts. J Biomed Mater Res A 95(4):1004–1010

7.

Caicedo MS, Solver E, Coleman L, Hallab NJ (2014) Metal sensitivities among TJA patients with post-operative pain: indications for multi-metal LTT testing. J Long Term Eff Med Implants 24(1):37–44

8.

Carlsson A, Möller H (1989) Implantation of orthopaedic devices in patients with metal allergy. Acta Derm Venereol 69(1):62–66

9.

Cramers M, Lucht U (1977) Metall sensitivity in patients treated for tibial fractures with plates of stainless steel. Acta Orthop Scand 48(3):245–249

10.

Eben R, Walk R, Summer B, Maier S, Thomsen M, Thomas P (2009) Implantallergieregister ein erster Bericht. Orthopäde 38(6):557–562

11.

Fage SW, Muris J, Jakobsen SS, Thyssen JP (2016) Titanium: a review on exposure, release, penetration, allergy, epidemiology, and clinical reactivity. Contact Derm 74(6):323–345

12.

Gerber H, Perren SM (1980) Evaluation of tissue compatibility of in vitro cultures of embryonic bone. In: Winter GD, Leray JL, de Groot K (Hrsg) Evaluation of biomaterials. John Wiley & Sons Ltd, London, S 307–314

13.

Goutam M, Giriyapura C, Mishra SK, Gupta S (2014) Titanium allergy: a literature review. Indian J Dermatol 59(6):630

14.

Hierholzer S, Hierholzer G (1991) Osteosynthese und Metallallergie. Klinische Untersuchungen, Immunologie und Histologie des Implantatlagers. Thieme, Stuttgart, S 1–64

15.

Kreft B, Thomas P, Steinhauser E, Vass A, Summer B, Wohlrab J (2015) Erythem und Schwellung nach Implantation eines Kardioverter-Defibrillators (ICD). Dtsch Med Wochenschr 140(19):1462–1464

16.

Kubba A, Taylor JS, Marks KE (1981) Cutaneous complications of orthopedic implants. A two-year prospective study. Arch Dermatol 117(9):554–560

17.

Leiting S (2003) Immuninflammatorische Gewebereaktion auf Stahl- und Titanplatten bei der Osteosynthese langer Röhrenknochen. Promotionsarbeit. Universität Heidelberg, Heidelberg

18.

Lewallen EA, Riester SM, Bonin CA, Kremers HM, Dudakovic A, Kakar S, Cohen RC, Westendorf JJ, Lewallen DG, van Wijnen AJ (2015) Biological strategies for improved osseointegration and osteoinduction of porous metal orthopedic implants. Tissue Eng Part B Rev 21(2):218–230

19.

Lieberman P, Fonacier L (2014) Systemic contact dermatitis possibly related to metal implants. J Allergy Clin Immunol Pract 2(4):487

20.

McKenzie AW, Aitken CV, Ridsdill-Smith R (1967) Urticaria after insertion of Smith-Petersen Vitallium nail. BMJ 4(5570):36–37

21.

Münch HJ, Jacobsen SS, Olesen JT, Menné T, Søballe K, Johansen JD, Thyssen JP (2015) The association between metal allergy, total knee arthroplasty, and revision: study based on the Danish Knee Arthroplasty Register. Acta Orthop 86(3):378–383

22.

Nuss D, Obermeyer RJ, Kelly RE (2016) Nuss bar procedure: past, present and future. Ann Cardiothorac Surg 5(5):422–433

23.

Pretell-Mazzini J, Rodriguez-Vega V, Muñoz-Ledesma J, Andrés-Esteban EM, Marti-Ciruelos R, González-López JL, Curto-De la Mano A (2012) Complications and associated risk factors at screw removal in slipped capital femoral epiphysis treated by cannulated stainless steel screws. J Child Orthop 6(4):285–289

24.

Rau C, Thomas P, Thomsen M (2008) Metallallergie bei Patienten mit Gelenkersatz vor und nach Operation. Orthopäde 37(2):102–110

25.

Rushing GD, Goretsky MJ, Gustin T, Morales M, Kelly RE Jr, Nuss DJ (2007) Review; When it is not an infection: metal allergy after the Nuss procedure for repair of pectus excavatum. Pediatr Surg 42(1):93–97

26.

Schäfer T, Bohler E, Ruhdorfer S, Weigl L, Wessner D, Filipiak B et al (2001) Epidemiology of contact allergy in adults. Allergy 56:1192–1196

27.

Sicilia A, Cuesta S, Coma G, Arregui I, Guisasola C, Ruiz E, Maestro A (2008) Titanium allergy in dental implant patients: a clinical study on 1500 consecutive patients. Clin Oral Implants Res 19(8):823–835

28.

Thomas P, Bandl WD, Maier S, Summer B, Przybilla B (2006) Hypersensitivity to titanium osteosynthesis with impaired fracture healing, eczema, and T‑cell hyperresponsiveness in vitro: case report and review of the literature. Contact Derm 55(4):199–202

29.

Thomas P, Schuh A, Ring J, Thomsen M (2008) Orthopädische-chirurgische Implantate und Allergien. Gemeinsame Stellungnahme des Arbeitskreises Implantatallergie (AK 20) der Deutschen Gesellschaft für Orthopädie und Orthopädische Chirurgie, der Deutschen Kontaktallergie Gruppe und der Deutschen Gesellschaft für Allergologie und Klinische Immunologie. Orthopäde 37:75–88

30.

Thomas P, Thomas M, Summer B, Dietrich K, Zauzig M, Steinhauser E, Krenn V, Arnholdt H, Flaig MJ (2011) Impaired wound-healing, local eczema, and chronic inflammation following titanium osteosynthesis in a nickel and cobalt-allergic patient: a case report and review of the literature. J Bone Joint Surg Am 93(11):e61

31.

Thomas P, Summer B, Krenn V, Thomsen M (2013) Allergiediagnostik bei Verdacht auf Implantatunverträglichkeit. Orthopäde 42(8):602–606

32.

Thomas P, Iglhaut G, Wollenberg A, Cadosch D, Summer B (2013) Allergy or tolerance: reduced inflammatory cytokine response and concomitant IL-10 production of lymphocytes and monocytes in symptom-free titanium dental implant patients. Biomed Res Int 2013:1–9. doi:10.1155/2013/539834

33.

Thomas P (2014) Clinical and diagnostic challenges of metal implant allergy using the example of orthopaedic surgical implants: part 15 of the series Molecular Allergology. Allergo J Int 23(6):179–185

34.

Thomas P, Geier J, Dickel H, Diepgen T, Hillen U, Kreft B, Schnuch A, Szliska C, Mahler V (2015) DKG-Stellungnahme zur Epicutantestung von Metalllegierungsplättchen bei Verdacht auf Metallimplantat-Unverträglichkeit. J Dtsch Dermatol Ges 13(10):1001–1004

35.

Thomas P, Summer B (2015) Diagnosis and management of patients with allergy to metal implants. Expert Rev Clin Immunol 11(4):501–509

36.

Thomsen M, Rozak M, Thomas P (2011) Pain in a chromium-allergic patient with total knee arthroplasty: disappearance of symptoms after revision with a special surface-coated TKA – a case report. Acta Orthop 82(3):386–388

37.

Thomsen M, Rozak M, Thomas P (2013) Die Verwendung von Allergieimplantaten in Deutschland. Orthopäde 42(8):597–601

38.

Thyssen JP, Menne T (2010) Metal allergy – a review on exposures, penetration, genetics, prevalence, and clinical implications. Chem Res Toxicol 23(2):309–318

39.

Torgersen S, Moe G, Jonsson R (1995) Immunocompetent cells adjacent to stainless steel and titanium miniplates and screws. Eur J Oral Sci 103(1):46–54

40.

Wood MM, Warshaw EM (2015) Hypersensitivity reactions to titanium: diagnosis and management. Dermatitis 26(1):7–25

41.

Heyland M et al (2016) Stahl oder Titen bei der Osteosynthese. Eine mechanobiologische Perspektive. doi:10.1007/s00113-016-0289-7
Ethics declarations
Interessenkonflikt
M. Thomsen und P. Thomas geben an, dass kein Interessenkonflikt besteht.
Dieser Beitrag beinhaltet keine von den Autoren durchgeführten Studien an Menschen oder Tieren.
Additional information
Redaktion
D.G. Höntzsch, Tübingen
W. Mutschler, München
About this article
Cite this article
Thomsen, M., Thomas, P. Verträglichkeit und Allergie von Osteosynthesematerialien. Unfallchirurg 120, 116–121 (2017). https://doi.org/10.1007/s00113-016-0309-7
Schlüsselwörter
Metallunverträglichkeit

Korrosion

Flüssigkeitssaum

Stahl

Titan
Keywords
Metal hypersensitivity

Corrosion

Fluid border

Steel

Titanium