Zusammenfassung
Hintergrund
In Straßenverkehrsstatistiken kommt den Fahrradfahrern als Verkehrsteilnehmergruppe eine besondere Bedeutung zu. Auch in der Medizin wurden bereits viele Arbeiten um dieses Kollektiv publiziert. Meist werden einzelne verletzte Regionen bei heterogener Gesamtverletzungsschwere analysiert. Verletzungsmuster, epidemiologische Aspekte, Behandlungsschwerpunkte und das Outcome scheinen daraus resultierend charakteristisch verteilt zu sein. Ziel der vorliegenden Arbeit war die Gesamterfassung der Verletzungen sowie die Charakterisierung von Verletzungsschwerpunkten in einem standardisierten und repräsentativen Kollektiv schwer verletzter Fahrradfahrer.
Methoden
Es wurden Daten des Traumaregisters der DGU® über den Zeitraum 2002–2010 ausgewertet. Insgesamt wurden 2817 schwer verletzte (ISS ≥ 9 mit zusätzlicher intensivmedizinischer oder Intensivüberwachungstherapie) Fahrradfahrer eingeschlossen. Primärer Endpunkt der Untersuchung war die Evaluation des Gesamtverletzungsmusters und der Verletzungsschwerpunkte. Des Weiteren wurden Parameter wie epidemiologische Aspekte, Unfallumstände sowie Behandlungsschwerpunkte und das Outcome untersucht.
Ergebnisse
Das mittlere Alter lag bei 50,3 ± 20,9 Jahren. 68,9 % (n = 1940) der Fahrradfahrer waren männlich. Der mittlere ISS betrug 23,7 ± 12,6. Die 3 meistbetroffenen AIS-Regionen waren der Kopf mit 71,9 % (n = 2025), gefolgt vom Thorax mit 44,9 % (n = 1264) und den oberen Extremitäten 33,6 % (947). In 68,2 % der Fälle wurde ein ISS ≥ 9 isoliert durch das Schädel-Hirn-Trauma erreicht, in 21,1 % der eingeschlossenen Fälle lagen Monoverletzungen vor. Es resultierten eine charakteristische Altersverteilung und Prävalenz der Unfälle in Bezug auf den Unfallzeitpunkt.
Schlussfolgerung
Die vorliegende Arbeit untersuchte das bislang größte Kollektiv schwer verletzter Fahrradfahrer nach medizinischer Definition. Das Schädel-Hirn-Trauma konnte hier klar als Hauptverletzung charakterisiert werden, zudem wurde gezeigt, dass es sich bei jedem 5. Fall um eine Monoverletzung handelt, die zum Status "schwer verletzt" führt.
Abstract
Background
Transport statistics classify bicyclists in a separate road user collective. For medical reasons, this differentiation is applied as well. Much literature is published in this field. Nevertheless there is a lack of literature regarding the overall injury patterns in a defined injury severity collective. Most literature is about isolated injured regions in combination with a heterogeneous injury severity. Further parameters, such as injury patterns, epidemiological aspects, treatment focal points and characteristic outcomes, have also been studied. The aim of the present study was to evaluate and characterize injury patterns in a standardized and representative collective of severely injured bicyclists.
Methods
We analysed data from the Traumaregister DGU® from 2002 to 2010. In total, 2817 severely injured (ISS ≥ 9 and additional intensive/intermediate care unit) bicyclists were included. The primary endpoint was evaluation of injury patterns and injury focal points. In addition to that we analysed parameters like epidemiological aspects, circumstances of accident, treatment focal points and outcome.
Results
The mean age was 50.3 ± 20.9 years. Males accounted for 68.9 % (n = 1940). The mean ISS was 23.7 ± 12.6. The mean AIS regions were the head 71.9 % (n = 2025), the chest with 44.9 % (n = 1264) and the upper extremities 33.6 % (947). In 68.2 % of all cases an ISS ≥ 9 was achieved by a traumatic brain injury; 21.1 % of all cases were mono-injuries. A characteristic distribution of age and a characteristic prevalence of the accidents in relation to the weekday and the month could be shown.
Conclusion
The present study analysed the largest ever published collective of severely injured bicyclists. Traumatic brain injury could clearly be shown as the main injury in this collective. Moreover, one of five cases achieved the state "severely injured" due to mono-injury.
This is a preview of subscription content, log in to check access.
Access options
Buy single article
Instant access to the full article PDF.
US$ 39.95
Price includes VAT for USA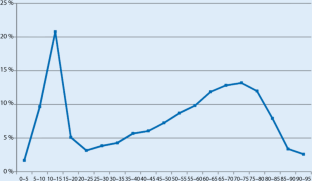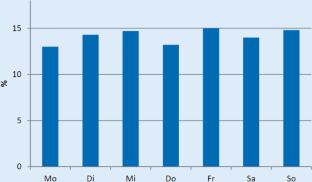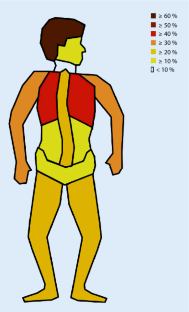 Literatur
1.

Airaksinen N, Nurmi-Luthje I, Luthje P (2015) Comparison of injury severity between moped and motorcycle crashes: a finnish two-year prospective hospital-based study. Scand J Surg doi:10.1177/1457496915571401

2.

Andruszkow H, Lefering R, Frink M et al (2013) Survival benefit of helicopter emergency medical services compared to ground emergency medical services in traumatized patients. Crit Care 17:R124

3.

Baker SP, O'neill B, Haddon W Jr. et al (1974) The injury severity score: a method for describing patients with multiple injuries and evaluating emergency care. J Trauma 14:187–196

4.

Champion HR, Copes WS, Sacco WJ et al (1990) The major trauma outcome study: establishing national norms for trauma care. J Trauma 30:1356–1365

5.

Copes WS, Champion HR, Sacco WJ et al (1988) The injury severity score revisited. J Trauma 28:69–77

6.

Doong JL, Lai CH (2012) Risk factors for child and adolescent occupants, bicyclists, and pedestrians in motorized vehicle collisions. Traffic Inj Prev 13:249–257

7.

Eid HO, Bashir MM, Muhammed OQ et al (2007) Bicycle-related injuries: a prospective study of 200 patients. Singapore Med J 48:884–886

8.

Eid HO, Barss P, Adam SH et al (2009) Factors affecting anatomical region of injury, severity, and mortality for road trauma in a high-income developing country: lessons for prevention. Injury 40:703–707

9.

Eker C, Asgeirsson B, Grande PO et al (1998) Improved outcome after severe head injury with a new therapy based on principles for brain volume regulation and preserved microcirculation. Crit Care Med 26:1881–1886

10.

Gennarelli TA, Champion HR, Copes WS et al (1994) Comparison of mortality, morbidity, and severity of 59,713 head injured patients with 114,447 patients with extracranial injuries. J Trauma 37:962–968

11.

Helfen T, Ney L, Mutschler W, Grote S (2013) Unterschiedliche Hauptverletzungszonen des schwerverletzten Zweiradfahrers. Notf Rettungsmed 16(4):274–279

12.

Lustenberger T, Inaba K, Talving P et al (2010) Bicyclists injured by automobiles: relationship of age to injury type and severity – a national trauma databank analysis. J Trauma 69:1120–1125

13.

Mccartt AT, Blanar L, Teoh ER et al (2011) Overview of motorcycling in the United States: a national telephone survey. J Safety Res 42:177–184

14.

Mendelow AD, Teasdale GM (1983) Pathophysiology of head injuries. Br J Surg 70:641–650

15.

Mommsen P, Bradt N, Zeckey C et al (2012) Comparison of helicopter and ground emergency medical service: a retrospective analysis of a German rescue helicopter base. Technol Health Care 20:49–56

16.

Subcommittee A, American College of Surgeons' Committee On T, International AWG (2013) Advanced trauma life support (ATLS(R)): the ninth edition. J Trauma Acute Care Surg 74:1363–1366

17.

Teisch LF, Allen CJ, Tashiro J et al (2015) Injury patterns and outcomes following pediatric bicycle accidents. Pediatr Surg Int doi:10.1007/s00383-015-3756-2

18.

Zwipp H, Ernstberger A, Groschupf V et al (2012) Prävention von Verkehrsunfällen äußerer Verkehrsteilnehmer (Fußgänger und Fahrradfahrer) in Deutschland. Unfallchirurg 115:554–565
Ethics declarations
Interessenkonflikt
Die Autoren geben folgende Interessenskonflikte an: T. Helfen: Mitglied der Sektion Notfall-, Intensivmedizin und Schwerverletztenversorgung (NIS) der DGU. R. Lefering: Leitung Arbeitskreis Traumaregister der DGU. M. Moritz, W. Böcker und S. Grote und das Traumaregister DGU geben an, dass kein Interessenkonflikt besteht.
Dieser Beitrag beinhaltet keine von den Autoren durchgeführten Studien an Menschen oder Tieren.
Additional information
Redaktion
W. Mutschler, München
H. Polzer, München
B. Ockert, München
About this article
Cite this article
Helfen, T., Lefering, R., Moritz, M. et al. Charakterisierung des schwer verletzten Fahrradfahrers. Unfallchirurg 120, 403–408 (2017). https://doi.org/10.1007/s00113-016-0208-y
Schlüsselwörter
Fahrradfahrer

ISS

SHT

Polytrauma

Traumaregister
Keywords
Bicyclists

ISS

TBI

Polytrauma

Trauma registry