Zusammenfassung
Hintergrund
Osteoporoseassoziierte Frakturen bedeuten ein gesteigertes Risiko, weitere Fragilitätsfrakturen zu erleiden. Daher sollte spätestens während der stationären unfallchirurgischen Behandlung eine leitliniengerechte Osteoporosediagnostik und -therapie eingeleitet werden.
Material und Methoden
Über 2 Jahre wurden Frauen > 50 und Männer > 60 Jahre prospektiv erfasst, die aufgrund von Frakturen der Brustwirbelsäule/Lendenwirbelsäule, des proximalen Femurs, des proximalen Humerus und des distalen Radius stationär behandelt wurden.
Ergebnisse
Von 455 eingeschlossenen Patienten erhielten 65,9 % eine DXA-Messung (Dual-X-Ray-Absorptiometrie), davon Frauen in 69,5 % und Männer signifikant seltener in 52,1 %. Eine Osteoporose lag in 56,6 % vor, dabei waren Frauen zu 56,2 % und Männer zu 59 % betroffen. In 83,8 % handelte es sich um eine Erstdiagnose. Nach einer DXA wurde in 86,7 % eine leitliniengerechte Therapie gemäß des Dachverbandes Osteologie eingeleitet. In der Altersgruppe der Frauen > 70 und Männer > 80 Jahre war in 77,1 % eine spezifische Therapie indiziert.
Schlussfolgerung
Beim Großteil der alten Patienten mit Fraktur liegt geschlechtsunabhängig eine Osteoporose vor. Auch heute noch ist die Osteoporose bis zum Frakturereignis in den allermeisten Fällen unerkannt und unbehandelt. Daher kommt dem behandelnden Unfallchirurg in der Diagnosesicherung und Therapieeinleitung eine Schlüsselfunktion zu.
Abstract
Background
Osteoporosis-associated fractures represent a risk factor for developing further fragility fractures. Therefore, guideline-oriented osteoporosis intervention is of utmost importance during inpatient fracture treatment.
Patients and methods
Women >50 years and men >60 years with fractures of the lumbar or thoracic spine, proximal femur, proximal humerus and distal radius were included in a prospective study. We analyzed the initiation of diagnosis and treatment of osteoporosis during the inpatient stay.
Results
A total of 455 patients were included and bone mineral density measurement (DXA) was carried out in 65.9 %. Women underwent DXA in 69.5 % and men significantly less frequently in 52.1 %. Osteoporosis was diagnosed in 56.6 %, where women were affected in 56.2 % and men in 59 % of cases. In 83.8 % osteoporosis had been previously unknown. Treatment according to the guidelines of the Organisation of German Scientific Osteology-related Societies (DVO) was initiated in 86.7 % and 77.1 % of women >70 years and men >80 years required anti-resorptive treatment after DXA.
Conclusions
The majority of elderly patients with fractures also suffer from osteoporosis, independent of gender. Even nowadays, osteoporosis is predominantly not diagnosed until the incidence of a fracture. Therefore, the trauma surgeon is in a key position to initiate diagnosis and treatment of osteoporosis.
This is a preview of subscription content, log in to check access.
Access options
Buy single article
Instant access to the full article PDF.
US$ 39.95
Price includes VAT for USA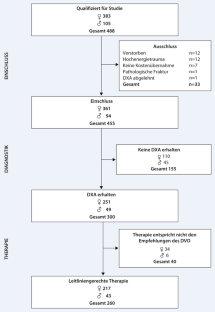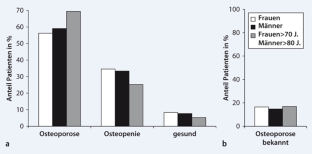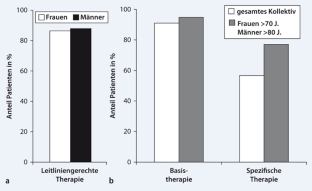 Literatur
1.

Adachi JD, Adami S, Gehlbach S et al (2010) Impact of prevalent fractures on quality of life: baseline results from the global longitudinal study of osteoporosis in women. Mayo Clin Proc 85:806–813

2.

Bolland MJ, Grey AB, Gamble GD et al (2010) Effect of osteoporosis treatment on mortality: a meta-analysis. J Clin Endocrinol Metab 95:1174–1181

3.

Boonen S, Body JJ, Boutsen Y et al (2005) Evidence-based guidelines for the treatment of postmenopausal osteoporosis: a consensus document of the Belgian bone club. Osteoporos Int 16:239–254

4.

Cooper C (2010) Osteoporosis: disease severity and consequent fracture management. Osteoporos Int 21(Suppl 2):425–429

5.

Cuddihy MT, Gabriel SE, Crowson CS et al (2002) Osteoporosis intervention following distal forearm fractures: a missed opportunity? Arch Intern Med 162:421–426

6.

Delmas PD (2002) Treatment of postmenopausal osteoporosis. Lancet 359:2018–2026

7.

Dreinhöfer KE, Anderson M, Feron JM et al (2005) Multinational survey of osteoporotic fracture management. Osteoporos Int 16(Suppl 2):44–53

8.

Dachverband Osteologie (2011) DVO Guideline 2009 for prevention, diagnosis and therapy of osteoporosis in adults full-text version. Osteologie 20:55–74

9.

Earnshaw SA, Cawte SA, Worley A et al (1998) Colles' fracture of the wrist as an indicator of underlying osteoporosis in postmenopausal women: a prospective study of bone mineral density and bone turnover rate. Osteoporos Int 8:53–60

10.

Feldstein A, Elmer PJ, Orwoll E et al (2003) Bone mineral density measurement and treatment for osteoporosis in older individuals with fractures: a gap in evidence-based practice guideline implementation. Arch Intern Med 163:2165–2172

11.

Follin SL, Black JN, Mcdermott MT (2003) Lack of diagnosis and treatment of osteoporosis in men and women after hip fracture. Pharmacotherapy 23:190–198

12.

Freedman KB, Kaplan FS, Bilker WB et al (2000) Treatment of osteoporosis: are physicians missing an opportunity? J Bone Joint Surg Am 82:1063–1070

13.

Gosch M, Roth T, Kammerlander C et al (2011) Treatment of osteoporosis in postmenopausal hip fracture patients after geriatric rehabilitation: changes over the last decade. Z Gerontol Geriatr 44:381–386

14.

Hadji P, Klein S, Gothe H et al (2013) The epidemiology of osteoporosis – Bone Evaluation Study (BEST): an analysis of routine health insurance data. Dtsch Arztebl Int 110:52–57

15.

Häussler B, Gothe H, Gol D et al (2007) Epidemiology, treatment and costs of osteoporosis in Germany – the BoneEVA Study. Osteoporos Int 18:77–84

16.

Jahelka B, Dorner T, Terkula R et al (2009) Health-related quality of life in patients with osteopenia or osteoporosis with and without fractures in a geriatric rehabilitation department. Wien Med Wochenschr 159:235–240

17.

Kamel HK, Hussain MS, Tariq S et al (2000) Failure to diagnose and treat osteoporosis in elderly patients hospitalized with hip fracture. Am J Med 109:326–328

18.

Kanis JA, Johnell O, Oden A et al (2000) Long-term risk of osteoporotic fracture in Malmo. Osteoporos Int 11:669–674

19.

Kanis JA, Mccloskey EV, Johansson H et al (2013) European guidance for the diagnosis and management of osteoporosis in postmenopausal women. Osteoporos Int 24:23–57

20.

Robert Koch-Institut (2009) Daten und Fakten: Ergebnisseder Studie "Gesundheit in Deutschland 2009". Beiträge zur Gesundheitsberichterstattung des Bundes. RKI, Berlin

21.

Konnopka A, Jerusel N, Konig HH (2009) The health and economic consequences of osteopenia- and osteoporosis-attributable hip fractures in Germany: estimation for 2002 and projection until 2050. Osteoporos Int 20:1117–1129

22.

Leboime A, Confavreux CB, Mehsen N et al (2010) Osteoporosis and mortality. Joint Bone Spine 77(Suppl 2):107–112

23.

Meisinger C, Wildner M, Stieber J et al (2002) Epidemiology of limb fractures. Orthopade 31:92–99

24.

Owen RA, Melton LJ 3rd, Ilstrup DM et al (1982) Colles' fracture and subsequent hip fracture risk. Clin Orthop Relat Res 171:37–43

25.

Rizzoli R (2008) Nutrition: its role in bone health. Best Pract Res Clin Endocrinol Metab 22:813–829

26.

Scheidt-Nave C, Starker A (2005) The prevalence of osteoporosis and associated health care use in women 45 years and older in Germany. Results of the first German Telephone Health Survey 2003. Bundesgesundheitsblatt Gesundheitsforschung Gesundheitsschutz 48:1338–1347

27.

Simon JA, Lewiecki EM, Smith ME et al (2002) Patient preference for once-weekly alendronate 70 mg versus once-daily alendronate 10 mg: a multicenter, randomized, open-label, crossover study. Clin Ther 24:1871–1886

28.

The European Foundation for Osteoporosis and Bone Disease, The National Osteoporosis Foundation, The National Institute of Arthritis and Musculoskeletal and Skin Diseases (1993) Consensus development conference: diagnosis, prophylaxis, and treatment of osteoporosis. Am J Med 94:646–650

29.

Vogel T, Dobler T, Bitterling H et al (2005) Osteoporosis in traumatology. Prevalence and management. Unfallchirurg 108:356–364

30.

World Medical Association (2009) Declaration of Helsinki. Ethical principles for medical research involving human subjects. J Indian Med Assoc 107:403–405
Einhaltung ethischer Richtlinien
Interessenkonflikt. F. Haasters, W.C. Prall, M. Himmler, H. Polzer, M. Schieker und W. Mutschler geben an, dass kein Interessenkonflikt besteht. Dieser Beitrag beinhaltet keine Studien an Menschen oder Tieren. Alle im vorliegenden Manuskript beschriebenen Untersuchungen am Menschen wurden mit Zustimmung der zuständigen Ethik-Kommission, im Einklang mit nationalem Recht sowie gemäß der Deklaration von Helsinki von 1975 (in der aktuellen, überarbeiteten Fassung) durchgeführt. Von allen beteiligten Patienten liegt eine Einverständniserklärung vor.
About this article
Cite this article
Haasters, F., Prall, W., Himmler, M. et al. Prävalenz und Management der Osteoporose in der Unfallchirurgie. Unfallchirurg 118, 138–145 (2015). https://doi.org/10.1007/s00113-013-2500-4
Schlüsselwörter
Knochendichtemessung

Fragilitätsfraktur

Osteoporose

Fraktur, osteoporoseassoziierte

Osteoporoseprävalenz
Keywords
Osteodensitometry

Fragility fracture

Osteoporosis

Fracture, osteoporosis-linked

Osteoporosis, prelevance