Zusammenfassung
Wir berichten über einen 17-jährigen jungen Mann, der nach einer Messerstichattacke am Unfallort einen Herz-Kreislauf-Stillstand erlitten hat. In der am Notfallort durchgeführten Thorakotomie konnte ein Hämatoperikard entleert und durch eine offene Herzmassage ein ROSC ("return of spontaneous circulation") erzielt werden. Der junge Patient konnte ohne neurologische Defizite am Tag 13 entlassen werden. Die in Österreich noch selten angewandte präklinische Thorakotomie stellt für Patienten mit einem Herz-Kreislauf-Stillstand durch ein Hämatoperikard die einzige Überlebenschance dar. Eine bessere Ausbildung der Notärzte in Österreich in Bezug auf die chirurgische Reanimation könnte gerade beim perforierenden Thoraxtrauma die Überlebensrate deutlich verbessern.
Abstract
We report the case of a 17-year-old man who sustained multiple stab wounds after a knife attack. After arrival of the emergency medical team the patient suffered a cardiac arrest caused by cardiac tamponade. After emergency thoracotomy and open heart massage the patient developed ROSC and could be discharged 13 days later without neurological deficits. Prehospital thoracotomy is rarely performed in Austria but is the only realistic chance for survival in cases of hematopericardium and tamponade. Better training of emergency physicians in Austria concerning surgical resuscitation could increase survival rates especially after penetrating thoracic trauma.
Access options
Buy single article
Instant access to the full article PDF.
US$ 39.95
Tax calculation will be finalised during checkout.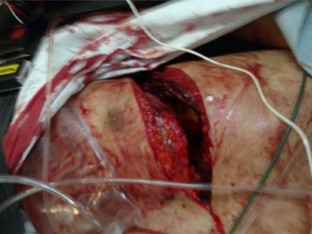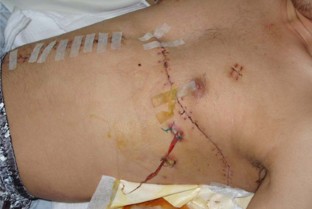 Literatur
1.

Huber-Wagner S, Lefering R, Qvick M et al (2007) Outcome in 757 severely injured patients with traumatic cardiorespiratory arrest. Resuscitation 75:275–284

2.

Wise D, Davies G, Coats T et al (2005) Emergency thoracotomy: "how to do it". Emerg Med J 22(1):22–24

3.

Beall AC (2006) Der Thorax – hinein und hinaus. In: Hirschberg A, Mattox K (Hrsg) Top knife – Kunst und Handwerk der Traumachirurgie. Springer, Wien, S 171–180

4.

Nolan JP, Soar J, Zideman DA et al (2010) European resuscitation council guidelines for resuscitation 2010. Resuscitation 81:1219–1276

5.

Craig R, Clarke K, Coats TJ (1999) On scene thoracotomy: a case report. Resuscitation 40(1):45–47

6.

Davies GE, Lockey DJ.(2011) Thirteen survivors of prehospital thoracotomy for penetrating trauma: a prehospital physician-performed resuscitation procedure that can yield good results. J Trauma 70(5):75–78

7.

Søreide K, Petrone P, Asensio JA (2007) Emergency thoracotomy in trauma: rationale, risks, and realities. Scand J Surg 96(1):4–10

8.

Hopson LR, Hirsh E, Delgado J et al (2003) Guidelines for withholding or termination of resuscitation in prehospital traumatic cardiopulmonary arrest: joint position statement of the National Association of EMS Physicians and the American College of Surgeons Committee on Trauma. J Am Coll Surg 196(1):106–112

9.

Leidel BA, Kanz KG, Kirchhoff C (2007) Kreislaufstillstand nach stumpfem Thoraxtrauma. Unfallchirurg 110(10):884–890
Einhaltung der ethischen Richtlinien
Interessenkonflikt. P. Puchwein, G. Prenner, B. Fell, M. Sereinigg und R. Gumpert geben an, dass kein Interessenkonflikt besteht. Dieser Beitrag beinhaltet keine Studien an Menschen oder Tieren.
About this article
Cite this article
Puchwein, P., Prenner, G., Fell, B. et al. Erfolgreiche präklinische Thorakotomie bei einem 17-jährigen Mann. Unfallchirurg 117, 849–852 (2014). https://doi.org/10.1007/s00113-013-2484-0
Schlüsselwörter
"Clamshell"

Chirurgische Reanimation

Offene Herzmassage

Notfallthorakotomie
Keywords
Clamshell

Surgical resuscitation

Open heart massage

Emergency thoracotomy