Zusammenfassung
In den wichtigen Bereichen der Alterstraumatologie Humerusfrakturen, Handgelenksfrakturen und hüftgelenksnahe Frakturen werden die Patientenzahlen in den kommenden 40 Jahren stark anwachsen. Für die Zahl der wegen hüftgelenksnaher Frakturen zu versorgenden Patienten bedeutet dies bis 2050 voraussichtlich eine Steigerung um etwa 70%, bei den Fällen, in denen die Patienten älter sind als 80 Jahre, sogar um 150%. Nur unfallchirurgische Kliniken, die einen Schwerpunkt in der Alterstraumatologie setzen, ihr Personal schulen und Abläufe und Umgebungsbedingungen an die medizinisch und pflegerisch anspruchsvolle Patientenklientel anpassen, können auf diese Veränderungen optimal vorbereitet sein. Die postoperative Überleitung in die Weiterversorgung der Patienten spielt bei den oft multimorbiden Patienten, bei denen eine Fraktur die vollständige Pflegebedürftigkeit bedeuten kann, eine besondere Rolle. Der zu erwartenden Kostensteigerung in der Versorgung geriatrischer Patienten muss durch die Verknüpfung und Synergieausnutzung der verschiedenen Leistungsbereiche und durch verbesserte Osteoporose- und Sturzprophylaxe entgegengewirkt werden.
Abstract
Corresponding to the demographic development, fractures of the humerus, wrist, or hip will occur noticeably more often during the next four decades. The number of patients with hip fractures will increase to 170% of present-day numbers, and in the age group >80 years to 250%. Trauma surgical departments should train their staff as well as adapt their workflows and ambient conditions to this demanding clientele to be prepared for these changes. For the elderly, a fracture may lead to need for permanent home care, which is why postoperative transfer to ambulatory care is especially important. The expected cost progression in traumatology of the elderly may be moderated by the conjunction of inpatient and ambulatory care, the utilization of synergies among the different service types, and by implementation of prophylaxis for osteoporosis and falls.
This is a preview of subscription content, log in to check access.
Access options
Buy single article
Instant access to the full article PDF.
US$ 39.95
Price includes VAT for USA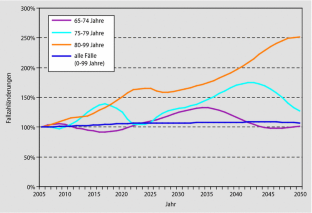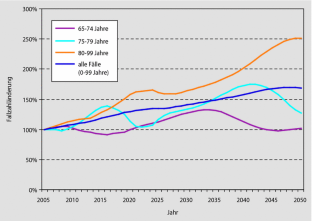 Literatur
1.

Andress H-J, Grubwinkler M, Forkl H et al. (2005) Veränderung der Lebenssituation des alten Patienten nach koxaler Femurfraktur. Zentralbl Chir 130: 142–147

2.

Barrett JA, Baron JA, Karagas MR, Beach ML (1999). Fracture risk in the U.S. Medicare population. J Clin Epidemiol 52: 243–249

3.

Beck A, Rüter A (1998): Schenkelhalsfrakturen. Diagnostik und therapeutisches Vorgehen. Unfallchirurg 101: 634

4.

Beck A, Rüter A (2000) Therapiekonzepte bei Schenkelhalsfrakturen, Teil 1. Chirurg 71: 240–248

5.

Brecht JG, Schädlich PK (2000) Krankheitslast durch Osteoporose in Deutschland. Hepac 1: 26–32

6.

Bundesamt für Statistik (2000) Statistisches Jahrbuch 2000. Metler-Poeschel, Stuttgart

7.

Chrischilles E, Shireman T, Wallace R (1994) Costs and health effects of osteoporotic fractures. Bone 15: 377–386

8.

Cummings S, Melton J (2002) Epidemiology and outcomes of osteoporotic fractures. Lancet 359: 1761–1767

9.

Deutsches Institut für medizinische Dokumentation und Information (DIMDI), Operationen- und Prozedurenschlüssel (OPS) nach § 301 SGB V

10.

Fitzgerald JF, Moore PS, Ditus RS (1988) The care of elderly patients with hip fracture – change since implementation of the prospective payment system. N Engl J Med 319: 1392–1397

11.

Franz D, Kaufmann M, Siebert C et al. (2006) Das G-DRG-System 2006 – Veränderungen für die Unfallchirurgie und Orthopädie. Unfallchirurg 109: 165–176

12.

Frerichmann U, Raschke MJ, Stöckle U et al. (im Druck) Proximale Femurfrakturen im Alter, Teil 1. Unfallchirurg

13.

Gross CP, Anderson GF, Rowe NR (1999) The relation between funding by the National Institutes of Health and the burden of disease. N Engl J Med 340: 1881–1887

14.

Institut für das Entgeltsystem im Krankenhaus (InEk): G-DRG V2005 Browser 2004 § 21 KHEntgG. http://www.g-drg.de

15.

Institut für das Entgeltsystem im Krankenhaus (InEk): G-DRG V2006 Browser 2005 § 21 KHEntgG. http://www.g-drg.de

16.

Jönsson B, Christiansen C, Johonell O, Hedbrandt J (1995) Cost effectiveness of fracture prevention in estabilished osteoporosis. Osteoporos Int 5: 136–142

17.

Kinzl L, Bischoff M, Beck A (2001) Endoprothesenversorgung bei medialer Schenkelhalsfraktur. Chirurg 72: 1266–1270

18.

Lohmann R, Frerichmann U, Stöckle U et al. (im Druck) Proximale Femurfrakturen im Alter, Teil 2. Unfallchirurg

19.

Lyons AR (1997) Clinical outcomes and treatment of hip fractures. Am J Med 103: 51S–61S

20.

Pientka L, Friedrich C (1999) Die Kosten hüftgelenknaher Frakturen in Deutschland: eine prospektive Untersuchung. Z Gerontol Geriatr 32: 326–332

21.

Richter M, Becker C, Seifert J et al. (2002) Prävention von Verletzungen im Alter. Unfallchirurg 105: 1076–1087

22.

Schnabel M, Schunk T, Mann D et al. (2005) Weiterentwicklung im G-DRG-System – Fact or Fiction? Differenzierung der Fallschwere bei Patienten mit proximaler Femurfraktur 2003–2005. Gesundheitswesen 67: 379–388

23.

Statistisches Bundesamt; Online im Internet. http://www.destatis.de/bevoelkerung2007/2050

24.

Smektala R, Wenning M, Ekkernkamp A (1999) Schenkelhalsfraktur: Analyse der Ergebnisse externer Qualitätssicherung. Chirurg 70: 1330–1339

25.

Torgerson DJ, Gosden T, Reid DM (1997) The economics of osteoporosis prevention. Tends Endocrinol Metab 8: 236–239

26.

Torgerson DJ, Reid DM (1997) The economics of osteoporosis and its prevention. PharamacoEconomics 11: 126–138

27.

Wehren LE, Magaziner J (2003) Hip fracture: risk factors and outcomes. Curr Osteoporos Rep 1: 78–85
Interessenkonflikt
Es besteht kein Interessenkonflikt. Der korrespondierende Autor versichert, dass keine Verbindungen mit einer Firma, deren Produkt in dem Artikel genannt ist, oder einer Firma, die ein Konkurrenzprodukt vertreibt, bestehen. Die Präsentation des Themas ist unabhängig und die Darstellung der Inhalte produktneutral.
About this article
Cite this article
Lohmann, R., Haid, K., Stöckle, U. et al. Epidemiologie und Perspektiven der Alterstraumatologie. Unfallchirurg 110, 553–562 (2007). https://doi.org/10.1007/s00113-007-1286-7
Schlüsselwörter
Alterstraumatologie

Epidemiologie

DRG

Prävention

Rehabilitation
Keywords
Epidemiology

Diagnosis related groups

Prevention

Traumatology of the Elderly