Zusammenfassung
Frakturen des unteren Patellapols sind seltene Verletzungen im Kindesalter. Eine besondere Form ist die Avulsionsfraktur der chondroossären Transformationszone im Bereich der Patellarückfläche (Sleeve-Fraktur). Häufig wird diese Fraktur verzögert diagnostiziert und therapiert. An 2 Patientenfällen wird das therapeutische Vorgehen bei frischer und verspätet diagnostizierter Sleeve-Fraktur dargestellt.
Ein 12-jähriger männlicher Patient (Fall 1) zog sich beim Ballspiel ein Dezellerationstrauma des linken Kniegelenks zu. Klinisch zeigte sich ein aktives Streckdefizit bei passiv freier Gelenkbeweglichkeit.
Ein 12-jähriges Mädchen (Fall 2) erlitt mit 9 Jahren beim Ballspiel ein direktes Trauma des rechten Kniegelenks. Die Läsion des unteren Patellapols wurde nicht erkannt. Über einen längeren Zeitraum entwickelte sich bei der Patientin ein aktives Streckdefizit des Kniegelenks.
Die primär erkannte Sleeve-Fraktur des 1. Patienten wurde nach offener Reposition mit einer transossären Knorpel-Knochen-Naht refixiert. Hierdurch wurde eine suffiziente Wiederherstellung des Streckapparats mit Sportfähigkeit nach 6 Monaten erzielt. Die verspätet erkannte Sleeve-Fraktur der 2. Patientin verheilte straff pseudarthrotisch mit Verlängerung des Streckapparats. Durch eine verkürzende Querosteotomie der Patella konnte noch nach 3 Jahren eine vollständige Streckfähigkeit des Kniegelenks wieder hergestellt werden.
Abstract
Fractures of the lower pole of the patella are rare and occur typically in children. In these types of fractures an extensive sleeve of cartilage is pulled off with a small bony fragment. The so-called sleeve fractures are often overlooked in plain radiographs. We describe the operative treatment and outcomes in two patients with sleeve fractures, one receiving early and one delayed treatment.
A 12-year-old boy (case 1) sustained an indirect injury to the left knee while playing ball. Clinical examination showed a lag of active extension of the left knee without decrease in passive range of motion.
At 9 years of age, a 12-year-old girl (case 2) sustained a direct blunt trauma to her right knee while playing ball. The lesion of the lower pole of the patella was not diagnosed in time. During the following 3 years a lag of extension of the right knee developed.
The sleeve fracture diagnosed early was treated by open reduction and internal fixation with transosseous suturing. At the 6-month follow-up the knee had regained full range of motion. The sleeve fracture diagnosed late showed a nonunion of the patella resulting in a lag of extension. Even after 3 years a shortening osteotomy of the patella resulted in full range of motion of the right knee.
Access options
Buy single article
Instant access to the full article PDF.
USD 39.95
Price excludes VAT (USA)
Tax calculation will be finalised during checkout.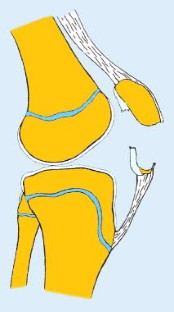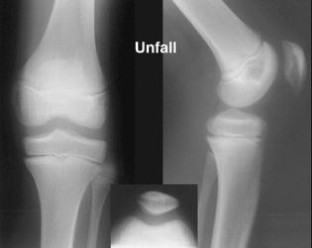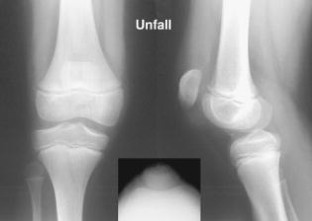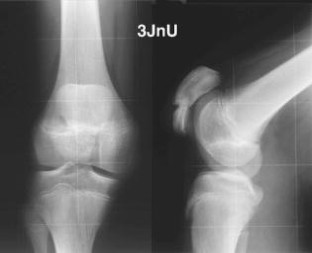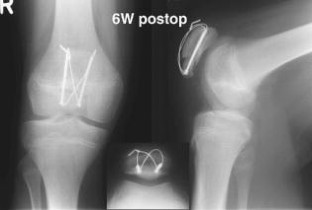 Literatur
Bates DG, Hresko MT, Jaramillo D (1994) Patellar sleeve fracture: demonstration with MR imaging. Radiology 193: 825–827

Blount WP (1954) Fractures of the patella. In: Blunt WP (edn) Fractures in children. Williams & Wilkins, Baltimore, S 171–172

Bruijn JD, Sanders RJ, Jansen BR (1993) Ossification in the patellar tendon and patella alta following sports injuries in children. Complications of sleeve fractures after conservative treatment. Arch Orthop Trauma Surg 112: 157–158

Dai LY, Zhang WM (1999) Fractures of the patella in children. Knee Surg Sports Traumatol Arthrosc 7: 243–245

Ditchfield A, Sampson MA, Taylor GR (2000) Case reports. Ultrasound diagnosis of sleeve fracture of the patella. Clin Radiol 55: 721–722

Duri ZA, Patel DV, Aichroth PM (2002) The immature athlete. Clin Sports Med 21: 461–482

Gardiner JS, McInerney VK, Avella DG, Valdez NA (1990) Pediatric update 13. Injuries to the inferior pole of the patella in children. Orthop Rev 19: 643–649

Grogan DP, Carey TP, Leffers D, Ogden JA (1990) Avulsion fractures of the patella. J Pediatr Orthop 10: 721–730

Houghton GR, Ackroyd CE (1979) Sleeve fractures of the patella in children: a report of three cases. J Bone Joint Surg Br 61: 165–168

Jacquemier M, Chrestian P, Guys JM, Mailaender C, Billet P, Bouyala JM (1983) Fracture-avulsions of the patella in children. Apropos of 3 cases. Chir Pediatr 24: 201–204

Kaivers P, Busch T, Lies A (2003) An avulsion (sleeve) fracture of the proximal patella pole in a child. Diagnosis, treatment and results in a patient after a fall onto the knee. Unfallchirurg 106: 676–679

Ray JM, Hendrix J (1992) Incidence, mechanism of injury, and treatment of fractures of the patella in children. J Trauma 32: 464–467

Wu CD, Huang SC, Liu TK (1991) Sleeve fracture of the patella in children. A report of five cases. Am J Sports Med 19: 525–528

Zionts LE (2002) Fractures and dislocations about the knee. In: Green S (eds) Skeletal trauma in children. Saunders, Philadelphia, pp 439–471
Interessenkonflikt:
Der korrespondierende Autor versichert, dass keine Verbindungen mit einer Firma, deren Produkt in dem Artikel genannt ist, oder einer Firma, die ein Konkurrenzprodukt vertreibt, bestehen.
About this article
Cite this article
Seybold, D., Hopf, F., Kälicke, T. et al. Avulsionsfrakturen des unteren Patellapols. Unfallchirurg 108, 591–596 (2005). https://doi.org/10.1007/s00113-005-0915-2
Issue Date:

DOI: https://doi.org/10.1007/s00113-005-0915-2
Schlüsselwörter
Keywords