Zusammenfassung
Der Lichen sclerosus ist eine chronisch-inflammatorische Erkrankung des Bindegewebes. Betroffen ist v. a. der Anogenitalbereich, jedoch können auch extragenitale Läsionen vorkommen. Die Erkrankung kann bei beiden Geschlechtern auftreten, mit einem ersten Manifestationsgipfel zwischen 4 und 8 Jahren. Ätiologisch spielen genetische und autoimmunologische Ursachen eine Rolle. Da subjektive Beschwerden und klinisches Bild – je nach Krankheitsstadium – sehr vielfältig sein können, wird die Diagnose häufig verspätet gestellt. Eine frühe Diagnosestellung ist jedoch unerlässlich, da der Lichen sclerosus bei Mädchen unbehandelt zu Vernarbungen, bei Jungen zu Urethrastenosen führen kann. Führende Symptome sind bei Mädchen Juckreiz oder Brennen, Miktionsbeschwerden oder auch eine Obstipation. Bei Jungen gilt die Erkrankung als häufigste Ursache für eine sekundäre Phimose.
Bisher wurde traditionell analog zu Erwachsenen mit Clobetasolpropionat, 0,05 %, oder Betamethason, 0,1 %, behandelt. Aufgrund des besseren therapeutischen Index und einer nachgewiesenen Äquipotenz in Studien mit erwachsenen Patientinnen empfiehlt sich stattdessen eine Therapie mit Mometasonfuroat, 1 %. Bei Rezidiven ist nach einem erneuten Mometason-Therapieblock eine längerfristige Nachbehandlung mit Tacrolimussalbe, einem topischen Kalzineurininhibitor (TCI), indiziert. Die nachhaltigste und meist kurative Therapie bei männlichen Patienten ist die Zirkumzision. Da entgegen früherer Annahmen bei Mädchen auch postpubertär Rezidive auftreten können, sind regelmäßige Nachuntersuchungen indiziert. Durch prospektive Langzeituntersuchungen an größeren Kollektiven sollten Risikofaktoren für Rezidive identifiziert werden.
Abstract
Lichen sclerosus (LS) is a chronic inflammatory connective tissue disease, which mainly affects the anogenital region but can be located at any site. The disease can occur in both sexes with a first manifestation peak between 4 and 8 years. There seems to be a genetic component and a link with autoimmune diseases. As the subjective complaints and clinical picture can be very variable depending on the stage of the disease, the diagnosis is often delayed; however, an early diagnosis is essential as untreated LS can lead to scarring in girls and urethral stenosis in boys. The main symptoms in girls are pruritus or burning sensation, dysuria and secondary constipation. In boys LS is thought to be the main cause of acquired phimosis. The use of ultrapotent topical corticosteroids (betamethasone dipropionate 0.1%, or clobetasol propionate 0.05%) has been the traditional mainstay of treatment of LS in all age groups. Due to the better therapeutic index and proven equivalent potency in studies with adults, treatment with mometasone furoate 1% is alternatively recommended. In the case of recurrence after a renewed mometasone treatment block, longer term follow-up treatment with tacrolimus ointment, a topical calcineurin inhibitor (TCI), is indicated. The most sustainable and mostly curative treatment in male patients is circumcision. As in contrast to earlier assumptions recurrences can also occur in girls after puberty, regular follow-up examinations are indicated. Risk factors for recurrence should be identified by prospective long-term studies in large collectives.
Access options
Buy single article
Instant access to the full article PDF.
US$ 39.95
Tax calculation will be finalised during checkout.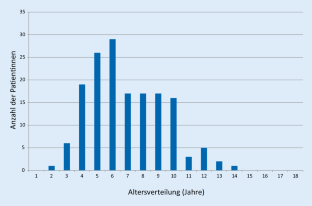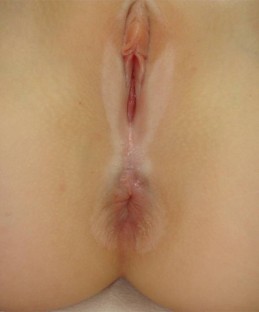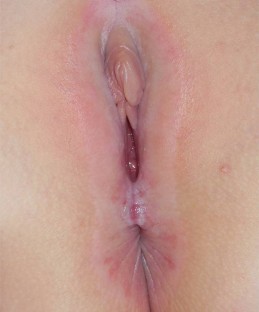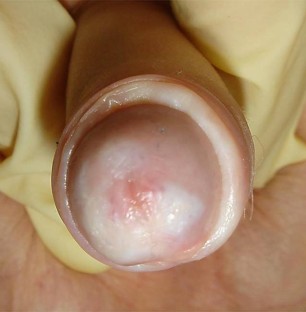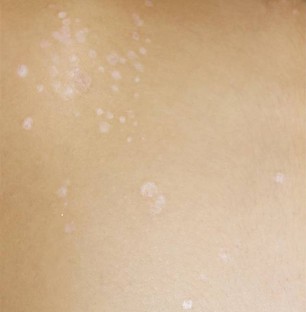 Abbreviations
CR:

"Complete response"

DNS:

Desoxyribonukleinsäure

HLA:

Humane Leukozyten Antigene

HPV:

Humanes Papillomavirus

LS:

Lichen sclerosus

PR:

"Partial response"

RR:

"Recurrence rate"

TCI:

Topische Kalzineurininhibitoren

TCS:

Topisches Kortikosteroid

TIX:

Therapeutischer Index
Literatur
1.

Balakirski G, Grothaus J, Altengarten J, Ott H (2020) Paediatric lichen sclerosus: a systematic review of 4516 cases. Br J Dermatol 182:231–233

2.

Becker K, Meissner V, Farwick W et al (2013) Lichen sclerosus and atopy in boys: coincidence or correlation? Br J Dermatol 168:362–366

3.

Becker K (2011) Lichen sclerosus bei Jungen. Dtsch Arztebl 108:53–58

4.

Bercaw-Pratt J, Boardman L, Simms-Cendan J (2014) Clinical recommendation: pediatric lichen sclerosus. Pediatr Adolesc Gynecol 27:111–116

5.

Casey GA, Cooper SM, Powell JJ (2015) Treatment of vulvar lichen sclerosus with topical corticosteroids in children: a study of 72 children. Clin Exp Dermatol 40:289–292

6.

Celis S, Reed F, Murphy F et al (2014) Balanitis Xerotica obliterans in children and adolescents: A literature review and clinical series. J Pediatr Urol 10:34–39

7.

Cooper SM, Ali I, Baldo M, Wojnarowska F (2008) The association of lichen sclerosus and erosive lichen planus of the vulva with autoimmune disease: a case-control study. Arch Dermatol 144:1432–1435

8.

Edmonds EV, Hunt S, Hawkins D et al (2012) Clinical parameters in male genital lichen sclerosus: a case series of 329 patients. J Eur Acad Dermatol Venereol 26:730–737

9.

Elis E, Fischer G (2015) Prepuberal-onset vulvar lichen sclerosus: the importance of maintenance therapy in long-term outcomes. Pediatr Dermatol 32:461–467

10.

Fistarol S, Itin P (2013) Diagnosis and treatment of lichen sclerosus—an update. Am J Clin Dermatol 14:27–47

11.

Focseneanu MA, Gupta M, Squires KC et al (2013) The course of lichen sclerosus diagnosed prior to puberty. J Pediatr Adolesc Gynecol 26:153–155

12.

Hald AK, Blaakaer J (2018) The possible role of human papillomavirus infection in the development of lichen sclerosus. Int J Dermatol 57:139–146

13.

Hallopeau H (1887) Du lichen plan et particulièrement de sa forme atrophique: lichen plan scléreux. Ann Dermatol Syphiligr 8:790–791

14.

Kirtschig G, Cooper S, Aberer W et al (2015) Evidence-based (S3) guideline on (anogenital) Lichen sclerosus. J Eur Acad Dermatol Venerol 10:e1–e43

15.

Kirtschig G (2018) Lichen sclerosus. Hautarzt 69:127–133

16.

Kiss A, Csontai A, Pirot L et al (2001) The response of balanitis xerotica obliterans to local steroid application compared with placebo in children. J Urol 165:219–220

17.

Kreuter A, Kryvosheyeva Y, Terras S et al (2013) Association of autoimmune diseases with lichen sclerosus in 532 male and female patients. Acta Derm Venereol 93:238–241

18.

Kreuter A, Wischnewski J, Terras S et al (2012) Coexistence of lichen sclerosus and morphea: a retrospective analysis of 472 patients with localized scleroderma from a German tertiary referral center. J Am Acad Dermatol 67:1157–1162

19.

Lewis F, Tatnall FM, Velangi SS et al (2018) British Association of Dermatologists guidelines for the management of lichen sclerosus. Br J Dermatol 178:e309

20.

Li Y, Xiao Y, Wang H et al (2013) Low-concentration topical tacrolimus for the treatment of anogenital lichen sclerosus in childhood: maintenance treatment to reduce recurrence. J Pediatr Adolesc Gynecol 26:239–242

21.

Maronn ML, Esterly NB (2005) Constipation as a feature of anogenital lichen sclerosus in children. Pediatrics 115:230–232

22.

Mashayekhi S, Flohr C, Lewis FM (2017) The treatment of vulval lichen sclerosus in prepubertal girls: a critically appraised topic. Br J Dermatol 176:307–316

23.

Mazzilli S, Diluvio L, Di Prete M et al (2018) Tacrolimus 0.03 % ointment for treatment of paediatric lichen sclerosus: a case series and literature review. J Int Med Res 46:3724–3728

24.

Moinzadeh P, Kreuter A, Krieg T, Hunzelmann N (2018) Morphea/lokalisierte Sklerodermie und extragenitaler Lichen sclerosus. Hautarzt 69:892–900

25.

Morrel B, van Eersel R, Burger CW et al (2020) The long-term clinical consequences of juvenile vulvar lichen sclerosus: a systematic review. J Am Acad Dermatol 82:469–477

26.

Nelson DM, Peterson AC (2011) Lichen sclerosus: epidemiological distribution in an equal access health care system. J Urol 185:522–525

27.

Nguyen A, Hollans A (2020) Balanitis xerotica obliterans: an update for clinicians. Eur J Pediatr 179:9–16

28.

Ohtsuki M, Morimoto H, Nakagawa H (2018) Tacrolimus ointment for the treatment of adult and pediatric atopic dermatitis: review on safety and benefits. J Dermatol 45:936–942

29.

Powell J, Wojnarowska F (2001) Childhood vulvar lichen sclerosus. The course after puberty. J Am Acad Dermatol 44:803–806

30.

Powell J, Strauss S, Gray J et al (2003) Genital carriage of human Papilloma virus (HPV) DNA in prepubertal girls with and without vulval disease. Pediatr Dermatol 20:191–194

31.

Promm M, Rösch WH, Kirtschig G (2020) Lichen sclerosus im Kindesalter. Urologe 59:271–277

32.

Smith SD, Fischer G (2009) Childhood onset vulvar lichen sclerosus does not resolve at puberty: a prospective case series. Pediatr Dermatol 26:725–729

33.

Tennis P, Gelfand JM, Rothman KJ (2011) Evaluation of cancer risk related to atopic dermatitis and use of topical calcineurin inhibitors. Br J Dermatol 165:465–473

34.

Tong L, Sun G, Teng J (2015) Pediatric lichen sclerosus: a review of the epidemiology and treatment options. Pediatr Dermatol 32:593–599

35.

Virgili A, Borghi A, Toni G, Minghetti S et al (2014) First randomized trial on clobetasol propionate and mometasone furoate in the treatment of vulvar lichen sclerosus: results of efficacy and tolerability. Br J Dermatol 171:388–396

36.

Virgili A, Borghi A, Cazzaniga S et al (2017) New insights into potential risk factors and associations in genital lichen sclerosus: Data from a multicentre Italian study on 729 consecutive cases. J Eur Acad Dermatol Venereol 31:699–704
Ethics declarations
Interessenkonflikt
M. Buss und P. Höger geben an, dass kein Interessenkonflikt besteht.
Für diesen Beitrag wurden von den Autoren keine Studien an Menschen oder Tieren durchgeführt. Für die aufgeführten Studien gelten die jeweils dort angegebenen ethischen Richtlinien.
Additional information
Redaktion
P. Höger, Hamburg
F. Zepp, Mainz
About this article
Cite this article
Buss, M., Höger, P. Lichen sclerosus im Kindesalter. Monatsschr Kinderheilkd 169, 133–143 (2021). https://doi.org/10.1007/s00112-020-01095-4
Accepted:

Published:

Issue Date:
Schlüsselwörter
Phimose

Steroide

Kalzineurininhibitoren

Anogenital

Ätiologie
Keywords
Phimosis

Steroids

Calcineurin inhibitors

Anogenital region

Etiology