Zusammenfassung
Die eosinophile Gastroenteropathie ist eine allergengetriggerte, immunvermittelte, lokal-entzündliche Erkrankung des oberen und unteren Gastrointestinaltrakts, die immer häufiger bereits im Kindes- und Jugendalter diagnostiziert wird. Erweist sich die Erkrankung als therapierefraktär gegenüber gängigen Behandlungsoptionen, kann dies zu einer erheblichen Einschränkung der Lebensqualität führen. Im Rahmen eines "case report" wird über die erste erfolgreiche Behandlung mit Dupilumab bei einem 16-jährigen Jugendlichen mit bisher therapierefraktärer eosinophiler Gastroenteropathie berichtet.
Abstract
Eosinophilic gastrointestinal diseases are local inflammatory conditions of the upper and lower gastrointestinal tract. They are triggered by an abnormal allergen-mediated immune response and are increasingly already being diagnosed in childhood and adolescence. In case of a lack of response to standard treatment regimens, quality of life can be severely impaired due to difficulty in swallowing, food impaction, abdominal pain and diarrhea. We report on the first adolescent patient with severe symptoms of eosinophilic gastroenteropathy nonresponsive to the known standard treatment regimens, who was successfully treated with dupilumab. Dupilumab is a monoclonal human antibody against the IL-4/IL-13 pathway. So far, it has been successfully used in the treatment of moderate to severe atopic dermatitis and allergic asthma. The first phase II randomized controlled trial for the treatment of eosinophilic esophagitis in adults was recently published. The intention of this case report is to point to the use of dupilumab as a treatment option for severe eosinophilic gastrointestinal disease also in pediatric patients.
This is a preview of subscription content, log in to check access.
Access options
Buy single article
Instant access to the full article PDF.
US$ 39.95
Price includes VAT for USA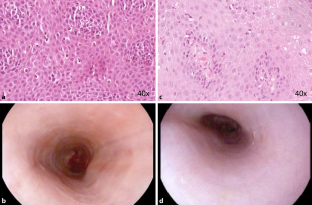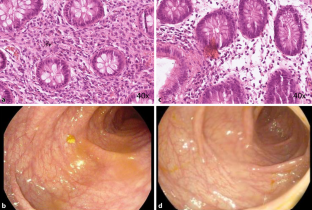 Abbreviations
EoE:

Eosinophilic esophagitis (Eosinophile Ösophagitis)

Eos.:

Eosinophile Granulozyten

HE-Färbung:

Hämatoxylin-Eosin-Färbung

HPF:

"High power field"

IgE:

Immunglobulin E

MR-Sellink:

Magnetresonanztomogramm-Sellink

ÖGD:

Ösophagogastroduodenoskopie

s.c.:

subkutan
Literatur
1.

Beck LA, Thaçi D, Hamilton JD et al (2014) Dupilumab treatment in adults with moderate-to-severe atopic dermatitis. N Engl J Med 371:130–139

2.

Castro M, Corren J, Pavord ID et al (2018) Dupilumab efficacy and safety in moderate-to-severe uncontrolled asthma. N Engl J Med 378:2486–2496

3.

https://www.ema.europa.eu/en/documents/overview/dupixent-epar-summary-public_en.pdf. Zugegriffen: 25.09.2020

4.

Gordon SC, Robinson SN, Abudu M et al (2018) Eosinophilic annular erythema treated with dupilumab. Pediatr Dermatol 35:e255–e256

5.

Hirano I, Dellon ES, Hamilton JD et al (2020) Efficacy of dupilumab in a phase 2 randomized trial of adults with active eosinophilic esophagitis. Gastroenterology 158:111–122.e10

6.

Licari A, Votto M, D'Auria E et al (2020) Eosinophilic gastrointestinal diseases in children: a practical review. Curr Pediatr Rev 16:106–114

7.

Lucendo AJ, Molina-Infante J, Arias Á et al (2017) Guidelines on eosinophilic esophagitis: evidence-based statements and recommendations for diagnosis and management in children and adults. United European Gastroenterol J 5:335–358

8.

Straumann A, Bauer M, Fischer B et al (2001) Idiopathic eosinophilic esophagitis is associated with a T(H)2-type allergic inflammatory response. J Allergy Clin Immunol 108:954–961

9.

Wollenberg A, Barbarot S, Bieber T et al (2018) Consensus-based European guidelines for treatment of atopic eczema (atopic dermatitis) in adults and children: part II. J Eur Acad Dermatol Venereol 32:850–878
Ethics declarations
Interessenkonflikt
J. Keck, A. Krahl, A. M. Müller, N. Förster und P. Gerner geben an, dass kein Interessenkonflikt besteht.
Für diesen Beitrag wurden von den Autoren keine Studien an Menschen oder Tieren durchgeführt. Für die aufgeführten Studien gelten die jeweils dort angegebenen ethischen Richtlinien. Für Bildmaterial oder anderweitige Angaben innerhalb des Manuskripts, über die Patienten zu identifizieren sind, liegt von ihnen und/oder ihren gesetzlichen Vertretern eine schriftliche Einwilligung vor.
Additional information
Redaktion
B. Koletzko, München
T. Lücke, Bochum
E. Mayatepek, Düsseldorf
N. Wagner, Aachen
S. Wirth, Wuppertal
F. Zepp, Mainz
About this article
Cite this article
Keck, J., Krahl, A., Müller, A.M. et al. Pädiatrische eosinophile Gastroenteropathie. Monatsschr Kinderheilkd (2020). https://doi.org/10.1007/s00112-020-01031-6
Schlüsselwörter
Eosinophile Kolitis

Eosinophile Ösophagitis

Kinder/Jugendliche

Biologika
Keywords
Eosinophilic colitis

Eosinophilic esophagitis

Children/Adolescents

Biologicals