Zusammenfassung
Das Parvovirus B19 (B19V) ist der häufigste und am besten bekannte Vertreter der Familie der Parvoviridae. Neben harmlosen Erkrankungen wie Ringelröteln und klinisch inapparenter Anämie kann eine B19V-Infektion bei bestimmten Kindern einen komplizierten Verlauf nehmen. Im Rahmen der Primärinfektion sind immunsupprimierte Kinder, Kinder mit vorbestehenden anämischen Erkrankungen und Feten, v. a. im zweiten Trimenon, gefährdet.
Das humane Bocavirus 1 (hBoV1) verursacht im Kleinkindalter häufig obere und untere Atemwegsinfektionen. Eine hBoV2-Infektion ist mit Diarrhöen vergesellschaftet. Selten können hBoV-Infektionen mit einer Enzephalitis als Komplikation einhergehen.
Abstract
Parvovirus B19 (B19V) is the most frequent and best known member of the family Parvoviridae. Besides harmless diseases, such as fifth disease (erythema infectiosum) and inapparent anemia, a B19V infection can have a complicated course in certain children. In the course of a primary infection, children under immunosuppression, children with pre-existing anemic diseases and fetuses, especially in the 2nd trimester, are endangered.
Human bocavirus 1 (hBoV1) frequently causes upper and lower respiratory tract infections in infancy. An hBoV2 infection is associated with diarrhea. In rare cases hBoV infections can be accompanied by encephalitis as a complication.
Access options
Buy single article
Instant access to the full article PDF.
US$ 39.95
Tax calculation will be finalised during checkout.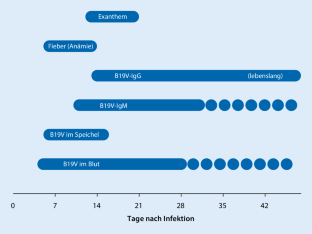 Abbreviations
B19V:

Parvovirus B19

Gt:

Genotyp

hBoV:

Humanes Bocavirus

Ig:

Immunglobulin

IVIG:

Intravenöse Immunglobuline

PARV4:

Parvovirus 4

PCR:

Polymerase-Kettenreaktion

PRCA:

"pure red cell aplasia"
Literatur
1.

Allander T, Tammi MT, Eriksson M, Bjerkner A, Tiveljung-Lindell A, Andersson B (2005) Cloning of a human parvovirus by molecular screening of respiratory tract samples. Proc Natl Acad Sci USA 102(36):12891–12896

2.

Allander T, Jartti T, Gupta S, Niesters HG, Lehtinen P, Osterback R, Vuorinen T, Waris M, Bjerkner A, Tiveljung-Lindell A, van den Hoogen BG, Hyypiä T, Ruuskanen O (2007) Human bocavirus and acute wheezing in children. Clin Infect Dis 44(7):904–910

3.

Bredl S, Plentz A, Wenzel JJ, Pfister H, Möst J, Modrow S (2011) False-negative serology in patients with acute parvovirus B19 infection. J Clin Virol 51(2):115–120

4.

Cossart YE, Field AM, Cant B, Widdows D (1975) Parvovirus-like particles in human sera. Lancet 1(7898):72–73

5.

Enders M, Weidner A, Enders G (2007) Current epidemiological aspects of human parvovirus B19 infection during pregnancy and childhood in the western part of Germany. Epidemiol Infect 135(4):563–569

6.

LASI (2012) Handlungsanleitung für den Vollzug des Mutterschutzgesetzes und der Verordnung zum Schutze der Mütter am Arbeitsplatz, S 152

7.

Manaresi E, Gallinella G (2019) Advances in the development of Antiviral strategies against Parvovirus B19. Viruses 11(7):E659

8.

Modrow S, Gärtner B (2006) Parvovirus b19-Infektin in der Schwangerschaft. Dtsch Arztebl 103(43):2869–2876

9.

Mori D, Ranawaka U, Yamada K, Rajindrajith S, Miya K, Perera HK, Matsumoto T, Dassanayake M, Mitui MT, Mori H, Nishizono A, Söderlund-Venermo M, Ahmed K (2013) Human bocavirus in patients with encephalitis, Sri Lanka, 2009-2010. Emerg Infect Dis 19(11):1859–1862

10.

Peltola V, Söderlund-Venermo M, Jartti T (2013) Human bocavirus infections. Pediatr Infect Dis J 32(2):178–179

11.

Plentz A, Hahn J, Holler E, Jilg W, Modrow S (2004) Long-term parvovirus B19 viraemia associated with pure red cell aplasia after allogeneic bone marrow transplantation. J Clin Virol 31(1):16–19

12.

Plentz A, Modrow S (2011) Diagnosis, management and possibilities to prevent parvovirus B19 infections in pregnancy. Future Virol 6(12):419–425

13.

Röhrer C, Gärtner B, Sauerbrei A, Böhm S, Hottenträger B, Raab U, Thierfelder W, Wutzler P, Modrow S (2008) Seroprevalence of parvovirus B19 in the German population. Epidemiol Infect 136(11):1564–1575

14.

Söderlund-Venermo M (2019) Emerging human parvoviruses: the rocky road to fame. Annu Rev Virol 6(1):71–91

15.

Würdinger M, Modrow S, Plentz A (2017) Impact of parvovirus B19 viremia in liver transplanted children on anemia: a retrospective study. Viruses 9(6):E149

16.

Young NS, Brown KE (2004) Mechanisms of disease: Parvoviurs B19. N Engl J Med 350(6):586–597
Ethics declarations
Interessenkonflikt
A. Plentz gibt an, dass kein Interessenkonflikt besteht.
Für diesen Beitrag wurden von der Autorin keine Studien an Menschen oder Tieren durchgeführt. Für die aufgeführten Studien gelten die jeweils dort angegebenen ethischen Richtlinien.
Additional information
Redaktion
R. Berner, Dresden
About this article
Cite this article
Plentz, A. Neues zu Parvovirusinfektionen bei Kindern. Monatsschr Kinderheilkd 168, 524–529 (2020). https://doi.org/10.1007/s00112-020-00927-7
Schlüsselwörter
Parvovirus B19

Ringelröteln

Erythema infectiosum

Bocavirus

Polymerase-Kettenreaktion
Keywords
Parvovirus B19

Fifth disease

Erythema infectiosum

Bocavirus

Polymerase chain reaction