Zusammenfassung
Die Ständige Impfkommission (STIKO) empfiehlt seit 2011 die getrennte Gabe von Masern-Mumps-Röteln(MMR)- und Varizellen(V)-Impfstoff für die Erstimpfung gegen diese Erreger. Hatte diese Empfehlung Auswirkungen auf die Impfquoten der Masern- und Varizellenimpfung?
Es wurden altersspezifische Impfquoten der Varizellen- und Masernimpfungen der Geburtskohorten 2008–2014 berechnet, soweit mit Datenstand Dezember 2015 möglich, sowie der Anteil monovalenter Impfstoffe an den ersten Varizellenimpfungen. Datengrundlage waren Abrechnungsdaten der kassenärztlichen Vereinigungen zu Impfleistungen bei gesetzlich Krankenversicherten (ca. 85 % der deutschen Wohnbevölkerung).
Die Impfquoten der ersten Varizellenimpfung stiegen über Geburtskohorten und mit dem Alter auf bis zu 56 % (12 Monate), 89 % (24 Monate) und je 91 % (36 und 48 Monate); die Masernimpfquoten lagen für dieselben Geburtskohorten und Altersgruppen jeweils um 11 bis 4 %-Punkte darüber. Dieser Trend wurde bei den Varizellenimpfungen kurzzeitig in der Geburtskohorte 2011 unterbrochen, die mit ansteigendem Alter eine im Vergleich zur Geburtskohorte 2010 um 5 bis 1 %-Punkte geringere Varizellenimpfquote aufwies. Bei nachfolgenden Kohorten stieg die Quote wieder an. Der Anteil monovalenter V‑Impfstoffe bei Erstimpfung stieg von 5 % (Geburtskohorte 2009) auf 70 % (Geburtskohorte 2011).
Die geänderte STIKO-Empfehlung zur getrennten Gabe von MMR- und Varizellenimpfung führte nicht zu dauerhaft niedrigeren Impfquoten. Fehlende Impfungen wurden nachgeholt. Masern- und Varizellenimpfungen erfolgen jedoch häufig in einem späteren Alter als empfohlen.
Abstract
In 2011, the Standing Committee on Vaccination in Germany changed the former preference of a quadrivalent vaccine against measles, mumps, rubella and varicella (MMRV) to the separate first-dose administration of MMR and monovalent V. We investigated how this recommendation affected varicella and measles vaccination coverage (VC). The age-specific varicella and measles VC in birth cohorts 2008–2014 until December 2015 and the proportion of monovalent vaccines among all varicella vaccines at first dose were calculated. The basis for the analyses were health insurance claims data from physicians covering people with statutory health insurance (approximately 85% of the population in Germany). First-dose varicella VC increased over cohorts and with age to 56% (12 months), 89% (24 months) and 91% (36 and 48 months). Measles VC was 4–11% points higher in each cohort and age group. The increasing trend in varicella VC was interrupted only in the cohort from 2011, where VC was 5–1% points lower at each analyzed age compared to the cohort from 2010. Varicella VC increased again in subsequent cohorts. The proportion of monovalent vaccines among all varicella vaccines increased from 5% in the cohort from 2009 to 70% in the cohort from 2011. The changed recommendation for the separate first-dose administration of MMR and V did not lead to permanently lower VC as lacking vaccinations were caught up with after a delay. Generally, varicella and measles vaccinations are often administered at a later age than recommended.
Access options
Buy single article
Instant access to the full article PDF.
US$ 39.95
Tax calculation will be finalised during checkout.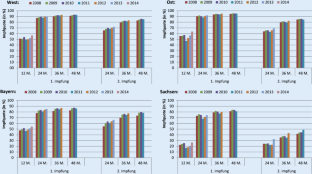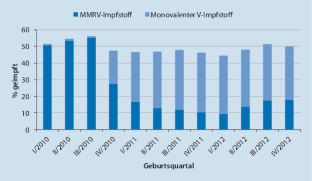 Literatur
1.

STIKO (2004) Empfehlungen der Ständigen Impfkommission (STIKO) am Robert Koch-Institut. Stand: Juli 2004. Epidemiol Bull 30:235–250

2.

STIKO (2006) Empfehlungen der Ständigen Impfkommission (STIKO) am Robert Koch-Institut. Stand: Juli 2006. Epidemiol Bull 30:235–254

3.

STIKO (2008) Mitteilung zur Impfung gegen Varizellen. Epidemiol Bull 41:355

4.

STIKO (2009) Empfehlungen der Ständigen Impfkommission (STIKO) am Robert Koch-Institut. Stand: Juli 2009. Epidemiol Bull 30:279–298

5.

STIKO (2011) Mitteilung der Ständigen Impfkommission (STIKO) am Robert Koch-Institut: Zur Kombinationsimpfung gegen Masern, Mumps, Röteln und Varizellen (MMRV). Epidemiol Bull 38:352–353

6.

Robert-Koch-Institut (2017) Impfquoten bei der Schuleingangsuntersuchung in Deutschland 2015. Epidemiol Bull 16:137–142

7.

Rieck T, Feig M, Eckmanns T, Benzler J, Siedler A, Wichmann O (2014) Vaccination coverage among children in Germany estimated by analysis of health insurance claims data. Hum Vaccin Immunother 10(2):476–484

8.

Siedler A, Hecht J, Rieck T, Tolksdorf K, Hengel H (2013) Die Varizellenimpfung in Deutschland. Eine Zwischenbilanz mit Blick auf die Masern-Mumps-Röteln-(MMR-)Impfung. Bundesgesundheitsblatt 56(9):1313–1320

9.

Streng A, Liese J (2014) Decline of varicella vaccination in German surveillance regions after recommendation of separate first-dose vaccination for varicella and measles–mumps–rubella. Vaccine 32:897–900

10.

Sanftenberg L, Schrörs H, Schelling J (2016) Influences on immunization rates: vaccination coverage of mumps, measles, rubella and varicella before and after the STIKO intervention 2011 – A retrospective study. Vaccine 34:3938–3941

11.

Landesuntersuchungsanstalt für das Gesundheits- und Veterinärwesen (2017) Impfkalender für Kinder, Jugendliche und Erwachsene im Freistaat Sachsen. https://www.lua.sachsen.de/download/lua/LUA_HM_Impfkalender_Sachsen.pdf. Zugegriffen: 25. Sept. 2017

12.

Robert Koch-Institut (2016) KV-Impfsurveillance: Ergänzungen zu den Impfdaten aus den Schuleingangsuntersuchungen. Epidemiol Bull 16:134

13.

Huber J, Lampert T, Mielck A (2012) Unterschiede bei Gesundheitsrisiken, Morbidität und gesundheitlicher Versorgung zwischen Kindern GKV- bzw. PKV-versicherter Eltern: Ergebnisse aus dem Kinder- und Jugendgesundheitssurvey (KiGGS). Gesundheitswesen 74:627–638
Danksagung
Wir danken allen beteiligten KVen für die Bereitstellung der Abrechnungsdaten. Das Projekt wurde finanziell gefördert durch das Bundesministerium für Gesundheit (Förderkennzeichen: IIA5-2511NIK001/321-4533-06). Der Förderer nahm keinen Einfluss auf das Studiendesign oder auf die Gewinnung, Analyse und Interpretation der Daten.
Ethics declarations
Interessenkonflikt
A. Siedler und T. Rieck geben an, dass kein Interessenkonflikt besteht.
Dieser Beitrag beinhaltet keine von den Autoren durchgeführten Studien an Menschen oder Tieren.
Additional information
Redaktion
B. Koletzko, München
T. Lücke, Bochum
E. Mayatepek, Düsseldorf
N. Wagner, Aachen
S. Wirth, Wuppertal
F. Zepp, Mainz
About this article
Cite this article
Siedler, A., Rieck, T. Varizellenimpfempfehlungen der Ständigen Impfkommission werden befolgt. Monatsschr Kinderheilkd 167, 900–907 (2019). https://doi.org/10.1007/s00112-018-0472-8
Schlüsselwörter
Impfschutz-Deckungsgrad

Windpockenvakzine

Masernvakzine

Deutschland
Keywords
Vaccination coverage

Chickenpox vaccine

Measles vaccine

Germany