Zusammenfassung
Die chronische Urtikaria (CU) ist definiert durch urtikarielle Episoden mit oder ohne Angioödeme, die länger als 6 Wochen täglich oder fast täglich auftreten. Ihre plötzliche Manifestationsform mit und ohne bekannte Ursache wird als chronische spontane Urtikaria bezeichnet. Hiervon wird die chronische induzierbare Urtikaria abgegrenzt. Das differenzialdiagnostische Spektrum der CU im Kindesalter reicht von selbstlimitierenden Dermatosen bis zu schwerwiegenden Systemerkrankungen. Nur bei entsprechendem anamnestischem Verdacht werden weitere, gezielte Untersuchungen zur Detektion potenzieller Triggerfaktoren oder Grunderkrankungen unternommen. Die Behandlung der CU folgt internationalen Leitlinien und wird zunächst mit modernen, nichtsedierenden H1-Antihistaminika auch in hoher Dosierung durchgeführt. Bei Beschwerdepersistenz können nach sorgfältiger, individueller Abwägung zusätzlich Omalizumab, Ciclosporin oder Montelukast eingesetzt werden.
Abstract
Chronic urticaria (CU) is defined by episodes of urticaria with or without angioedema, which recur daily or nearly daily over more than 6 weeks. Sudden manifestations of CU with or without known causes are termed chronic spontaneous urticaria, which is differentiated from chronic inducible urticaria. The differential diagnoses of CU in childhood range from self-limiting dermatoses to severe systemic diseases. Further targeted steps are taken to detect potential trigger factors or underlying illnesses only if suspicion arises on anamnestic grounds and CU is best treated in accordance with international guidelines. First-line therapy consists of non-sedating H1-antihistamines at approved or even higher doses. If symptoms persist, additional treatment with omalizumab, cyclosporine or montelukast can be initiated after careful individual consideration.
Access options
Buy single article
Instant access to the full article PDF.
US$ 39.95
Tax calculation will be finalised during checkout.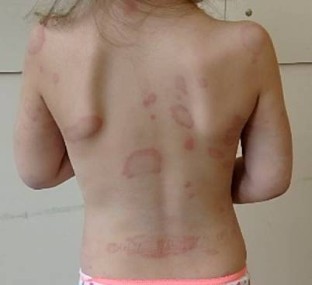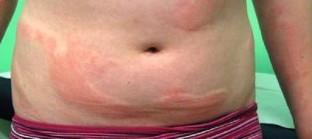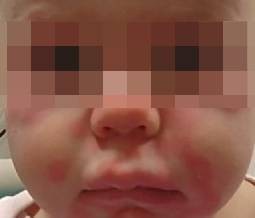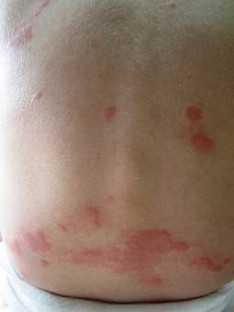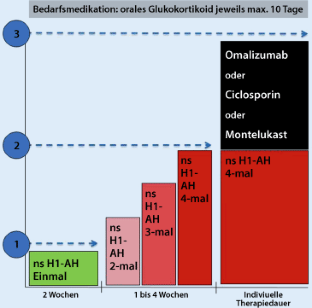 Literatur
1.

Zuberbier T, Balke M, Worm M et al (2010) Epidemiology ofurticaria: a representative cross-sectional population survey. Clin Exp Dermatol 35(8):869–873

2.

Broder MS, Raimundo K, Antonova E et al (2015) Resource use and costs in an insured population of patients with chronic idiopathic/spontaneous urticaria. Am J Clin Dermatol 16(4):313–321

3.

Khakoo G, Sofianou-Katsoulis A, Perkin MR et al (2008) Clinical features and natural history of physical urticaria in children. Pediatr Allergy Immunol 19(4):363–366

4.

Chansakulporn S, Pongpreuksa S, Sangacharoenkit P et al (2014) The natural history of chronic urticaria in childhood: a prospective study. J Am Acad Dermatol 71(4):663–668

5.

Sahiner UM, Civelek E, Tuncer A et al (2011) Chronic urticaria: etiology and natural course in children. Int Arch Allergy Immunol 156(2):224–230

6.

Beattie PE, Lewis-Jones MS (2006) A comparative study of impairment of quality of life in children with skin disease and children with other chronic childhood diseases. Br J Dermatol 155(1):145–151

7.

Zuberbier T, Aberer W, Asero R et al (2014) The EAACI/GA(2) LEN/EDF/WAO Guideline for the definition, classification, diagnosis, and management of urticaria: the 2013 revision and update. Allergy 69(7):868–887

8.

Magerl M, Altrichter S, Borzova E et al (2016) The definition, diagnostic testing, and management of chronic inducible urticarias – The EAACI/GA(2) LEN/EDF/UNEV consensus recommendations 2016 update and revision. Allergy 71(6):780–802

9.

Ott H (2014) Urtikaria. In: Ott H, Kopp MV, Lange L (Hrsg) Kinderallergologie in Klinik und Praxis. Springer, Berlin, S 211–226

10.

Ostring GT, Singh-Grewal D (2016) Periodic fevers and autoinflammatory syndromes in childhood. J Paediatr Child Health 52(9):865–871

11.

Olsen JR, Gallacher J, Finlay AY et al (2016) Quality of life impact of childhood skin conditions measured using the Children's Dermatology Life Quality Index (CDLQI): a meta-analysis. Br J Dermatol 174(4):853–861

12.

Konstantinou GN, Asero R, Maurer M et al (2009) EAACI/GA(2)LEN task force consensus report: the autologous serum skin test in urticaria. Allergy 64(9):1256–1268

13.

Azkur D, Civelek E, Toyran M et al (2016) Clinical and etiologic evaluation of the children with chronic urticaria. Allergy Asthma Proc 37(6):450–457

14.

Beck LA, Bernstein JA, Maurer M (2017) A review of international recommendations for the diagnosis and management of chronic urticaria. Acta Derm Venereol 97(2):149. doi:10.2340/00015555–2496

15.

Kolkhir P, Balakirski G, Merk HF et al (2016) Chronic spontaneous urticaria and internal parasites – a systematic review. Allergy 71(3):308–322

16.

Imbalzano E, Casciaro M, Quartuccio S et al (2016) Association between urticaria and virus infections: a systematic review. Allergy Asthma Proc 37(1):18–22D

17.

Weller K, Viehmann K, Bräutigam M et al (2013) Management of chronic spontaneous urticaria in real life – in accordance with the guidelines? A cross-sectional physician-based survey study. J Eur Acad Dermatol Venereol 27(1):43–50

18.

Sharma M, Bennett C, Carter B et al (2015) H1-antihistamines for chronic spontaneous urticaria: an abridged Cochrane Systematic Review. J Am Acad Dermatol 73(4):710–716.e4

19.

Criado PR, Criado RF, Maruta CW et al (2010) Histamine, histamine receptors and antihistamines: new concepts. An Bras Dermatol 85(2):195–210

20.

Fitzsimons R, van der Poel LA, Thornhill W et al (2015) Antihistamine use in children. Arch Dis Child Educ Pract Ed 100(3):122–131

21.

http://online.rote-liste.de. Zugegriffen: 18. Dezember 2016

22.

Church MK, Maurer M, Simons FE et al (2010) Risk of first-generation H(1)-antihistamines: a GA(2)LEN position paper. Allergy 65(4):459–466

23.

Kommission für Arzneimittelsicherheit im Kindesalter der Deutschen Gesellschaft für Kinder- und Jugendmedizin (2012) Verschreibungsfreie Antihistaminika der ersten Generation. Monatsschr Kinderheilkd 160:992–995

24.

Guillén-Aguinaga S, Jáuregui Presa I, Aguinaga-Ontoso E et al (2016) Updosing nonsedating antihistamines in patients with chronic spontaneous urticaria: a systematic review and meta-analysis. Br J Dermatol 175:1153. doi:10.1111/bjd.14768

25.

Zhao ZT, Ji CM, Yu WJ et al (2016) Omalizumab for the treatment of chronic spontaneous urticaria: a meta-analysis of randomized clinical trials. J Allergy Clin Immunol 137(6):1742–1750

26.

Neverman L, Weinberger M (2014) Treatment of chronic urticaria in children with antihistamines and cyclosporine. J Allergy Clin Immunol Pract 2(4):434–438

27.

Doshi DR, Weinberger MM (2009) Experience with cyclosporine in children with chronic idiopathic urticaria. Pediatr Dermatol 26(4):409–413

28.

de Silva NL, Damayanthi H, Rajapakse AC et al (2014) Leukotriene receptor antagonists for chronic urticaria: a systematic review. Allergy Asthma Clin Immunol 10(1):24

29.

Asero R, Tedeschi A (2010) Usefulness of a short course of oral prednisone in antihistamine-resistant chronic urticaria: a retrospective analysis. J Investig Allergol Clin Immunol 20(5):386–390
Ethics declarations
Interessenkonflikt
H. Ott gibt an, als Referent für die Firmen InfectoPharm, Meda, Novartis und Nutricia tätig gewesen zu sein.
Dieser Beitrag beinhaltet keine vom Autor durchgeführten Studien an Menschen oder Tieren.
CME-Fragebogen
CME-Fragebogen
Welches der folgenden H1-Antihistaminika ist für die Langzeittherapie der chronischen Urtikaria nicht geeignet?
Levocetirizin
Fexofenadin
Loratadin
Mizolastin
Dimetinden
Welcher diagnostische Schritt ist in erster Linie indiziert, wenn urtikarielle Effloreszenzen länger als 24 h in loco persistieren?
Bestimmung der C1-Esterase-Inhibitor-Konzentration
Läsionale Hautbiopsie
Bestimmung der Serum-Tryptase-Konzentration
Autoantikörperscreening
NLRP3-Mutationsanalyse
Ein 13-jähriger Patient mit CsU erreicht unter hochdosierter Therapie mit nsH1-AH keine adäquate Symptomkontrolle. Welches Arzneimittel ist zur zusätzlichen Therapie bei pädiatrischen Patienten zugelassen?
Dapson
Ciclosporin
Omalizumab
Montelukast
Methotrexat
Welche der folgenden Aussagen zur CU trifft zu?
Im Kindesalter sind mehr Jungen als Mädchen betroffen.
Bereits nach einem Jahr sind 80 % der Kinder wieder beschwerdefrei.
Die CU kann zu einer stark beeinträchtigen Lebensqualität führen.
Kinder erkranken häufiger an einer CU als Erwachsene.
Angioödeme kommen bei Kindern mit CU nicht vor.
Mit welcher Methode kann die cholinergische Urtikaria hervorgerufen werden?
Reiben eines Hautareals
Kältekontakt
Wärmekontakt
Körperliche Belastung
Lichtprovokation
Welche Aussage zur Diagnostik der CsU im Kindesalter trifft zu?
Es sollte ein Urtikariakalender geführt werden.
Betroffene Kinder bedürfen eines umfangreichen Allergiescreenings.
Ein ASST ist häufig indiziert.
Auch ohne anamnestische Hinweise ist eine Fokussuche erforderlich.
Mögliche Differenzialdiagnosen sollten direkt laborchemisch abgeklärt werden.
Ein 6 Monate alter Säugling mit chronisch-rezidivierenden, urtikariellen Effloreszenzen erkrankt an einer aseptischen Meningitis und weist eine beidseitige Hörminderung auf. Welche Differenzialdiagnose der CU kommt in erster Linie in Betracht?
Eosinophile Zellulitis
Papuläre Urtikaria
Kryopyrinopathie
Dermatomyositis
Kutane Mastozytose
Welcher der folgenden Therapieansätze mit systemischen Glukokortikoiden ist sinnvoll für die Behandlung der CU?
Hochdosierte i.v.-Pulstherapie in 4‑wöchigem Abstand.
Orale Dauertherapie mit einer Tagesdosis von 1–2 mg/kgKG.
Proaktive Therapie mit 2‑mal wöchentlicher p.o.-Glukokortikoid-Applikation
Strikte Meidung jeglicher systemischer Glukokortikoide.
Intermittierende, orale Bedarfsmedikation bei akuter Exazerbation über maximal 10 Tage.
Eine CU kann frühestens nach welcher Erkrankungsdauer diagnostiziert werden?
3 Wochen
6 Monate
1 Jahr
6 Wochen
14 Tage
Eine 6‑jährige Patientin entwickelt seit einigen Jahren Gesichtsschwellungen, die mit krampfartigen Bauchschmerzen, teils schwerer Atemnot und einem stark reduzierten Allgemeinzustand einhergehen. Welche weiterführende Diagnostik ist in erster Linie sinnvoll?
Läsionale Hautbiopsie
Kutaner Provokationstest mit Druckbelastung
Bestimmung der C1-Esterase-Inhibitor-Konzentration/-Aktivität im Serum
Körperlicher Belastungstest
ASST
About this article
Cite this article
Ott, H. Chronische Urtikaria im Kindesalter. Monatsschr Kinderheilkd 165, 437–448 (2017). https://doi.org/10.1007/s00112-017-0273-5
Schlüsselwörter
Chronische spontane Urtikaria

Chronische induzierbare Urtikaria

Angioödem

Provokationstest

Nichtsedierende H1-Antihistaminika
Keywords
Chronic spontaneous urticaria

Chronic inducible urticaria

Angioedema

Provocation test

Histamine H1 antagonists, non-sedating