Zusammenfassung
In Deutschland beträgt die jährliche Inzidenz der Non-Hodgkin-Lymphome (NHL) 0,8/100.000 Kinder unter 15 Jahren. Die im Kindesalter vorherrschenden NHL-Formen sind Burkitt-Lymphome, lymphoblastische sowie anaplastische großzellige Lymphome. Häufigstes NHL-Leitsymptom bei Kindern und Jugendlichen sind schmerzlose Lymphknotenschwellungen. Bei malignen Ergüssen oder signifikantem Knochenmarkbefall kann die Diagnose ohne Operation gesichert werden, ansonsten ist ein operativer Eingriff erforderlich. Eine exakte Klassifikation des NHL ist die absolute Voraussetzung für die Wahl der geeigneten Therapieform, denn für die 3 Subgruppen lymphoblastische Lymphome, B-Zell-Lymphome mit komplettem B-Immunphänotyp und anaplastische großzellige Lymphome kommen unterschiedliche Chemotherapiestrategien zum Einsatz, mit welchen ≥80% der Betroffenen überleben. Geheilte ehemalige onkologische Patienten bedürfen einer lebenslangen Nachsorge (Erkennen von Rezidiven bzw. Spätfolgen der Therapie).
Abstract
The annual incidence of non-Hodgkin's lymphoma (NHL) in Germany is 0.8/100,000 children under 15 years of age. The dominant forms of NHL in childhood are Burkitt's lymphoma, lymphoblastic and anaplastic large cell lymphomas. The commonest main symptom of NHL in children and adolescents is painless lymph node swelling. The diagnosis can be confirmed without the necessity of an operation when malignant effusions or significant bone marrow participation occur, otherwise an operative intervention is necessary. An exact classification of NHL is an absolute priority for selection of a suitable form of therapy as different chemotherapy strategies are employed for the three subgroups lymphoblastic lymphoma, peripheral B cell lymphoma and anaplastic large cell lymphoma by which ≥80 % of patients survive. Cured oncological patients need a lifelong follow-up for recognition of recurrent or late complications of therapy.
Access options
Buy single article
Instant access to the full article PDF.
US$ 39.95
Tax calculation will be finalised during checkout.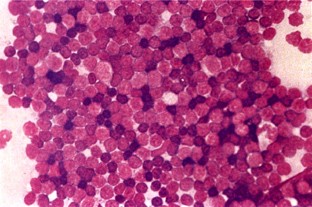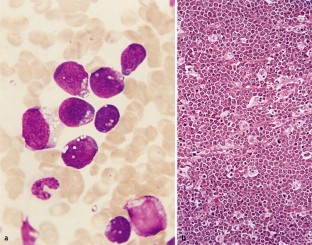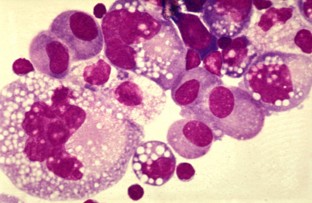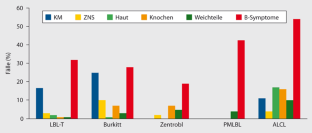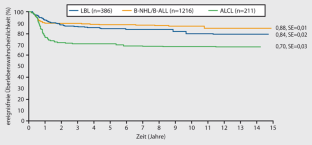 Abbreviations
ALCL:

Anaplastisches großzelliges Lymphom

ALL:

Akute lymphoblastische Leukämie

ALPS:

Autoimmunes lymphoproliferatives Syndrom (Canale-Smith-Syndrom)

AML:

Akute myeloische Leukämie

AP:

Alkalische Phosphatase

Ara-C:

Arabinofuranosylcytosin

B-ALL:

Akute B-Zell-Leukämie

BFM:

Berlin, Frankfurt, Münster

B-NHL:

B-Zell-Non-Hodgkin-Lymphom

BSG:

Blutkörperchensenkungsgeschwindigkeit

CMV:

Zytomegalievirus

COMP:

Cyclophosphamid, Oncovin (Vincristin), Methotrexat, Prednison

CT:

Computertomographie

DLBCL:

Diffuses großzelliges B-Zell-Lymphom

EBV:

Epstein-Barr-Virus

EKG:

Elektrokardiogramm

EMA:

Epitheliales Membranantigen

FAB:

Französisch-amerikanisch-britisch

FISH:

Fluoreszenz-in-situ-Hybridisierung

HAV:

Hepatitis-A-Virus

HBV:

Hepatitis-B-Virus

HCV:

Hepatitis-C-Virus

HHV-8:

Humanes Herpesvirus 8

HIV:

Humanes Immundefizienzvirus

HL:

Hodgkin-Lymphom

HNO:

Hals, Nasen, Ohren

Ig:

Immunglobulin

IPT:

Immunophänotypisierung

LDH:

Laktatdehydrogenase

LSA2-L2:

Lymphosarkom-2-Protokoll

MALT:

"Mucosa associated lymphatic tissue"

MOTT:

"Mycobacteria other than tuberculosis"

MRT:

Magnetresonanztomographie

NHL:

Non-Hodgkin-Lymphom

NK:

"Natural killer"

PMLBL:

Primär mediastinales (thymisches) großzelliges B-Zell-Lymphom

PTLD:

"Posttransplantant lymphoproliferative disease"

T3:

Trijodthyronin

T4:

Thyroxin

TSH:

Thyreoidea stimulierendes Hormon

VZV:

Varizella-Zoster-Virus

WHO:

Weltgesundheitsorganisation

XLP:

X-chromosomales lymphoproliferatives Syndrom (Purtilo-Syndrom)

ZNS:

Zentralnervensystem
Literatur
1.

Riehm H, Gadner H, Welte K (1976) Die West-Berliner Studie zur Behandlung der akuten lymphoblastischen Leukämie des Kindes – Erfahrungsbericht nach 6 Jahren. Klin Padiatr 189:89–101

2.

Müller-Weihrich S, Henze G, Jobke A et al (1982) BFM-Studie 1975/81 zur Behandlung der Non-Hodgkin-Lymphome hoher Malignität bei Kindern und Jugendlichen. Klin Padiatr 194:219–225

3.

Reiter A, Schrappe M, Ludwig MD et al (1992) Favorable outcome of B-cell acute lymphoblastic leukemia in childhood: a report of three consecutive studies of the BFM group. Blood 80:2471–2478

4.

Burkitt DP (1967) Long term remissions following one and two dose chemotherapy for African lymphoma. Cancer 20:756–759

5.

Ziegler JL (1977) Treatment results of 54 American patients with Burkitt's lymphoma are similar to the African experience. N Engl J Med 29:75–80

6.

Wollner N, Lieberman P, Exelby P et al (1975) Non-Hodgkin's lymphoma in children: results of treatment with LSA2-L2 protocol. Br J Cancer 21:337–342

7.

Anderson JR, Wilson JF, Jenkin DT et al (1983) Childhood non-Hodgkin's lymphoma. The results of a randomized therapeutic trial comparing a 4-drug regimen (COMP) with a 10-drug regimen (LSA2-L2). N Engl J Med 308:559–565

8.

Müller-Weihrich S, Beck J, Henze G et al (1984) BFM-Studie 1981/83 zur Behandlung hochmaligner Non-Hodgkin-Lymphome bei Kindern. Ergebnisse einer nach histologisch-immunologischem Typ und Ausbreitungsstadium stratifizierten Therapie. Klin Padiatr 196:135–142

9.

Mann G, Attarbaschi A, Burkhardt B et al (2007) Clinical characteristics and treatment outcome of infants with non-Hodgkin lymphoma. Br J Haematol 139:443–449

10.

Kaatsch P, Spix C (2007) German Childhood Cancer Registry, Annual Report 2006/07. German Childhood Cancer Registry, Mainz

11.

Seidemann K, Tiemann M, Henze G et al (1999) Therapy for non-Hodgkin lymphoma in children with primary immunodeficiency: analysis of 19 patients from the BFM trials. Med Pediatr Oncol 33:536–544

12.

Burkhardt B, Moericke A, Klappe W et al (2008) Pediatric precursor T-lymphoblastic leukemia and lymphoblastic lymphoma: differences in the common regions with loss of heterozygosity at chromosome 6q and their prognostic impact. Leuk Lymphoma 49:451–461

13.

World Health Organization (2001) Classification of tumours. Pathology and genetics: tumours of haematopoietic and lymphoid tissues. IARC, Lyon

14.

World Health Organization (2008) Classification of tumours. Tumours of haematopoietic and lymphoid tissues, 4. Aufl. IARC, Lyon

15.

Oschlies I, Klapper W, Zimmermann M et al (2006) Diffuse large B-cell lymphoma in pediatric patients belongs predominantly to the germinal-center type B-cell lymphomas: a clinicopathologic analysis of cases included in the German BFM (Berlin-Frankfurt-Münster) multicenter trial. Blood 107:4047–4052

16.

Karajannis MA, Hummel M, Oschlies I et al (2003) Epstein-Barr virus infection in Western European pediatric non-Hodgkin lymphomas. Blood 102:4244

17.

Seidemann K, Tiemann M, Lauterbach I et al (2003) Primary mediastinal large B-cell lymphoma with sclerosis in pediatric and adolescent patients: treatment and results from three therapeutic studies of the Berlin-Frankfurt-Münster group. J Clin Oncol 21:1782–1789

18.

Stein H, Mason DY, Gerdes J (1985) The expression of the Hodgkin's disease associated antigen Ki-1 in reactive and neoplastic lymphoid tissue: evidence that Reed-Sternberg cells and histiocytic malignancies are derived from activated lymphoid cells. Blood 66:848–858

19.

Gadner H, Gaedicke G, Niemeyer C, Ritter J (Hrsg) (2006) Pädiatrische Hämatologie und Onkologie. Springer, Berlin Heidelberg New York, S 740, 743

20.

Murphy SB (1980) Classification, staging and end results of treatment in childhood non-Hodgkin's lymphoma: dissimilarities from lymphomas in adults. Semin Oncol 7:332–339

21.

Reiter A, Schrappe M, Parwaresch R et al (1995) Non-Hodgkin's-lymphomas of childhood and adolescence. Results of a treatment stratified for biological subtypes and stage. A report of the BFM group. J Clin Oncol 13:359–372

22.

Patte C, Auperin A, Michon J et al (2001) The Societe Francaise d'Oncologie Pediatrique LMB 89 protocol: highly effective multiagent chemotherapy tailored to the tumor burden and initial response in 561 unselected children with B-cell lymphomas and L3 leukemia. Blood 97:3370–3379

23.

Reiter A, Schrappe M, Tiemann M et al (1994) A successful treatment strategy for Ki-1 anaplastic large cell lymphoma of childhood. A prospective analysis of 62 patients enrolled in three consecutive BFM group studies. J Clin Oncol 12:899–908

24.

Seidemann K, Tiemann M, Schrappe M et al (2001) Short-pulse B-non-Hodgkin-lymphoma chemotherapy is efficacious treatment for pediatric anaplastic large cell lymphoma: a report of the Berlin-Frankfurt-Münster group trial NHL-BFM 90. Blood 97:3699–3706

25.

Reiter A (2007) Diagnosis and treatment of childhood non-Hodgkin lymphoma. Hematology 1: 285–296

26.

Reiter A, Schrappe M, Tiemann M et al (1999) Improved treatment results in childhood B-cell neoplasms with tailored intensification of therapy. A report of the Berlin-Frankfurt-Münster group trial NHL-BFM 90. Blood 49:3294–3306

27.

Woesmann W, Schrappe M, Meyer U et al (2003) Incidence of tumor lysis syndrome in children with advanced stage Burkitt's lymphoma/leukemia before and after introduction of prophylactic use of urate oxidase. Ann Hematol 82:160–165

28.

Leung W, Sandlund JT, Hudson MM et al (2001) Second malignancy after treatment of childhood non-Hodgkin lymphoma. Cancer 92:1959–1966
Interessenkonflikt
Der korrespondierende Autor gibt an, dass kein Interessenkonflikt besteht.
Additional information
Der vorliegende aktualisierte Beitrag erschien ursprünglich in der Zeitschrift best practice onkologie 6/2011.
About this article
Cite this article
Ritter, J. Non-Hodgkin-Lymphome bei Kindern und Jugendlichen. Monatsschr Kinderheilkd 160, 1147–1162 (2012). https://doi.org/10.1007/s00112-012-2818-y
Schlüsselwörter
Non-Hodgkin-Lymphom

Burkitt-Lymphom

Lymphoblastisches Lymphom

Anaplastisches großzelliges Lymphom

Chemotherapiestrategie
Keywords
Non-Hodgkin's lymphoma

Burkitt's lymphoma

Lymphoblastic lymphoma

Lymphoma, large cell, anaplastic

Chemotherapy strategy