Zusammenfassung
Lymphknotenvergrößerungen sind im Kindesalter häufig und in 90% der Fälle infektiös bedingt. Krankheitsdauer, Lokalisation, assoziierte Symptome und Expositionsanamnese sind ätiologisch und therapeutisch oft richtungweisend. Zur Basisdiagnostik gehören Differenzialblutbild, C-reaktives Protein, Blutsenkungsgeschwindigkeit, Laktatdehydrogenase, Harnsäure, Tuberkulinhauttest und Lymphknotensonographie. Bei akutem, einseitigem Verlauf kann eine Antibiotikatherapie ex juvantibus sinnvoll sein. Gezielte serologische Untersuchungen sollten Verläufen über 3 Wochen vorbehalten bleiben, können dann aber Therapie entscheidend sein. Eine Lymphknotenbiopsie ist u. a. bei Verdacht auf Mykobakterien, supraklavikularer Lokalisation, harter Konsistenz, Nichtverschieblichkeit, B-Symptomen und pathologischem Blutbild indiziert. Da die meisten Lymphadenopathien bei Kindern einen selbstlimitierenden Verlauf nehmen, kann durch ein stufenweises, aber konsequentes Vorgehen ein Zuviel an Diagnostik vermieden werden, ohne unnötige Risiken einzugehen.
Abstract
Lymph node enlargement is common in children and 90 % of cases are due to infections. The duration of symptoms, localization, associated symptoms and a documented exposure to infectious agents offer etiological clues and guide the diagnostic work-up. Differential blood count, C-reactive protein (CRP), erythrocyte sedimentation rate (ESR), tuberculin skin test and ultrasound of the lymph nodes are basic diagnostic tools. In acute onset unilateral lymphadenitis, empirical antibiotic treatment may be useful. Serological tests are indicated if lymph node enlargement persists longer than 3 weeks. A biopsy is indicated when mycobacterial infections are suspected, supraclavicular lymph nodes are enlarged, the texture is firm, the lymph node is non-mobile, weight loss exceeds 10% or the blood count is pathological. As most lymph node enlargements in children are self-limiting over time, a step-wise approach allows physicians to avoid unnecessary diagnostic procedures and thereby reduce risks to patients.
This is a preview of subscription content, log in to check access.
Access options
Buy single article
Instant access to the full article PDF.
US$ 39.95
Price includes VAT for USA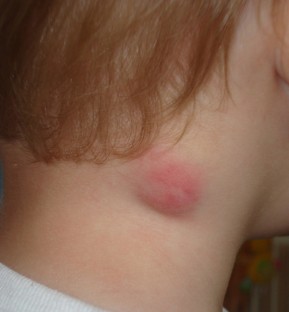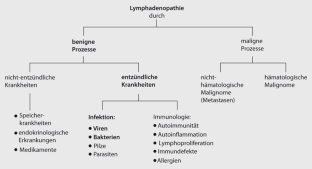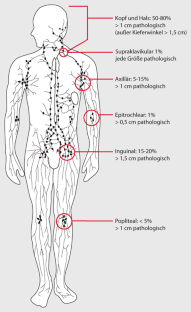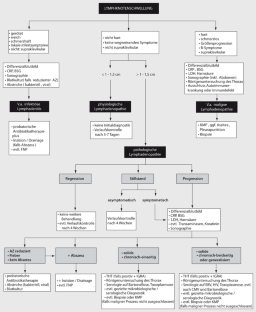 Literatur
1.

Gosche J, Vick L (2006) Acute, subacute, and chronic cervical lymphadenitis in children. Semin Pediatr Surg 15:99–106

2.

Larsson LO, Bentzon MW, Berg Kelly K et al (1994) Palpable lymph nodes of the neck in Swedish schoolchildren. Acta Paediatr 83:1091–1094

3.

Herzog LW (1983) Prevalence of lymphadenopathy of the head and neck in infants and children. Clin Pediatr 22:485–487

4.

Karaman A, Karaman I, Cavusoglu YH, Ergogan D (2010) The ongoing problem with peripheral lymphadenopathies: which ones are malignant? Pediatr Surg Int 26:247–250

5.

Knight PJ, Mulne AF, Vassy LE (1982) When is a lymph node biopsy indicated in children with enlarged peripheral nodes? Pediatrics 69:391–396

6.

Moore SW, Schneider JW, Schaaf HS (2003) Diagnostic aspects of cervical lymphadenopathy in children in the developing world: a study of 1,877 surgical specimens. Pediatr Surg Int 19:240–244

7.

Niedzielska G, Kotowski M, Niedzielski A et al (2007) Cervical lymphadenopathy in children – incidence and diagnostic management. Int J Pediatr Otorhinolaryngol 71:51–56

8.

Soldes OS, Younger JG, Hirschl RB (1999) Predictors of malignancy in childhood peripheral lymphadenopathy. J Pediatr Surg 34:1447–1452

9.

Gesellschaft für Pädiatrische Onkologie und Hämatologie (2012) Lymphknotenvergrößerung. AWMF-Leitlinien-Register Nr. 025/020. AWMF, Düsseldorf, http://www.awmf.org/leitlinien/detail/ll/025-020.html

10.

Selby CD, Marcus HS, Toghill PJ (1992) Enlarged epitrochlear lymph nodes: an old physical sign revisited. J R Coll Physicians Lond 26:159–161
Interessenskonflikt
Der korrespondierende Autor weist für sich und seine Koautoren auf folgende Beziehungen hin: PD Dr. Hufnagel erhält Drittmittel von der Fa. Novartis für die Durchführung von klinischen Studien.
About this article
Cite this article
Elling, R., Kontny, U., Henneke, P. et al. Abklärung peripherer Lymphknotenvergrößerungen im Kindesalter. Monatsschr Kinderheilkd 160, 901–918 (2012). https://doi.org/10.1007/s00112-012-2739-9
Schlüsselwörter
Lymphadenopathie

Lymphadenitis

Lymphknotenvergrößerung

Lymphknoten

Biopsie
Keywords
Lymphadenopathy

Lymphadenitis

Lymph nodes

Lymph node enlargement

Biopsy