Zusammenfassung
Neben familiären Risikofaktoren und dem Lebensstil im Kindes- und Jugendalter beeinflussen prä- und postnatale Einflussfaktoren das spätere Adipositasrisiko. Prägende Auswirkungen metabolischer Faktoren während begrenzter, sensibler Zeitfenster der frühen Entwicklung auf die langfristige Gesundheit und das Krankheitsrisiko werden als frühe metabolische Programmierung der langfristigen Gesundheit bezeichnet. Die mögliche Bedeutung der Säuglingsernährung unterstreicht der Befund eines schützenden Effekts des Stillens auf das spätere Adipositasrisiko in zahlreichen Studien und drei Metaanalysen. Stillen könnte gegen spätere Adipositas durch eine geringere mittlere Gewichtszunahme im Säuglingsalter schützen, bedingt durch den geringeren Eiweißgehalt in Muttermilch im Vergleich zu Säuglingsnahrungen ("frühe Proteinhypothese"). Wir prüften diese Hypothese in der European Childhood Obesity Study. Die erzielte Verminderung der Gewichtszunahme in den ersten beiden Lebensjahren könnte die Häufigkeit der Adipositas im Jugendalter um etwa 13% vermindern. Diese Ergebnisse sollten dazu ermuntern, derzeitige Empfehlungen zur Säuglingsernährung und deren Umsetzung zu überprüfen.
Abstract
The prevalence of overweight and obesity among children and adolescents in Germany has doubled in less than two decades. In addition to familial risk factors and children's lifestyle, prenatal and postnatal factors modulate the long-term risk of obesity. The imprinting effects of metabolic variables during limited, sensitive time periods of prenatal and postnatal development on long-term health and disease risk is called early metabolic programming of long term health. The role of infant nutrition is supported by a reduced obesity risk in previously breastfed compared to formula fed subjects, documented in numerous studies and three meta-analyses. Breastfeeding might protect against later obesity by inducing lesser weight gain in infancy due to the lower protein content of human milk compared to infant formulas (the early protein hypothesis). We tested this hypothesis in the European Childhood Obesity Study, a double-blind randomized clinical trial enrolling 1,678 infants in 5 countries (Belgium, Germany, Italy, Poland and Spain). Reduced protein intake in infancy normalized growth achieved at 2 years of age relative to breastfed infants and the current WHO growth standard. The difference in weight gain up to 2 years old could reduce the prevalence of obesity in adolescence by some 13%. We conclude that infant feeding practice has a high potential for long-term health effects. The results obtained should stimulate the review of current recommendations and policies for infant formula composition.
Access options
Buy single article
Instant access to the full article PDF.
USD 39.95
Price excludes VAT (USA)
Tax calculation will be finalised during checkout.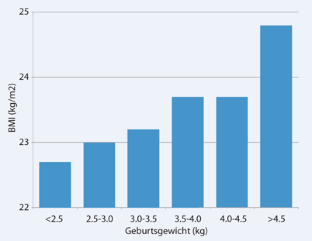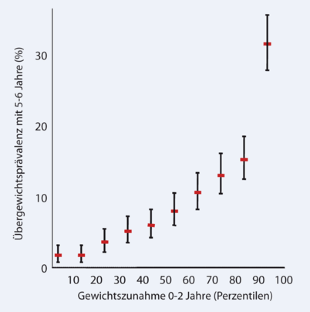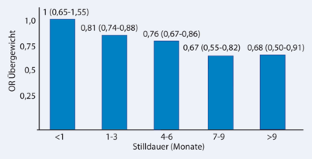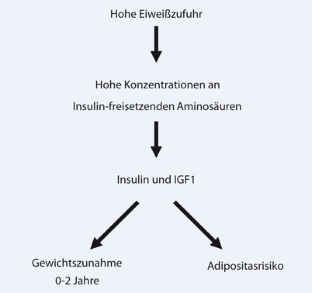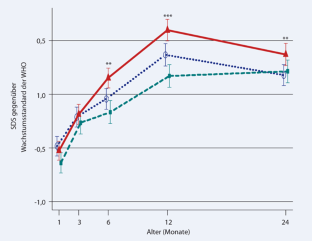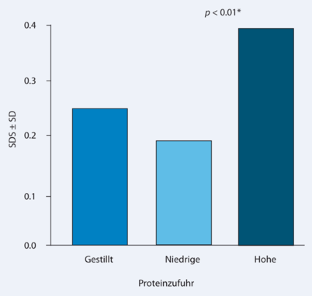 Literatur
Kurth BM, Schaffrath Rosario A (2007) The prevalence of overweight and obese children and adolescents living in Germany. Results of the german health interview and examination survey for children and adolescents (KiGGS). Bundesgesundheitsblatt Gesundheitsforschung Gesundheitsschutz 50:736–743

Fisberg M, Baur L, Chen W et al (2004) Obesity in children and adolescents: Working group report of the second world congress of pediatric gastroenterology, hepatology and nutrition. J Pediatr Gastroenterol Nutr 39(Suppl 2):S678–S687

Koletzko B, Girardet JP, Klish W, Tabacco O (2002) Obesity in children and adolescents worldwide: current views and future directions – working group report of the first world congress of pediatric gastroenterology, hepatology and nutrition. J Pediatr Gastroenterol Nutr 35(Suppl 2):S205–S212

Nathan BM (2009) The current state of pediatric obesity treatment. Rev Endocr Metab Disord 10:163–165

Daniels SR, Jacobson MS, McCrindle BW et al (2009) American heart association childhood obesity research summit report. Circulation 119:e489–e517

Bayer O, Kries R von, Strauss A et al (2009) Short- and mid-term effects of a setting based prevention program to reduce obesity risk factors in children: a cluster-randomized trial. Clin Nutr 28:122–128

Kleiser C, Schaffrath Rosario A, Mensink GB et al (2009) Potential determinants of obesity among children and adolescents in Germany: results from the cross-sectional KiGGS study. BMC Public Health 9:46

Koletzko B, Toschke AM (2010) Meal patterns and frequencies: do they affect body weight in children and adolescents? Crit Rev Food Sci Nutr 50:100–105

Toschke AM, Koletzko B, Slikker W Jr et al (2002) Childhood obesity is associated with maternal smoking in pregnancy. Eur J Pediatr 161:445–448

Koletzko B (2005) Early nutrition and its later consequences: new opportunities. Adv Exp Med Biol 569:1–12

Koletzko BDT, Molnar D, Hunty A de la (eds) (2009) Early nutrition programming and health outcomes in later life: obesity and beyond. Springer, New York

Dörner G (1975) Perinatal hormone levels and brain organization. In: Stumpf WE, Grant LD (eds) Anatomical neuroendocrinology. Karger, Basel, pp 245–252

Schmidt I, Schoelch C, Ziska T et al (2000) Interaction of genetic and environmental programming of the leptin system and of obesity disposition. Physiol Genomics 3:113–120

Fernandez-Twinn DS, Ozanne SE (2006) Mechanisms by which poor early growth programs type-2 diabetes, obesity and the metabolic syndrome. Physiol Behav 88:234–243

Koletzko B, Kries R von, Monasterolo RC et al (2009) Infant feeding and later obesity risk. Adv Exp Med Biol 646:15–29

McCance RA, Widdowson EM (1974) The determinants of growth and form. Proc R Soc Lond B Biol Sci 185:1–17

Lucas A (1994) Role of nutritional programming in determining adult morbidity. Arch Dis Child 71:288–290

Lucas A (1991) Programming by early nutrition in man. Ciba Found Symp 156:38–50; discussion 50–35

Waterland RA, Garza C (1999) Potential mechanisms of metabolic imprinting that lead to chronic disease. Am J Clin Nutr 69:179–197

Barker DJ (2007) The origins of the developmental origins theory. J Intern Med 261:412–417

Barker DJ (1990) The fetal and infant origins of adult disease. BMJ 301:1111

Singhal A, Lucas A (2004) Early origins of cardiovascular disease: is there a unifying hypothesis? Lancet 363:1642–1645

Koletzko B (2005) Developmental origins of adult disease: Barker's or Dorner's hypothesis? Am J Hum Biol 17:381–382

Koletzko B (2009) EARNEST – the early nutrition programming project – objectives and achievements. Standardy Medyczne (Warsaw) (Suppl 1):1–16

Koletzko B, Kries R von, Closa R et al (2009) Lower protein in infant formula is associated with lower weight up to age 2 y: a randomized clinical trial. Am J Clin Nutr 89:1836–1845

Hincz P, Borowski D, Krekora M et al (2009) Maternal obesity as a perinatal risk factor. Ginekol Pol 80:334–337

Kalk P, Guthmann F, Krause K et al (2009) Impact of maternal body mass index on neonatal outcome. Eur J Med Res 14:216–222

Jeffreys M, Lawlor DA, Galobardes B et al (2006) Lifecourse weight patterns and adult-onset diabetes: the Glasgow alumni and British women's heart and health studies. Int J Obes (Lond) 30:507–512

Monteiro PO, Victora CG, Barros FC, Monteiro LM (2003) Birth size, early childhood growth and adolescent obesity in a Brazilian birth cohort. Int J Obes Relat Metab Disord 27:1274–1282

Sorensen HT, Sabroe S, Rothman KJ et al (1997) Relation between weight and length at birth and body mass index in young adulthood: cohort study. BMJ 315:1137

Toschke AM, Grote V, Koletzko B, Kries R von (2004) Identifying children at high risk for overweight at school entry by weight gain during the first 2 years. Arch Pediatr Adolesc Med 158:449–452

Baird J, Fisher D, Lucas P et al (2005) Being big or growing fast: systematic review of size and growth in infancy and later obesity. BMJ 331:929

Monteiro PO, Victora CG (2005) Rapid growth in infancy and childhood and obesity in later life – a systematic review. Obes Rev 6:143–154

Ong KK, Loos RJ (2006) Rapid infancy weight gain and subsequent obesity: systematic reviews and hopeful suggestions. Acta Paediatr 95:904–908

Koletzko B, Broekaert I, Demmelmair H et al (2005) Protein intake in the first year of life: a risk factor for later obesity? The E.U. childhood obesity project. Adv Exp Med Biol 569:69–79

Koletzko B (2006) Long-term consequences of early feeding on later obesity risk. Nestle Nutr Workshop Ser Pediatr Program 58:1–18

Dewey KG (2009) Infant feeding and growth. Adv Exp Med Biol 639:57–66

Nommsen-Rivers LA, Dewey KG (2009) Growth of breastfed infants. Breastfeed Med 4(Suppl 1):S45–S49

Kramer MS, Guo T, Platt RW et al (2004) Feeding effects on growth during infancy. J Pediatr 145:600–605

Dewey KG (1998) Growth characteristics of breast-fed compared to formula-fed infants. Biol Neonate 74:94–105

Kramer MS (1981) Do breast-feeding and delayed introduction of solid foods protect against subsequent obesity? J Pediatr 98:883–887

Kries R von, Koletzko B, Sauerwald T et al (1999) Breast feeding and obesity: cross sectional study. BMJ 319:147–150

Arenz S, Ruckerl R, Koletzko B, Kries R von (2004) Breast-feeding and childhood obesity – a systematic review. Int J Obes Relat Metab Disord 28:1247–1256

Harder T, Bergmann R, Kallischnigg G, Plagemann A (2005) Duration of breastfeeding and risk of overweight: a meta-analysis. Am J Epidemiol 162:397–403

Owen CG, Martin RM, Whincup PH et al (2005) Effect of infant feeding on the risk of obesity across the life course: a quantitative review of published evidence. Pediatrics 115:1367–1377

Kramer MS, Matush L, Vanilovich I et al (2009) A randomized breast-feeding promotion intervention did not reduce child obesity in Belarus. J Nutr 139:417S–421S

Kramer MS, Matush L, Vanilovich I et al (2007) Effects of prolonged and exclusive breastfeeding on child height, weight, adiposity and blood pressure at age 6.5 y: evidence from a large randomized trial. Am J Clin Nutr 86:1717–1721

Ruckinger S, Kries R von (2009) Breastfeeding and reduced risk of childhood obesity: will randomized trials on breastfeeding promotion give the definite answer? Am J Clin Nutr 89:653–655; author reply 655
Dank
Den teilnehmenden Familien und Projektpartnern danken wir für ihre Unterstützung. Die dargestellten Untersuchungen wurden finanziell gefördert durch die Europäische Kommission, Generaldirektorat Forschung, Brüssel, im 5. Forschungsrahmenprogramm (Förderkennzeichen QLRT–2001–00389 und QLK1-CT-2002–30582), im 6. Forschungsrahmenprogramm (Förderkennzeichen 007036) und im 7. Forschungsrahmenprogramm (Förderkennzeichen 212652), durch das Bundesministerium für Bildung und Forschung, Klinisches Kompetenznetzwerk Adipositas, Verbundprojekt MEMORI, durch das Münchener Zentrum für Gesundheitswissenschaften McHealth und durch die Stiftung Kindergesundheit, München. BK ist der Empfänger eines Freedom to Discover Award der Bristol-Myers-Squibb-Stiftung, New York, NY, USA.
Interessenkonflikt
Der korrespondierende Autor gibt an, dass kein Interessenkonflikt besteht.
About this article
Cite this article
Koletzko, B., Grote, V., Schiess, S. et al. Prävention der kindlichen Adipositas durch die Säuglingsernährung. Monatsschr Kinderheilkd 158, 553–563 (2010). https://doi.org/10.1007/s00112-009-2158-8
Published:

Issue Date:

DOI: https://doi.org/10.1007/s00112-009-2158-8
Schlüsselwörter
Keywords