Zusammenfassung
Das akute Leberversagen, eine hepatisch bedingte Gerinnungsstörung mit INR (INR: "international normalized ratio") ≥1,5 (nicht durch Vitamin-K-Gabe korrigierbar) mit oder INR≥2,0 ohne Enzephalopathie, ist lebensbedrohlich. Unter Ausschöpfung aller Therapiemöglichkeiten werden heute durch frühzeitige Verlegung in ein Transplantationszentrum Überlebensraten von rund 70% erreicht. Im Neugeborenen- und Säuglingsalter prädominieren metabolische und infektiöse Ursachen sowie die neonatale Hämochromatose. Ab dem Kleinkindesalter, v. a. aber dem Schulalter, spielen medikamenteninduzierte oder autoimmunologische Ursachen sowie der Morbus Wilson eine zunehmende Rolle. Fast 50% der Leberversagen im Kindes- und Jugendalter bleiben ätiologisch ungeklärt. Die Therapie richtet sich nach der Ätiologie und ist in vielen Fällen symptomatisch. Da das Hirnödem die häufigste Todesursache darstellt, sind eine Flüssigkeits- und Kochsalzrestriktion sowie Kopfhochlagerung wichtig. Blutungen sind trotz schlechter Gerinnungswerte die Ausnahme, deswegen sollte gerinnungsaktives Frischplasma nur zurückhaltend gegeben werden.
Abstract
Acute liver failure, defined as the onset of hepatic coagulopathy with an INR ≥1.5 (which is not corrected by vitamin K administration) with encephalopathy or with an INR ≥2.0 without encephalopathy, is a life-threatening disorder. Timely referral of the patient to a transplant center can, when all therapeutic strategies are employed, result in survival rates of approximately 70%. In neonates and infants infectious and metabolic causes as well as neonatal hemochromatosis are predominant. In small children, particularly school-age children, drug-induced or autoimmune causes as well as Wilson's disease play an increasing role. Almost 50% of cases remain etiologically uncertain. Therapy is based on etiology and is symptomatic in many cases. Since cerebral edema is the primary cause of death, restriction of fluid and sodium chloride is important; in addition, the head should be maintained in an elevated position. Despite unfavorable coagulation values, bleeding is an exception; fresh plasma should therefore be used with restraint.
Access options
Buy single article
Instant access to the full article PDF.
USD 39.95
Price includes VAT (USA)
Tax calculation will be finalised during checkout.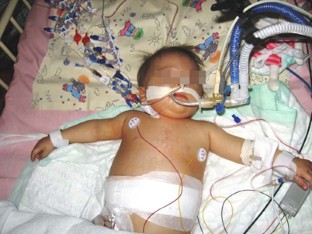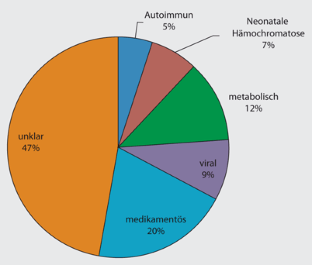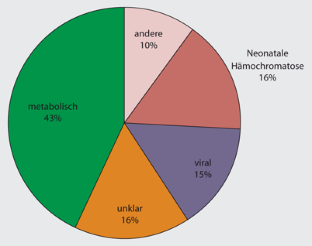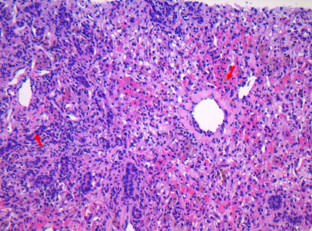 Literatur
1.

Acharya SK, Panda SK, Saxena A, Gupta SD (2000) Acute hepatic failure in India: a perspective from the East. J Gastroenterol Hepatol 15:473–479

2.

Anderson BJ, Woollard GA, Holford NJ (2000) A model for size and age changes in the pharmacokinetics of paracetamol in neonates, infants and children. Br J Clin Pharmacol 50:125–134

3.

Bakker HD, Scholte HR, Dingemans KP et al (1996) Depletion of mitochondrial deoxyribonucleic acid in a family with fatal neonatal liver disease. J Pediatr 128:683–687

4.

Baliga P, Alvarez S, Lindblad A et al (2004) Posttransplant survival in pediatric fulminant hepatic failure: the SPLIT experience. Liver Transpl 10(11):1364–1371

5.

Bendre SV, Bavdekar AR, Bhave SA et al (1999) Fulminant hepatic failure: etiology, viral markers and outcome. Indian Pediatr 36:1107–1112

6.

Bergquist A, Glaumann H, Lindberg B, Broomé U (2006) Primary sclerosing cholangitis can present with acute liver failure: report of two cases. J Hepatol 44(5):1005–1008

7.

Davis A, Rosenthal P, Glidden D (2009) Pediatric liver retransplantation: outcomes and a prognostic scoring tool. Liver Transpl 15:199–207

8.

Durand P, Debray D, Mandel R et al (2001) Acute liver failure in infancy: a 14-year experience of a pediatric liver transplantation center. J Pediatr 139:871–876

9.

Gee P, Ardagh M (1998) Paediatric exploratory ingestions of paracetamol. N Z Med J 111(1066):186–188

10.

James LP, Alonso EM, Hynan LS et al (2006) Detection of acetaminophen protein adducts in children with acute liver failure of indeterminate cause. Pediatrics 118:e676–e681

11.

Kaukinen K, Halme L, Collin P et al (2002) Celiac disease in patients with severe liver disease: gluten-free diet may reverse hepatic failure. Gastroenterology 122(4):881–888

12.

Kitazawa J, Kaizuka M, Kasai M et al (2004) Hemolytic crisis with fulminant hepatic failure in Wilson disease without consanguinity. Pediatr Int 46(6):726–729

13.

Krähenbuhl S, Brauchli Y, Kummer O et al (2007) Acute liver failure in two patients with regular alcohol consumption ingesting paracetamol at therapeutic dosage. Digestion 75(4):232–237

14.

Lee WS, Sokol RJ (2007) Mitochondrial hepatopathies: advances in genetics and pathogenesis. 45:1555–1565

15.

Lee WS, McKiernan P, Kelly DA (2005) Etiology, outcome and prognostic indicators of childhood fulminant hepatic failure in the United Kingdom. J Pediatr Gastroenterol Nutr (40):575–581

16.

Liu JP, Gluud LL, Als-Nielsen B, Gluud C (2004) Artificial and bioartificial support systems for liver failure. Cochrane Database Syst Rev 1:CD003628

17.

Loeffen JL, Smeitink JA, Trijbels JM et al (2000) Isolated complex I deficiency in children: clinical, biochemical and genetic aspects. Hum Mutat 15:123–134

18.

Meyburg J, Hoffmann GF (2008) Liver cell transplantation for the treatment of inborn errors of metabolism. J Inherit Metab Dis Apr 4. [Epub ahead of print]

19.

Nadalin S, Heuer M, Wallot M et al (2007) Paediatric acute liver failure and transplantation: The University of Essen experience. Transpl Int 20:519–527

20.

Odaib AA, Shneider BL, Bennett MJ et al (1998) A defect in the transport of long-chain fatty acids associated with acute liver failure. N Engl J Med 339:1752–1757

21.

Ojetti V, Fini L, Zileri Dal Verme L et al (2005) Acute cryptogenic liver failure in an untreated coeliac patient: a case report. Eur J Gastroenterol Hepatol 17(10):1119–1121

22.

Poovorawan Y, Hutagalung Y, Chongsrisawat V et al (2006) Dengue virus infection: a major cause of acute hepatic failure in Thai children. Ann Trop Paediatr 26:17–23

23.

Rolando N, Harvey F, Brahm J et al (1990) Prospective study of bacterial infection in acute liver failure: an analysis of fifty patients. Hepatology 11(1):49–53

24.

Samanta T, Ganguly S (2007) Aetiology, clinical profile and prognostic indicators for children with acute liver failure admitted in a teaching hospital in Kolkata. 1. Trop Gastroenterol 28:135–139

25.

Squires Robert H, Shneider B, Bucuvalas J et al (2006) Acute liver failure in children: the first 348 patients in the Pediatric Acute Liver Failure Study Group. J Pediatr 148:652–658

26.

Whitington PF, Kelly S, Ekong UD (2005) Neonatal hemochromatosis: fetal liver disease leading to liver failure in the fetus and newborn. Pediatr Transplant 9(5):640–645
Interessenkonflikt
Der korrespondierende Autor gibt an, dass kein Interessenkonflikt besteht.
About this article
Cite this article
Gerner, P., Hoyer, P. Akutes Leberversagen im Kindesalter. Monatsschr Kinderheilkd 157, 1157 (2009). https://doi.org/10.1007/s00112-009-2073-z
Schlüsselwörter
Akutes Leberversagen

Gerinnungsstörung

Enzephalopathie

Lebertransplantation

Hirnödem
Keywords
Acute liver failure

Coagulopathy

Encephalopathy

Liver transplantation

Cerebral edema