Zusammenfassung
Prospektive Untersuchungen zur Refraktionsentwicklung in den ersten Lebensmonaten sind zur frühen Entdeckung von Amblyopie und Schielen notwendig. Die augenärztlichen Untersuchungen von 1264 Neugeborenen zeigten bei der Mehrzahl eine rasche Emmetropisierung der zur Geburt oft bestehenden Hyperopie (Mittelwert bei Geburt 3,62 D). Der Grad der Emmetropisierung verringerte sich bis zum Ende der bisherigen Beobachtungszeit ständig, jedoch nicht in allen Fällen. 47 Kinder blieben in der sensitiven Phase (3.–12. Lebensmonat) mehr als +3,5 D hyperop, bei 11 Kindern verstärkte sich die ursprüngliche Hyperopie. Sie bedürfen u. E. einer frühen Gläserkorrektur, um einer Amblyopie oder Schielerkrankung vorzubeugen. Da in der Studie bisher nur in der Gruppe der nicht mit Gläsern korrigierten Kindern mit einer Hyperopie >+3,5 D im weiteren Verlauf Schielen auftrat, empfehlen wir, alle Kinder bereits sehr früh (bis 3. Monat) einer augenärztlichen Vorsorgeuntersuchung zu unterziehen und diese nach 12–15 Monaten und zwischen dem 4. und 5. Jahr zu wiederholen. Bei auffälligen Befunden im Verlauf sollten u. E. bereits ab dem 4. Lebensmonat Gläserkorrekturen mit den bekannten Grenzwerten erfolgen. Nach der Auswertung weiterer Daten der bis 2007 laufenden Studie kann der Erfolg einer so frühen Amblyopievorsorge endgültig beurteilt werden.
Abstract
Prospective studies on the evolution of refraction during the first few months of human life are necessary for the early detection of amblyopia and strabismus. In our study, the medical examination of 1,264 neonates showed rapid emmetropisation of primary existing hyperopia – (mean 3.62 D at birth) – especially during the first 6 months of life. The rate of emmetropisation continuously decreased until the end of the present period of observation. However, we did not observe this normal course in all cases. A total of 47 children did not lose their primary hyperopia, and in another 11 cases the rate of hyperopia even increased. We prescribed glasses for those children in whom emmetropisation was insufficient between the third and sixth months of life. We only observed the development of esotropia in the group of children without emmetropisation who did not wear glasses. No child in the group which wore glasses continually developed any form of strabismus. Therefore, we recommend very early examination of the refractive condition of the eyes for all children (from birth until the third month of life). Checkups should follow – if no abnormal results are found – between the 12th and 15th month and at the age of 4 years. If there are any abnormal results, glasses should be prescribed very early. Our study will continue until the end of 2007 in order to estimate the success of early provision for amblyopia.
Access options
Buy single article
Instant access to the full article PDF.
US$ 39.95
Tax calculation will be finalised during checkout.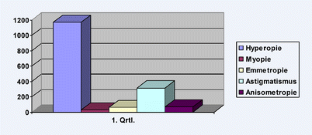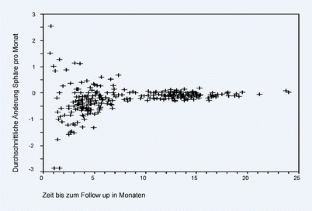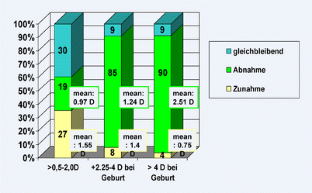 Literatur
1.

Abrahamsson M, Fabian G, Andersson AK et al. (1990) A longitudinal study of a population based sample of astigmatic children, I. refraction and amblyopia. Acta Ophthalmol (Copenh) 68: 428–434

2.

Abrahamsson M, Fabian G, Sjöstrand J (1990) A longitudinal study of a population based sample of astigmatic children. Acta Ophthalmol (Copenh) 68: 435–440

3.

Abrahamsson M, Fabian G, Sjöstrand J (1991) Longitudinal changes in refraction and riskindicators for amblyopia. Invest Ophthalmol Vis Sci 32: 1238

4.

Abrahamsson M, Fabian G, Sjöstrand J (1992) Refraction changes in children developing convergent or divergent strabismus. Br J Ophthalmol 12: 723–727

5.

Atkinson J, Braddick O, Bobier B et al. (1996) Two infant vision screening programmes. Eye 10: 189–198

6.

Atkinson J (1984) Human visual development over the first 6 months of life. A review and hypothesis. Hum Neurobiol 3: 61–74

7.

Atkinson J, Braddick O et al. (1987) Photorefractive screening of infants and effects of refractive correction. Invest Ophthalmol 28: 399

8.

Aurrell E, Norrsell K (1990) A longitudinal study of children with a family history of strabism factors determining the incidence of strabismus. Br J Ophthalmol 74: 589–594

9.

Banks M (1980) The development of visual accommodation during early infancy. Child Dev 51: 646

10.

Banks M (1980) Infant refraction and accommodation. Int Ophthalmol Clin 1: 205–232

11.

Berger R, Berger Chr, Neumann HU et al. (1999) Evaluation von Photoscreening versus Skiaskopie in Miosis (-und Zykloplegie) bei Kindern im nonverbalen Alter. Kinder- und Jugendarzt 30: 399–408

12.

Brüggemann G, Schaeffel F (2005) Augen-Untersuchungen bei Kindern in der Kinder- und Jugendarztpraxis. Kinder- und Jugendarzt 10: 646–647

13.

De Decker W, Tessmer J (1973) Zur Schielhäufigkeit und Behandlungseffizienz in Schleswig Holstein. Klin Monatsbl Augenheilkd 162: 34

14.

Friedrich D, de Decker W (1978) Prospective study of the development of strabismus during the first 6 months of life. 6. Internat. Orthoptic Congr. Harrogate, pp 21–28

15.

Gwiazda J, Bauer J, Thorn F et al. (1986) Meridional amblyopia does result from astigmatism in early childhood. Clin Vision Sci 1: 145–152

16.

Haase W, Mühlig HP (1997) Schielhäufigkeit bei Hamburger Schulanfängern. Klin Monatsbl Augenheilkd 174: 232–235

17.

Haase W, Hohmann A (1987) Zur Skiaskopie bei Ein- bis Zweijährigen. Z Prakt Augenheilkd 8: 231–233

18.

Haase W (1978) Optische Penalisation als therapeutisches Hilfsmittel beim frühkindlichen Strabismus. Adv Ophthalmol 35: 26–44

19.

Haase W (1997) Über die ophthalmoskopische Fixationsprüfung bei Kindern bis zu einem Alter von 2 Jahren. Klin Monatsbl Augenheilkd 211: 113–117

20.

Haase W (1976) Experiences with penalization therapy. In: Moore S, Mein J, StockbridgeL (eds) Orthoptics past, present future, Symposia Specialists, Miami, Fl

21.

Hallermann W (1950) Klinische Beobachtungen und experimentelle Studien zur Frage einer zentralnervösen Steuerung der chronischen Entzündungen im Auge. Albrecht v Graefes Arch Ophthalmol 150: 201–244

22.

Haynes H, White B, Held R (1965) Visual accommodation in human infants. Science 148: 528–530

23.

Hopkisson B, Arnold P, Billingham B et al. (1992) Can retinoscopy be used to screen infants for amblyopia? A longitudinal study of refraction in the first year of life. Eye 6: 607–609

24.

Ingram RM (1973) Prediction of strabismus. Br J Ophthalmol 30: 74–80

25.

Ingram RM, Traynar MJ, Walker C et al. (1997) Screening for refractive errors at age 1 year: a pilot study. Br J Ophthalmol 63: 243–250

26.

Ingram RM, Walker C, Wilson JM et al. (1985) A first attempt to prevent amblyopia and squint by spectacle correction of abnormal refractions from age 1 year. Br J Ophthalmol 69: 851–853

27.

Ingram RM, Gill LE, Lambert TW (2000) Effect of spectacles on changes of spherical hypermetropia in infants who did, and did not, have strabismus. Br J Ophthalmol 84: 324–326

28.

Ingram RM, Arnold PE, Dally S et al. (1990) Results of randomized trial of treating abnormal hypermetropia from the age of 6 months. Br J Ophthalmol 74: 158–159

29.

Käsmann-Kellner B, Ruprecht KW (2000) Vision screening survey of all children starting primary school in 1998 in the federal state of Saarland Germany. Strabismus 8: 201–207

30.

Kvarnström G, Jacobsson P, Lennerstrand G (1998) Screening for visual and ocular disorders in children, evaluation of the system in Sweden. Acta Paediatr Scand 87: 1173–1179

31.

Kvarnström G, Jacobsson P, Lennerstrand G (2001) Visual screening of Swedish children: an ophthalmological evaluation. Acta Ophthalmol Scand 79: 240–244

32.

Lang J (1969) Microtropia. Arch Ophthalmol 81: 757

33.

Lang J (1973) Mikrostrabismus. Die Bedeutung der Mikrotropie für die Amblyopie, für die Pathogenese des großen Schielwinkels und für die Heredität des Strabismus. Bücherei des Augenarztes, Bd 62. Enke, Stuttgart, S 42–86

34.

Leibiger W (1962) Über unterschiedliche Erkrankungshäufigkeit des amblyopen und des nicht amblyopen Auges. Klin Monatsbl Augenheilkd 141: 217–225

35.

Lempert Ph (2003) Axial length disc area ratio in esotropic amblyopia. Arch Ophthalmol 121: 821–824

36.

Marg E, Freeman DN, Peltzman P et al. (1976) Visual acuity development in Human infants: evoked potential measurements. Invest Ophthalmol Vis Sci 15: 150–153

37.

Mezer E, Miller B, Haase W et al. (1999) The breaking point for developing an isometropic amblyopia in hypermetropic children. ESA, Jerusalem

38.

Nixon RB, Helveston EM, Miller K. et al. (1985) Incidence of strabismus in neonates. Am J Ophthalmol 100: 798

39.

Rahi J, Logan S, Cortina Borja M et al. (2002) Prediction of improved vision in the amblyopic eye after visual loss in the non-amblyopic eye. Lancet 360: 621–622

40.

Rahi J, Logan S, Timms C et al. (2002) Risk, causes, and outcomes of visual impairment after loss of vision in the non-amblyopic eye: a population based study. Lancet 360: 597–602

41.

Schrader KE (1965) Influence of dominance on susceptibility of the eye to disease. Eye Ear Nose Throat Mon 44: 66

42.

Schröpfer HD, Meinert K (1986) "15 Jahre Schielprophylaxe in den Kindergärten des Kreises Zittau". Folia Ophthalmol 11: 61–63

43.

Shea SL, Fox R, Aslin R et al. (1980) Assessment of stereopsis in human infants. Invest Ophthalmol Vis Sci 19: 1400–1404

44.

Simonsz HJ (2000) Effects of spectacles on changes of sph. hypermetropia in infants. Br J Ophthalmol 84: 1333–1335

45.

Sjöstrand J, Abrahamsson M (1990) Risk factors in amblyopia. Eye 4: 787–793

46.

Sokol S, Dobson V (1976) Pattern visual reversal evoked potentials in infants. Invest Ophthalmol 15: 58–62

47.

Tommila V, Tarkkanen A (1981) Incidence of loss of vision in the healthy eye in amblyopia. Br J Ophthalmol 65: 575–577

48.

Wild H (1979) Ophthalmologische Reihenuntersuchungsergebnisse bei Vorschulkindern eine Verlaufsstudie. Folia Ophthalmol 4: 109–113
About this article
Cite this article
Petzold, G., Ganzera, F., Kaufmann, M. et al. Augenärztliche Prävention im 1. Lebensjahr. Monatsschr Kinderheilkd 155, 61–67 (2007). https://doi.org/10.1007/s00112-006-1363-y
Schlüsselwörter
Amblyopie

Schielerkrankung

Emmetropisierung

Refraktionsentwicklung

Augenärztliche Vorsorgeuntersuchung
Keywords
Amblyopia

Strabismus

Emmetropisation

Hyperopia

Early provision for amblyopia