Zusammenfassung
Impfungen gelten als eine der größten Errungenschaften der modernen Medizin. Frühere Studien sagten aus, dass sie durch homöopathisch tätige Ärzte nicht so häufig empfohlen oder angewendet werden wie von ihren nicht homöopathisch orientierten Kollegen. Im Rahmen der vorliegenden Studie beantworteten 219 Ärzte mit und 281 Ärzte ohne Zusatzbezeichnung Homöopathie (ZBH) in Deutschland einen Fragebogen zur Einstellung und Anwendung von 17 verschiedenen Impfungen in ihren Praxen. Die Ergebnisse zeigen zunächst, dass Ärzte mit ZBH bestimmte Impfungen seltener anwenden, aber Impfungen nicht grundsätzlich ablehnen. Die Unterschiede zwischen den beiden Ärztegruppen in der Anwendung und Akzeptanz von Impfungen werden zum einen durch unterschiedliche Praxisstrukturen hervorgerufen. Zudem zeigen sich bei Ärzten mit ZBH eine spezifische Impfhierarchie und unterschiedliche Überzeugungen zu Alternativen und Nebenwirkungen bezüglich Impfungen.
Abstract
Vaccinations are one of the most effective achievements in modern medicine. Earlier studies have indicated that homoeopathic physicians do not recommend or apply vaccinations as frequently as their allopathic colleagues. In the course of this study 219 medically qualified homoeopathic and 281 non-homoeopathic physicians in Germany answered a questionnaire on the application and recommendation of seventeen different vaccinations in their practices. The answers show that homoeopathic physicians apply certain vaccinations less frequently but do not object to vaccination in general. Differences in the application and acceptance of vaccination between homoeopathic physicians and non-homoeopathic physicians are due to the different structure of their practices, a specific hierarchy of vaccinations in homoeopaths and different convictions on alternatives and side effects of vaccination.
Access options
Buy single article
Instant access to the full article PDF.
USD 39.95
Price excludes VAT (USA)
Tax calculation will be finalised during checkout.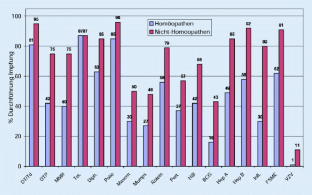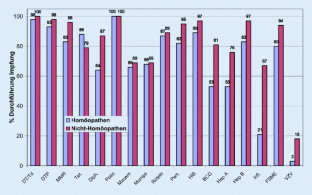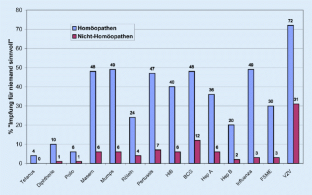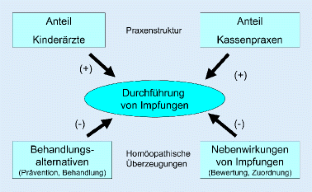 Literatur
Briggs MJ, Thomas J (1994) Obstacles to hepatitis B vaccine uptake by health care staff. Publ Health 108:137–148

Burgress M (1994) Homoeopathy and vaccination. Lancet 344:1168

Carlyon J (1995) The society of homoeopaths has no official policy on vaccination. BMJ 310:939–940

Colley F, Haas M (1994) Attitudes on immunisation: a survey of American chiropractors. J Manip Physiol Ther 17:584–590

Crump SC, Oxley M (2003) Society of homeopaths does not advise against vaccination. BMJ 326:164

English J (1992) The issue of immunisation. Br Homoeopathic J 81:161–163

Ernst E (1995) Homoeopaths and chiropractors are sceptical about immunisation. BMJ 311:811

Ernst E (1997) The attitude against immunisation within some branches of complementary medicine. Eur J Pediatr 156:513–515

Ernst E (2001) Rise in popularity of complementary and alternative medicine: reasons and consequences for vaccination. Vaccine 20:S90–S93

Ernst E, White AR (1995) Homoeopathy and immunisation. Br J Gen Pract 45:629–630

Fisher P (1990) Enough nonsense on immunisation. Br Homoeopathic J 79:198–200

Haidvogel M, Rasky E, Freidl D et al. (1995) Ergebnisse der Fragebogenaktion über die Arbeitsweise homöopathisch tätiger Ärztinnen und Ärzte in Österreich. Homöopathie Österreich 6:16–18

Halper J, Berger LR (1981) Naturopaths and childhood immunizations: heterodoxy among the unorthodox. Pediatrics 68:407–410

Hindle RC (1991) Immunisation and homoeopathy. N Z Med J 104:171

Hofmann F, Schuh F, Michaelis M et al. (1994) Zur Akzeptanz von Schutzimpfungen bei Ärzten und in der Allgemeinbevölkerung. Gesundheitswesen 56:371–376

Isbell W (1991) Immunisation and homoeopathy. N Z Med J 104:237

Landesärztekammer Baden-Württemberg (1995) Weiterbildungsordnung (WBO) der Landesärztekammer Baden-Württemberg vom 17. März 1995. Ärztebl Baden-Württemb 4:11–159

Lehrke P (1998) Impfkonzepte in der Homöopathie. Eine Erhebung zum Impfverhalten homöopathischer Ärzte. Hippokrates, Stuttgart

Lehrke P, Nübling M, Hofmann F (1998) Impfverhalten und Impfeinstellungen bei homöopathischen Ärzten. In: Albrecht H, Frühwald M (Hrsg) Jahrbuch Bd 4 (1997) Karl und Veronica Carstens-Stiftung. KVC-Verlag, Essen, S 91–109

Lehrke P, Nuebling M, Hofmann F et al. (2001) Attitudes of homoeopathic physicians towards vaccination. Vaccine 19:4859–4864

Manuel DG, Henry B, Hockin J et al. (2002) Health behavior associated with influenza vaccination among healthcare workers in long-term-care facilities. Infect Control Hosp Epidemiol 23:609–614

Robert Koch Institut (2003) Epidemiologisches Bulletin 32/2003: Mitteilung der Ständigen Impfkommission am Robert Koch-Institut: Empfehlungen der Ständigen Impfkommission (STIKO) am Robert Koch-Institut/Stand: Juli 2003

Robert Koch Institut (Hrsg) (2004) Epidemiologisches Bulletin 6/2004: Mitteilung der Ständigen Impfkommission (STIKO) am Robert Koch-Institut: Hinweise für Ärzte zum Aufklärungsbedarf bei Schutzimpfungen/Stand: Januar 2004

Schmidt K, Ernst E (2002) Aspects of MMR. Survey shows that some homoeopaths and chiropractors advise against MMR. BMJ 325:597

Schmidt K, Ernst E (2003) MMR vaccination advice over the internet. Vaccine 21:1044–1047

Simpson N, Lenton S, Randall R (1995) Parental refusal to have children immunised: extent and reasons. BMJ 310:227

Sulfaro F, Fasher B, Burgress MA (1994) Homoeopathic vaccination. What does it mean? Med J Aust 161:305–307

Thust W (1997) Ärztliche Versorgung in Deutschland. Dtsch Ärztebl 94:S3–S19
Interessenkonflikt:
Der korrespondierende Autor versichert, dass keine Verbindungen mit einer Firma, deren Produkt in dem Artikel genannt ist, oder einer Firma, die ein Konkurrenzprodukt vertreibt, bestehen.
Additional information
Die Arbeit wurde durch die Karl und Veronica Carstens-Stiftung gefördert
About this article
Cite this article
Lehrke, P., Nübling, M., Hofmann, F. et al. Impfverhalten und Impfeinstellungen bei Ärzten mit und ohne Zusatzbezeichnung Homöopathie . Monatsschr Kinderheilkd 152, 751–757 (2004). https://doi.org/10.1007/s00112-004-0972-6
Issue Date:

DOI: https://doi.org/10.1007/s00112-004-0972-6
Schlüsselwörter
Keywords